We have reviewed and recommended so many different electric fans here at Home Caprice, and in that time we have found lots of units that offer really great performance.
But sometimes you need a little (or a lot) more. Sometimes you need a high-velocity fan!
What is a High-Velocity Fan?
Basically, a high-velocity fan is an electric fan that spins at a very high rate and can move a high volume of air very quickly, giving them abilities and applications that a normal electric fan is not capable of.
What is a High-Velocity Fan Used For?
Often used in industrial worksites and professional situations, a high-velocity fan can also be a great tool around the home. Uses include:
Mold Damage Repair
Flood Damage Repair
Drying Paint or Other Refinishing Work
Exhausting Fumes, Smoke or Heat from Large Areas
Refreshing Stuffy or Closed-Up Rooms, Spaces or Whole Houses
Keeping Large WorkSpaces (or any large space) Fresh
Extreme, Fast Cooling
Supplemental Support to Make Central Heating and Cooling Systems More Effective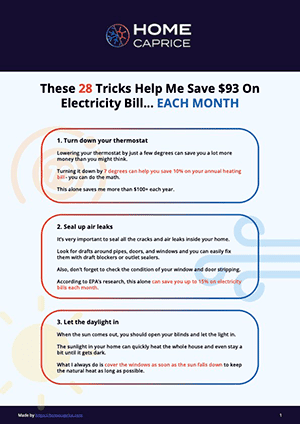 These 28 Tricks Help Me Save $93 On Electricity Bill... EACH MONTH
Download this FREE cheat sheet to find 28 tricks that can help you save on your electricity and heating bill each month.
Click here to get a FREE Cheat-Sheat
How Can I Choose the Best High-Velocity Fan?
Choosing a high-velocity fan that is best for you is actually quite simple. You might get there with only three basic questions:
Where do you want to use it?
How much money do you want to spend?
Do I want a plug-in or rechargeable?
If it is for home use, for the garage or industrial use, if you want the best overall or the best value, or even if you want the flexibility of a great rechargeable high-velocity fan, we have found the best quality, best performing, and best value fans, and made buying them as easy as possible.
We are basing our choices on our own experience, the experiences, and feedback of our friends and colleagues, as well as reviews from actual verified customers, and you can purchase any of our recommendations with total confidence, knowing that you will get a high-velocity fan that will meet your needs now and for many years.
Best High-Velocity Fan Reviews
Tornado calls this their 7680 the best 24-inch drum fan on the market, and we can't disagree.
An over-built product in every respect, the Tornado 7680 is just what you would expect from a true industrial-level product, and its full five-year warranty definitely understates just how long this rugged fan will last.
But this Tornado 24-inch high-velocity fan is a great choice for home use as well and can move enough air to really refresh even the stuffiest closed-up rooms, fully circulate the output of an over-taxed furnace or central air conditioner, fight mold, and help with flood damage – really any application where you need a huge amount of air moved through space.
And even the hottest garages, sheds, or workshops will be cool and fresh before you can count to 24.
While Tornado doesn't actually quote what must be really impressive numbers regarding the 7680's fan speed, it is a true high-velocity fan – obvious just watching it run – and moves a mighty 4,000, 6,000 or 7,680 cubic feet of air a minute at low, medium and high speed.
The heavy-duty frame includes a handle, 2 caster wheels, and an extra-long 8-foot power cord, and will tilt the big fan head a full 360 degrees and lock it into place, allowing this Tornado high-velocity fan to be easily moved and handle pretty much any job.
Strong, durable, and reliable, and with amazing performance, the Tornado 7680 High Velocity 3 Speed Heavy Duty 24 Inch Drum Fan is our choice for Best High-Velocity Fan Overall.
Features & Specifications:
Fan Head Size: 24 Inch
Air Volume: 4000 – 7680 CFM
OSHA-compliant rust-resistant grille
Full 360 Degree Tilt
5 Year Warranty
One of the questions we hear all the time is What is the Best Patton Fan? – and we kind of expected at least one of their fans to show up on this list of best high-velocity fans, probably in this very category. 
Sadly, Patton, which has for many years been one of the best manufacturers out there, has really been struggling lately in terms of quality and performance. One indication is that their once-legendary 25-year warranty has now been reduced to just 3 years. Customer satisfaction and customer reviews have dramatically slipped in the last few years as well.
So, as much as we would have loved to turn to them for our best bargain in high-velocity fans, this year we had to look elsewhere. Fortunately, though, this turning away turned us towards an amazing fan for the money – the Stanley ST-20F.
Stanley has certainly had no problems with slipping quality or slipping reputation and is still one of the most respected and beloved companies in the world, and their 20-inch high-velocity fan is a great example as to why.
Beautifully built and exuding quality, the ST-20F feels like it will last for many, many years, and the sound and feel of it when it is on – even at full speed – lends this idea even more credence. A real rock solid, quiet, and smooth running fan.
This Stanley high-velocity fan really moves air – up to 4,800 cubic feet of it a minute.  And, just like the best industrial fans, the Stanley ST20F has a full 360-degree tilt and lock frame, making it really useful for so many different kinds of jobs.
Stanley really seems like a company that is proud of their products, and from our experience, the Stanley ST-20F High-Velocity Direct Drive Floor Fan is one to be proud of and is our choice for Best Value in a High-Velocity Fan.
Features & Specifications:
Fan Head Size: 20 Inch
Air Volume: Up to 4800 CFM
3 Speeds
Heavy Duty Floor Stand with Full 360 Degree Tilt
1 Year Warranty
Our Pick
The two fans reviewed just above are both masterpieces of full-on stark industrial design, which is our way of saying that they may, in some circles at least, be considered the tiniest bit, well, ugly.
Not so with the Lasko US35115 high-velocity tower fan. And while it may give up a little performance in trade for its elegantly attractive modern design – it is definitely not as much of a powerhouse as others on this list of best high-velocity fans –  it is still a powerful fan, especially considering its slender tower design.
That tower configuration allows the Lasko high-velocity fan to fit where others can't, and to distribute air effectively into the room, and the wide-angle oscillation and directional louvers make it even more effective.
The Lasko 35115 has three speeds, and the top speed puts out a strong 509 cubic feet of air a minute – again, not comparable to real industrial fans, but quite amazing for this type of fan, and plenty to not only cool a large room quickly but to even move air around a house, and help increase the effectiveness of your central heating and cooling.
Lasko also proudly points out that the fan gets louder as you turn it up, and apparently, this is one of the most popular and best high-velocity fans for white noise.
The beautiful and well-designed electronic control panel is easy to use, as is the included remote control, and both allow you to change speeds, turn oscillation on and off, and control the timer.
Beautiful, well built, and quite powerful, the Lasko U35115 Oscillating High-Velocity Tower Fan comes from a company that has been making great products for over a hundred years, and still, today has perhaps the highest levels of customer satisfaction and loyalty of them all. It is a great choice for any house and our choice for the Best High-Velocity Fan for your home.
Features & Specifications:
35 Inch Tower Fan
Air Volume: 367-509 CFM
3 Speeds
Oscillating Design with Directional Louvers
7 Hour Timer
Includes Multi-Function Remote Control 
Patented Blue Plug™  Fused, Grounded Safety Plug
1 Year Warranty
For the fourth recommendation in our buyer's guide and review of the best high-velocity fans, we go right back to Lasko, which might be the very finest, most innovative, and highest quality manufacturer of electric fans today.
And somehow, even with their exceptional performance and extreme material quality and durability, Lasko fans are often great values as well, costing far less than you might expect to pay for such an outstanding unit.
The Lasko pro-performance high-velocity fan is a case in point, offering not just industrial design and quality, but remarkable performance in a really small package.
While the U15617 won't put out nearly the amount of air that a 24-inch floor fan like the Tornado 7680 will, the Lasko is only 14.5 inches tall overall and will fit into pretty much any space, and as such proves to be incredibly useful in the garage or workshop – in so many ways.
And to be fair it is powerful, moving nearly 400 cubic feet of air every minute, and its pivoting head directs that powerful flow exactly where you need it, making this a fan for all kinds of jobs, from spot drying to large space exhausting, from keeping you cool while you work to helping your central air keep the whole house cooler.
To make it even more flexible and useful, and better for major jobs like flood damage recovery, or for really large garages or workspaces, the Lasko U15617 can be daisy-chained and has two additional AC outlets on board for that very purpose.
3 high-velocity speeds, manual mechanical controls, a carrying handle, and lots and lots of air – the Lasko U15617 is not the place to look for bells and whistles, but if you want a true professional quality machine that will last seemingly forever, this is the high-velocity fan for you.
Lasko has long been one of our favorite companies, and the Lasko Pro-Performance U15617 High-Velocity Pivoting Utility Fan is our choice for Best High-Velocity Fan for the Garage or Workshop.
Features & Specifications:
Air Volume: 290 / 335 / 375 CFM
3 Speeds
Pivoting Head
Patented Blue Plug™ Fused, Grounded Safety Plug
1 Year Warranty
In some ways, among all of the impressive fans we are including in our review and buyer's guide of best high-velocity fans, this is the most amazing of them all.
I mean, how can a high-velocity fan run for up to 18 hours on a rechargeable battery? And even at maximum output, with a voluminous 2,500 cubic feet a minute of airflow, still run at least two hours continuously?
The big 15,600 mAh battery is part of the reason (along with great engineering, excellent parts, and high-quality construction – fast becoming the trademarks of Geek Aire products), and the battery, along with the IPX4 water-resistant structure, also makes this the best outdoor high-velocity fan and probably the best portable high-velocity fan as well.
The extra-tough frame, designed to withstand drops and shocks, helps make this an extremely durable and reliable high-velocity fan and also allows the fan head to be tilted and locked into place. Factor in the three speeds and the ease of movement (especially with no power cord), and this ends up being both one of the most versatile and one of the most reliable fans we've ever used.
Geek Aire is winning awards, and winning customers, and keeps coming up with real winners in their product line-up. Even without the big, long-life rechargeable battery, the Geek Aire 16 Inch Rechargeable High-Velocity Portable Floor Fan would be one of the best shop fans on the market today, and with the battery, this is an easy choice for  Best Rechargeable High-Velocity Fan.
For a rechargeable shop fan that is just as good and just as recommendable, but in a smaller package, you might also want to check out the Geek Aire 12 Inch Rechargeable High Velocity Portable Floor Fan.
Features & Specifications:
Fan Head Size: 20 Inch
Air Volume: Up to 2500 CFM
3 Speeds
15,600 mAh Rechargeable Battery
Heavy Duty Floor Stand with 120-degree tilt
1 Year Warranty
And, while we're on the subject of battery-powered fans, we often get asked what is the best 12-volt high-velocity fan that can be plugged into a cigarette lighter socket, and, honestly, we've never found one.
There really aren't any fans that could be considered high velocity and can operate using the car's 12-volt accessory socket – or at least any that perform well enough and are built well enough, to gain a Know the Flo recommendation.
But if you want a great 12-volt fan with a powerful output which does plugs into your car's lighter outlet, we really like the O2Cool 10 Inch Rechargeable Fan – again, not really high velocity, but a great fan to have while camping or on the road.
Our Pick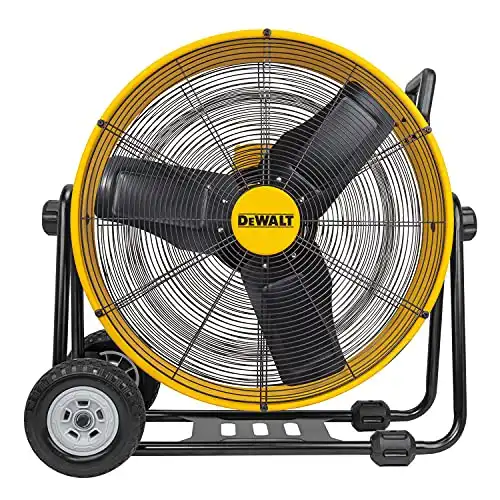 An industrial high-velocity fan can move extraordinary amounts of air, and many of them are extraordinarily expensive as well.
Our choice for the best high-velocity industrial fan is rather inexpensive, and still moves a huge air volume – the Dewalt DXF-2490. 
In fact, for a fraction of the price of many industrial fans from other manufacturers, the Dewalt will run at 1,050 RPM and move up to 6,500 cubic feet of air every minute.
Whether you are repairing water damage or recovering from a flood, drying a house after a large painting or refinishing job, exhausting fumes from a worksite, or many other tasks, the Dewalt will offer more than enough power. 
The DXF-2490 is also a great choice for climate control in large spaces – either as a supplement to a large house's HVAC system or as a primary cooling system for a workshop, small warehouse, garage, or barn.
While other, much more expensive industrial high-velocity fans offer even greater air movement, many professionals prefer to instead use multiple Dewalt 2490 fans, which can give more flexibility in larger spaces and can still be a substantially less expensive option.
The heavy-duty wheels and handle, which make moving and placement easy, the 12-foot grounded cord, and a rack that allows for full 360-degree tilt, all let you direct the air as you need it and make the Dewalt DFX-2490 suitable for many different applications.
Ruggedly built, with a true industrial grade motor, aluminum fans, and heavy gauge metal casing, this Dewalt should last for many years even in the most demanding conditions, and comes with a full five-year warranty.
Offering incredible utility and value for the money, the Dewalt DXF-2490 High-Velocity 24 Inch Industrial Fan is our choice for Best High-Velocity Fan for Industrial Use.
Features & Specifications:
Fan Head Size: 24 Inch
Air Volume: Up to 6500 CFM
12-Foot Power Cord
Heavy Duty Floor Stand with Full 360 Degree Tilt
5 Year Warranty
Do You Need a High-Velocity Fan?
If you are regularly doing large-scale jobs, such as flood recovery, home refinishing, mold damage repair, or similar work, if you use chemicals in a closed or indoor area, if you have a big space that needs cooling or an old HVAC system that needs some help, or if you have any similar situation, you definitely need a high-velocity fan.
In any industrial or professional setting, a high-velocity fan is an important and indispensable tool, and even homeowners are always happy to have made what ends up being a surprisingly minor investment and use their high-powered fan all of the time.
If you do decide to take on out for a spin, please know that we have done extensive work in determining what high-velocity fan is best for various uses and at various price points, and you can take any one of our recommendations with full confidence.

Hey there! I am
Benas
, the founder and content editor at Home Caprice. Thanks for reading the article. I hope you were able to find what you were looking for. I and my team are here to simplify heating and cooling for everyone. Please have a look at the
About page
for more details about our website and feel free to check out our
editorial process
.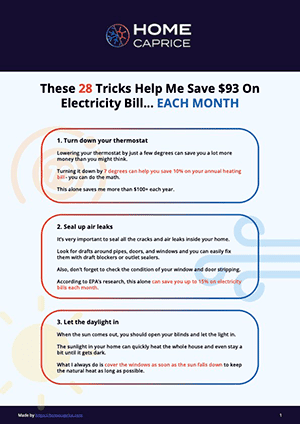 These 28 Tricks Help Me Save $93 On Electricity Bill... EACH MONTH
Download this FREE cheat sheet to find 28 tricks that can help you save on your electricity and heating bill each month.
Click here to get a FREE Cheat-Sheat