The EW7707CM Portable oil-filled radiator heater is one of DeLonghi's least expensive radiant heaters, but it definitely has the same premium quality of materials and workmanship, the same beautiful styling, and the same intelligent engineering of any DeLonghi space heater (or any other DeLonghi product, for that matter), and the same beautiful design. And, like all DeLonghi heaters, the EW7707CM offers DeLonghi's famous 3-year manufacturer's warranty.
But is the DeLonghi EW7707CM Portable oil-filled radiator heater a good space heater?
Let's find out, by exploring the KH390715CM and how it works, talking about our own experience using the heater, and looking at reactions to the heater from verified customers as well.
Our Pick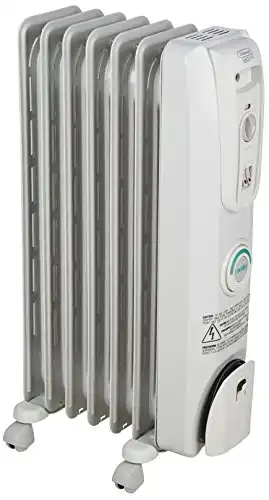 Is DeLonghi a Good Company?
DeLonghi (or De'Longhi) is best known for its beautiful espresso machines, coffee makers and coffee grinders, and, well, all things coffee, and is considered one of the finest companies, and an obvious choice for top quality, coffee shops, restaurants, and private homes all around the world.
But DeLonghi also makes some of the finest products beyond coffee – if there is indeed a world beyond coffee – including kitchen appliances of all types, air conditioners, heaters, air purifiers, and more.
If you've ever priced a DeLonghi espresso machine, you know that they are pretty darned expensive – and we would fully expect this for such superb and absolutely stunning products. And the same is true of many of their brilliantly styled and beautifully made home appliances.
That's why we are so pleasantly surprised that the DeLonghi oil-filled radiator heaters are so reasonably priced – in fact, while not cheap, they're competitively priced compared to other space heaters, and outright bargains considering how well they are built and how well they work.
What is an Oil-Filled Radiator Heater?
First invented and developed by DeLonghi, and now often imitated, an oil-filled radiator heater is a radiant heater, similar in many ways to any other radiator heater, but with an important basic difference in design which allows it to be very efficient and also to output a deeply warming and wonderful feeling heat, which somehow feels much better than what you get from so many other radiant heaters.
An oil-filled heater is different in that it's, well, oil-filled… It has a permanently sealed internal reservoir that extends throughout the heating fins and contains diathermic oil, which heats up with the heater and maintains that heat over long periods of time, only cooling down very slowly.
This system holds heat so well that an oil-filled radiator heater can save lots of money on utility bills compared to even other radiant heaters – which are already known to be very, very energy efficient and real money-savers.
Plus, oil-filled heaters still enjoy all of the main benefits of normal radiant heaters, including:
Uniform, Consistent Heating
Quiet Operation
No Maintenance
Less Expensive than many other types of heaters
Deep Heating and Comfort
Better Air Quality and No Allergens
Makes the Air Less Dry than many other types of heaters
And, again, Real Savings on Utility Bills!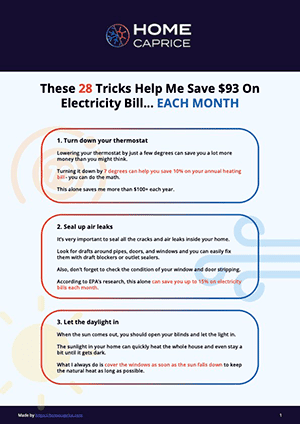 These 28 Tricks Help Me Save $93 On Electricity Bill... EACH MONTH
Download this FREE cheat sheet to find 28 tricks that can help you save on your electricity and heating bill each month.
Click here to get a FREE Cheat-Sheat
Does DeLonghi make a Good Oil-Filled Radiator Heater?
Our Pick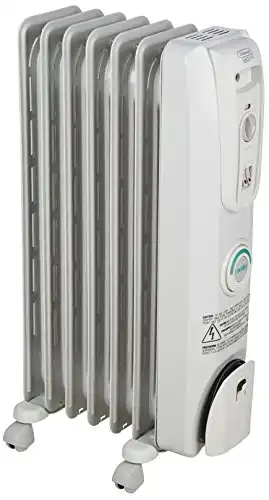 So you must be wondering a couple of things:
Is the DeLonghi EW7707CM Portable a Good Oil-Filled Radiator Heater?
Is the EW7707CM Portable Worth the Money?
DeLonghi is certainly loved by customers and enjoys among the very highest customer ratings and the most favorable reviews all the way up and down their line of oil-filled radiant heaters. Indeed, our own experience corroborates this, and we found the DeLonghi Portable radiator space heater to put out lots absolutely wonderful feeling deep radiant heat, and to be very well designed and easy to use.
What is Our Experience with the DeLonghi EW7707CM Portable Oil-Filled Radiator Heater?
One thing we've learned here at Knowtheflo is that you should always allow a portable space heater a break-in period. So the first thing we did with the DeLonghi EW7707CM Portable oil-filled radiator heater is to allow it to run for a full day outside – actually, in our garage.
This lets it burn off any new-heater smell. This is definitely not something just a DeLonghi space heater needs, or something that is specific to oil-filled radiators, but a good idea with any new space heater of any type and from any company. Once we did this, the DeLonghi Portable never had even the slightest detectable odor during all of its indoor use.
That indoor use included all kinds of spaces and rooms, as we really tested the "Portable" part of its name. We moved it from room to room to test both its ease of movement and its effectiveness in all of those different spaces.
And we have to say that the small frame – heavily built, but not heavy to move – and the good quality castor wheels, clever cord storage, and big handle made the DeLonghi EW7707CM Portable oil-filled radiator heater really easy to move around, and it seemed to fit nicely and look great, anywhere we wanted to put it.
Even though the DeLonghi EW7707CM has the same heat output – up to 1500 watts – as the larger and more expensive DeLonghi oil-filled radiator space heaters, it seems to not put out quite as much heat, and for rooms much larger than 200-250 square feet it needed to be running for quite a while before the room really warmed up.
That said, once the DeLonghi Portable reached the right temperature, it was able to maintain it in pretty much any sized room – albeit by running at full power, but even then this is an exceptional energy-efficient heater, so it was always inexpensive to run. But small spaces seem to be where the DeLonghi EW7707CM Portable oil-filled radiator heater really shines.
Its deep radiant heat felt really great and warmed us to the bones right away, and the super-quiet operation allowed us to sleep or work without disturbance – perfect for a bedroom or office (though hopefully, we were doing more sleeping in the bedroom than in the office!). In a smaller room, we also loved the Comfort Temp setting, which maintained an ideal temperature without ever being overwhelming or dropping below our comfort level.
And in a cramped space, the cool surfaces of the DeLonghi Portable were themselves quite comforting, as we didn't have to worry about bumping into it – a great feature also for pets or kids. The numerous safety features, in addition to the thermostat and automatic temperature controls and the silent, odorless operation, really allowed us to enjoy the heat without any worry or any fiddling.
Overall we were really happy with the DeLonghi EW7707CM Portable oil-filled radiator heater the entire time we used it and really came to rely on its strong heating output, its easy and hassle-free operation, and reliability and quality.
What do Customers Say about the DeLonghi EW7707CM Portable Oil-Filled Radiator Heater?
We shouldn't be so amazed by this, given our extensive experience with DeLonghi products – they are, unquestionably, one of our favorite brands – and our positive experience with this particular radiator, but we are still impressed that the DeLonghi EW7707CM Portable oil-filled radiator heater has an almost 4.5-star rating with well over 4,000 customer reviews.
Over and over people compliment the DeLonghi EW7707CM Portable on its ease of operation, its easy portability, and its intelligent design overall. People also seem quite taken by its looks – again, beautiful styling is a real hallmark of all DeLonghi products.
Customers also frequently talk about the effective way the DeLonghi Portable heated most spaces with deep and satisfying heat and often mentioned how much of an improvement it was over their last heater or other brands they had tried.
We couldn't count how many people said they would buy one again, or another DeLonghi product, or how many would recommend it.
The only reservation at least a few people had about the performance was that, as we also noted, this is not really the best heater for larger spaces, and they found it not quite up to the task of easily heating their largest rooms. But for rooms up to 250 square feet, or sometimes even larger, people were almost always perfectly satisfied and happy with their purchase.
Overall, then, of the many, many verified customer reviews we read, people seemed almost unanimously to love and appreciate their new DeLonghi EW7707CM Portable oil-filled radiator heater (or their old DeLonghi EW7707CM Portable, as some folks have been running it for years now with absolutely no problems) and strongly recommend it.
Customers are very impressed with several basic things about the DeLonghi EW7707CM Portable, and all Delonghi oil-filled space heaters, especially when compared to other brands and types of heaters, including:
Quality look and feel
Quiet operation
Ease of use
Reliability
Clean air and odor-free heat
Big savings on utility bills, even compared to other space heaters
Beautiful design
Warranty and Customer Service
People tend to be fiercely loyal to DeLonghi as a company, and to their products, and the heaters are no exception. Indeed, we see more repeat customers for DeLonghi space heaters than maybe any other company – even more remarkable considering that customers tend to have them for many years!
DeLonghi EW7707CM Portable Oil-Filled Radiator Heater Pros and Cons
| ✅ Pros | ❌ Cons |
| --- | --- |
| Extremely Energy Efficient – saves money even compared to other oil-filled space heaters | Takes longer to fill large spaces with heat |
| Deep, Warm, Even-Heat & Quiet, even Silent, Operation |   |
| Especially Effective Design for Smaller Spaces |   |
| Ease of Portability, Use & Intelligent Design |   |
| Cleaner Running, Odorless, and No Noxious Emissions |   |
| Very High Material and Build Quality and Extreme Reliability |   |
| Complete Safety Features & Great Warranty (3 Years) and Customer Service |   |
Although it should be said that this is a portable heater and is designed to work well all throughout the house, and easily handles rooms up to 250 square feet.
Features & Specifications
Heating Element: Electric

Heating Type: Oil-Filled Radiant 

Heating Power: 700, 800 & 1500 Watts

Effective Heating Area: 250 Square Feet (~23 Square Meters)

Safety Features: Smooth, Cool-Touch Surfaces; Auto-Off for Tip-Over or Overheating 

Reliable and Easy to Use Mechanical Controls

Built-In Room Thermostat

Anti-Freeze Circuitry

Rust-Resistant Durable Metal Construction

Integrated Power Cord Spool & Heavy-Duty Caster Wheels

Size: 5.90 x 13.78 x 24.90 Inches 

Weight: 23.15 Pounds

Warranty: 3-Year Limited Manufacturer's Warranty
Our Pick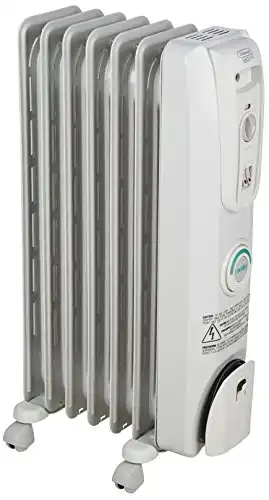 Final Thoughts: Should You Buy a DeLonghi EW7707CM Portable Oil-Filled Radiator Heater?
You may have noticed that we here at Knowtheflo absolutely love DeLonghi and their wonderfully satisfying space heaters, and so we would have to say that if you need a top-quality space heater to move around the house, or to use in a small to medium-sized room, the DeLonghi EW7707CM Portable oil filled radiator heater would definitely be one of our very top recommendations.
The DeLonghi Portable will save you lots of money, in that you can warm only the space you're currently using and give your furnace a break, it will provide a delectable to-the-bones radiant heat that is, to us, indescribably satisfying, and it is easy to use, quiet and reliable.
It is always a good feeling to purchase the best quality (especially when the best is so affordable), and the DeLonghi EW7707CM Portable oil-filled radiator heater is one of the best products we know, and will definitely make you, and your family, feel good!

Hey there! I am
Benas
, the founder and content editor at Home Caprice. Thanks for reading the article. I hope you were able to find what you were looking for. I and my team are here to simplify heating and cooling for everyone. Please have a look at the
About page
for more details about our website and feel free to check out our
editorial process
.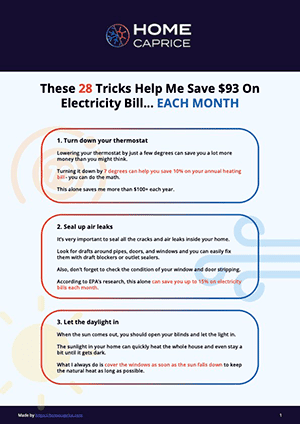 These 28 Tricks Help Me Save $93 On Electricity Bill... EACH MONTH
Download this FREE cheat sheet to find 28 tricks that can help you save on your electricity and heating bill each month.
Click here to get a FREE Cheat-Sheat