We all love sunny days, but I don't know anyone who loves the heat in your home that comes with the Sun. It's easy to ignore a little bit of heat, but when Summer is here – most of us have air conditioners working non-stop.
So, when we're talking about air conditioners, a lot of them are expensive and attached to a big electricity bill each month. 
I won't say that it was easy, but I hand-picked some of the best ductless air conditioners that not only work well but also save you money (you can thank me later)
What Are Some Important Factors When Buying Air Conditioners
1. Energy Usage
The cost of electricity rises, so it's important to have a ductless air conditioner that provides better cooling but also consumes less energy. You should look out for the Seasonal Energy Efficiency Ratio (more on this later) as you will know how much energy your AC will drain.
2. Size & Capacity
This would probably be the most important factor when buying a new AC. You should get one that has the right capacity for the size of your home, so choosing the right ductless air conditioner depends on the square footage of your home.
The last thing you want is to get an AC that doesn't have the capacity to cool every room. An example would be "A 1-ton AC can efficiently cool a room of 140 sq", so for a bigger room, you would need a 1.5 or 2-ton AC.
3. Cost
I believe that some air conditioners are overpriced. I don't think that price is always a metric of quality when it comes to getting a better air conditioner.
You don't want to overpay, but you don't want to save a couple of bucks now to end up later spending more on maintenance and electricity bills.
Now that we have all of these covered, you're probably wondering which AC to buy, right?
Recommended Ductless Air Conditioners
Our Pick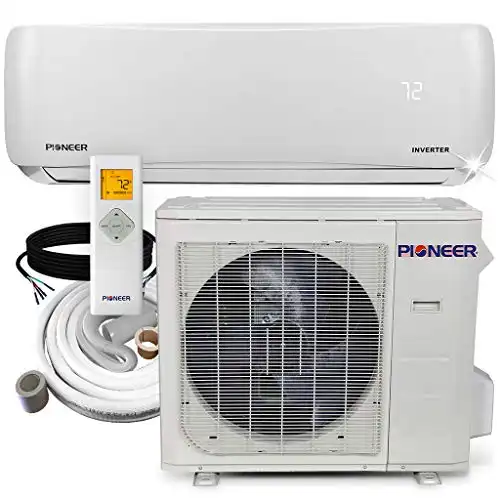 The PIONEER AC Inverter is a perfect solution that is ultra silent with a beautiful build. The thing that I love about it is that it has 18 SEER which means that it won't drain much energy, so you can expect lower electricity bills. 
Although it comes with an easy-install 16ft copper piping kit, from what I can see, it's not that easy to install it. If you're not handy or don't have the experience, I would recommend hiring a professional. 
Note: Installation has a lot to do with the performance of the AC.
Our Pick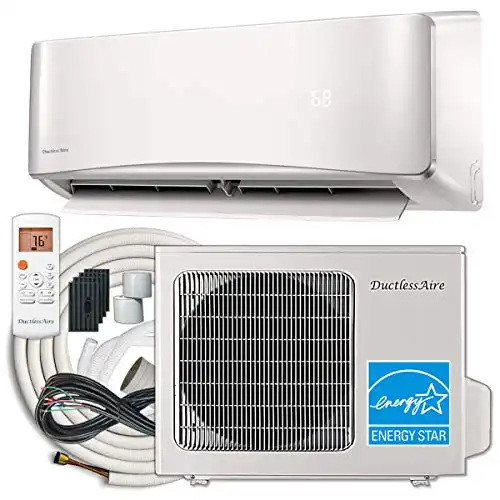 This ​Ductless Aire Mini Split AC is a perfect solution if you need cooling for a bigger room and you're not on a budget. The air quality and advanced functions are what make this AC one of the best air conditioners out there.
Expect to have a little higher electricity bill than with the previous AC I've mentioned, but if you have a bigger home – I would recommend this one.
Our Pick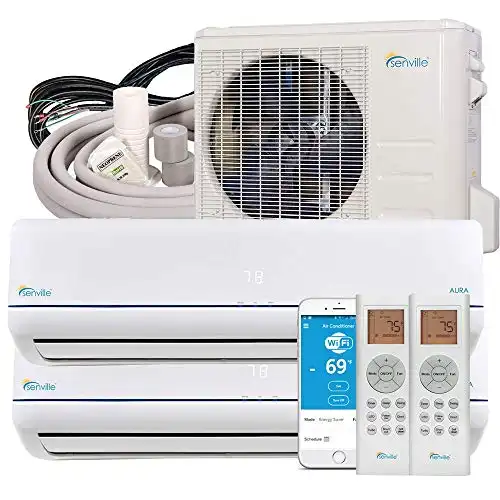 If you're looking for a mini-split AC, this one is perfect for you. For individual rooms and business offices, you don't need anything more. The great news is that it comes with a 2-year warranty on parts and a 7-year warranty on the compressor.
This guarantees the quality and durability of this Senville AC. The only thing that I'm not satisfied with is that electrical wiring harnesses and cables are not included which can make the installation process a bit more complicated.
Our Pick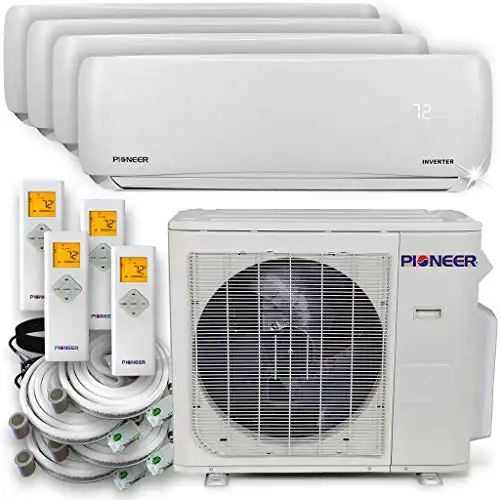 This multi-zone system is definitely a good option if you want decentralized and independent zone control for the perfect climate in each zone or room. You can independently set each of them to be on/off or to run with different temperature settings.
However, the installation of this system is very complex and even if you have some kind of experience, I would still advise you to seek professional help. So, expect to spend a little bit more on the installation process as well.
This AC is decent, but their customer service is not professional, so be careful.
Our Pick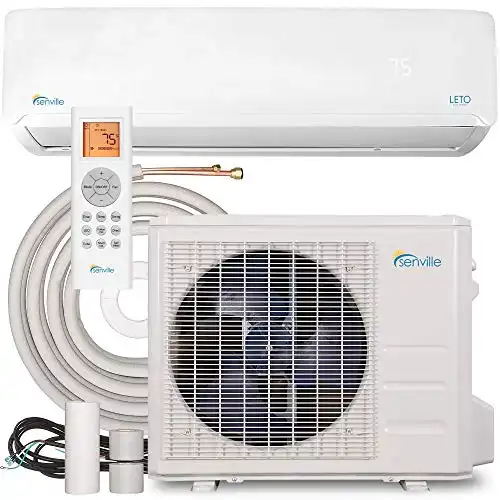 This AC comes from LETO Series by Senville, and it's an affordable and efficient air conditioner with the best functions. You don't need some special tools to install it, so you could do it by yourself – with caution.
I've seen some people using this AC for their travel vans, so it's quite simple to install it. The thing that you will love is that it has whisper technology for quiet operations which makes it perfect for the bedroom or living room.
Our Pick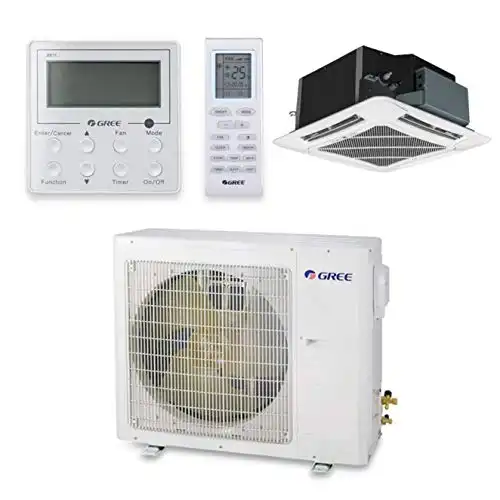 This isn't your average AC as this is a ceiling cassette air conditioner. Of course, the installation process is much harder, so even if you have the experience, it would be better to ask for professional help.
What you will love is how quiet it is with sound levels as low as 56 dB(a). You get a wireless remote control or wired controller mounted to the wall with which you can control AC.
As this would be recommended for bigger rooms, it can cool/heat up to 1,000 sq ft – impressive.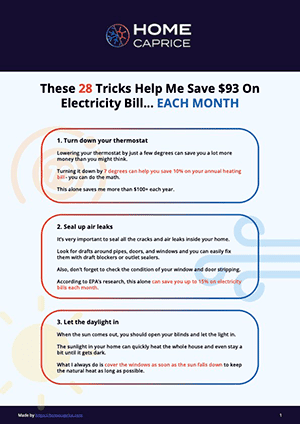 These 28 Tricks Help Me Save $93 On Electricity Bill... EACH MONTH
Download this FREE cheat sheet to find 28 tricks that can help you save on your electricity and heating bill each month.
Click here to get a FREE Cheat-Sheat
How Do Ductless Air Conditioners Work?
This is the question that I hear a lot.
So, let me explain everything about air conditioners, starting with the…
Units
We have three different types of units, and let me tell you more about them. Each unit has its own functionality and job to do. 
Although they might be connected, here's what you need to know about each one:
1. The Indoor Unit
Indoor AC is installed inside the room. It contains a fan and a fan motor that pushes warm air from your home over the cool evaporator coils. The job of the indoor unit is to suck in warm air from that room, absorb the heat from the air, then blow cold air back into the room.
If you're asking what's happening with all the heat, it is collected outside with a conduit.
2. The Conduit
The conduit has a simple job. It gives electrical power to both indoor and outdoor units. It's a long cable that houses the power cable. 
The conduit is the reason why the heat from the inside of your home exit and makes its way toward the condenser.
3. The Outdoor Condenser/Unit
The outdoor unit is installed on or near the wall outside of the room or zone you want to cool. Same as the inside unit, it contains a fan and fan motor. 
Without your air conditioner's outside unit, the heat that's removed from your home would stay as it would have nowhere to go.
Heating
There are ductless AC systems that provide cooling and heating. If an air conditioner has a heat pump, it will provide better heating.
A heat pump works the same but is reversed from air conditioners. It "pushes" the cold air outside, and makes sure that hot air stays inside.
I had no idea that heat pumps are so energy efficient as they consume only 40% of the energy that other electrical resistance heating would require to achieve the same temperature.
Mini Split AC
Mini-splits are cooling and heating systems that allow you to control the temperature in individual rooms.
They have two main components :
Outdoor condenser
Indoor air handling (evaporator)
They aren't that hard to install as they only require a three-inch hole through a wall for the conduit.
In my opinion, mini-split heat pumps are a great solution for the whole home or new construction.
What to Consider Before Buying a Ductless AC? 
There are multiple different factors, so let's start with the first one.
Number of Zones 
Ductless Air Conditioners distribute cool air to the different zones of the home. While traditional air conditioners would cool the whole house, with ductless AC you can cool only specific parts of your home.

So, think about how many zones you wish to cool because it will help you choose the right AC.
Room Sizes 
This is a very important factor you need to look out for. It's not the same if you want to cool 100sq ft and 250sq ft rooms, so choose an appropriate ductless air conditioner that has a higher BPU.
📍 TIP: When looking for a higher BPU, also watch out for SEER (Energy Efficiency). You don't want to receive big electricity bills each month.
Budget 
There are a lot of affordable ductless air conditioners that you can buy and they will do a great job of cooling and heating your home. Also, if you have an extra couple of hundred to spend, I would suggest you get the AC with more functions and better features.
From my experience, don't try to save every penny because you will regret it afterward.
Power 
Power can play a big role if you have a bigger room(s) you want to cool or heat. Again, don't rush and get AC that spends energy(electricity) like crazy.
📍 Note: Power isn't always a good thing. Make sure to check the air quality if you're looking for a "more-than-average" power air conditioner.
SEER Rating (Energy Efficiency) 
This could be the single most important factor when buying a ductless mini-split air conditioner. Why? It's because you don't want to have significantly bigger electricity bills coming to you each month.
Always look for SEER Rating. I would say that everything over 13 SEER is great.
Noise Level (Inside & Outside) 
You should always watch out for the noise levels. You could either test it in person or read reviews from other people and see what they're saying.
If you're trying to save a lot, be aware that you can end up with an air conditioner that has uncomfortable noise which can prevent you from having a good night's sleep.
Voltage 
The units with a rating higher than 15,000 BPU will require a 220-volt circuit. I personally would look for 220V in my AC, but you can also find units with 115V and 125V.
Installation 
The installation part is what I would only recommend to you if you're handy and experienced. If you're not sure that you can install it properly, seek professional help and let them do it for you.
If you didn't know, the installation part has a lot to do with the overall performance of AC, so you want to make sure you get it done right.
I highly suggest hiring a professional to install your AC. Click this link and fill out the form to get offers from your local contractors.
Warranty & Support 
Great customer support and warranty are always welcomed when buying a ductless air conditioner. I saw some companies offer 2-7 years' warranties, so you should aim for anything in that range.
It's very important to have good support on your side, so choose the company that you can trust.
Running costs 
This is where SEER plays a big role.
As I said earlier, you don't want big electricity bills, so you should know about the overall running costs of your air conditioner.
📍 TIP: Check out the reviews on Amazon, as people are talking about real running costs.
How to Install Ductless Mini Split AC?
Save or bookmark this article and once your AC arrives, come back here and check for details on how to install your brand-new mini-split!
I want you to be very careful with this part. If you feel comfortable installing a ductless mini-split AC on your own, go for it.
Still, I recommend seeking professional help as it will positively affect your air conditioner's performance.
Now, it's very hard to describe with words how to install a ductless mini-split air conditioner. I could say you just have to take a few metrics, position them well, and you'll be done.
But, it's not as easy as it sounds.
My advice would be to hire a professional. Fill out the form below to get offers from your local contractors.
Or feel free to call this number if you prefer to chat over the phone 👉 (855) 659-3394
But if you insist on doing it yourself, I suggest watching the youtube video below where you will see how a professional installed his ductless air conditioner.
Remember, it's way easier than it looks (don't ask me how I know…)
How to Maintain It?
Maintaining your air conditioner will have a lot to do with air quality and how it is cooling/heating.
It isn't that hard to maintain it, so if you have free time – you can do it by yourself.
Here are some tips I can give you on maintaining your air conditioner:
Remove the filters and clean them
Clean the Coil and Condenser
Clean The Pipes
Check If There's Any Snow
Call for Professional help
📍 Note: Make sure to turn your system off before trying any of these actions.
How to Save on Your Power Bill?
Although SEER plays a big role here, I want to give you some tips that can help you save money in the near future. You can apply them right now.
Turn off your AC at night: this is obvious, but it can save you a lot if you just apply it. If you're sleeping at night and you don't need any heating or cooling, just turn your AC off.
"Remove" The Sun: of course, you can't remove the sun, but you can get your home shadier. So, keep blinds and curtains closed and your room won't be so heated. This tip is especially for those hot summer days and if you get shady, you won't need as much cooling as if the sun was blasting through your windows.
K.I.C.B. – Keep It Clean, Buddy: maintenance of your air conditioner plays a big factor in how much energy your AC is draining. Dirty filters will make your AC work harder and drain more energy, so make sure to clean or replace those filters.
Check out how much you are currently spending with the calculator below:
Electricity Cost Calculator
📍 TIP: There are some professional maintenance services, so if you don't have time, I would recommend seeking their assistance.
Now You Know It…
Well, now that you know how to choose the best ductless air conditioner, it's up to you to make a choice.
As you know, I've mentioned a few air conditioners at the beginning and my favorite is this one.
You can share this article with friends and family, so they can also know what to look out for when buying an air conditioner.
Thanks for reading!
Hey there! I am Benas, the founder of Home Caprice. Thanks for reading the article, I hope you were able to find what you were looking for. Me together with my team, are here to simplify heating and cooling for everyone. If you want more details about the website and our team, please check the
about
page.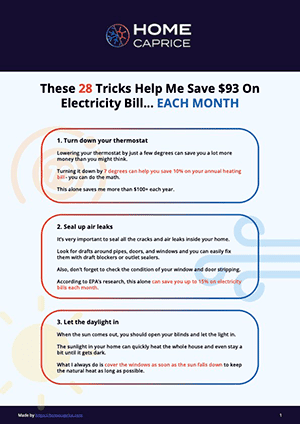 These 28 Tricks Help Me Save $93 On Electricity Bill... EACH MONTH
Download this FREE cheat sheet to find 28 tricks that can help you save on your electricity and heating bill each month.
Click here to get a FREE Cheat-Sheat