Whether you are considering purchasing a new water heater, are dealing with an old water heater that's no longer up to snuff, or you're just the curious type in general, you may well wonder how long it takes for a water heater to heat up a full tank of water.
How Long Does it Take for a Water Heater to Heat Water?
The answer to the question of how long for a water heater to work depends on what type of water heater we're dealing with.
Standard "Tank Storage" Water Heater – Natural Gas Powered
How long does it take for a gas-powered water heater to heat up water? It's usually around 30-45 minutes, depending on the size of the tank and how cold the water is initially.
Standard "Tank Storage" Water Heater – Electric Powered
How long does it take for an electric-powered water heater to heat up water? It's usually around twice as long as a gas heater – 60-90 minutes, again depending on the size of the tank and how cold the water is initially.
Tankless Water Heaters – Gas or Electric
How long does it take for a tankless water heater to heat up water? Regardless of whether it is gas or electric-powered, a tankless water heater is "on demand," meaning it will heat up the water immediately and keep a flow of hot water coming as long as you need.
Since a tankless water heater only heats the water you need and does not have to maintain heat in a large storage tank, they can not only be faster but much more energy efficient and cheaper to run – around 25-35 percent cheaper with average use!
I should mention that if you have a conventional tank storage system, either gas or electric, the above times are for heating the entire tank of water – that is, the first time you use it, or if you've used all of the hot water in the tank and it needs to recover and reheat.
If you are just turning on the tap, though, and the tank is already full of hot water, it too is essentially "on demand," and if your pipes are reasonably well insulated and the tank is not too far away you will have hot water pretty much instantly.
Why Is My Water Heater Taking So Long to Heat Up?
If you've found my article, chances are that you are probably wondering not just how long it takes for a hot water heater to work, but why yours is taking so long to heat.
There are many different reasons a water heater is not working as well as it might – not just taking too long, but also maybe not reaching satisfying temperatures even after a long time.
Of course, if your water heater is not working at all, you should:
To be as clear as possible, you should not check or work on gas lines or electricity yourself – it can be extremely dangerous, even deadly, and it can also violate building codes and compromise the value of your home. Always use a qualified and licensed professional for any gas line or electrical work!
If these things don't work, or if your heater is working but just very slowly, or not getting hot enough, the problem might be:
Your tank is too small for your home and family and your daily use
Your heater is too far away from your usage points
Your pipes are not adequately insulated
The tank may need to be flushed
These are common issues, but the most common issue seems to be that your water heater is simply on its way out – either it has reached the end of its lifespan, or it has problems that may not make it worth fixing. If so, you might need to have it serviced or even just replace it.
If your water heater is too old – that is, 8-12 years or so, it may have problems that need repair, you may not want to spend, or even waste, your time and money on maintenance, repair, plumbing work, and other pursuits, when you can get a new, high-efficiency water heater for less than you might imagine, and have not just more satisfyingly warm water much more quickly, but much lower running costs.
📍 Recommended Reading: How Long Do Water Heaters Last
This is not a buyer's guide, but it might be helpful if I list out here my favorite hot water heaters – if you do need to replace your old unit, you might as well get one that will work not just quickly, but efficiently, affordably, reliably and for as long as possible – and provide the most satisfying experience each and every time.
So I will include my personal recommendations for the best hot water heater you can get, including a pick for gas-powered and electric-powered in the conventional tank storage category and both gas and electric picks for tankless water heaters as well.
What I Like:
Very well built and long-lasting
Super efficient
Corrosion-free design
Pre-installed water connectors
Great Warranty
Drawbacks:
A bit expensive – though IMO well worth it!
What I Like:
Lowest running costs
Great for the environment
Easy installation
Low maintenance
Very high material and build quality
High volume continuous hot water flow
Drawbacks:
None – highly recommended!
The Best Gas Water Heaters
Gas water heaters are still in more than half the homes in the United States and around the world, and they do have lower operating costs thanks to the currently relatively low cost of natural gas. They heat and reheat more quickly, will work even during power failures, and are a good choice especially if you already have the gas lines in place.
What I Like:
Very reliable
Safe construction and running
Fast heating
Low heating costs
Great Company
Drawbacks:
The warranty is a bit short – though a very well-made and dependable unit
What I Like:
Strong hot water flow
Full home supply from one unit
Easy outdoor installation
Low maintenance
Extremely well-made and reliable
Great company
Drawbacks:

Hey there! I am
Benas
, the founder and content editor at Home Caprice. Thanks for reading the article. I hope you were able to find what you were looking for. I and my team are here to simplify heating and cooling for everyone. Please have a look at the
About page
for more details about our website and feel free to check out our
editorial process
.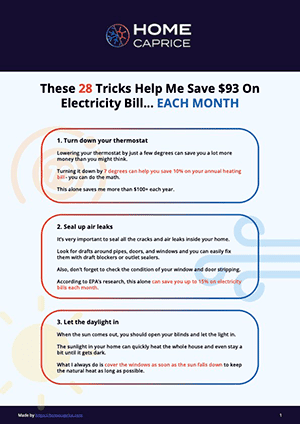 These 28 Tricks Help Me Save $93 On Electricity Bill... EACH MONTH
Download this FREE cheat sheet to find 28 tricks that can help you save on your electricity and heating bill each month.
Click here to get a FREE Cheat-Sheat