An immersion water heater is one of the handiest tools you can have, whether around the house or when you travel. 
What is an Immersion Water Heater?
A simple and effective appliance, an immersion water heater is a small rod or coil which is meant to be submerged in water to heat the water up.
They are electrically powered and generally plug into any normal wall outlet or extension cord.
Some immersion water heaters will also have a thermostat for controlling the temperature, a thermometer for monitoring temperature, overheat protection, heat guards for protecting plastic containers and your hands, and other features.
What are the Different Types of Immersion Water Heaters?
Many people are familiar with immersion water heaters in at least two forms – an aquarium heater and a beverage heater – but in fact, there are several different types of immersion water heaters, including:
High Power Heaters for Heating Large Volumes of Water
Low Power Heaters for Automatic De-Icing 
Aquarium Heaters
Beverage Heaters
Sous Vide Food Cookers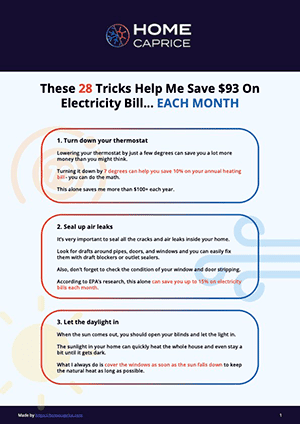 These 28 Tricks Help Me Save $93 On Electricity Bill... EACH MONTH
Download this FREE cheat sheet to find 28 tricks that can help you save on your electricity and heating bill each month.
Click here to get a FREE Cheat-Sheat
What are the Advantages of an Immersion Water Heater
Beyond the obvious advantage of an aquarium heater – it keeps your beloved fish alive – the various types of immersion water heaters can have many advantages, including:
Immersion heaters heat water quickly
They are simple to use
They are usually small and easy to pack
An immersion heater can make hot water available almost anywhere
Bucket immersion water heaters can make many household or farm tasks easier and nicer
Larger heaters can heat large volumes of water
De-icers can keep animals and birds alive
The immersion water heaters are completely safe to use
How can I Select the Best Immersion Water Heater?
We will talk more about safety after our list and review of the best immersion water heaters, but safety is one of the most important factors in selecting the right unit.
Keep in mind that each immersion water heater we recommend is safe, and can be used with total confidence, and rest assured that we will mention any important safety precautions you should follow in the individual reviews
Other than that, it is a simple matter of knowing what you want an immersion water heater for, and then selecting that unit from our recommendations. Each heater we choose will offer the best performance, value, and safety, and is the best choice you can make for that particular type.
Whatever your need or use, this article – Best Immersion Water Heater: Buyer's Guide – will help you find the best immersion water heater currently available, so please dive in!
Our Pick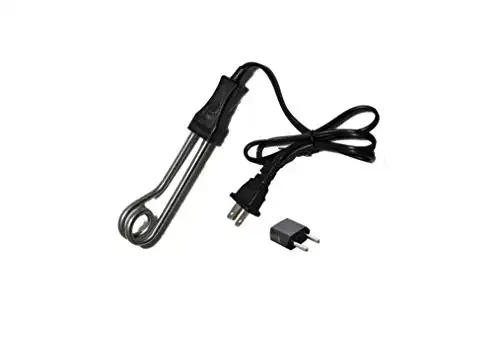 A small, portable immersion water heater for making coffee or tea is one of the most useful and handy bits of travel kit you will ever have.
But you must use it correctly! These simple little devices have essentially no safety features, and we would only recommend one if first we make a few things absolutely clear:
You cannot have this heater plugged in unless it is fully submerged in liquid – it will burn up almost instantly and can cause fires if it touches anything
You cannot leave this heater unattended – it will boil water so fast that it will all boil away, and then the coil will burn up and fail
After use, you must unplug it immediately.
You must then lay it somewhere safe, or place it in another cup with cold water inside.
You cannot use plastic, light glass, paper, or metal cups – only cups that are safe with boiling water
Never touch the coil or any of the metal, either while it is plugged in or for a few minutes after use
Never touch the water or liquid if the coil is in it and plugged in
Now, if we haven't scared you away, we would like to recommend a very basic, inexpensive, and reliable beverage heater – the Heatiac Dual Voltage Immersion Heater.
This great little immersion water heater will work on either 120 volts (American) or 240 volts (most of the rest of the world) electricity and includes a round pin plug adapter for many wall outlets outside of the United States.
The power cord is over 2.5 feet long – longer than most, which can make the Heatiac immersion heater a lot more convenient to use, and the low voltage, though it takes a little longer to heat or boil water, is actually safer and seems more gentle and nice to use.
With a stainless steel coil, the Heatiac Dual Voltage Immersion Beverage Heater – according to lots of customer reviews — lasts much longer than most of the units out there – and that alone would be enough for us to choose this nice little product as the Best Immersion Water Heater for Beverages in 2023.
Features & Specifications
Heating Power: 300 Watts (120V) / 1,300 Watts (240V)
Dual Voltage: 120/240
2.5 Foot Power Cord
Includes Standard Flat Pin Plug (for American wall outlets) and International Round Pin Adapter
Our Pick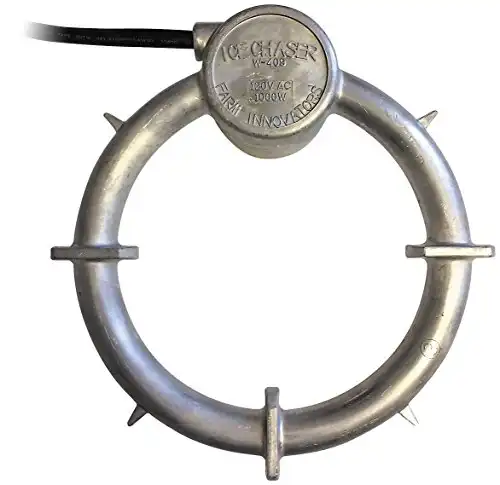 Farm Innovators makes excellent basic immersion heaters for around the house, farm, or business. They clearly have the kind of experience needed to understand exactly what you would need an immersion heater for, and make products that are designed well, are safe to use, and really last.
The Farm Innovators W-409 is meant to be an immersion bucket heater, especially for keeping water warm enough for livestock, but people end up using it for heating even much larger volumes of water – washbasins, ponds, hot tubs, and even small pools – just make sure to take the heater out before you get in!
The W409 sits discretely at the bottom of any vessel and has simple ribbing around the heating element to keep it from burning or melting the container. And, with 1,000 watts of power, this heater warms water quickly but gently.
Again, please keep in mind that, for safety reasons, you should not physically get into a pool or any large container or vessel when this heater is in place, and you should be very careful even sticking your hand into the water – the surface of the heater is hot, and will burn you to the touch.
A basic, high-quality product that does exactly what it is designed to do, and will serve a thousand different purposes, the Farm Innovators W-409 1000W Bucket Heater is our choice for the Best Immersion Water Heater for Large Volume this year.
Features & Specifications
Heating Power: 1,000 Watts
6-Foot Power Cord
UL Listed
Made in the United States
This Farm Innovators heater is designed to heat water gently and keep the maximum temperature low enough to be safe for pets and livestock to drink (around 100-110 degrees).
If you need really hot water, an excellent alternative is the Kingwork Portable Water Heater, a wand-type unit with full safety features that will heat water to over 180 degrees.
Our Pick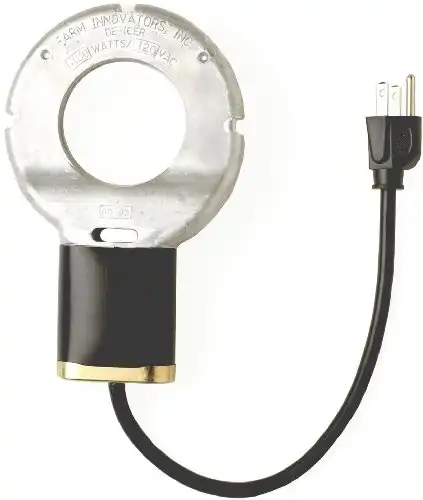 As mentioned just above, in our review of the best immersion bucket heater on the market today, Farm Innovators is a great company, with high-quality products designed by people with experience using such products and the understanding of what their customers need.
This is quite evident in their excellent C-50, which Farm Innovators calls "a state-of-the-art electric bird bath de-icer." We didn't even know that birdbath de-icers could enjoy a state of the art, but if so this is certainly the company to attain it.
While other, far more expensive submersible water heaters made for de-icing may provide fancy brackets and other fixtures and features – which often don't work well or break easily – the Farm Innovators C50 is simplicity itself.
It sits at the bottom of the birdbath, pet water dish, or any other water you need to stay melted during the winter and turns off when not needed. Really, that's it – just make sure it is plugged in, and that water or ice is fully covering it, and it will work for years and years, even in really cold, harsh conditions.
The cast aluminum Farm Innovators Bird Bath De-Icer is exactly what it should be – simple, effective, reliable, and safe for birds – and is our choice for the Best Immersion Water Heater for De-Icing.
Features & Specifications
Heating Power: 50 Watts
Cast Aluminum Construction
UL Listed
Made in the United States
Our Pick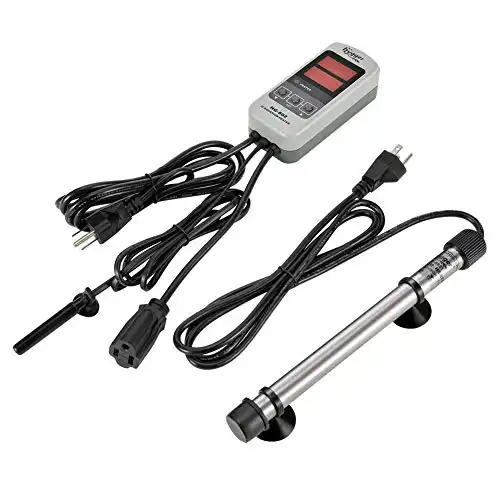 If you have fish, you probably already know Hygger. And if you've never heard of the company, or are getting your first aquarium, you should definitely get to know them.
Makers of some of the best aquarium heaters on the market, Hygger is famous for the best quality and performance, and for products that are cleverly designed, with important and useful features.
This titanium submersible heater is designed to last, includes an outboard thermostat controller and thermometer, and comes with two ultra-strong suction cups for precise and secure placement.
The HG-802's digital control panel is very easy to use, and it remembers your settings. The thermostat and thermometer are both extremely precise and sensitive, and this immersion heater has a wide adjustment range – from 32 to 104 degrees Fahrenheit (0-40 degrees Celsius), making it suitable for all kinds of saltwater and freshwater fish.
The Hygger HG802 aquarium heater is available in 50 watts, 100 watts, 200 watts, and 500-watt models for fish tanks from 5 to 200 gallons.
With safety, reliability, and performance as their top priorities – not to mention the health and comfort of your beautiful fish – Hygger is the leader in aquarium accessories, and the Hygger HG-802 Titanium Freshwater and Saltwater Aquarium Heater is one of their most successful and popular products and our choice for  Best Aquarium Heater.
Features & Specifications
Heating Power: 4 Models: 50 Watt (5-10 Gallons); 100 Watt (10-20 Gallons); 200 Watt (20-45 Gallons); 500 Watt (60-120 Gallons)
Long-Lasting Titanium Tube
Ultra-Precise Thermometer and Thermostat
Easy-to-Use Digital Control Panel
Are Immersion Water Heaters Safe to Use?
A good immersion water heater is completely safe to use, with the most important safety features built right in, but this is not true of all of them.
If you are a traveler or do a lot of camping or hiking, you may be familiar with the classic coiled metal immersion heater – the most basic unit, and not always the safest.
Often these cheap heaters, although they work well, have basically no safety features. They can burn your skin, start fires or damage anything you lay them on, and if they are removed from the liquid while still on they will burn out almost immediately.
But don't worry – even the best immersion beverage heaters are safe if you use them properly. And every other immersion water heater on our list – Best Immersion Water Heater: Buyer's Guide – has the safety features you will want and need. Moreover, we will mention any important safety precautions you need to know in the individual reviews.
So you can be fully confident that with any of these immersion water heaters you will not only get the best performance and quality, you will get the safest unit as well.
Thanks for reading our article – Best Immersion Water Heater: Buyer's Guide – and we hope to see you again!

Hey there! I am
Benas
, the founder and content editor at Home Caprice. Thanks for reading the article. I hope you were able to find what you were looking for. I and my team are here to simplify heating and cooling for everyone. Please have a look at the
About page
for more details about our website and feel free to check out our
editorial process
.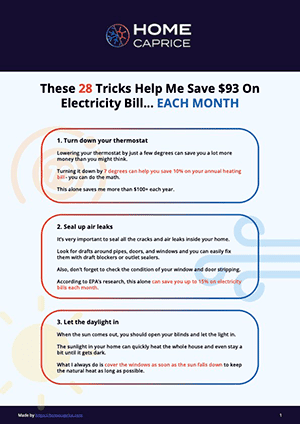 These 28 Tricks Help Me Save $93 On Electricity Bill... EACH MONTH
Download this FREE cheat sheet to find 28 tricks that can help you save on your electricity and heating bill each month.
Click here to get a FREE Cheat-Sheat