A plug-in thermostat is a brilliant way to save money, and it can make your life easier and more convenient. Not only that, they can actually help the environment as well – a smart and affordable green product that can make a real difference!
In this article, we'll look at the 8 best plug-in thermostats on the market today, and hopefully help you find and purchase the best one for your needs. We'll talk a little about how a plug-in thermostat works and what benefits they offer, who makes the best ones, and then list our top recommendations.
If you're in a hurry and want to get right to the good stuff, here is our top pick below.
What Is a Plug-In Thermostat?
Also called an outlet thermostat, a plug-in thermostat is a very simple and ingenious product – a device that senses the temperature in the room, and based on how hot or cold it is turns on your fan, air conditioner or space heater.
Yeah, it's really just that simple. There is a dial to set your desired temperature and an AC plug that you plug your fan, AC or heater into, and when the desired temperature is not met the plug-in thermostat supplies power to the plug so that your heating or cooling unit can turn on and raise or lower the temperature.
There may be additional functionality, like programmability and a remote control, but still they are super easy to use, and super easy to install as well – pretty much plug in the thermostat, plug in the heater or cooler, set the temperature and you're done; take the rest of the weekend off!
What Are the Advantages of The Best Plug-In Thermostats?
A plug-in thermostat is, first and foremost, a great way to keep your living space at the ideal temperature as effectively and efficiently as possible, but good plug-in thermostats actually have lots of advantages.
Temperature Control
They are very effective at keeping your room's temperature just right, even when your fan, AC or heater doesn't have its own thermostat. Just set the temperature, or temperature range, and your new thermostat will take care of the rest!
Convenience
Rather than running to the heater or cooler whenever the temperature starts to get uncomfortable, you can just relax and rely on the thermostat to take care of things.
Comfort
Manually turning your heater or cooler on and off means that there are often times when the air is too cold, or too hot, but with the best thermostats your climate control device is turned on and off at just the right time, making you and your living space more consistently comfortable.
Cost Savings
Instead of leaving your air-con, heater or even fan on all the time, or at least more than it is actually needed, your new plug-in thermostat will only turn them on when they are needed, saving you money. 
Environmentally Friendly
For exactly the same reasons that the best plug-in thermostat will save you money it will also save energy, reducing your carbon footprint and helping the environment.
And while we here at Know the Flo are pretty focused on heating and cooling, it should be said that a plug in thermostat can be used for much, much more, including:
Plant growing and seed germination
Pet and animal habitats and egg hatching
Home brewing and fermentation
And considering how inexpensive even the best thermostats are, and how easy they are to install and use, there's no reason not to get one, and you can start enjoying these benefits right away!
Who Makes the Best Plug-In Thermostat?
There are few companies which are fairly dominant in the whole plug-in thermostat game – BN-Link, Inkboy, Digiten and Pymeter, and they all make solid, safe and dependable products.
And yeah, sometimes it can be tempting to try one of the ultra-cheap, fancy looking thermostats from a company we've never heard of, just like it is with so many other products we see online.
But really, with something like an electrical thermostat, which needs heavy duty wiring and switching, and can handle and control pretty large flows and surges of wattage, it's best to make sure your home and family are safe, and to stay with companies and products you know you can trust.
So, in our guide to the best plug-in thermostats, we are only recommending products we have tried ourselves, or at least ones from companies we are absolutely certain make reliable and safe units.
You will find our eight top choices below, from least to most expensive, and so it can be a simple matter of knowing just how much you want to spend and choosing the thermostat at that level. And you can be sure that any one of these recommendations will be:
Appropriate for general home use
Able to handle even the heavier current that some air-cons and heaters need
Safe
Dependable
Nicely designed and easy to use, and
Well made and long lasting
You will also see that each of our picks has a heading, telling just why we like it, so you could also base your decision based on the following:
But whichever you choose, you will get the best plug-in thermostat possible for the money, and after literally a few seconds of setup you can enjoy a more comfortable environment and real savings on your energy bills!
The Best Plug-In Thermostats
An incredibly simple and straightforward plug-in thermostat, the EconoHome universal works in both cooling and heating modes and will turn your device – a heater, air conditioner, fan or anything else – on and off when the target temperature is reached.
With no other functions – no lights or display, no programmability, no remote, no dual-zone switching – this may be too simple for your uses, but if you are really only using one device this is not only one of the simplest, but totally safe and reliable as well, UL listed, with 15 amp/1875 watt capacity and a built-in overload switch.
Easy to use, surprisingly heavy duty, and ultra-safe – and a great value!
You may notice that our choice for best budget outlet thermostat is not the cheapest on the market – in fact, it is a couple of bucks more expensive than our choice for the easiest thermostat to use – but there are a couple of very good reasons  for this.
For one thing, we avoid super-cheap electrical appliances from no-name companies like the plague – there is no amount of money you can save that can compensate for safety or peace of mind, and when a product comes from a company like Digiten we have both in ample supply.
And for another thing, though this isn't the lowest priced plug-in thermostat, it is one of the best – in terms of not just safety, but also functionality, accuracy, usability and power-handling.
The display is very clear and easy to read, and the controls are simple and straight-forward, and the DTC101 feels like a very high quality product, well made with premium materials and suitable for continuous long-term use. Its maximum load is 10 amps and 1100 watts, plenty for almost any heating and cooling appliances, but there is also an even heavier duty 15 amp model available.
In addition to basic functions, the 101 also has delay circuits to protect the compressor on self-starting appliances, alarms for temperature and for defective probes, temperature calibration override, both fahrenheit and celsius readout and settings memory.
Pretty amazing for the price, and a clear choice for best cheap plug-in thermostat.
A great unit from Digiten, a company very well known for their innovative and high quality thermometers, thermostats and switching systems, this is a quite basic, safe and heavy duty plug in thermostat with a brilliant remote control.
In terms of functionality, the WTC200 is much like any other, a plug in switching thermostat with temperature probe that will sense the temperature of a space and turn either a heating or cooling product on and off when necessary. The unit is fully CE compliant, can handle up to 1300 watts at 120 volts AC, and will also work with 220/240 volt systems.
And the remote is very simple and useful, has a great range (over 100 feet), allows you to set and change temperatures and even lets you monitor the temperature in the affected space. 
A reliable, highly accurate and easy to use plug in thermostat for air conditioner, heater or fan, from a company you can trust, and at a very low price!
You can spend a lot more for a dual-socket wall outlet thermostat, but the Pymeter is probably everything you need – two waterproof sensors, two separately controllable outlets that can be used for heating or cooling, and a very easy to use and easy to read and understand digital display and control panel.
Rated for up to 1200 watts and 10 amps per outlet, this thermostat will handle almost any size or power of cooling or heating unit you might have, and if you need a heavier duty unit, there is also a 16 amp / 1920 volt model available for not much more money.
It can be set to sound an alarm if the target temperature is met, if the temperature differential is too great or if a sensor fails. NRTL listed, the relays are solid state, safe and reliable.
For accurate control of a space using two heating/cooling devices, or to clearly and reliably monitor an environment's temperature range, the Pymeter PY-20TT two outlet thermostat is an excellent and dependable product – well made, easy to use, safe and effective!
An amazingly advanced unit for the price, the BN-Link BNQ-79 not only allows for simultaneous heating and cooling control, but is exceptionally accurate, has a wide range of target temperatures – from -58 to 230 degrees fahrenheit – and will handle up to 15 amps of current and 1875 watts of power – perfect as a plug in thermostat for space heater, heat pump, air conditioner or other heavy draw appliances.
The six button controls couldn't be simpler to use, and the display is clear and easy to read, making setup really easy and at the same time giving you full control. The thermostat can also be set to sound an alarm when a high or low temperature is reached. 
Safe, heavy duty, highly advanced and accurate, and very easy to use, this is a great dual outlet plug in thermostat from a highly respected company, and we strongly recommend it! 
It's hard to say exactly why the Inkbird ITC308 is our favorite plug-in thermostat – really, it is just like so many other advanced dual-socket units, with the ability to monitor two target temperatures and control both heating and cooling equipment at the same time.
But the Inkbird just seems nicer – it is, for one thing, extremely easy to use and to read, and setting temperature and temperature differential couldn't be simpler. It has dual displays for convenience, which will show either Fahrenheit or Celsius. 
It will work from 120-240 volts and can handle up to 10 amps of current and 1100 watts of power with no problem – plenty of pretty much any heating or cooling equipment you might want to use. It also looks and feels great, with obviously very high levels of material and build quality, and is safe and reliable. 
Of course, coming from a company like Inkbird it definitely is – safe and reliable, that is – and you can count on it always working perfectly, and for many years to come.
We jump up a bit in price with the premium Lux WIN100 wall outlet thermostat, but given the quality, features and overall usability – not to mention the overall material quality and reliability, this can be considered a great buy.
The Lux WIN has a nice and simple appearance, but when you fold up the front panel you reveal a highly sophisticated control and display system that begins to get at the real functionality of this remarkable product.
In addition to the normal functionality there is also full programmability, which allows you to set different temperature control parameters for weekdays and weekends. Manual temperature override, temperature hold and the ability to work with auto-restart appliances are just a few of this thermostat's many advanced features.
And yet the Win100 is amazingly easy to use – initial setup, programmability and all advanced functions are a breeze to figure out and employ. It is also a very reliable, safe and heavy duty unit (with maximum load of 15 amps/1500 volts), and comes from a great company – an easy choice for the best plug-in thermostat overall!
Ok, in truth we could have called the Lux WIN100 (just above) not just the best overall but also the most versatile plug-in thermostat, and called it a day. The thing is, though, that we really love Inkbird products and have had such great luck with them, and really wanted to include one more in our list of best outlet thermostats.
And in fact, the Inkbird ITC-608T is slightly heavier duty, with a maximum possible load of 1800 watts and 15 amps, and has two outlets and two temperature probes, for using both heating and cooling appliances at the same time with very accurate and exact climate control. You can even attach a humidity probe (sold separately – see the Inkbird ITC-608T Humidity Controller Probe).
The 608T also has slightly more advanced and useful programming, a very easy and intuitive user interface, and is very well made, safe (US ETL listed), and reliable, not to mention exceptionally sensitive and accurate.
An amazingly useful and versatile outlet thermostat from our favorite company, safe to use and made to last, the Inkbird ITC-608T is highly recommended!

Hey there! I am
Benas
, the founder and content editor at Home Caprice. Thanks for reading the article. I hope you were able to find what you were looking for. I and my team are here to simplify heating and cooling for everyone. Please have a look at the
About page
for more details about our website and feel free to check out our
editorial process
.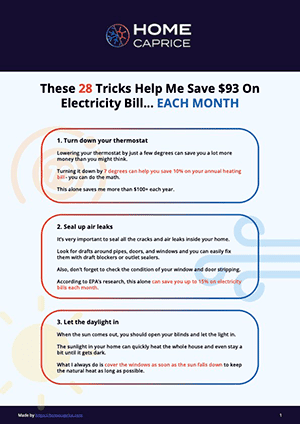 These 28 Tricks Help Me Save $93 On Electricity Bill... EACH MONTH
Download this FREE cheat sheet to find 28 tricks that can help you save on your electricity and heating bill each month.
Click here to get a FREE Cheat-Sheat