A good solar fan can be a real blessing on a hot and sunny day!
Any fan, of course, can bring relief, but add a powerful and dependable solar panel and you have a setup that not only keeps you and your home cool but can save you lots of money on your energy bills and can even maybe get you a nice tax break – so a relief on many different levels!
In this article, we're going to look at the best solar-powered fans on the market. We'll talk about what you should look for in a solar-powered fan, what benefits they offer, and who makes the very best solar fans available today.
If you'd like to get right to the cooling, though, without having to read the whole article, here are our top three picks:
What Exactly Is a Solar-Powered Fan?
A solar fan is a fan like any other, except that instead of getting its power from a wall socket – or, in some cases a car socket or a battery – a solar fan draws its power from a solar panel, which in turn draws its power from the sun.
This means that you can use a solar fan whenever and wherever there is sunlight, and you don't have to pay the utility company for the privilege!
Ok, but can a solar fan work if there is no sun?
When the sun is down, or behind the clouds, or for whatever reason there is no direct sunshine, most solar fans – or other solar-powered devices – will not work.
There are, however, solar-powered fans that also have a battery, and use the solar panel to charge the battery when the sun is up and out, so you can use the fan at any time.
Also, many solar fans will include a normal wall plug as well, to increase their versatility and usability, and some of the best solar fans for your home will switch automatically between solar and AC power.
What Should You Look For in the Best Solar-Powered Fan?
Solar-powered fans are at their core just like any other fan, and so the main considerations are how much air they will move and how quiet and stable they are while running.
The solar panel should be strong enough to run the fan motor at full power whenever there is direct sun or to charge the battery as quickly as possible.
There are other considerations that might be important depending on the type of fan and how you are going to use it – like size and weight (for portable and camping fans especially), ease of installation (for attic fans), appearance/style, material quality and dependability, price, and overall value.
But mainly we want a fan that:
Moves plenty of air efficiently
Many solar fans are not going to be as powerful as most plug-in or hard-wired types, but the best solar-powered fans will have excellent panels that provide ample energy, as well as optimally designed fan blades, motors, housing, and overall structure to make the airflow as strong as possible.
Now, we can go into specific details about CFM – or how much air a fan moves measured in cubic feet per minute – but you can safely assume that our choices for attic, family room, workshop, or even the outdoors will be more than sufficient and in fact, often have even more airflow than lower quality conventional fans.
Operates smoothly & quietly
Whether you're in your workshop or office, spending time with friends and family, camping or fishing, you don't want to have to compete with a noisy fan – either the fan motor and blades or the annoying clicking cheaper fans often make when oscillating.
You should also keep in mind that a fan, or pretty much any electrical/mechanical device, will tend to work longer and more reliably if its parts and operation are smoother and quieter, and a good quiet fan may well be more likely to last for years and years.
And again, we want a fan that will look good, is reasonably priced, offers good value, and a fan that will have a long life and continue to work well and reliably – and with solar fans this includes not just the mechanical components but the solar panel as well.
But don't worry – our list of the eight best solar-powered electric fans takes all of this and more into account, and really does represent the best of the best!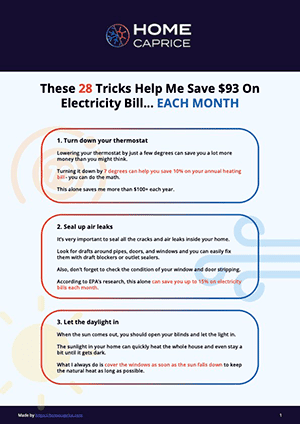 These 28 Tricks Help Me Save $93 On Electricity Bill... EACH MONTH
Download this FREE cheat sheet to find 28 tricks that can help you save on your electricity and heating bill each month.
Click here to get a FREE Cheat-Sheat
What Benefits Do Solar Fans Offer?
We've already touched briefly on a couple of the main benefits of a good solar-powered electric fan, but let's list them out here:
Saves Money 
Because they do not use your home's AC power, but rather the sun, solar fans will not drive up your electric bill – no matter how much you use them.
Flexibility
A solar fan will work anywhere there is sun. If you want to use it in your garden, or camping, or in a workshop, greenhouse, or studio where there may not be power – or in fact anywhere, even in the house, where there isn't an outlet handy – if you can expose the solar panel to sun you're good to go.
And even with solar-charged battery fans, if there is sun you can charge the battery, and can then use your fan not only where there is no AC power, but even at times when there is no sun.
Good for the Environment
Because it uses a renewable energy source, and there is no need to produce electricity to use it, a solar fan is one way to significantly reduce your environmental footprint and give the earth and its natural resources a bit of a break.
Saves Even More Money
In the United States, certain solar devices and installations, including some solar fans, may qualify you for sizable tax credits, on both federal and state levels (including Arizona, Hawaii, Iowa, Louisiana, Massachusetts, Montana, New York, Oregon, South Carolina, and Utah), and the same is true for many countries around the world.
Of course, being fans, maybe the biggest and best advantage is that they keep you cool when the heat is on!
Who Makes the Best Solar-Powered Fans?
As with so many consumer electric and electronic products these days, there are some really good solar-powered fans and a lot of, well, not-so-good ones – and, in fact, this seems especially true with solar fans, the bad ones often not seeming to work at all, or performing so poorly and failing so quickly that they will leave you hot under the collar – kind of the opposite of what we're going for.
But we've tried a lot of different products, and gotten feedback and recommendations from lots of people – our friends and colleagues, professional contractors, even verified customer reviews – and have found 8 really fantastic solar fans, including:
Really, just 8? Out of the hundreds available? 
Yeah really, despite the fact that this product category has been around for such a long time, there are so many out there that you don't even want to bother with, and so many more that are, at their best, solidly meh…
But the 8 we've chosen are really great performers and really well-made and well-designed fans, and all of them represent not just the best solar fans in their particular category, but the best value as well.
So let's get into it, with:
The 8 Best Solar-Powered Fans
Our Pick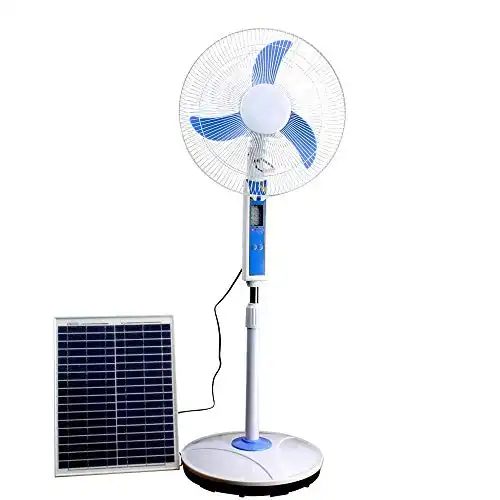 Not that you would want to, but if you checked the many other internet buyer's guides for best solar fans you would see that pretty much every single one of them chooses this wonderful Cowin 16-inch oscillating solar fan as their top choice overall.
Other choices may vary greatly, but the Cowin is always there, and it's no wonder.
Not only is it a very, very effective fan, that moves lots of air quietly and disperses it efficiently, and includes a big, powerful solar panel that will last for years, but it itself is a brilliantly overbuilt product, that should also last for years and offer foolproof service the whole time.
The Cowin solar fan is set up for AC wall power too, with an included AC adaptor, and even plugged into the wall it will save you money, with its efficient design and low power consumption.
We call this the best solar fan overall, but we could so easily recommend it for so many different specific reasons, like:
Emergencies and power outages
Large rooms
Large open areas
Workshops and garages
Greenhouses, hen houses and animal shelters
Covered patios and porches
and so much more…
Quiet, sturdy and very well made, the Cowin 16 inch solar powered fan will make you rethink how strong and effective a solar fan can be. It is not the cheapest fan out there, but is worth every penny, and we recommend it highly!
Best Solar Powered Attic Fans, Gable Fans and Exhaust Fans – 4 Great Choices!
We're going to spend some extra time with this important category, since this is a biggie for many people, and a type of fan we are asked about a lot.
Solar powered gable or attic fans are a really great idea, since they are really needed and effective in warm places where there tends to be a lot of sun.
At the same time, they can be really valuable and welcome in any climate, and even in no-so-sunny spots – which can still, of course, get plenty hot – the best solar attic fans should get plenty of sun and can provide enough power for even heavy use.
And some solar gable fans or solar attic fans have hybrid technology, meaning they can switch to AC power at night, or whenever there is not enough sun – saving you tons of money whenever it is possible, but able to work always.
In fact, any of these fans – attic, gable or vent – will save you more money than you might imagine – not just directly in the AC power you won't use, but also in the way they cool the house and take so much of the load off of your HVAC or other cooling system.
Our Pick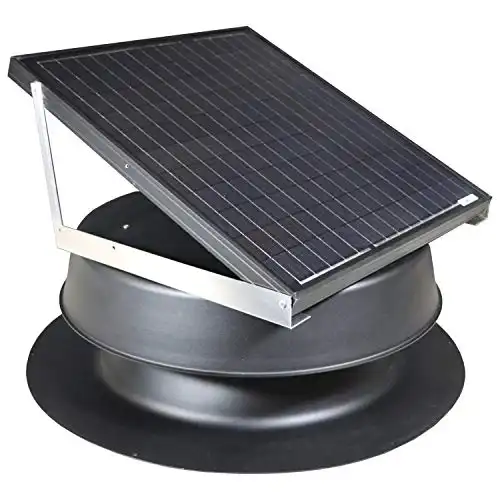 A powerful and extremely effective attic fan with a lifetime warranty, the Natural Light solar powered fan is as good as it gets – in terms of power, material quality and reliability, product life and, especially, its ability to exhaust hot, humid and stale air, and really cool down even larger homes.
With a 48 watt panel and heavy-duty motor, the Natural Light can move nearly 1,900 cubic feet of air a minute (CFM), and is perfect for attics up to 2,825 square feet.
And while the direct solar power is fantastic and powerful, and a real lifesaver during the day, you may want to circulate cool air overnight as well, and the Natural Light also has a hybrid mode, which will switch it automatically to AC power when there is no sun.
Made in the United States by one of the most respected manufacturers in the business, the Natural Light 48 watt solar powered attic fan is the best we've ever found, and gets our top recommendation!
Our Pick
A slightly smaller attic fan compared to the Natural Light above, this Remington solar attic fan is still quite a powerful unit, with an even slightly higher rated specifications – a full 2,340 CFM (cubic feet a minute) of air movement, and suitable for attics up to 3,400 square feet.
Now it should be said that these are best-case, full sunlight numbers, and also that the specs for the Natural Light fan above tend to be very conservative – and so, in actual usage, this Remington solar attic fan will move less air overall. Still, it is suitable for even larger homes, and is very effective even in the hottest weather.
The Remington BDB is also hybrid equipped, coming with an adapter kit which will automatically switch the fan to AC power if there isn't sufficient sunlight. And, like the Natural Light, this excellent fan comes with a full lifetime warranty.
A great solar attic fan, strong, well made and dependable, and a wonderful value!
Our Pick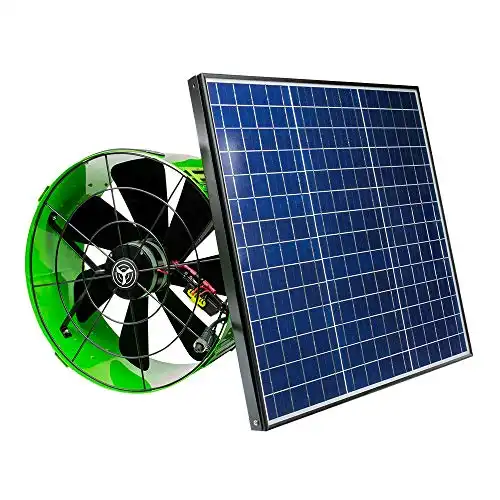 A gable mount fan operates by the same concept as a roof-mount attic fan, but mounts on the outward wall of a gable to vent the hot air, humidity and dust outside.
And the QuietCool is the best solar-powered gable fan we've found, with a big 40 watt solar panel, brushless DC motors and a rated 1,217 CFM (cubic feet per minute) of airflow, making them effective with attics up to 2,600 square feet.
QuietCool also makes an equally recommendable roof-mount solar attic fan, as well as a 30 watt version of this wonderful gable fan, suitable for smaller homes but still very powerful and very efficient.
Whichever type or size you get, you can be sure that any QuietCool product is built to the highest possible standards – they run very quietly, are trouble-free and will last for years and years, and they are among the most effective and most efficient solar powered fans you can get.
Our Pick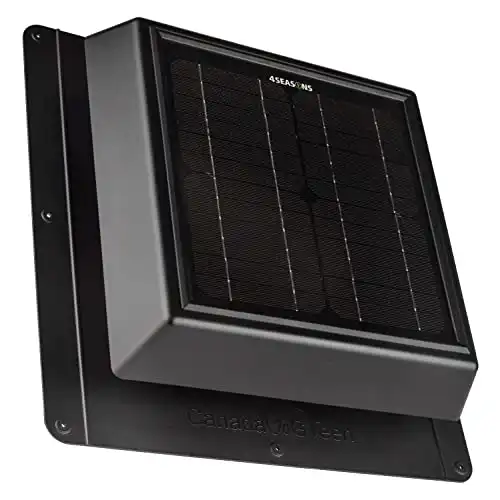 The 4 Seasons solar vent is a small, simple, but highly effective ventilation fan, designed to pull hot air out of smaller attics and crawl spaces, and meant to be mounted on a sloped roof.
In a different category than the bigger fans above, the 4 Seasons solar fan is good for attics and crawl spaces up to 500 square feet, and moves about 400 CFM (cubic feet per minute) of air, quickly and thoroughly clearing the space of hot, stale air as well as humidity and moisture and even dust and particulates.
A solid and dependable fan, built for years of service, it is also quiet running, as well as UV resistant, waterproof and weatherproof, and after dark serves as a passive exhaust vent.
A versatile unit, the 4 Seasons solar powered vent could also be recommended as the:
Best solar powered fan for hen houses and chicken coops
Best solar powered fan for greenhouses
Best solar powered fan for workshops, garages or sheds
And as a solar powered attic fan for a smaller house it is the best we've found, and a great value for the money.
Best Solar Powered Fans for Camping and Outdoors – 2 Cool Choices!
Portable solar powered fans are another very popular category, and this is a usage that makes  a lot of sense. 
These are rechargeable battery fans, which use built-in solar panels not to directly run the fan, but to charge the battery.
When you're outdoors, and under the sun anyway, it is a great idea to let your fan charge, and then when you need it it'll be good to go – inside or out. Great for patios and poolside, for power outages and emergencies, for camping, hiking, fishing, on and on…
Even in the dark, when in some places (and in some tents!) it can still be pretty warm and stuffy, you can use a hybrid rechargeable solar fan, and you also have a light and more.
Our Pick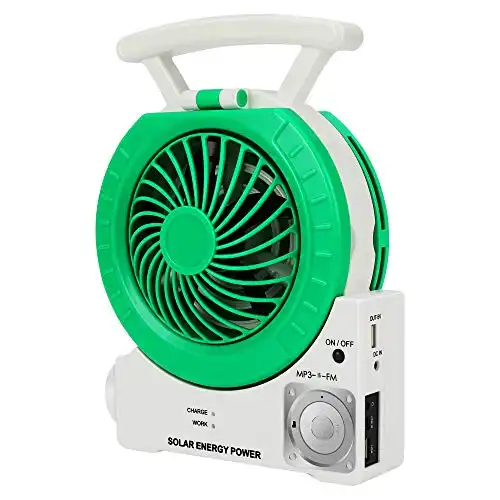 A premium quality solar powered portable fan, the Hereta moves a remarkabe amount of air considering its size, and is great for camping, fishing and long hikes – and just as good for the patio, garden, workshop, greenhouse or poolside.
But more than just an excellent solar-charging fan, the Hetera also has a bright flashlight, a nicely usable (if not overly bright) desk/reading lamp, a surprisingly nice sounding FM radio and MP3 player, and a charging station for your phone.
This is a solar charging fan, meaning it does not use the solar panel for fan power, but instead to charge the internal battery, offering hours of operation when fully charged. It also comes with a plug for the wall, letting you charge the battery using AC power as well.
A smart, well built and effective small solar rechargeable fan, the Hereta multi-function solar fan is highly recommended, and so useful in so many ways!
Our Pick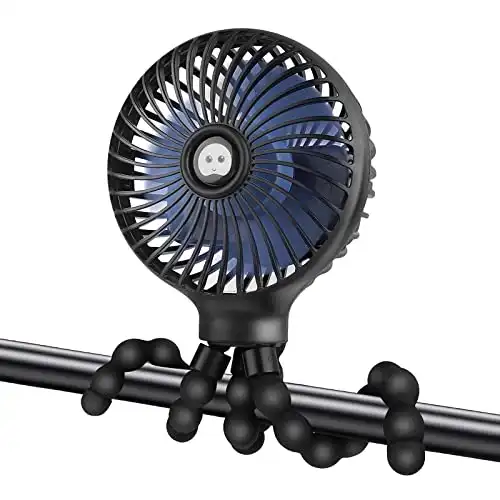 With a powerful fan and a bright light, this hanging solar-charge fan is a perfect choice for tent camping, and can work very well as a tabletop, hand-held or chairside fan for the back yard, parks and picnics, fishing and more.
A solar chargeable fan, this cool little Himap fan doesn't run directly from the sun, but uses solar power to charge its battery, and then offers hours of use – even overnight – even when using the USB charger and/or LED light.
Simple, very effective and nicely made, the Himap solar camping fan is a great choice for a very low price, and even if you never take it anywhere it is a wonderful thing to have around the house – just in case!
Our Pick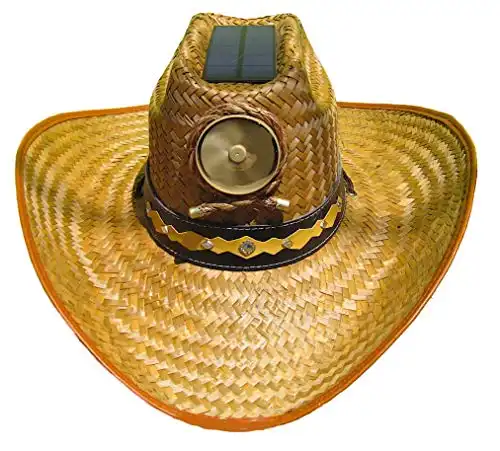 What may seem like a silly idea – and look like a silly hat – is actually a pretty brilliant product!
The Kool Breeze fan hat provides just enough air movement where it matters most – at the crown of your head – and at the same time provides shade and protection from the sun – a remarkably effective combination for when you're out in the sun.
For working, hiking, festivals and outdoor summer events, the Kool Breeze hat will make an enormous difference – no, it isn't the best looking or most fashionable hat, but it is quiet, effective and very well made – and you will probably get complimented on it anyway!

Hey there! I am
Benas
, the founder and content editor at Home Caprice. Thanks for reading the article. I hope you were able to find what you were looking for. I and my team are here to simplify heating and cooling for everyone. Please have a look at the
About page
for more details about our website and feel free to check out our
editorial process
.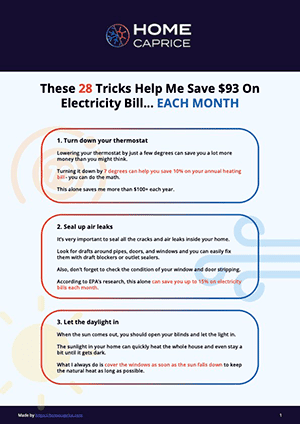 These 28 Tricks Help Me Save $93 On Electricity Bill... EACH MONTH
Download this FREE cheat sheet to find 28 tricks that can help you save on your electricity and heating bill each month.
Click here to get a FREE Cheat-Sheat