Enclosed ceiling fans are a great option to cool your room while making it perfectly safe for kids.
They are specially designed for low-ceiling rooms and for children's rooms with bunk beds, so there's no chance of your kids getting hurt while having one of these in their room.
However, all enclosed ceiling fans aren't made the same.
It's pretty easy to make a purchasing mistake as a lot of them look similar and "claim" to be similar, but they aren't even close.
Before jumping into the best-enclosed ceiling fans on the market, let's first consider these things before your purchase.
What To Look For Before Buying
Use: You might use it indoors or outdoors, so it's important that your ceiling fan is suitable for your needs. Always check for waterproof and rust-proof material if you plan to use it outdoors.
Safety: Enclosed ceiling fans are definitely the best option if you have kids at home. Low-ceiling fans can unintentionally be touched and that's why they aren't the safest solution.
Design: There are fully-caged and half-caged ceiling fans, and they both have their pros and cons. If you have kids at home, it's recommended to go with fully caged ceiling fans.
Remote control: You don't want to get up just to switch the speed or turn on the lights, so always make sure to receive an additional remote control with your ceiling fan.
Lightning: You probably don't want to use the same light brightness during the day, so it's great when you can control the brightness.
9 Best Enclosed Ceiling Fans
Jinweite is by far the best-enclosed ceiling fan money can buy.
Besides reasonable and affordable prices, this ceiling fan has all the features other more expensive fans have.
You can easily control 6 different speed settings and set the auto-shutoff timer from a remote control you receive for free.
Another great decorative detail is a fully dimmable light which allows you to cycle through three tones while still adjusting the brightness and temperature.
One of the most impressive things is their noise-reduction system which makes this fan super quiet considering airflow of over 2,000 CFM. Plus, you can run it counterclockwise in the winter to keep the warm air inside your room.
It's designed for safety, so it's ideal for low ceilings and bunk beds. If you have kids, this will ensure their safety as well.
If you're a fan of classy and woody design, you'll love this half-caged design.
It's a 52-inch fan with 5 blades which covers around 400 sq. ft. easily. What's interesting about their blades is a high-grade quality that delivers maximum circulation at high speed.
You receive remote control from which you can control basically anything, whether it's fan speeds or light brightness.
Another thing worth mentioning is that you can mount it in a standard way and angle way to hang it with a longer down rod.
The only drawback is the safety because it's not fully enclosed.
Lighting is a very important part of every enclosed ceiling fan, and this one has a superior light kit.
The first thing that makes it impressive is its 360° circulation that distributes airflow evenly to each corner of the room – this allows faster cooling.
The main focus of this ceiling fan is lighting and it even has night light mode which makes everything a lot cozier and more relaxing.
Additionally, you can set the timer or speed settings from a remote control.
It's made out of a high-transparent acrylic lampshade which is a huge bonus if you have kids.
For tech lovers and smart device fans – this will probably be the best option.
What you'll love about it is that you can easily connect your smartphone and control everything from there. We all know how easy it is to lose the remote controller, so this makes it far more useful.
Unlike most ceiling fans that have 3 speeds, this one has 6 fan speeds featuring a reverse motor which makes it efficient even in the winter.
Their newly added feature is sleep mode which allows you to set the timer and fall asleep without worrying to turn it off.
Considering its power, it's surprising that it's so quiet.
Talking about the smart features, it has a smart memory that memorizes your favorite lighting settings and it automatically turns it on when you turn on the fan.
Tip: Take a look at why ceiling fans are more efficient than standing fans.
If you're looking for a powerful ceiling fan to cool any room size quickly – look no further than this model.
It's very powerful and pretty large, however, it has an enclosed design which makes it suitable for low ceilings and bunk beds.
They focus a lot on their lighting settings, so you can choose between 10 different levels of brightness (up to 6000K white).
You can set the timer mode, and because of its power, I believe you should set it for 30 minutes before falling asleep.
Depending on your home design, sometimes old classy ceiling fans would ruin it all – you might need a modern-looking fan.
It has advanced six-speed settings and a timer for up to 6 hours of a scheduled turn-off.
Although it is a bit pricier than casual models, the good thing is its reversible motor which makes it suitable for both winter and summer.
You receive a remote control from which you can control everything easily.
What I love about this ceiling fan is that it isn't too big, so it's suitable for both low-ceiling and high-ceiling homes.
If you're looking for the most safest enclosed ceiling fan – this is the right for you.
Unlike other enclosed ceiling fans which don't cover blades completely, this model makes it impossible for children to get in touch with blades.
It's not so different from other models – you receive remote control, it has adjustable speed and light settings, it's not noisy, etc.
Again, the biggest advantage of this model is safety and they specially design it to be completely safe.
This Savoy House model is simply amazing!
It does require a bit larger budget, but if you're lucky enough to have it – go for it.
What separates this model from any other is that it's classified as an outdoor ceiling fan, but it can also be used as an indoor fan.
The higher price isn't for no reason – you'll never even hear it running.
They use high-grade blades that can push a lot more air than average blades, and that's why it's so powerful and quiet.
Again, it is a pretty unique design and it even looks "handmade" because of all the details.
If you're not on a big budget and you want a safe and solid enclosed ceiling fan – you can't go wrong with this model.
It has 3 different speed levels, a built-in timer, and noise-reduction technology.
As with other ceiling fans, you can adjust the brightness and enjoy dimmable lighting in your home.
Another great thing is how easy it is to install it and it's a bit smaller than other ceiling fans – making it perfect for smaller rooms.
You can set the timer before sleeping to automatically shut off after one hour of use.
The only drawback is the power as it's not suitable for larger rooms.
If you like this model, you should check out other bladeless ceiling fans with light.
Hey there! I am Benas, the founder of Home Caprice. Thanks for reading the article, I hope you were able to find what you were looking for. Me together with my team, are here to simplify heating and cooling for everyone. If you want more details about the website and our team, please check the
about
page.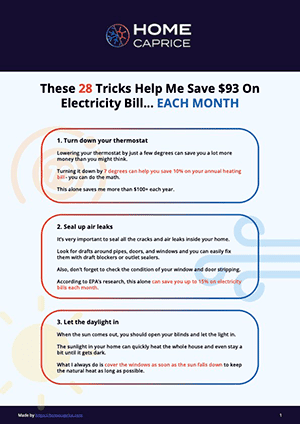 These 28 Tricks Help Me Save $93 On Electricity Bill... EACH MONTH
Download this FREE cheat sheet to find 28 tricks that can help you save on your electricity and heating bill each month.
Click here to get a FREE Cheat-Sheat