Sometimes an average box fan isn't enough, you want something more powerful that will cool the whole room much faster and more efficiently.
If you know how to choose the right high CFM box fan, you'll experience the real comfort and joy that comes with it.
Still, you have to be careful not to regret it after purchasing.
I've bought dozens of box fans before buying the right ones that I still use.
I'll reveal the best five high CFM box fans in a minute, but let's first talk about what to look for before making a purchase.
We also made this whole article into a video, so if you prefer to watch instead of reading, check it out below 👇
What to look for in High CFM Box Fans?
Noise
If you're planning to use high CFM box fans in your bedroom, you want to make sure they aren't producing a lot of noise. 
Check for dB levels of each box fan.
Most of the high CFM box fans won't produce much noise on lower speed settings, but when you turn on the highest speed they start sounding like a propeller.
Power
Basically, you want to look for box fans with higher CFM.
The power of a box fan is measured in CFM, so the higher it is, the more powerful it is.
I'd say that a sweet spot is around 2,000-2,600 CFM.
Quality
You can recognize the bad quality from good quality when it comes to box fans.
A lot of box fans are imported from China and they have low-quality blades and their built-in handles break very quickly.
Also, stability will be a problem because even a bit of wind can tackle them.
No worries, below I've listed the best 5 high CFM box fans, so you won't need to worry about regretting getting a low-quality fan.
Removable Grill
After some time, the dirt and dust will collect inside your box fan.
When you can easily disassemble a grill, the cleaning part is very simple.
It would help if you cleaned your fan at least once a month, and a removable grill will make your job much easier.
Best 5 High CFM Box Fans For You
If you need a box fan that will move air massively, this Hurricane model will do the job.
What's interesting is that this fan moves more air at the lowest speed than the average box fan at the highest (turbo) speed. That tells you a lot about its power.
Another thing that's impressive is the quality.
Permanently attached feet won't break easily and the sides are made of rigid plastic.
This fan will cool the whole room quickly.
The noise levels are decent, but if you have a problem falling asleep when there's even a bit of noise – you shouldn't put it directly into your bedroom.
Genesis is one of the most popular box fans and there's a reason behind that.
The air distribution is good and you won't hear any noise while it's running.
Unlike the box fan I mentioned above, this one won't fit your needs if you need a huge blast of air continuously.
Talking about the design – I personally love it! It definitely looks more attractive than other box fans and it will fit your overall home design.
Another thing I have to mention is the back-side handle. Most of the time the top handle breaks, so it's smart to put a back-side handle instead.
This fan is a so-called "classic" in the fan industry.
It has a lot of power generated from a 1/25 horsepower motor.
What you'll first notice is that it's heavier than other box fans – it's due to the quality and durability of each part.
You can choose the speed by switching three different speed levels. If you're going to put it in a bedroom, I don't recommend running it at a high-speed level because of the noise.
This fan is the right choice if you're on a budget.
Basically, you can buy a couple of these for every room in your home and you won't regret it.
The first thing that I have to say is that it isn't near as strong as other box fans I've mentioned.
Talking about the budget – it costs only $0.02 per hour to use it.
It has 3 different quiet speed levels.
What makes this box fan more efficient than others is assisted air conditioning with full-force air circulation.
The quality is great and manufacturers didn't save on the quality.
The overall design is straightforward and cleaning this fan will be a piece of cake.
Noise levels are solid, but I wouldn't recommend using them for the bedroom.
I had the same model for three years and I used it in my garage. It comes with a built-in handle, so you can easily move it wherever you want.
Those are the top five box fans I've used in my house.
I'd recommend you read an in-depth guide about the fans and reveal all the little important things that make a good fan.
Hey there! I am Benas, the founder of Home Caprice. Thanks for reading the article, I hope you were able to find what you were looking for. Me together with my team, are here to simplify heating and cooling for everyone. If you want more details about the website and our team, please check the
about
page.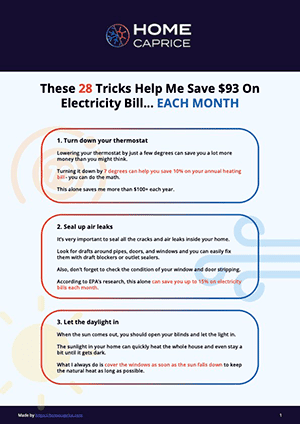 These 28 Tricks Help Me Save $93 On Electricity Bill... EACH MONTH
Download this FREE cheat sheet to find 28 tricks that can help you save on your electricity and heating bill each month.
Click here to get a FREE Cheat-Sheat