Best Electric Space Heaters for your Office: Complete Review and Buyer's Guide.
Telecommuting and working from home has become very popular over the last few years.
And, of course, with the emergence of the COVID-19 pandemic, the amount of people telecommuting rose dramatically, and now there are more people working from home than ever before.
While many people love working from home, there is one potential downside – higher utility bills.
Can a Space Heater Save Me Money?
The problem is, in the past people could turn their central heating systems down during the day – with the kids at school and the folks at work, there was no reason to keep the house as warm.
But now many people are at home all day, as well as all night, and are asking a lot more from their furnaces in the cold season, which means the utility companies are then asking a lot more money every month!
But we tend to be in one place while we're working from home, and many people work in a home office or workspace they've set up. A space heater allows you to warm just that space, and keep your furnace settings as low as you used to.
This can save you big money, and get your utility bills back down to normal levels.
So if you've decided to purchase a space heater for your office, the next question is:
How can I tell who makes a good space heater?
Well, the best answer we can give is – just read this article!
We've done a lot of research, testing many different space heaters from many different companies as well as poring through endless pages of verified customer reviews of countless different models, and here we have the cream of the crop – the very best electric space heaters for your office.
There is no need to spend a lot of money on a huge space heater designed for enormous rooms or even whole houses.
Such a giant would not only probably overwhelm your workspace with too much heat – even on its lowest settings – but would make too much noise and take up too much space.
Instead, here we have concentrated on smaller heaters, which run quietly, use very little energy, take up very little space, and heat even a larger office (or other small to medium-sized rooms in your home) with ease.
Some key features to look for in a good space heater for your office include:
Quiet Operation
Small Physical Size
Wide Range of Heat Level Settings
Simple Controls and Easy to Read Display
Complete Safety Features
No Emissions or Dangerous Fumes
But you can rest assured that every heater we've included in our buyer's guide and review of the best space heaters for your home office includes all of these important features and that every unit here is an excellent heater – effective, reliable, and a good value.
Since we've already done all the research and work for you, you can confidently choose any one of the heaters reviewed below and you'll end up with a great unit for your office.
So it is as simple as figuring out what is important to you, whether you want the best of the best, the quietest, the best value, or maybe have a larger office and need a somewhat bigger heater.
To cover all of these needs, we've recommended the best space heater for offices in five different categories:
But again, whichever space heater you choose from the reviews below, you will end up with a great unit, safe, effective, and reliable.
And you will have an amazingly warm and comfortable workspace – and at the same time save lots of money on your utility bills!
This versatile Honeywell ceramic space heater is one of the best we've ever used and a perfect choice for almost any home office.
The Honeywell HeatGenius HCE840B is a floor-standing unit, with enough power to heat even larger offices or workspaces, but its remarkably wide range of settings makes it equally useful in smaller spaces when it's not that cold or even when you just want a little warmth.
This wide range of heating settings can also help you save even more money, as it is easy to get just the amount of heat you want without wasting energy. In addition to six heat settings, there is a 2-hour heat cycle timer and a quiet mode, which allows you to work without distraction.
And easy is a great word to describe the Honeywell HeatGenius which, despite its sophisticated controls, is really simple to use, with an easy-to-read display and easy-to-understand controls.
Safe is also a great descriptor for the Honeywell HCE840B. It features a cool-touch exterior, so even in smaller workspaces, you don't have to worry about getting burned. It also has auto shut-off circuitry in case of overheating or if the heater gets knocked over.
A great heater overall, with legendary Honeywell quality and reliability (including a remarkable 3-year manufacturer's warranty), excellent performance, and ease of use, the safe, quiet, and powerful Honeywell HCE840B is our choice for the best overall ceramic space heater for an office.
Features & Specifications
Heating Element: Ceramic
Heating Type: Radiant and Forced Air
Heating Power: 1500 Watts
Effective Heating Area: 200 Square Feet (~18.5 Square Meters)
Safety Features: Cool-Touch Surfaces; Auto-Off for Tip-Over or Overheating
Programmable Multi-Mode Electronic Control Panel
Size: 10.2 x 5.9 x 17.15 inches
Weight: 5.8 Pounds
Warranty: 3 Year Limited Manufacturer's Warranty
In the home office, sometimes the most important thing is quiet.
Having a heater fan constantly whirring and grinding away drives many people crazy when they're trying to concentrate on writing an email, compiling a report, or participating in a teleconference.
With the Vornado MVH, noise is never a problem. Amazingly, while Vornado is a company that clearly takes pride in its products and in the positive experience its customers always have, they don't actually provide an exact specification for noise levels.
But customer reviews mention a lack of noise more than almost anything else, saying that they never hear the unit running, it is whisper-quiet, they completely forget it is even there (except for the warmth) and they can easily sleep or work even right next to it (but please, don't fall asleep when you're supposed to be working!).
Our own experience is the same, and the Vornado MVH Vortex electric space heater is maybe the quietest we've ever used.
It is also just a great heater, with simple and basic mechanical controls, three heat settings and seven fan levels, full safety features, the patented vortex air circulation system, and Vornado's famously excellent quality, reliability, and customer service – including an amazing 5-year manufacturer's warranty!
An easy choice, then, for the best quiet electric space heater for your office.
Features & Specifications
Heating Element: Nickel Chromium Coil
Heating Type: Forced Air
Heating Power: 750-1125-1500 Watts
Effective Heating Area: 250 Square Feet (~23.2 Square Meters)
Safety Features: Cool-Touch Surfaces; Auto-Off for Tip-Over or Overheating
Simple Mechanical Controls
Size: 10.6 x 10.4 x 9.2 inches
Weight: 3.76 Pounds
Warranty: 5 Year Limited Manufacturer's Warranty
Everybody loves value, and sometimes value has to be the primary consideration when choosing a space heater for your office.
But you should never sacrifice heating effectiveness, safety, or reliability simply because of budget!
That's why we've chosen the Hurricane ceramic space heater as our best budget space heater for the office. It's a quiet but powerful tower fan that takes up very little floor space and stands only two feet high, and yet has plenty of power for larger offices and plenty of finesse for smaller spaces.
Above all else, this unit just oozes quality – from the high-grade materials and solid construction to the sophisticated and highly versatile control panel and the exceptional heating performance.
It even offers features the two units we review above – both more expensive – don't have, including remote control and 70-degree oscillation.
Hurricane may not be as well-known a brand as Vornado or Honeywell, but they are fast establishing a reputation for great, reliable products and excellent customer service, and their ceramic tower oscillating fan is a great deal for the money and our choice for the best value space heater for home offices.
Features & Specifications
Heating Element: Ceramic
Heating Type: Oscillating Forced Air
Heating Power: 1500 Watts
Effective Heating Area: 250 Square Feet (~23.2 Square Meters)
Safety Features: Auto-off for Tip-Over or Overheating
Soft Touch Electronic Controls
Size: 24 x 8 x 7.25 inches
Weight: 7.15 Pounds
Warranty: 1 Year Limited Manufacturer's Warranty
There's not really much to say about this cute little unit, except that it does exactly what it is supposed to do, does it well and reliably, and takes up almost no space at all.
The AmazonBasics personal heater provides a remarkable amount of warmth for its size, but the small ceramic element prevents the heater from putting out too much heat, as often happens with other personal heaters.
The whisper-quiet fan nicely distributes the heat throughout a small work area, while the ceramic element provides deep, direct radiant heat as well.
At about 6 inches square and 3 inches deep, the AmazonBasics personal space heater takes up almost no space on your desk, and can easily be used on your bedside table, kitchen counter or any other small space as well.
Available in 4 colors, this little heater is another example of why AmazonBasics products are fast becoming customer favorites. It is effective, inexpensive, built to last, and uses very little electricity – saving you even more on utility bills.
A clear choice for the best desktop space heater for offices.
Features & Specifications
Heating Element: Ceramic
Heating Type: Forced Air
Heating Power: 500 Watts
Effective Heating Area: Personal Space
Safety Features: Auto-Off for Tip-Over
Single Simple On-Off Control Switch
Size: 5.87 x 3.2 x 6 inches
Weight: 1.43 Pounds
Warranty: 1 Year Limited Manufacturer's Warranty
Final Thoughts: Should I Buy a Space Heater for my Office?
Many people love working from home, and others who are currently forced to telecommute are dying to get back to the office and their friends and colleagues.
But one thing is for certain – telecommuting is our reality at least for now, and it will be for probably quite a while to come.
If you have to work from home, or if you choose to work from home, a good space heater can make all the difference in the cold winter months. It can keep you warm and it can actually increase your productivity, your performance, and your focus.
It might even keep you healthier!
But a good space heater will also save you substantial amounts of money on your utility bills, since you can keep warm, and keep your work area warm, without having to turn up your central furnace.
Anyway, you work hard, and the way we see it here at Know the Flo, you deserve to be warm, comfortable, and happy!
We hope you've enjoyed this article – Best Office Space Heater: Expert Review and Buyer's Guide – and hope to see you again soon.

Hey there! I am
Benas
, the founder and content editor at Home Caprice. Thanks for reading the article. I hope you were able to find what you were looking for. I and my team are here to simplify heating and cooling for everyone. Please have a look at the
About page
for more details about our website and feel free to check out our
editorial process
.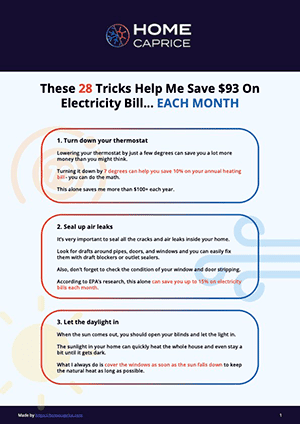 These 28 Tricks Help Me Save $93 On Electricity Bill... EACH MONTH
Download this FREE cheat sheet to find 28 tricks that can help you save on your electricity and heating bill each month.
Click here to get a FREE Cheat-Sheat