It's getting warmer every year.
That's a fact, and with that in mind, you are probably going to need something to cool you down.
A tower fan or pedestal fan is a popular choice for those looking to do just that and is a choice to work in tandem with your air conditioner or ceiling fan.
But if you are looking for a pedestal fan where do you start, and what should you look for?
Well, you are in the right place. Below, after many many hours of research, I run through what I found to be the best standing fan and why.
6 Best Pedestal Fan Reviews 
1. Klarstein Silent Storm Pedestal Fan
If you want a fan that ticks almost all the boxes, the KLARSTEIN Silent Storm Pedestal Fan is a must view.
Why?
It has features that are a level above most others.
For example, it utilizes a brushless DC motor with five fan blades. That means that it is quieter than your usual AC motor fan and also uses up to 70% less energy which will help with your electricity bill. Both of these things are a HUGE factor for most looking to purchase a fan.
But it doesn't end there.
It gives the option of 12 different speed levels which gives you far more control over the wind output and the ability to reach your optimal comfort level. Most other fans tend to have 5 or 3 speed setting options.
The Klarstein oscillating pedestal fan can be operated from the unit itself, or by remote control and is very easy to use. This pedestal fan has adjustable height but unlike other fans, it also has a tilt function which enables to change the angle of the fan head. This offers another level of control over the direction of your airflow.
It blows a lot of air with a CFM of 2735 and is ideal for a larger room size.
Another small but significant feature is the automatic light dimmer. When using a pedestal fan in bedrooms, you do not want the fan to emit a bright light.
In many cases, pedestal fans do this and prevent people from sleeping. It is a common gripe. This fan has an automatic dimmer to prevent this issue. Assembly of the fan is no problem, and it has a sleek design.
So if you are looking for high performance and a quality, whole room pedestal fan, the Klarstein is probably the best pedestal fans available and in our option your best choice.
FEATURES
12 Speeds Levels
2735 CFM
DC Motor
Oscillating Stand Fan
Remote Control
PROS
Excellent airflow
Quiet for the airflow output
Remote Control
Oscillating Pedestal Fan
Powerful Fan
Light Dimmer
DC Motor
CONS
Remote is cheaply made
Assembly was difficult for some
2. NASH Smart Wi-Fi Oscillating Pedestal Stand Fan
Included in our "best of" pedestal fan list has to be the Nash Smart pedestal fan.
Why?
It is currently the best solution if you are looking for a "smart" option.
While the features are not quite at the level of the Klarstein, for example, you are able to control the operation of the fan from anywhere via the app, or by voice control with Alexa or Google Home or with IFTTT applets.
Smart technology does give you that extra level of convenience.
Not only that you can create schedules so you can control the temperature of your living room, bedrooms or any other before you get home or while you are away.
It has 4 blades and an adjustable height up to 4.4 feet and also tilts control so you can have extra control over your airflow and spot cooling. It has three fan modes, normal, sleep and nature.
So in that extra convenience, performance and comfort is what you are wanting from your fan, this is definitely your best option.
FEATURES
3 Speeds
Oscillation
Remote Control
Smart Features
PROS
Works with Alexa & Google Home
Voice Control
Scheduling
Easy Operation
CONS
Can't control the fan modes via voice
3. Rowenta VU5670 Fan, Pedestal Turbo Silence
In my opinion, the Rowenta VU5670 standing oscillating pedestal fan is one of the top fans on the market.
It is rare that most can agree that a pedestal fan is quiet.
This is far more than most pedestal fans, and perhaps only beaten by 'variable speed' fans, however, the difference would likely be negligible.
It has an LED display which you are able to see which settings you are on.
This can sometimes be a burden as the light is quite bright so at night it can bothersome.
It has 3 fan modes: natural, sleep and auto, as well as a timer, so has more settings and options than your average pedestal fan and 5 fan blades for good airflow.
These settings are great options when it comes to sleeping at night with white noise.
It has solid power, whether it is 'high velocity' might be debatable, and one would want to be careful of expectations before they purchase, but it certainly has good airflow.
People also found the Rowenta standing pedestal fan very easy to assemble.
It is made from a combination of plastic and metal construction and has proven performance.
It is definitely one of the best pedestal fans on the market currently.
FEATURES
2436 CFM
Timer
Energy save mode
Remote Control
PROS
DC Fan Motor
5 Speed Settings
3 Fan modes
Remote
Oscillating Pedestal Fan
Moves a good amount of air
CONS
There have been remote issues
Won't save previous settings once turned off.
4. Vornado 783DC Pedestal Fan
The DC motor and variable speed along with a 5-year warranty make this fan a very attractive choice.
Though it is probably not as quiet as advertised on high speeds it does have the variable option so you can tailor to your needs.
It is powerful and has good airflow and because it is a DC motor it will save you more on power bills than a regular fan may.
The Vornado 783DC air circulator fan is shorter than most, with an adjustable height range of only between 31 and 39 inches.
However, it uses Vornado's Energy Smart air circulation, which uses up to 880% less energy than a comparable fan.
There are touch-sensitive controls at the base of the fan and also a remote control for further flexibility and easy control.
It uses Vornado's unique Vortex Action and with the precise controls, this stand fan offers 99 airflow settings, which is a much larger number of settings than others, however, it does not have a built-in timer.
With a 10-year warranty though, in my opinion, makes this air circulator worth looking at.
FEATURES
Adjustable height to 25″ or 38″
Tiltable head
Assembled in the USA
Uses up to 80% less energy
PROS
DC motor
Variable Speed
10 Year Warranty
Powerful Fan
Easy Operation
CONS
Shorter than other fans
Loud on High Speed
No remote control
5. Vornado VFAN Sr. Stand Fan
This fan misses a few features that some like to have.
It doesn't oscillate and doesn't have a remote control which might bother some, it does, however, work very well, has good airflow, looks stylish, and definitely unique.
Vornado offers a 5-year warranty which is more than any other company, so they obviously believe in their products.
The Vornado VFAN Sr. air circulator fan has an interesting, vintage look to it, which usually means you love it or hate it.
It uses Vornado's unique Vortex Action and is constructed of durable metal, unlike most other fans which are composed of plastic and have good airflow.
There are 3-speed settings and the height can be adjusted within a range of 42 to 55 inches.
At 21 pounds, it's heavier than most fans, which makes it hard to move.
Unlike most other stand fans, this also has no option to oscillate, meaning that the head is stationary, which limits the airflow to a single directed stream.
FEATURES
Metal design
Tiltable head
3 speeds
Adjustable height from 42 to 55 inches
5-year warranty
PROS
Attractive vintage appearance
Durable
High Quality
Easy Operation
CONS
Heavy
Not an Oscillating Fan
No remote control
6. Dyson Powerful Large Air Multiplier Pedestal Fan, AM08 Model
If you take the price tag away for a second this is a reasonable fan.
It blows ok, has a whole lot of speeds, is quiet for some (not for others) has a remote control and is super easy to clean.
The Dyson Am08 pedestal fan is a unique fan with no blades, instead featuring Dyson's patented technologyAir which moves air through an inner aperture, accelerating and cooling it.
With no blades, it is a safe choice for homes with small children and pets and this feature also makes it easy to clean.
The remote control sleep mode, timer feature can be set to intervals ranging from 15 minutes up to 9 hours and also allows the user to select between 10 airflow settings.
There is also an oscillation control setting that allows it to move 180 degrees.
However, there are no settings on the base of the fan itself, meaning all functions must be operated with the remote.
Its height is 56 inches with is no option to adjust it and with a weight of approximately 14 pounds, it is a very sturdy fan.
Dyson also reports that this standing pedestal fan is 15% more energy efficient than their AM03 model.
It is, however, one of the most expensive fans on the market but if you are looking for pure aesthetics this is probably the top pedestal fans available.
FEATURES
Sleep timer of 15 mins up to 9 hours
10 speeds
Remote control
Head tilt
PROS
No spinning blades
Easy to clean
Energy efficient
Oscillating Pedestal Fan
CONS
Only controls are on the remote
Expensive
7. Lasko 2521 Oscillating Pedestal Floor Fan
Not everyone needs all the features and bells and whistles some of the other fans have.
Many just want something that creates a good breeze, has reasonable construction and decent performance.
This is what this Lasko pedestal fan offers.
At a low cost, you get a relatively reliable unit to help your air conditioners move air around your rooms.
It has 3 speeds levels, adjustable height, oscillation and the ability to tilt the fan head.
It also contains Lasko's patented safety plug, which is a 2 pronged safety plug with fuse technology and has easy assembly.
Who is this oscillating stand fan for?
Those who have a small budget, but want something that is as good a quality you can get for the price.
FEATURES
3 Speeds
Oscillating Fan
Adjustable Height
PROS
Good quality for the price
Made in the USA
Easy Operation
CONS
Limited Features
No Remote
8. PELONIS FS45-18UR
The Pelonis FS45-18UR pedestal fan is probably the number one choice for people looking for a pedestal fan on a smaller budget.
It is slightly more expensive than the Lasko but has a few more features to offer, including remote control, wind modes, and a timer.
Not only does it have the features, but importantly, it comes with a 1-year warranty. This is pretty good for a fan of this cost bracket.
Great for your home or office, the Pelonis pedestal fan offers a space-saving design that can fit in a smaller area and has a solid base and over-heat protection for your safety.
FEATURES
3 Speeds
Oscillation
Height Adjustment
PROS
Timer
Auto Shut-off
1 Year Warranty
Remote Control
CONS
9. HomePointe FS40-8JCA HP 16 Inch WHT Stand Fan
In our opinion, this would be the pedestal fan to get at a low-cost range. It has overwhelmingly positive feedback which is very rare when it comes to pedestal fans.
Usually, there are complaints about noise or about the power output but this fan has very little of those.
Most agree this has great output and for the output is very quiet.
It has 4 speed settings, which is more than the average fan and also comes with remote control. You aren't able to control oscillation and overall the quality of the remote was not high. That said, this fan seems to cover the 2 main bases when it comes to pedestal fans.
This oscillating stand fan has a 16-inch head with 3 blades for full room air circulation.
It allows for height and tilt adjustment and at roughly $30 it is incredibly affordable.
It is also over 13 pounds, which makes it quite sturdy and it also has good cool airflow.
This pedestal fan is quiet, especially when compared to others in this price range. It is easy to assemble, but the fan head does block the controls located on the body, making it more difficult to access them.
It does not come with remote control, so using the base controls is the only way to operate it.
The Westpointe pedestal fan also has no timer and can be awkward to move.
FEATURES
3 speeds
Adjustable height
Oscillation
PROS
Excellent airflow
Quiet for the airflow output
Oscillating Pedestal Fan
CONS
No timer
No remote control

Hey there! I am
Benas
, the founder and content editor at Home Caprice. Thanks for reading the article. I hope you were able to find what you were looking for. I and my team are here to simplify heating and cooling for everyone. Please have a look at the
About page
for more details about our website and feel free to check out our
editorial process
.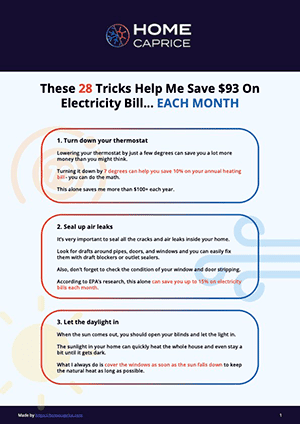 These 28 Tricks Help Me Save $93 On Electricity Bill... EACH MONTH
Download this FREE cheat sheet to find 28 tricks that can help you save on your electricity and heating bill each month.
Click here to get a FREE Cheat-Sheat