In this Honeywell HYF290B review, we look at every aspect of this tower fan.
It is at the time of writing, one of the newer Honeywell tower fans available and like many of Honeywell's tower fans, available at quite an affordable price.
So is it worth it?
We found that if you are looking for a reliable fan for a smaller room with adjustable lighting options (which most tower fans do not have) this would certainly be a consideration.
Our Pick
About the Manufacturer
If you have been looking for products for a tower fan for your home you will have come across the brand Honeywell. Honeywell
Honeywell is a Fortune 500 company and has products in many industries ranging from footwear to Oil & Gas. They work with as many as 2100 employees.
For the home, Honeywell has a large range of homeware products ranging from heaters, coolers, and thermostats to security cameras and generators.
Honeywell HYF290B Tower Fan Assembly
Like many tower fans, there is a little bit of assembly required with the HYF290B.
You will have to secure the base effectively locking 2 pieces of plastic together.
The base will need to be secured to the main unit and from there you will have to secure the cord through and around the base.
Overall a pretty standard setup in terms of the assembly when it comes to tower fans. Nothing difficult or complicated and shouldn't take you any more than 10 minutes. You can read the setup instruction manual here.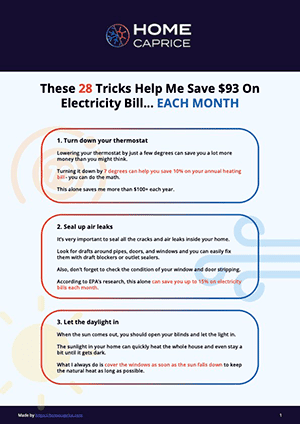 These 28 Tricks Help Me Save $93 On Electricity Bill... EACH MONTH
Download this FREE cheat sheet to find 28 tricks that can help you save on your electricity and heating bill each month.
Click here to get a FREE Cheat-Sheat
Design
The fan is very stylish, we like the design of the fan though it's a lot smaller than expected compared to the other tower fans we have tested.
The materials and design look of good quality, but there is no built-in handle for easy pickup however the fan is very light anyhow, so you won't have much trouble moving it around.
There are lights on the fan at the top which indicate the power, speed setting, and timer. Also on the top of the unit is a magnetic dip which the remote control sits comfortably in for storage when you are not using it.
What about the Fan Speeds?
While many tower fans come with only 3 fan speeds, the Honeywell Quietset 8 comes with fan 8 speeds.
As far as tower fans go that is in the higher range of speed options with one of the highest being the Dyson Am07 comes with 12 speeds.
With 8 speeds you are able to have more control over the output and therefore sound output as well.
How is the Airflow on the Honeywell Quietset 8?
Before you buy a tower fan, it is always important to figure out what you want in your fan and how it is going to be used.
Do you have a large or a small room? Is it really hot and humid where you live?
These factors will help you to determine the best fan for your situation.
In the case of the Honeywell HYF290B general feedback from customers seems to be that it is not a super-powerful fan.
So if you do have a large room and an extremely hot and humid climate, then it is probably not the fan for you.
However many with smaller rooms who did not need the abundance of airflow found the fan to be more than adequate.
Does this fan Oscillate?
There are not a whole lot of tower fans, bar Vornado Wind Curve fans, that don't oscillate.
The Quietset 8 is no different. There is an oscillation feature which you can turn on and off and this is also able to be controlled by the remote control.
Timers
If you want to set and forget with your tower fan then you have a few options with this fan.
It is possible to set the timer which will turn the fan off automatically.
There are 4 timer options which are 1, 2, 4, and 8 hours.
Compared to other fans this is a basic level of features. Top-of-the-range tower fans allow you to set 15-minute increments and at hourly intervals, which is far more control over when your fan with shut off.
Noise
There are some who think this fan is louder than it should be and many who are happy with its volume.
This is often the case with most tower fans and sometimes it comes down to expectations.
If you are expecting a silent tower fan, most likely you will be disappointed.
At the same token sometimes marketing can overstate how quiet the fans are.
One purchaser conducted a sound test of the fan which you can read in his review here.
What can I do with the Remote Control?
As below the remote control for the Honeywell HYF290B is fairly simple. It does not have any lighting on it, so in the dark, you will have to press buttons by memory, but it is about as simple as you can get.
It has three buttons, power, timer, and wind speed.
Unfortunately, you are not able to control the lighting or dimmer with the remote control, nor are you able to operate the timer function.
You will have to use the buttons on the actual unit to change those settings.
The remote control for the Quietset 8 tower fan is powered by 2 AAA batteries.
The Remote control for the Honeywell Quietset 8 looks very similar to the Remote picture here in terms of buttons & function
How do I clean the Honeywell HYF290B?
At some point, you are going to want to clean your tower fan in order to extend its shelf life.
There are 2 parts which require different methods for cleaning.
For the exterior unit itself, not including the grill, a soft dry cloth is recommended by the manufacturer. DO NOT soak the fan in water and make sure no water ever gets in the motor housing.
To clean the grills and fan blade area, the manufacturer suggests using a pipe cleaner, flexible dust wand, vacuum cleaner, or compressed air to remove the dust in the fan.
Power/Safety/Energy
The Qiuetset 8 Tower Fan comes with overload protection (fuse) in case of a short circuit. It also has a polarized plug for your safety and runs on 120V.
For those outside the USA, you can check what voltage your country runs on here. It is, however, important to note the safety feature is designed for the US market.
This fan has also been tested and found to comply with the limits for Class B digital service pursuant to part 15 of the FCC rules.
Physical Specs
| | | | |
| --- | --- | --- | --- |
| Assembled Depth (in.) | 8.2 in | Product Depth (cm.) | 20.8 |
| Assembled Height (in.) | 32.8 in | Product Height (cm.)73.914 | 83.3 |
| Assembled Width (in.) | 10.8 in | Product Width (cm.) | 27.4 |
Pros & Cons
| | |
| --- | --- |
| Pros ✅ | Cons ❌ |
| Has adjustable lighting | Low air output – so not suitable for large rooms. |
| Quiet Fan | |
| Above average amount of speeds to choose from | |
Warranty
This fan comes with a 1-year limited warranty which is only valid to the original purchaser of the product from the original date of purchase. This is by far the best cover of any of the tower fans we have researched with most fans coming with a warranty of only 1 year.  Of course, the warranty does not cover any damage from unauthorized attempts to fix any problems.
Of course, the warranty does not cover any damage from unauthorized attempts to fix any problems.
Always confirm the warranty when you purchase the product.
How does the price compare?
The price of the Honeywell HYF290B is at the time of writing cheaper than its predecessor and would be categorized in the mid-lower end of price for tower fans.
Our Pick
Honeywell HYF290B Review Conclusion
For the most part, the majority of purchasers had a favorable experience with this fan.
The biggest concern from people was in regard to the airflow output.
It was a common comment from people that the fan does not have a high air output and would not likely work in a larger room.
It is also of note that one particular person who owned the Quietset 7 felt there was less output in the 8 than in the 7.
Another point of interest is that the Quietset 7 came with a thermostat which some people were missing on this fan.
Of course though, with the 8 you get the lighting dimmer feature, so really it's a trade-off of features in that respect.
The Honeywell HYF290B is a middle-of-the-range tower fan in terms of features and price. It is unique in that it gives you control of the lighting and has more speeds to choose from than most other tower fans. However, it is not high-spec.
We would say that if someone looking for a reliable fan for a small room and is looking for extra lighting then it would be worth a look.
It is a shame you can't control the lighting from the remote control though.

Hey there! I am
Benas
, the founder and content editor at Home Caprice. Thanks for reading the article. I hope you were able to find what you were looking for. I and my team are here to simplify heating and cooling for everyone. Please have a look at the
About page
for more details about our website and feel free to check out our
editorial process
.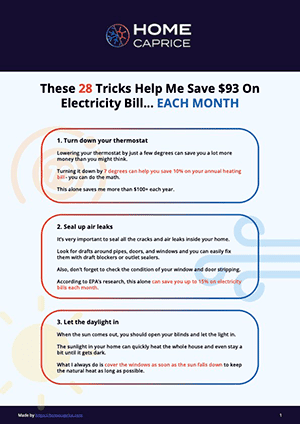 These 28 Tricks Help Me Save $93 On Electricity Bill... EACH MONTH
Download this FREE cheat sheet to find 28 tricks that can help you save on your electricity and heating bill each month.
Click here to get a FREE Cheat-Sheat