While there are tons of heating options out there, there's rarely something that can keep your hands, toes, and clothes warm throughout the day.
Luckily for all of us, USB heaters proved to be a great solution on cold winter days.
It doesn't make sense to wear several layers of clothes, especially if you're going to work or somewhere important where you won't feel comfortable wearing so many clothes on you.
Although they're great, you shouldn't go right away to your local store to pick up a generic USB heater.
I've first-hand tested over 12 different models and picked the best 5 that have everything you need.
Let's first talk about the benefits of USB heaters:
Benefits of USB Heaters
Safe: USB heaters are by far the safest heaters on the market. They're proven to increase blood circulation and they don't carry any harmful radiation.
Reverse charging: USB heaters usually use the same charging port as smartphones, tablets, smartwatches, and other tech gadgets.
Portable: You can carry them with you wherever you go and even put them inside of your pocket. They're lightweight and compact and thus can be used on any occasion.
Environment-friendly: They don't use any chemicals or fuel to heat, and they're rechargeable and reusable.
Easy to use: You don't have to struggle with installation or hire a professional for it to work – you simply turn them on and let them warm you.
5 Best USB Powered Heaters
This is a larger hand warmer that works pretty well even on the coldest winter days.
What I personally love the most about this model is that it has a timing function. You can set the timer to 30 minutes, 1 hour, or even 3 hours. In this way, you can even fall asleep with this thing being turned on.
It has the best and most advanced battery – it can heat up to 15 hours.
Another impressive thing about this model is it uses dual-side heating. It's very important as you won't need to toss and turn it around every few minutes.
In addition to that, you can switch between 3 constant heating settings: low, medium, and high.
Safety is a priority, and this USB heater has built-in protection against an overheating system.
BESKAR USB heater has great performance and it can heat for up to 12 hours without any problem.
The impressive thing about this model is that it starts to heat immediately.
You can switch between three levels of temperature – the highest level of temperature is very efficient and it can heat you pretty quickly.
Without any doubt, this USB heater has ultra-fast charging and it takes just 4 hours for it to heat for more than half a day.
As you always want to check for safety features, it has over-charging and overheating protection sensors.
Right off the bat, the battery on this model is beast mode. I'm talking about more than 15 hours of high performance with just 3 hours of charging.
Talking about the battery, it can charge your phone up to 50% in just 30 minutes.
As with other models, this one has an in-built overheating sensor that keeps you safe if you fall asleep or forget to turn it off.
You just have to double-click the power button to check the remaining battery level.
It uses dual-side heating, so you won't have to worry if you will feel warm and cozy.
This USB heater is by far the safest one on our list.
It uses "correct" heating levels, so you can replicate the heat therapy treatment you get in the salons.
This model has the most advanced overheating sensors, so you'll never feel unsafe or worried. It's suitable for kids.
Dual-side heating allows very efficient heating and you can select between three heating levels.
Because of the size, you can easily put it inside your pocket and carry it with you everywhere you go.
This USB heater has a different design and it has a different use.
You use this if you want to heat your clothes – especially a jacket on those crucial cold winter days.
What I love about this type of USB heater is that it's foldable and waterproof. You can wear it when you're going to the mountains or skiing.
It has three-gear temperature adjustment, so you can control the temperature based on your needs.
The only downside of this model is the safety, as you have to be careful how long you'll be heating and on what type of clothes you'll wear this heater.
How Does A USB Rechargeable Heater Work
USB heaters are heating devices that use replenishable batteries as a source of power(energy).
As with smartphones, the battery is charged by means of a USB port. Once the battery is fully charged, your heater is ready to use.
They rely on resistance wire to warm up and generate heat. It usually takes just a couple of minutes for the USB heater to warm up and start fully heating.
Because of this, they're perfect to use as cloth warmers or as hand heaters.
What To Look For In USB Powered Heater
Heating power
Some USB heaters have low-heating operation while others have higher capacity heating.
In other words, heating power decides how fast your device will warm up and start heating.
Battery
The size of the battery decides how long your heater can operate without the need for charging.
USB heaters primarily use lithium-ion batteries, so they work on the same principle as smartphones.
That being said, look for batteries with large mAH, as they will prolong heating operation.
Warranty
Warranty is super important when it comes to smaller devices such as this one. Although I've done in-depth research and testing, there are a couple of Chinese knock-offs that you don't want to buy.
The best way to avoid these cheap knockoffs is to always look for a warranty.
Usually, smart space heaters have the best warranty, that's why I'm a huge fan of them.
My advice is to buy devices with a 1-year warranty at least – you shouldn't go below that.
Heating sides
Some USB heaters use both sides to heat while others are single-sided.
The advantage of dual-side heaters is that you don't need to turn your device a lot to obtain your desired temperature.
I've used both and I can honestly say that dual-side heaters are a lot more convenient.
Advanced features
Some USB heaters have additional features such as flashlights, built-in massagers, etc.
Still, it all depends on your budget as models with advanced features usually cost a bit more than regular ones.
Not only do these features improve the performance of the heater, but they also make them visually much more appealing.
Are USB heaters safe?
A lot of people are wondering if USB heaters are actually safe.
The short answer is – yes, they're generally safe.
You have to remember that these types of heaters are electric, so there's always the precaution of overheating.
There are no cases that I've heard of, but leaving them turned on for a long period of time without supervision might cause a fire.
This is why I always recommend you wait at least an hour for the heater to cool down properly before using it again.
Hey there! I am Benas, the founder of Home Caprice. Thanks for reading the article, I hope you were able to find what you were looking for. Me together with my team, are here to simplify heating and cooling for everyone. If you want more details about the website and our team, please check the
about
page.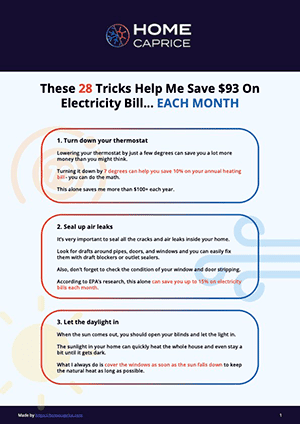 These 28 Tricks Help Me Save $93 On Electricity Bill... EACH MONTH
Download this FREE cheat sheet to find 28 tricks that can help you save on your electricity and heating bill each month.
Click here to get a FREE Cheat-Sheat