There are tons of different types of heaters on the market, but you're probably wondering which ones are the cheapest to run.
Besides being efficient in saving you money on bills each month, you deserve a heater that will actually provide you with solid heating.
It's easy to make the wrong choice.
Therefore, we bring you the 7 most efficient and cheapest to run types of heaters.
Electric Heaters
Electric heaters are the only heaters that can produce heat at 100% efficiency, so they're the most efficient heaters on the market.
What I love about electric heaters is that they're completely safe and they don't have any risk of causing further damage.
Another impressive thing about electric heaters is that you can choose from thousands of different options and see which one fits your needs.
No matter the size of your room or home, electric heaters are always a great option to go with.
One of the most efficient electric heaters is Lasko Oscillating Ceramic Tower Space Heater.
Oil Filled Radiators
If you're looking for long-lasting warmth inside your room, you'll definitely love oil-filled heaters.
They have a different approach to heating by using thermodynamic oil inside of the radiator to start the heat.
There are often comparisons between electric heaters and oil-filled radiators.
It's important to mention that oil-filled heaters have a lot of models with different wattage, so expect that prices will vary based on the power.
By using thermodynamic oil, oil-filled radiators can keep the heat inside of the room much longer than other heaters.
A great oil-filled radiator worth mentioning is PELONIS Oil Filled Radiator.
Halogen Heaters
Halogen heaters provide instant heat which makes them a great solution for winter.
The halogen element inside these heaters produce radiant heat and heats everything in front of them, so you can expect very fast heating.
Another interesting thing is that halogen heaters are one of the most affordable heaters on the market. As they provide instant heat, you won't have to use them for a whole day.
If you're a fan of these types of heaters, you should definitely check out Comfort Zone CZHTV9.
Fan Heaters
Fan heaters are used in small rooms only, so you shouldn't expect a lot if you're planning to use them in a larger room.
These types of heaters are usually the cheapest ones, so it's rare to find a very powerful fan heater.
What else you have to take into consideration is that they can produce noise when working, so make sure to always choose one with ultra-quiet technology.
Whether you want to position it in your bedroom or in your office, Jialexin Space Heater is always a great choice.
Infrared Panel Heater
They're very similar to halogen heaters, but they can usually warm a much larger area.
In my opinion, infrared heaters are usually best performing when you mount them on the wall.
With infrared heaters, you won't hear any noise and you won't have to wait long for them to start heating.
They're very efficient and they can fit any room size.
The best wall-mounted heater is Heat Storm HS-1500 which even has smart features. We even have a separate review of this heater here.
Storage Heater
Storage heaters are still kept a "dark secret" and a lot of people don't know what they actually do – or even what they look like.
They're mostly being used in hotels and they have a combination of a fan and a heater.
Besides being very efficient, they can last you for over a decade which makes them one of the most durable types of heaters.
The biggest downside is that they're not portable, so you'll have to think in which room you want to place it first.
Also, they're extremely hard to find nowadays.
Convector Heaters
Convector heaters are mostly used for smaller and medium-sized rooms as they work by raising the warm air and sinking the cold air.
To explain this even further, it sucks cold air and heats it then pushes that warm air again into your room.
You also need to know that convector heaters aren't so fast in heating, but they will heat the whole room evenly.
De'Longhi Convection Panel Heater is still the best convector heater on the market.
Also, you can keep them working for a longer time compared to radiant heaters.
Helpful Tips That Will Help You Cut Down Energy Costs
Turn down the thermostat – You won't feel any difference between 68 degrees opposed to 70, but your heating bill will be decently lower.
Close the doors – You would be surprised at how many times you forgot to close the doors and unnecessarily let the warm air out of the room.
Replace furnace filters – This doesn't only affect the quality of air, but it prevents your heater from using more energy than it should be using.
Love the Sun – Opening your curtains in the morning while Sun is there can attract more long-lasting warmth inside of your home which will stay even when the sun falls.
Let the ceiling fan run – The ceiling fan will push the warm air back down to the floor and keep your room warm and cozy even when you turn off the heater.
If you're looking to save even more money, we recommend taking a look at the most energy-efficient space heaters.
Hey there! I am Benas, the founder of Home Caprice. Thanks for reading the article, I hope you were able to find what you were looking for. Me together with my team, are here to simplify heating and cooling for everyone. If you want more details about the website and our team, please check the
about
page.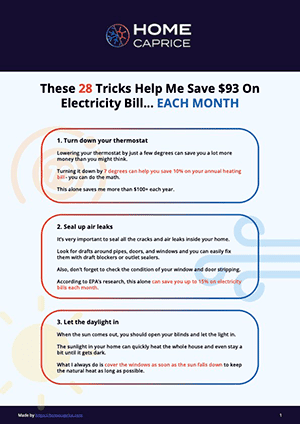 These 28 Tricks Help Me Save $93 On Electricity Bill... EACH MONTH
Download this FREE cheat sheet to find 28 tricks that can help you save on your electricity and heating bill each month.
Click here to get a FREE Cheat-Sheat