Nothing makes a home cozier on a winter day than a warm fireplace, doesn't it?
Thanks to electric fireplaces, you can experience the look and feel of a traditional fireplace even if you have no chimney or can no longer use a conventional fireplace.
Today's commercial models come in all shapes, sizes, and price points, and since they no longer require vents or an extra gas line to operate, they are much more efficient — and cost-effective — than other heating options.
We've compiled our favorite electric fireplaces on the market. But before we get into detail, don't forget to consider these three main points, especially if you're a first-time buyer of electric fireplace systems:
Determine the size of the product you'll purchase, which would depend on where you plan to install it.
Note the floor area of the room you need to warm.
Decide on which fireplace design will match the look of the room you'll install it in.
Recommended Electric Fireplaces
Don't forget to share this article with your spouse or housemate. You want them to know what you are buying, right?
Dimensions: 50.4" W x 21.63" H x 5.38" D
Maximum BTUs: 5,100 BTUs
Maximum heating area: 400 square feet
Our Pick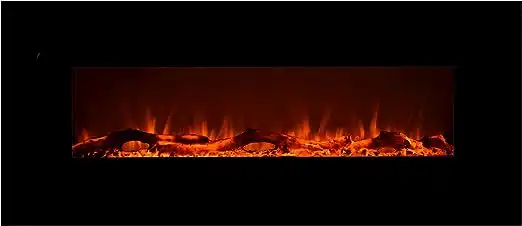 This wall-mounted electric fireplace features a modern black frame with mounting brackets.
You can use the remote control to toggle the settings between low and high heat. Five brightness levels are available. The product comes with either logs or crystals to provide realistic-looking flames.
The fireplace also has a built-in timer with settings ranging from 30 minutes to 7.5 hours.
While some owners of the Touchstone have expressed disappointment over the loud humming sound it makes, the very realistic-looking flames of this sleek and modern fireplace are enough to make up for it.
Dimensions: 17" W x 20" H x 10" D
Maximum BTUs: 5,100 BTUs
Maximum heating area: 500 square feet
Our Pick
This unit can either stand alone or be mounted on a wall. As a stand-alone unit, the electric fireplace stove adds elegance and warmth to a room with its classic metal exterior and copper handles.
It has an automatic shut-off feature when the internal temperature gets too high. It's a pretty great deal, but do be warned that some buyers have complained about receiving the product with damaged parts, particularly broken hinges, leaving the door loose.
Dimensions: 48″ W x 41″ H x 13″ D
Maximum BTUs: 4,780 BTUs
Maximum heating area: 1,000 square feet
Our Pick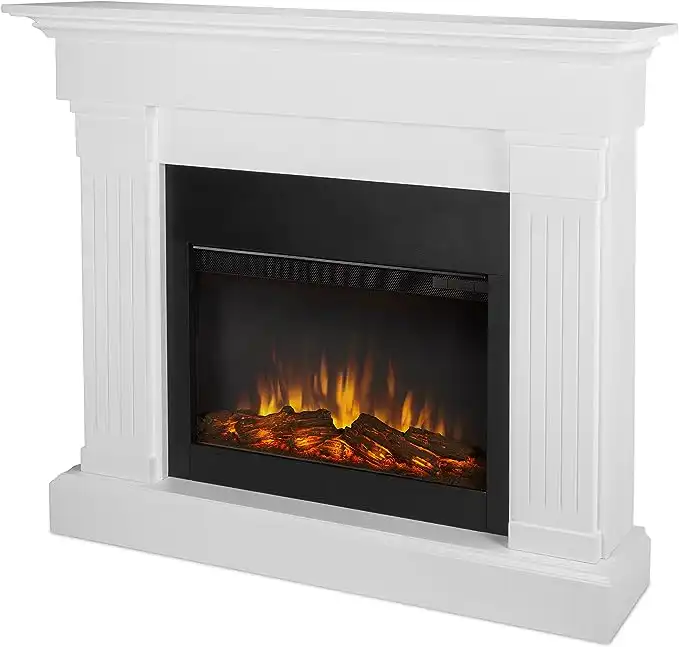 This clean and classy fireplace mantel is made of solid pine wood and features medium-density fiberboard and powder-coated steel veneering.
This electric fireplace with a firebox is remote-control-operated and has an anti-topple safety device. The mantel can support up to 30 pounds of weight.
It can also be lit up without running the heater. The fireplace has five brightness levels and a timer, which you can set for 10 minutes to nine hours.
The product, which is equipped with an adjustable thermostat and thermal overload protection, is certified by Underwriter Laboratories and the US Federal Communications Commission.
New owners of the Crawford fireplace love how it looks like it's part of the original design of the house. Just be careful when handling the screws as a number of buyers warn about stripping or losing the head of screws when they are tightened too much.
Dimensions: 70" W x 30.43" H x 19.5" D
Maximum BTUs: 4,780 BTUs
Maximum heating area: 1,000 square feet
Our Pick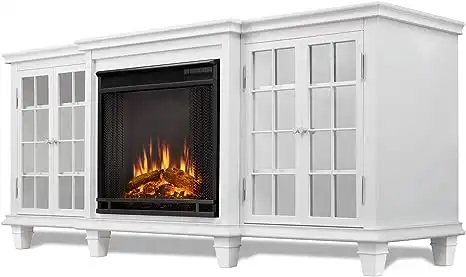 This fireplace is like an expanded version of the Crawford. The mantelpiece has wooden cabinets with mullions, or glass-paneled doors, on each side.
It's an ideal TV stand as the mantel can support up to 100 pounds. It has a built-in cable management system and adjustable shelves. However, due to its size and the weight of the individual pieces, some buyers found the fireplace challenging to assemble on their own.
Like the Crawford unit, the Marlowe model also has five brightness levels and a timer that can be set for 10 minutes to nine hours. Both the Crawford and Marlowe models can be turned on without the heating feature.
It is likewise equipped with an adjustable thermostat and thermal overload protection and is certified by Underwriter Laboratories and the US Federal Communications Commission.
Dimensions: 28.5" W x 21" H x 6" D
Maximum BTUs: 5,118 BTUs
Maximum heating area: 800 square feet
Our Pick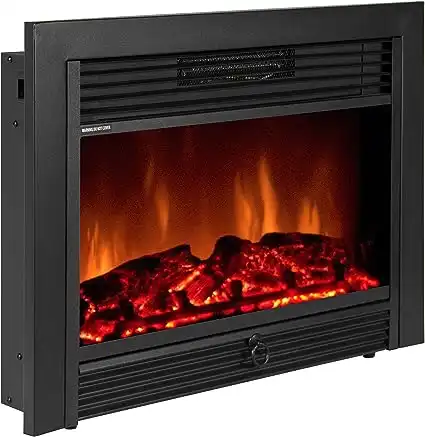 Certified by the CSA Group (formerly Canadian Standards Association), this product is an excellent room warmer or decorative accent for your living room or bedroom wall, or former wood-operated fireplace. You can even place the unit inside a cabinet.
The Best Choice Products fireplace insert has an iron frame and a 23- x 11-inch glass window. The brightness level can be adjusted to make the "flames" on the 3D logs realistic.
It comes with remote control with low (2,559 BTU) and high heat settings and a standard plug. Its safety cut-off device stops the unit from operating once signs of overheating are detected.
Owners describe the fireplace as "realistic" and "fabulous," although some have reported receiving a defective remote control.
Dimensions: 31.7" W x 27.25" H x 12.76" D
Maximum BTUs: 5,200 BTUs
Maximum heating area: 1,000 square feet
Our Pick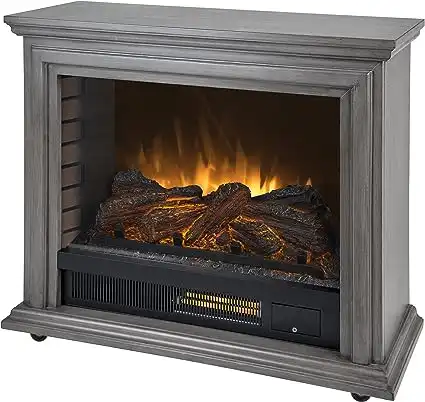 The product's infrared heating system has five heat levels. Because it's an infrared unit, it produces heat immediately. The only downside is that the warming effect also stops the moment the appliance is turned off, so it's better suited for smaller spaces.
The electric fireplace has five brightness levels, which can be adjusted through remote control.
The unit also has wheels, so it's easy to move from one room to another despite its weight (55 lbs).
While some have reported receiving their products with damages, several customers also say that this "sweet little fireplace" is a perfect fit for their condo and apartment units.
Dimensions: 36" W x 17.7" H x 3.85" D
Maximum BTUs: 5,118 BTUs
Maximum heating area: 1,000 square feet
Our Pick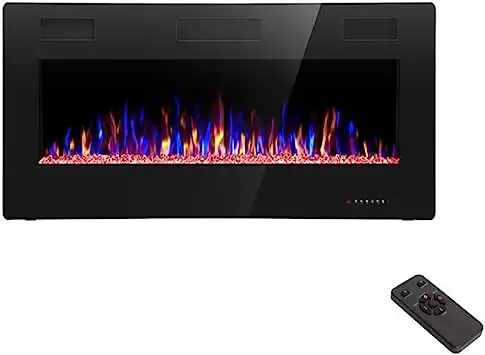 This unit from R. W. can be installed as a wall mount or flush mount because its air outlet is at the front and not the top. It is also considered to be the thinnest in the electric fireplace market at just 3.85 inches.
The wall-mounted infrared heating system can put you in a restful mood with its 12 color modes. You can use the touchscreen buttons at the bottom of the product's frame or the remote control to adjust the brightness and flame colors. It has a low (750 watts) and a high heat setting and a timer that can be set for one to eight hours.
Many customers like this model's easy assembly, thin design, and "mesmerizing" flames, although according to some, it doesn't provide as much heat as they expected.
Dimensions: 24" W x 23.4" H x 13.07" D
Maximum BTUs: 5,200 BTUs
Maximum heating area: 1,000 square feet
Our Pick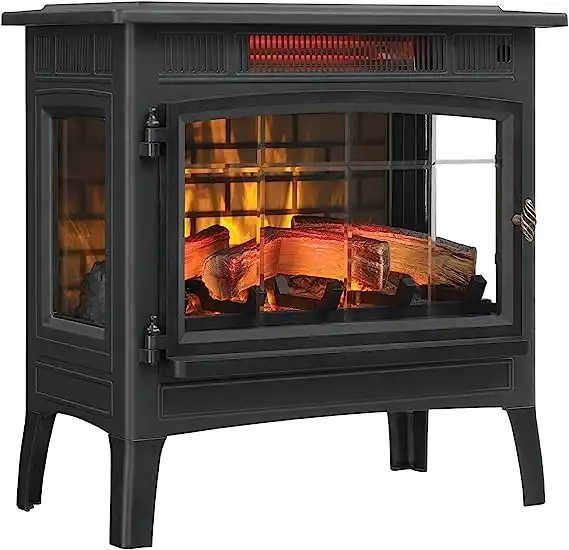 This infrared quartz heater is produced by Duraflame, which has been in the business of making paper-wrapped fire starter logs for the past 5 decades.
It has doors made of beveled glass, a brick-lined firebox, and durable plastic legs. The unit has a spacious 20- x 11-inch top, which can be used to display items. The fireplace stove features an impressive 3D "layered" flame effect technology. It has five brightness settings, which can be adjusted via remote control.
Although the infrared-operated fireplace is supposed to warm rooms of up to 1,000 square feet, there have been some reports that the product is unable to warm spaces as much as the specs claim.
The Duraflame electric fireplace is equipped with a timer as well as a thermostat and overheating protection controls.
What's an Electric Fireplace?
Simply put, an electric fireplace is an electric heater that mimics the function of a real fireplace without having to start an actual fire. It's usually installed over an old fireplace that can't be used anymore.
You won't need to chop any wood or get some coal to warm up a room. Electric fireplaces can create the same warm, cozy atmosphere that a real fireplace does while also being safer and more energy-efficient. You can even turn off the heat and just use them for the ambiance!
They're also very easy to use. Just plug one into a socket and turn it on. It's that simple.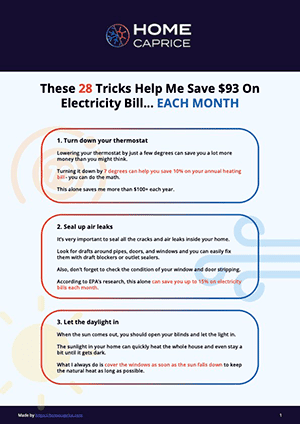 These 28 Tricks Help Me Save $93 On Electricity Bill... EACH MONTH
Download this FREE cheat sheet to find 28 tricks that can help you save on your electricity and heating bill each month.
Click here to get a FREE Cheat-Sheat
How It Works
Metal coils and fans or blowers produce and disseminate the heat from an electric fireplace. Others operate using infrared light or a heated ceramic plate instead of coils. Electric fireplaces produce an average of 4,000-5,000 BTUs of heat.
Fan-operated fireplaces are ideal for small spaces (400-500 square feet) while infrared units are good for rooms measuring up to 1,000 square feet.
LED bulbs and a refractor create the illusion of flames. To provide a more realistic effect, certain products are equipped with devices that produce sounds similar to crackling wood. Companies have their respective 3D flame effects.
Choosing the Best Electric Fireplace for Your Home
Now that we've covered the basics, let's talk about the different factors that should go into choosing the best electric fireplace for you.
Think About Where You Want to Install It
Even though electric fireplaces are usually meant to cover now-defunct fireplaces, you can also install them in other places around your home.
Electric fireplaces are small enough to be carried around and placed inside different rooms. Their size also means that they can be installed in small houses or apartment units.
To make things even better, installing them is as simple as plugging them in. No need to hire a professional or follow any complicated guides. Just find a good spot to put it in and you're good to go.
Do note, though, that your electric fireplace should be placed near a power outlet with its own fuse or circuit breaker. Make sure that you never plug the electric fireplace into an extension cord.
Use the form below to get offers on how much would it cost you to install the fireplace 👇
Or feel free to call this number if you prefer to chat over the phone 👉 (855) 659-3394
Decide on the Style You Need
Electric fireplaces come in different sizes and designs. The most common types of electric fireplaces are:
Consider the Operating Costs
Of course, you can't really go wrong with an electric fireplace. Since electricity is, its main energy source, buying an electric fireplace means you won't have to pay for wood, coal, or gas.
Compared to other heating systems, electric fireplaces are much cheaper to run. Firewood for traditional fireplaces can cost up to $150 per cord, and each bundle will last for about 6-10 weeks. What's worse is that the price for firewood usually increases once winter hits.
Meanwhile, a gas-powered fireplace can cost anywhere between $28.80 and $66 per month depending on the type of gas and the BTU rating of the fireplace itself.
BTU ratings will also factor into your electric bill. A larger room will require a more powerful electric fireplace, which will produce more heat and consume more energy. On average, though, operating an electric fireplace will cost you under $0.20 per hour if the heat settings are set at maximum. But if you use the appliance just for the fire display, the cost can go down to about $0.02 per hour.
Safety Tips
Since electric fireplaces don't use real flames and only display fire for the sake of ambiance, there's very little chance that you'd accidentally burn your house down. Moreover, this means that your electric fireplace will have zero emissions.
Burning wood releases suffocating fumes and carcinogenic agents.
Electric fireplaces will spare you the trouble of worrying over these health risks. They'll also keep the air quality in your home clean.
Here are some ways you can keep your electric fireplace operating in tip-top condition for a long time:
Ensure the safety of your electric outlets. Unplug the appliance when you're not using it.
While most electric fireplaces feature screens that are cool to the touch, it's still best to practice caution and keep flammable materials, children, and pets at a safe distance.
Keep fresh air passages unblocked.
Still Haven't Decided?
As with buying any other appliance, it would be a good idea to discuss your upcoming purchase with the other members of your household.
Be sure to check the weight of your electric fireplace before buying it, especially if you plan to move it from one room to another. A model with a safety shut-off is also highly advisable to ensure that the product won't cause any damage in case it gets knocked over.
Don't forget to research the warranty terms as they differ from seller to seller. Touchstone, our top pick, offers a one-year standard warranty, which covers the replacement of any non-functioning electric components. The coverage can be extended for another year with an additional fee below $100.
Share this article with your spouse or housemate and let them help you choose the electric fireplace!
Hey there! I am Benas, the founder of Home Caprice. Thanks for reading the article, I hope you were able to find what you were looking for. Me together with my team, are here to simplify heating and cooling for everyone. If you want more details about the website and our team, please check the
about
page.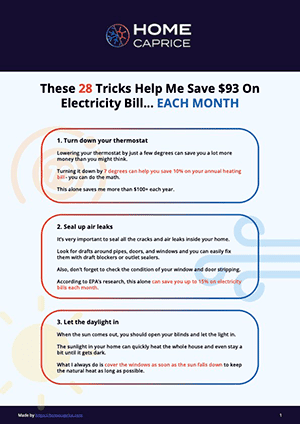 These 28 Tricks Help Me Save $93 On Electricity Bill... EACH MONTH
Download this FREE cheat sheet to find 28 tricks that can help you save on your electricity and heating bill each month.
Click here to get a FREE Cheat-Sheat