You might enjoy watching thrilling fire sparks and you want to maximize your comfort while you're chilling with family and friends.
If so, then gas fireplace inserts are the perfect solution for you.
They're becoming more popular because of their realistic fire effects that give a better experience for the whole family. 
I'll talk about the best inserts on the market in a minute, but let me answer the question I hear the most…
How Much Does Gas Fireplace Inserts Cost?
The biggest advantage of a gas fireplace insert is a low running cost as it saves you money in the long run.
However, the upfront cost might be a bit bigger as you have to install a gas line and chimney afterward.
An average-to-better gas insert costs between $1,000 up to $2,500.
The overall installation cost is a bit lower, so to have a gas fireplace insert working flawlessly you would need to invest a bit more than $3,000.
In my opinion, the upfront cost isn't small, but running costs are definitely cheaper as gas is less expensive than electricity.
If you want to know the exact cost of installing a gas fireplace at your home, just click this link and fill out the form to get offers from your local contractors.
Now, let me mention some of the best gas fireplace inserts on the market (there are a couple that are perfect if you're on a budget…)
❗️ Interesting Fact: They burn with a 65% to 99% efficiency rating, so there's very little pollution or smoke.
Recommended Gas Fireplace Inserts
Our Pick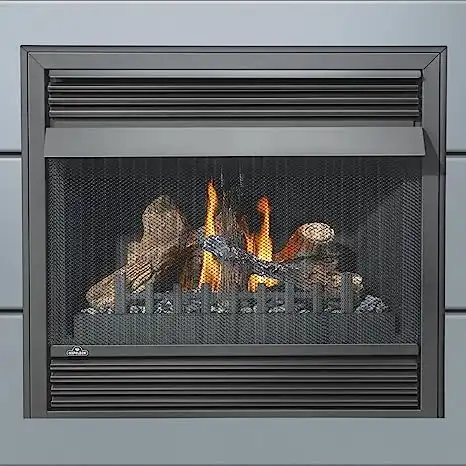 When it comes to heating, Napoleon makes the best gas fireplaces that are efficient and exciting to watch.
This specific unit has a 50% flame and heat adjustment to make sure you're comfortable all the time.
A lot of people are skeptical about the safety of gas fireplaces, but this fireplace has oxygen sensors that shut the pilot off before oxygen drops below a safe level.
Also, you don't have to worry about the safety of your kids as it has a safety screen which keeps them safe from open flame.
It's powerful and can heat a 1200 sq.ft. condo without any problem.
Our Pick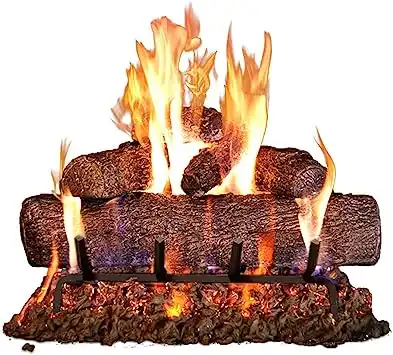 Besides the efficiency, what describes this insert the best is a realistic design.
Gas logs are hand-painted to recreate the look of natural wood and give you better comfort when you're sitting next to it.
As the logs aren't real, there's no work required to keep the fire going or to maintain the perfect heat you want.
Installation is super simple and you can even hire a professional to install a remote control feature, so it brings even more pleasure into your home.
Our Pick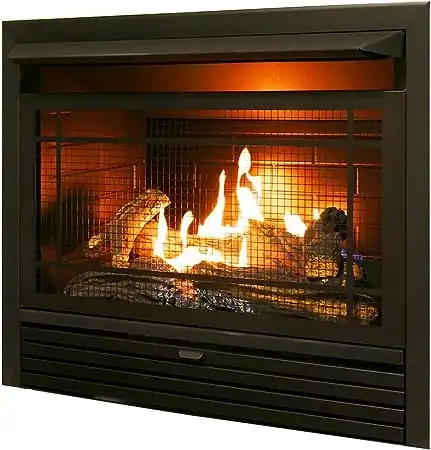 What's great about this gas fireplace is that it comes with 5 hand-painted Ceramic Fiber logs which makes it look even more realistic.
Because of its dual-fuel technology, it can easily heat up to 1,350 sq. ft. area – pretty impressive if you ask me.
This is a safe fireplace as it has a built-in ODS to immediately shut down the heater if a lack of oxygen is detected.
What makes this fireplace unique is that it is actually assembled and tested in the USA.
Our Pick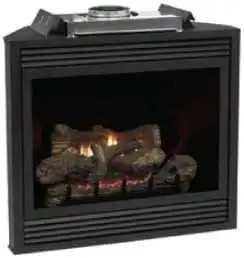 Besides all the great features it has, I have to mention the durability of this fireplace. You can heat your home up to 12 hours a day without any problem.
The installation is very simple and straight to the point, so you won't need to hire a professional to take care of it.
Also, you will love their customer service and delivery as they ship your product very quickly after receiving the order.
The only thing I dislike is that you need to buy venting pipes and remote separately as they don't come all-in-one.
Our Pick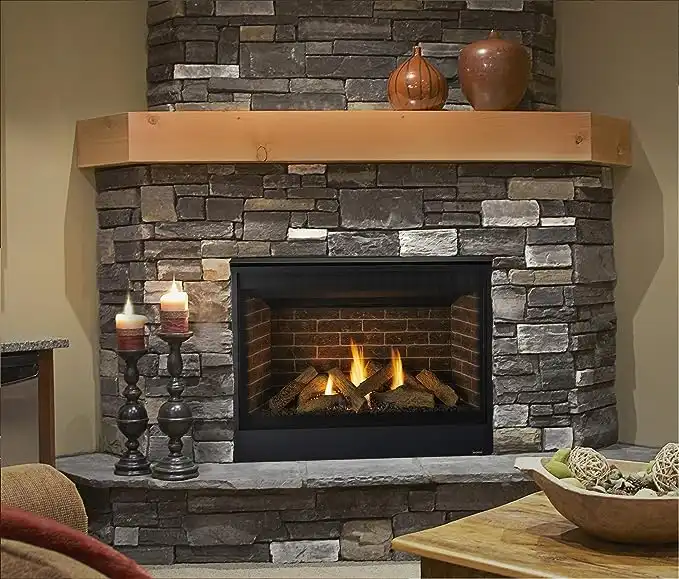 This fireplace isn't too big so it won't take up a lot of your living space.
It's easy to install and it won't attach a huge electricity bill each month.
Although it has a lot of great futures, the only downside is that you have to buy everything separately including the door – you can call their customer service and order all the parts you need.
So, if you have some extra cash you can invest in a fireplace – you won't regret going with this one.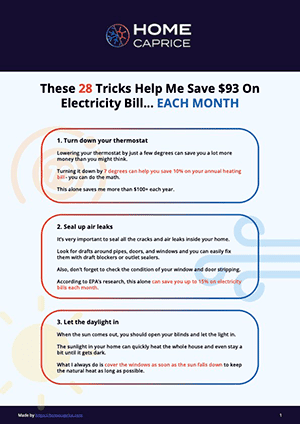 These 28 Tricks Help Me Save $93 On Electricity Bill... EACH MONTH
Download this FREE cheat sheet to find 28 tricks that can help you save on your electricity and heating bill each month.
Click here to get a FREE Cheat-Sheat
The Checklist for Choosing The Right Gas Fireplace Insert 
As I want you to choose the gas insert that fits you the most, I wrote a little checklist you should follow before making a final decision.
"Measure Twice, Cut Once"
The last thing you want is to buy an insert that can't fit into your fireplace. After making sure it'll fit, check if you have the space for a chimney or flue line.
📍 Note: If you live in a studio apartment – case propane inserts might be the best solution for you.
Check the Log Size and Efficiency Rating
Insert's log size has a lot to do with the burning time.
If the log size is bigger, it means you don't have to refill the logs often – I'm a lazy guy so this matters a lot 🙂
As you always want to pay attention to your budget, look for an efficiency rating above 95% because it will lower your monthly bills.
📍 Tip: If you want to have even lower heating bills, check out the most energy-efficient space heaters.
Check its Plug-in and Operating Options
Believe me, there's nothing more frustrating than finding out that the insert you ordered doesn't have a plug into your house's outlet. Make sure you always select an insert that plugs into a standard household outlet.
While some inserts have buttons mounted on the unit, others are controlled by remote control – choose the one that fits your criteria.
Check BTUs
You probably know that more BTUs equals more heating capacity.
If you own a bigger home or you want to heat a bigger area – you should always go with inserts with more BTUs.
📍 Note: If your home is small-to-medium, you probably don't need more than 30,000 BTUs (this also depends on the climate)
Check For "All-in-One"
Make sure you won't need to buy venting pipes or doors separately because it will be a struggle till you have it all set up.
Also, you never know the exact cost of other parts.
Always look for "all-in-one" and that you only have to install it once it arrives.
Specs to Consider Before Buying 
In my opinion, you should watch for everything from the checklist I mentioned above.
The specs below will guarantee you will buy the best insert for your needs.
Dual-blower system
Most people think dual-blower design is meant for larger homes as they can heat bigger areas…
While this is true, the biggest misconception is that dual-blower would overheat a small home.
It adds more heat, but it distributes it evenly as both blowers are targeting different directions.
Remote Control
If you don't want to move from your couch while watching your favorite TV show – you definitely need to consider getting a remote control.
You can easily adjust the temperature and flame height, so it maximizes your comfort and pleasure.
Oxygen Sensor
You're probably aware of the danger if you forget to turn off your heater before leaving the house or going to sleep.
Oxygen sensors make sure the insert runs only to a "safe limit" and if it dips below the limit – the insert automatically shuts off.
They can prevent overheating your home and much bigger danger.
Safety Screen
If you have children or pets at your home, a safety screen is a must-have.
With a safety screen, they can't burn themselves. The safety screen works as a see-through window, so it won't ruin your pleasure watching the fire effect.
Zero Clearance
Inserts with zero clearance are my favorite as it suits all fireplaces.
It suits any mantle, so you don't have to worry about the struggles of finding the right one.
Some Optional Features To Take A Look At
To make this mini-guide even more helpful for you, I prepared some of the optional features you could look for in a gas fireplace insert.
Flame Height Adjustment – This is simply for outside appearance and to maximize your pleasure while you're spending time with the family.
Battery Backup – it makes sure the insert is still heating while the cylinder takes time to refill.
Dual-Fuel – you can use both propane and natural gas, but not at the same time.
Ceramic Glass – It has more heat conductivity and it can radiate more heat.
Two Types of Gas Fireplace Inserts 
Most people are looking for either:
Natural gas fireplace inserts
Propane gas fireplace inserts
If you ask me, I would give an advantage to natural gas as it has a better heat output and you don't need to fill up cylinders.
Although propane gas is more expensive, you can carry its cylinder anywhere.
Again, it's up to you to choose, but my recommendation is to go with natural gas.
To Vent or Not to Vent?
The question I hear a lot is "Should I go with vented or ventless gas fireplace inserts?"
The only proper answer would be to describe each and leave the final choice up to you.
Vented Gas Fireplace Inserts
Most of them come in a two-pipe system also known as a direct vent. One pipe prevents the fire by providing outside air to the chamber, the other pipe takes away the flames. That's how they're able to have an efficiency of up to 85%.
There's also a less common type called B-vent which has only one pipe.
I have to mention that vented gas fireplace inserts are safer than ventless.
Ventless Gas Fireplace Inserts
The biggest advantage of these inserts is that you can install them anywhere and they have 99% efficiency because none of the heat goes outside of the room.
They also have an oxygen sensor that automatically turns the insert off if it dips below the oxygen limit.
📍 Note: Some U.S. states have banned ventless gas fireplaces, so make sure your state isn't on the list.
How to Install a Gas Fireplace Insert?
Save or bookmark this article, so that you can come back and look at how to install your new gas fireplace insert.
The installation process requires work and if you're not a technician – I'd recommend hiring a professional to do it. Why?
It requires running electric and gas lines plus some extra work on the roof – definitely not an easy task! The process is similar to wood-burning fireplaces.
I suggest filling out the form below and letting the professionals handle it.
Or feel free to call this number if you prefer to chat over the phone 👉 (855) 659-3394
However, if you're confident you can do it by yourself – follow this simple 7-step guide below.
Step 1: Attaching The Pipes
Take a sheet of metal crews and attach vent pipes to the insert's mounting place.
Now, simply connect the exhaust pipes to the exhaust outlet.
Remember to take off the damper of the fireplace before testing if the chimney flue has enough space to fit the vent pipes.
Step 2: Setting up the Firebox
Before attaching the leveling legs of the insert, position the fireplace at the center and make sure the legs are fully straight from top to bottom.
📍 Note: Check the law about gas and electricity in your state.
Step 3: Positioning
While positioning the fireplace, you need to make sure it's close to the firebox.
Attach the wiring to the insert and put the gas line into the insert to provide the connection.
Next, carefully slide the insert into the fireplace.
At the top of the insert, there will be slots in which you will slide the mounting place. Take the self-tapping screw and use it to tighten the sliding plate.
Step 4: Removing the Glass
Unlock the clips and put the glowing embers within the fireplace.
Sprinkle mystic chambers around the burner plate's surface and check the manual to properly set up the ceramic logs.
📚 Recommended Reading: How To Clean Fireplace Glass Doors
Step 5: Checking the Manual
You need to read the manual to learn to install the remote control.
Always place the receiver of the remote control outside the insert's firebox because you don't want it to get damaged by heat.
Step 6: Installing Mantel
This is a pretty simple process as you only need to detach the existing mantel, measure the insert, and purchase a new mantel before installing it.
Step 7: Vertical Venting
Make a hole in the roof with a drill, but make sure it's big enough so the exhaust pipe can pass right through it.
Attach the exhaust pipe to the exhaust position of the insert and secure it with screws.
Finally, pass the pipe through the hole in the roof.
✅ BONUS: Go ahead and watch this step-by-step video to safely install the gas fireplace insert without hiring a professional.
Decision Time!
Hope you discovered some new stuff about gas fireplace inserts and what to look for before buying the right one. Once you have your gas fireplace installed, you can bookmark or save this article on how to properly light your gas fireplace.
If you find this article helpful, share it with your friends and family and help them heat their homes in the most comfortable way possible.
Thank you for your time!
Hey there! I am Benas, the founder of Home Caprice. Thanks for reading the article, I hope you were able to find what you were looking for. Me together with my team, are here to simplify heating and cooling for everyone. If you want more details about the website and our team, please check the
about
page.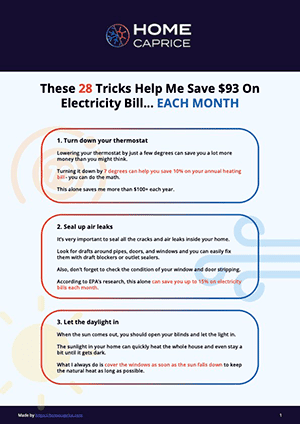 These 28 Tricks Help Me Save $93 On Electricity Bill... EACH MONTH
Download this FREE cheat sheet to find 28 tricks that can help you save on your electricity and heating bill each month.
Click here to get a FREE Cheat-Sheat