Watching the fire sparks from your fireplace in the winter is one of the coziest feelings anyone can experience.
The only downside is when you can't see the fire properly because the fireplace glass became dirty and blurry.
Cleaning fireplace glass is a straightforward process, yet people never succeed in cleaning it totally.
Before you start with the cleaning, I want you to try out the fire-building method for better results.
Fire-Building Method
Believe it or not, building a hot fire will help you remove the stains from your glass.
This is a pre-clean strategy that you can use to tear down stains and have it easy when it comes to the actual cleaning process.
It works the best with the method below.
Be cautious as you need to let the fireplace cool down for at least 6 hours before starting to clean.
If you're curious, learn how to start the longest fire to warm you in those cold winter days.
1. How To Clean Fireplace Glass With Wet Newspapers & Ash
📍 Note: Before proceeding, you should take off your glass doors as it will be easier for you to clean them.
This is the cheapest method out there and it works like a charm.
It might surprise you, but ash is a great surface cleaner and it will help you clean the soot off your fireplace glass.
Simply, grab a wet newspaper and put it in the ash, and start scrubbing in a clockwise motion. Now, use that to clean the fireplace glass.
Ash is used in some cleaning solutions, so mixing ash with water gives you a weaker cleaner.
My advice is to use this method on wood-burning fireplaces because you will usually find most ash there.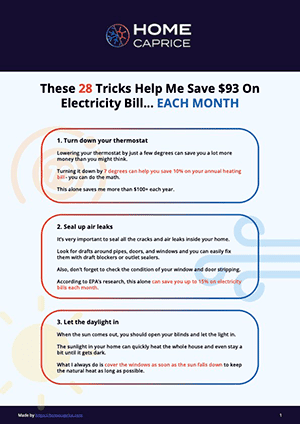 These 28 Tricks Help Me Save $93 On Electricity Bill... EACH MONTH
Download this FREE cheat sheet to find 28 tricks that can help you save on your electricity and heating bill each month.
Click here to get a FREE Cheat-Sheat
2. Cleaning Fireplace Glass With Vinegar
Almost every household has vinegar and it's another cheap solution for cleaning soot from your glass doors.
But, you will mix vinegar with other ingredients.
Mixing one cup of vinegar, a tablespoon of ammonia (or alcohol), and three cups of water will create a very strong fireplace glass cleaner. You should put it in a spray bottle and leave it on the glass for a minute before scrubbing it.
You can use an ash vacuum cleaner to clean the ash before cleaning the glass doors – it's up to you.
Now, I want to mention the razor method which I personally don't recommend.
3. Be Careful With The Razor Method
A lot of people are using a razor blade to remove the thickest layers of soot, but I'm not a fan of this method.
If you're going to try it, pay attention to carefully and softly clean soot.
When you push the razor too hard, you're essentially making scratches on your glass which will collect soot even more in the future.
Most fireplace doors are made of ceramic glass and that's why razors can make scratches pretty easily.
4. BONUS: Buy Glass Cleaner
If you don't feel like using any of the methods above, you can always buy a glass cleaner on Amazon. I suggest the one below.
Our Pick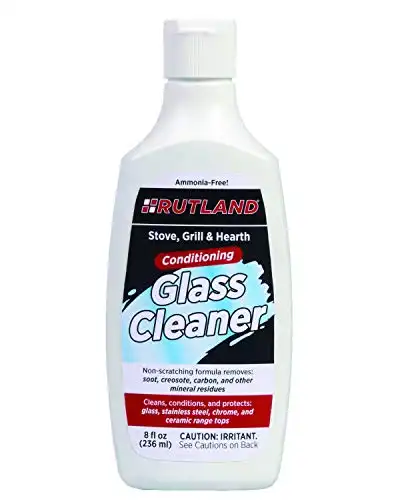 Safety Tips When Cleaning Fireplace Door's Glass
Take these seriously and pay attention to never break them:
Always wear a mask as you don't want to inhale ash.
Never mix vinegar with popular cleaning products because you don't want to produce toxic gas.
Use gloves when you're using commercial glass cleaner to avoid scratching.
If you're using the razor blade method, don't go too aggressive with the cleaning.
Cleaning your fireplace glass is very important if you want to maximize your comfort in watching the flames. 
Don't forget to also clean fireplace bricks because it helps the longevity of your fireplace.
Hey there! I am Benas, the founder of Home Caprice. Thanks for reading the article, I hope you were able to find what you were looking for. Me together with my team, are here to simplify heating and cooling for everyone. If you want more details about the website and our team, please check the
about
page.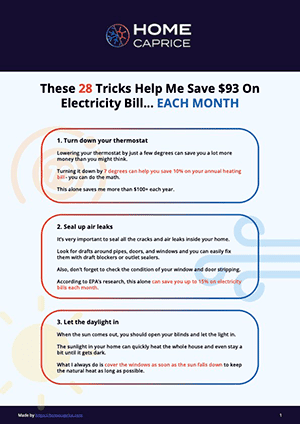 These 28 Tricks Help Me Save $93 On Electricity Bill... EACH MONTH
Download this FREE cheat sheet to find 28 tricks that can help you save on your electricity and heating bill each month.
Click here to get a FREE Cheat-Sheat