In this Minka Aire Concept II review, we look at every aspect of this fan. It has a very nice modern design with a number of good features for a ceiling fan. It is a tad more pricey than other ceiling fan units of the same stock, so is it worth it?
In the below video, you can see a preview of the fan in action.
About the Manufacturer
If you have been looking for products for the home you may have come across Minka Aire or another product under the Minke Group Umbrella.
Under multiple brand names, the group retails in various Home Decor products ranging from table lamps, floor lamps, wall art, lighting, and decorative accessories along with a solid range of ceiling fans.
They produce a lot of good products which only seem to be getting better with time.
They work with as many as 2100 independent lights and showroom dealers and have distribution centers in North Carolina and California providing quick delivery around the US.
Minka Aire Concept II Ceiling Fan Assembly
The Minka Aire Concept II ceiling fan is a flush-mount fan that ironically mounts to your ceiling.
If you are an avid DIY-er or even have a bit of skill you might be able to install the fan on your own.
Below is a useful video guide that will help you along the way should you decide to give the installation a go yourself.
There is also a step-by-step guide for installation in the Minke Aire Concept II user manual which can be found here.
This covers installing the mount, installing the blades, the electricals, and installing the light bulb and shade.
If you are mounting the fan, make sure it is able to support the moving weight of the fan at least 50 pounds.
Be sure to use only the parts provided by Minke Aire or else you will end up voiding your warranty.
If however, you are no interested in installing the unit yourself you are able to purchase installation for around $80-$120 (when you purchase your fan via Amazon)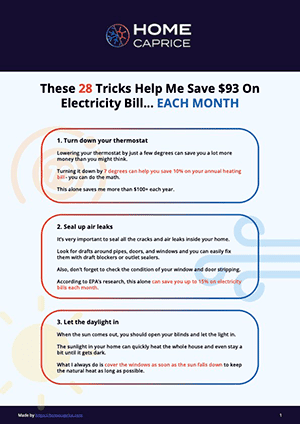 These 28 Tricks Help Me Save $93 On Electricity Bill... EACH MONTH
Download this FREE cheat sheet to find 28 tricks that can help you save on your electricity and heating bill each month.
Click here to get a FREE Cheat-Sheat
Size & Construction
You are able to purchase a Minka Aire Concept II 44-inch fan or if you want something a little bigger there is a Minka Aire Concept II 52 Inch model.
For the sake of this consistency, we will be reviewing the 44-inch model and its specs.
There are many factors which determine how much airflow a ceiling fan has.
One of those factors is blade pitch. Most ceiling fans are going to have a blade pitch between 12-15 inches. This is about optimal for a ceiling fan.
Anything less than 10 is just going to slice through the air and not actually move much and anything higher than 20 is going to be met with a lot of wind resistance which will put a lot of extra pressure on your motor.
The Minka Aire Concept II falls within the ideal pitch for a ceiling fan with a 14-degree pitch.
The fan blades are made from ABS plastic but come with different finishes to match the style of the fan you choose. The casing for the lighting is made of glass.
From the ceiling to the blade is 8.25 inches and the hanging weight of the fan is 24.03 pounds or 10.9kg
Minka Aire Concept II Ceiling Fan Specs
Our Pick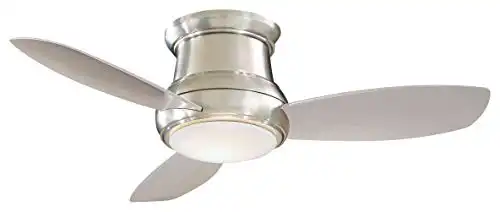 The 44-inch Minka Aire Concept II fan is listed as 4071 CFM on its highest setting. This is a similar CFM to a lot of other 44-inch ceiling fans.
Wattage: You can find how economical in terms of watts this fan is here. It is not quite an energy star rating which is 20-35 watts but it is not too far off.
For a great guide on ceiling fan wattage check this page out.
If you are looking for an extremely energy-efficient ceiling fan you could try looking at some DC fans.
There are pros and cons for both AC and DC fans and there is a great guide here detailing the pros and cons and how the 2 types of fans differ.
RPM: Ever wonder why ceiling fans run at a relatively low compared to say a jet engine?
Well, probably not, it is common sense.
As you can probably guess the speed of the fan blades is regulated by UL standards.
Single-direction ceiling fans are permitted to have a higher RPM than dual-direction fans such as this.
Again, RPM is just one factor in what makes a ceiling fan push a lot of air but obviously, due to certain restrictions on the RPM, the fan does get limited. It is covered in some good detail here.
Amps: Generally, ceiling fans use very low amps (under 1) which are significantly lower than air conditioning units.
Below are the specs for the ceiling fan on its 3 different speed settings.
High, medium, and low.
These measurements are recorded with just the fan unit and do not include the light usage.
Low Speed
RPM: 79
Amps: 0.15
Watts: 11.9
CFM: 1991.56
Medium Speed
RPM: 138
Amps: 0.29
Watts: 28
CFM: 3354.7
High Speed
RPM: 181
Amps: 0.35
Watts: 43.7
CFM: 4071.21
Airflow efficiency: You are able to work out the airflow efficiency of a ceiling fan by taking its CFM and dividing that by the wattage.
Some more high-powered fans may move a lot of air but may also use a whole lot more power to do it so it is about getting the right balance.
At high speed, the Airflow efficiency is 93.16 Cubic Feet Per Minute Per Wat.
This information is required by the EPA to be displayed on the fan somewhere. Now airflow efficiency seems like a very easy way to determine the best fan.
The best airflow efficiency means the best fan right?
Well, there are a lot of factors involved.
I suggest reading this article because:
It is actually quite interesting
It will explain in detail why Airflow efficiency is not a be-all and end-all metric for choosing the best ceiling fan
Controls
The Minka Aire Concept ii comes equipped with 3 speeds but it is also reversible so you are able to keep cool in summer and warm in winter.
The fan is controlled by a fully functional 256-bit Hand-Held Remote and you can also change the settings of the fan via the wall control.
The fan must be installed from a maximum distance of 40 feet from the remote for proper signal transmission.
No frequency change is necessary, should you desire to install another fan within the same home or area with a separate frequency code check out the user manual on how to set that up.
However, do bear in mind that if you plan on having multiple of these fans then you may need to change the frequency on some of the remotes.
The process is fairly simple and there is a how-to guide in the user manual.
If you need a wall control unit make sure you purchase a recommended unit otherwise your warranty could be void.
We believe that the WCS212 wall switch is compatible but always check with the seller/manufacturer
Minka Aire Concept II Ceiling Fan Lighting
The Minka Aire Concept II light bulb is a 1-100w Mini-Can Halogen.
The bulb lumens of the fan is 1500 and the maximum wattage is 100w. Being a halogen light it is going to be more expensive than a fan that uses an LED light but supposedly the light is LED compatible.
For a good guide on the difference between the power usage of LED lighting and halogen lighting check out this in-depth article.
Another useful feature of the lighting kit is that the light is dimmable.
If you are looking for a replacement bulb for the fan the socket type is E11.
Maintenance & Cleaning
The manufacturer recommends checking the support connections, brackets, and blade attachments twice a year to make sure they are secure. (It is not necessary to remove the fan from the ceiling).
Minka Aire also recommends cleaning your fan periodically to help maintain its appearance.
You should use only a soft brush or lint-free cloth to avoid scratching the finish.
Plated finishes are sealed with lacquer to minimize discoloration or tarnishing.
Do not use water when cleaning as this could damage the motor, or wood blades or possibly cause an electrical shock.
In is recommended to use a lint-free lightly damp cloth or duster to remove dust from the blades.
The motor has permanently lubricated bearings so there is no need to oil your fan.
If the fan is provided comes with a glass shade, DO NOT IMMERSE GLASS SHADES IN HOT WATER clean with lukewarm soapy water and a soft cloth or sponge.
For any Minka Aire Concept II troubleshooting, there is a section in the Minka Aire Concept II manual that covers a lot of common fan issues such as the fan not starting, the light turning on/off unexpectedly, the fan making noise, the fan wobbling and frequency interference.
Safety
This fan is UL-Listed. For safety reasons, this fan is recommended to use CFR-3T solid-state speed TR111A wall control only.
To reduce the risk of fire, electric shock, or other personal injuries, mount the fan only to a UL-Listed outlet box or supporting system marked acceptable for fan support and use mounting screws provided with the outlet box in conjunction with the lock washers provided with the fan.
Minka Aire Concept ii Ceiling Fan Warranty
The Minka Aire warranty is for one (1) year from the date of purchase from an authorized Minka Aire dealer.
The warranty is only valid to the original purchaser or user against all defects in material and workmanship (light bulbs excluded) for one (1) full year.
Additionally, Minka-Aire warrants the motor only for the lifetime of the Minka-Aire ceiling fan (excluding wall controls and electrical components), to the original purchaser or user.
Keep in mind:
The warranty is voided with the use of any non-Minka Aire electrical devices, E.g., wall controls or electrical dimmer switches, etc.
The warranty is void once the original purchaser or user ceases to own the fan or the fan is moved from its original point of installation.
The warranty is void with the use of any hanger bracket (non-Minka Aire or non-fan specific) other than the hanger bracket supplied & installed.
It is highly advisable to keep the receipt of proof of purchase in case of any malfunctions.
The Pros of the MInke Aire Concept II
Most consumers of the fan for a number of reasons.
High on the list is the fact that the fan has a very low profile.
Some ceiling fans hang down quite far from the mounting which means if you have low ceilings it could create issues.
This fan, however, doesn't sit at only 8.25 inches from ceiling to fan blade.
The remote and wall switch was a common crowd-pleaser.
You are able to control the fan via remote and via the wall simultaneously.
Not only that you are able to control the lighting and the fan separately given the correct wiring.
Probably one of the most common praises of the fan was the fact that it can be easily installed.
Very few people had much trouble with putting everything together and mounting it.
So if you have a DIY streak this will be good news to you.
The fan is also pre-wired so dealing with the electronic side of the installation is made extremely easy.
Having the ability to dim the light up or down via the remote and/or wall control unit was a bonus to many people.
Cons
So after researching many different sites, customer reviews, and feedback, there is one issue that was the most frequent by far. Illumination.
This fan uses an E11 Halogen bulb as the lighting fixture.
On top of that, the lighting is encased in the glass case which then dims the light a bit more.
The halogen bulbs are not the most economical or environmentally friendly for that matter.
It was reported by consumers that the halogen lights quite frequently need changing, so if you are after economical lighting for your room then you may want to look at an LED-based lighting feature on your fan.
The problem with these bulbs extends not only from their not-so-economical value but to the fact they do not have the same illumination as LEDs.
Given that, it was frequently said that the lighting of this fan was not sufficient as its own lighting for a room due to its dimness.
The other issue with these bulbs is they get very hot.
It was reported on a couple of occasions that the glass casing had cracked due to the bulb exploding or from the heat. Not ideal.
Also with the heat, some people found the threading around the glass case expanded which made getting the casing off very difficult when trying to change a bulb.
A number of consumers mentioned the size of the fan, describing the unit as quite bulky and heavy.
It's worth taking this into consideration as you would need a strong platform for a heavy fan to be mounted to. 50 pounds or 23kg is a reasonable amount of weight to be carrying.
This Minka Aire fan is on the upper end of the price echelon.
Being nearly double the price of a number of other ceiling fans and this was another criticism that popped up from consumer feedback.
Before purchasing, one thing that you should check is the warranty.
There have been a few occasions where a fan has malfunctioned and the manufacturer have refused to cover the fan due to the fact it was brought by an unlicensed dealer (Amazon) and the Amazon warranty has either run out or has not covered it either.
So this is something to be aware of with this brand of fan.
On a few occasions, some consumers have mentioned that this fan does not move a whole lot of air and may be more suited for smaller rooms.
Given there is a larger model and other fans with much larger blades and CFM if the intention is to cool a large room then it might be worth taking this into consideration.
Other consumer criticisms that reoccurred are the fan having a wobble, the sounds of the blades/wind being a little noisy, noises developing with the blades or motor, an exposed screw, the cheap feel of the plastic blades, and the finish not matching the base unit, the remote went through batteries quickly and the fan getting stuck in one direction.
Our Pick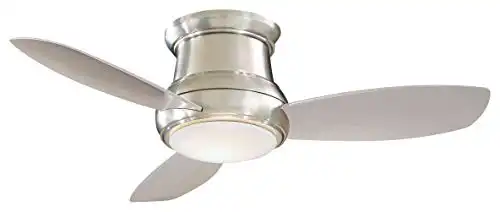 Minka Aire Concept II Ceiling Fan Conclusion
For people who are after a sleek fan with convenient control, Minka Aire Concept II aesthetics are much loved by many consumers who have purchased the fan.
Easy installation and the ability to be controlled by remote and via wall unit add to the convenience.
The fan is very easy to install compared to many other fans with pre-wired electronics and easy-to-put-together parts.
It has good specs in terms of CFM and airflow efficiency and is at the lower end of ceiling fans for power usage.
Unfortunately, it is let down somewhat by its choice of illumination.
The halogen bulbs are not the best quality and certainly not the most economical or power-friendly.
They run hot are quite dim and need to be changed frequently.
The fan, however, is great for smaller rooms and especially rooms with lower ceilings due to its low profile.
It has 3 speeds which are reversible so can be used in summer and in winter to keep the temperature at the right level.

Hey there! I am
Benas
, the founder and content editor at Home Caprice. Thanks for reading the article. I hope you were able to find what you were looking for. I and my team are here to simplify heating and cooling for everyone. Please have a look at the
About page
for more details about our website and feel free to check out our
editorial process
.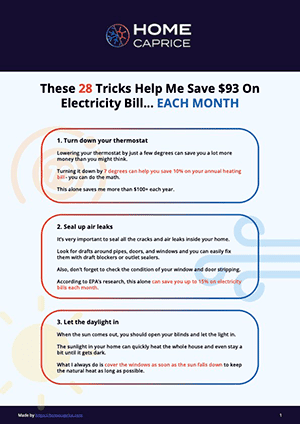 These 28 Tricks Help Me Save $93 On Electricity Bill... EACH MONTH
Download this FREE cheat sheet to find 28 tricks that can help you save on your electricity and heating bill each month.
Click here to get a FREE Cheat-Sheat