Nearly everything is going smart these days.
It's a big industry.
In fact, the market size for smart home products is expected to be above 580 billion by 2032 from 80.45 billion in 2022. Phones, ceiling fans, alarms, space heaters, cameras, you name it, it probably has a smart version.
With the ability to use Alexa, Google Home, and Siri amongst others, being connected is just getting easier and easier by the day. If you are not aware, there are many full smart home systems available if you are looking for that whole-home solution.
So what about fans you ask?
Well, the good news is there are options available, the bad news is it is not a technology that has really taken off yet in the realm of personal fans.
The Best Wi-Fi Enabled Tower Fan Reviews
Dyson Pure Cool TP04
Our Pick

I think we all have heard of Dyson. Their products are not cheap, but often they are good products. This just happens to be the case here.
As far as wifi enabled tower fans to go this is as good as it gets, and for a number of reasons.
Is it worth the price tag?
I'll leave that up to you to decide, but below I'll explain what the fan is all about and how it compares to our other top options.
Features & Function
Sense Pollutants & Allergens
Probably the most noticeable difference is in the fact that this fan is also an air purifier. This particular fan is able to sense pollutants and allergens in your air and is able to filter them. To do this it uses a HEPA filter which is meant to capture 99.97% of allergens as small as 0.3 microns.
This means instead of blowing around contaminated air like your average tower fan, this particular fan will clean the air it is blowing out into your room.
This can have good benefits for those who suffer from asthma and allergens and is also certified asthma & allergen-friendly by the Asthma and Allergy Foundation of America.
Real-time reports
As an air purifier, the TP04 also provides real-time reports of your air quality and some other metrics that may be of use to some.
Quiet mark certification
One of the issues many fans have is that at higher speeds they can become noisy. This can be a problem.
For example, imagine you are trying to sleep and all you can hear is the loud hum of a fan. Or you are trying to watch the TV and the fan is drowning out the volume. It's a real thing and is a very common gripe with fans.
The TP04 has been awarded the Quiet Mark certification which means this fan is literally certified quiet. No guessing.
Ten speeds
The vast majority of tower fans and pedestal fans available usually come with 3-speed settings. This only gives you a limited amount of control over the air output of your fan.
Personally, I prefer variable settings which give you full control, but the TP04 has the next best thing with 10-speed settings.
Dimmed display (nighttime mode)
This might seem like a small thing, but it can become a big thing depending on your use of the fan. It's a common complaint with many tower fans.
The most common example is when you are using the fan in the bedroom and you are trying to sleep. Some find this very hard with big bright lights shining out from their fan.
This is the reason for the dimmer, and that is why it can be a big deal.
2-year warranty
To be honest, I would expect nothing less than a 2-year warranty for the price of the fan, perhaps even more.
That said, it's still longer than most tower fans or pedestal fans. Now, below are a few things that you might want to consider before you think about buying.
No Google Home compatibility
Unfortunately, for whatever reason, there is no compatibility with Google Home, only Alexa for voice control.
Have to change the filter which costs
If the price tag wasn't daunting enough, if you buy this fan and plan to use it as an air purifier, you will have to change the filter.
The good news is that it does tend to last a good stretch of time (some have reported 8 months) but it's still around $70 per filter.
Overall the Dyson Pure Cool TP04 is the editor's top luxury choice:
Also an Air Purifier
Real-Time Reporting
10 speeds
Compatible with Alexa, Dyson Smart App
2-year warranty
Quiet Mark Certification
Honeywell HYF290B QuietSet Whole Room Tower Fan
Our Pick
No matter what type of fan you need Honeywell fans are always dedicated to fulfilling every fan lover's desire. Though Honeywell produces almost every kind of fan, for a peaceful experience in a floor fan, the Honeywell Quietset 8-speed Tower Fan is your best product.
Combining the very best aspects of strength and silence, the Honeywell QuietSet Whole Room Tower Fan can produce whole-room cooling for any number of medium to large-sized rooms.
The slim modern shape of this quiet and powerful whole-room fan, paired with the QuietSet technology that allows users to control their sound and cooling options, make it the perfect year-round fan for any home.
Functions & Features
Variable Speed Setting
This whole room fan includes QuietSet speeds that range from sleep to power cool (8 speeds in total). These speeds can be accessed via Easy Touch Controls on a control panel that automatically dims after 15 seconds of use (5 lighting selections in total).
More speed setting option means you have more freedom to choose suitable airflow.
Quiet cooling
The slim modern design of this quiet & powerful fan features oscillating motion for whole-room cooling; It features 8-speed touch button controls and comes with a remote control that nests in the back of the fan housing for easy storage.
Air Filtration System
Definitely air filtration system in a tower fan is a great plus and it also increases the value of a fan to sky-high. The air purifier system in the fan ensures fresh and pure airflow in the room. Also, you can clean the filter when it becomes dirty as they are removable. It is recommended to clean the filter at least once a month.
You need to replace the air filter after 6-8 months of use and you will not face any difficulties changing it.
Digital Temperature Read-Out
The fan comes with both a digital display and a thermostat. Knowing the room temperature of your house office or workplace can help you to set the fan speed and adjust the surrounding environment. So, one can check the room temperature which gives a huge advantage when you need to choose compatible airflow.
Auto Shut-Down Timer
The fan has installed 1, 2, 4 & 8 Hour Auto Shut-Off Timer. This feature allows for seamless night-time operation.
Warranty
This fan comes with a 1-year limited warranty which is only valid to the original purchaser of the product from the original date of purchase.
This is by far the best cover of any of the tower fans we have researched with most fans coming with a warranty of only 1 year. Of course, the warranty does not cover any damage from unauthorized attempts to fix any problems.
The Honeywell HYF290B is a middle-of-the-range tower fan in terms of features and price:
It gives you control of the lighting
Has more speeds to choose from than most other tower fans
The slim design of this tower fan paired with its black and chrome finish
Quiet set technology
Ozeri Tower Fan
Our Pick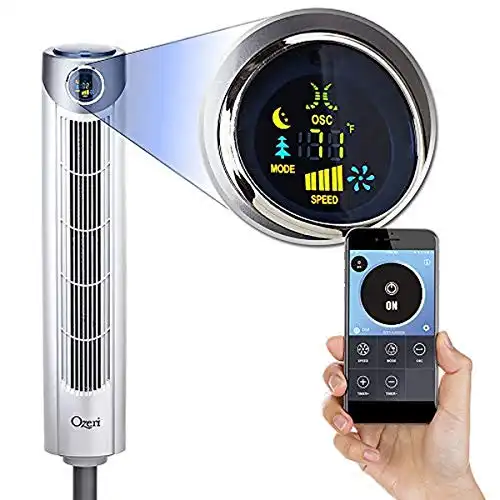 Functions & Features
It is a Bluetooth tower fan
I thought I would include this tower fan even though it is not actually wifi enabled. Although it loses a lot of the benefits being wifi-enabled has, it might still be useful to some people.
It is powerful, has 3 speeds, 3 wind modes, timers, and oscillation
As far as a tower fan goes, this is not a bad choice in itself, It is powerful and has 3 speeds, 3 wind modes, timers, and oscillation. One thing this fan has over many other tower fans is the ability to adjust the height. Generally, tower fans are a fixed height so this is a small added bonus.
Also, it has a screen dimmer, which is a very handy feature for those intending to use this in the bedroom. Many tower fans are notorious for having very bright lights on them which make it hard for people to sleep at night.
It also comes with a remote control
I think is relatively important with Bluetooth, however, this is not always reliable. I know I have had trouble on numerous occasions with things not pairing.
So, if this does happen to you, you still have the remote control option along with the buttons on the fan to control your settings.
What is the benefit of Bluetooth here?
Well, not a huge amount other than the ability to control the options on your phone.

Hey there! I am
Benas
, the founder and content editor at Home Caprice. Thanks for reading the article. I hope you were able to find what you were looking for. I and my team are here to simplify heating and cooling for everyone. Please have a look at the
About page
for more details about our website and feel free to check out our
editorial process
.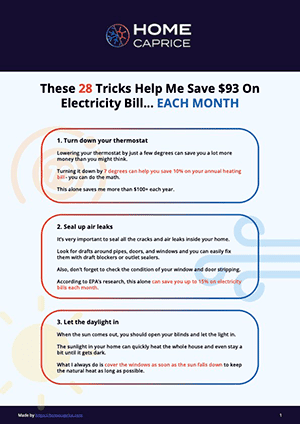 These 28 Tricks Help Me Save $93 On Electricity Bill... EACH MONTH
Download this FREE cheat sheet to find 28 tricks that can help you save on your electricity and heating bill each month.
Click here to get a FREE Cheat-Sheat