Ceiling fans are quickly becoming very popular items, as more and more people understand that a good ceiling fan can help make both home heating and home cooling much more effective, and can save you real money all year long.
While many people love the nostalgic look of a traditional design or the modern industrial aesthetic of some of the more minimalist ceiling fans, not everybody likes to have a fan hanging from their ceiling.
For them, there is an ingenious alternative, a way to get all of the numerous benefits a ceiling fan can offer without having to see the big blades hanging there when it's not running – a retractable ceiling fan.
What are the Advantages of a Ceiling Fan?
Although cheaper ceiling fans often don't move nearly as much air as we might expect and are often a bit wobbly and noisy, a good quality ceiling fan can be an absolute joy and is one of the most intelligent investments you can make for your home.
A good quality ceiling fan will:
Keep rooms cooler in the summer
Keep rooms warmer in the winter
Save up to 40 percent on utility bills
Provide fresher, cleaner, and healthier air
Work well as a support for existing central air and heating, or on its own
Act as a back-up if your air conditioner fails in the summer
Be safer for children or pets than many floor-standing or tabletop fans
Take up no floor or counter space
Provide an additional light source
Add a beautiful touch to most home decor
Are Retractable Ceiling Fans Any Good?
The retractable ceiling fan really is an ingenious idea – a seemingly normal looking, and often quite beautiful, chandelier or ceiling-mounted light fixture suddenly, at the touch of a button, expands outward with blades and turns into a full-function ceiling fan.
But is this ingenious idea a good idea as well? Do retractable ceiling fans really work as well as a high-quality normal ceiling fan?
Well, yes and no, and that's why we're writing this article – to help you steer yourself toward a definite yes.
As with anything, there are good and bad retractable ceiling fans, and if you get a bad one you may end up with a noisy, wobbly mess that moves more air trying to expand than it does spinning.
The best retractable ceiling fans, on the other hand, are fully equal to the best normal ceiling fans and offer a unique sense of style – effective, discreet, and really attractive whether they are open or closed.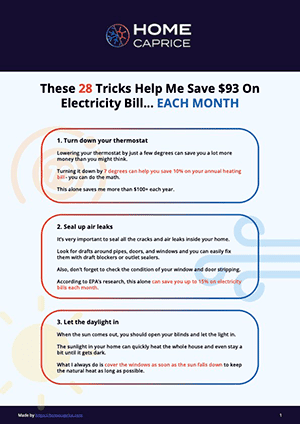 These 28 Tricks Help Me Save $93 On Electricity Bill... EACH MONTH
Download this FREE cheat sheet to find 28 tricks that can help you save on your electricity and heating bill each month.
Click here to get a FREE Cheat-Sheat
Who Makes the Best Retractable Ceiling Fan Right Now?
So many different companies now make them that it can be a real chore trying to find the best retractable ceiling fan on the market today, and no matter how much research you do you still may feel like you're ultimately just taking a potshot anyway.
But we have tried and tested many different makes and models of retractable fans, as well as scouring countless customer ratings and reviews, from Amazon and all over the web, in order to compile a list of the very best retractable ceiling fans available now.
Brands like Moooni, Panda, Fanaway, Hall of Lamp, and Fandian, while not necessarily household names, represent the best of the best, and you can choose any one of our recommendations with total confidence that you will be getting the best retractable ceiling fan for your needs, your decor and your budget.
How Can I Find the Best Retractable Ceiling Fan for Me?
And so that's really what it comes down to. You will find 6 different retractable ceiling fans listed below, from least to most expensive, including a brief review and a picture of each of them.
If you know your budget, and where you are going to use your new retractable ceiling fan, you should be able to easily select any one of our suggestions based on those criteria. These fans are easy to install for anybody with even the most basic DIY skills, and all of them will come with all the necessary hardware you need for installation.
Whichever retractable ceiling fan you choose, you will end up with a very well-built and reliable product that moves air as efficiently – and even more beautifully – than a comparable normal ceiling fan, and you can be assured of getting a great value for your money – not to mention the big savings you will notice on your utility bills for many years to come.
The Best Retractable Ceiling Fan Reviews
Our Pick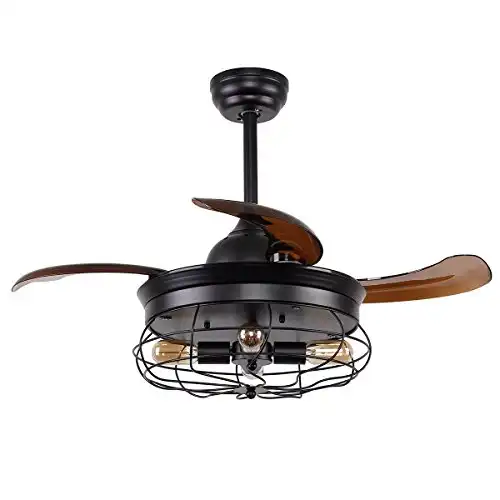 The Hall of Lamps 34-inch retractable ceiling fan is the lowest-priced retractable we have found that still offers real quality and performance and can be expected to work reliably for a long time.
The Hall of Lamps fan's 3 blades expand with a push of the included remote control's button to a 34-inch span, providing plenty of air circulation for a small room like a bedroom, office, small dining, or breakfast nook.
The beautiful industrial-style steel cage is as solid as it looks, and the fan opens smoothly and runs stably and quietly.
A great fan for smaller spaces, and beautiful as well, the Hall of Lamps 34-inch retractable ceiling fan offers really great value for the money.
Our Pick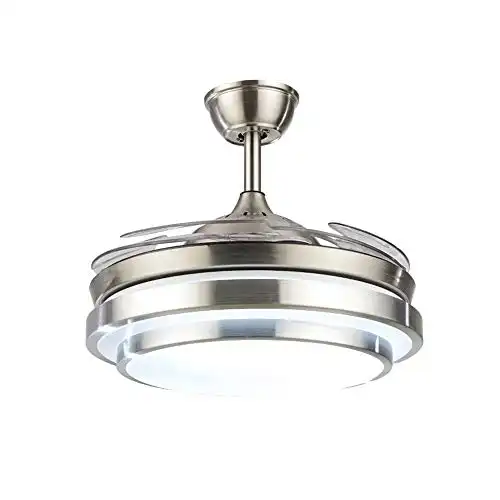 The next recommendation in our roundup of best retractable ceiling fans is the Fandian 42-inch retractable ceiling fan.
With its decidedly modern look, hidden LED lights, and bright brushed silver finish, the Fandian retractable ceiling fan is a beautiful unit and works especially well in modern, minimalist, or even industrial/commercial interiors.
The Fandian retractable has a silent running motor, and the smooth, stable operation reflects a real material and builds quality which should lead to many years of reliable use.
The Fandian ceiling fan comes with a remote control that allows you to choose 3 fan speeds, 3 LED color temperatures, and 1 to 8 hours of timer operation.
Great for rooms up to 250 square feet, the Fandian retractable ceiling fan circulates air as well as similarly priced normal ceiling fans and has an attractive and high-quality look that will complement the right room perfectly.
Our Pick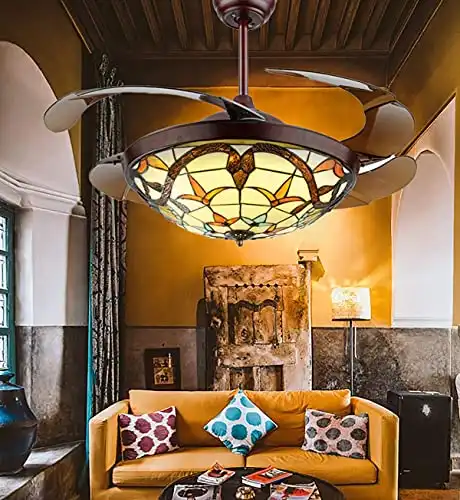 With the same 42-inch span as the modern-looking Fandian fan just above, the Panda Lighting retractable ceiling fan is also ideal for most medium to large rooms (up to 250 square feet), and also is a high-quality, reliable product, but it has a distinctly different look and is designed for very different decors.
The lovely and fine quality Tiffany style lampshade is actually hand-painted, and the brown amber fan blades are also of the very best quality, you can really see the Panda retractable ceiling fan's excellence as well in its smooth opening and silent operation.
Including a full-function remote control, three speeds, and three-light temperatures, and up to 4,500 cubic feet per minute of air circulation, the Panda Lighting 42-inch retractable ceiling fan is easy to use, powerful, and reliable – a truly premium product at a reasonable price.
Our Pick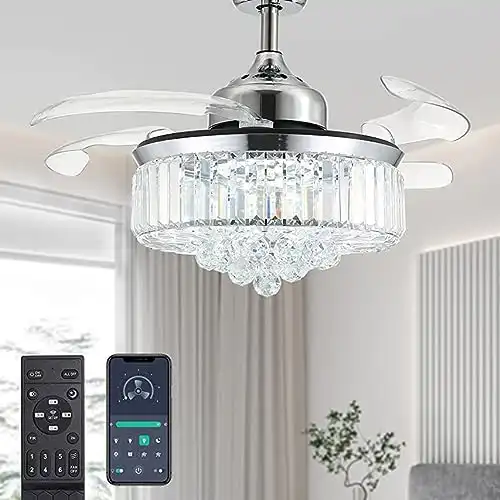 With superb quality K9 crystals, high polish chrome metal trim, and clear acrylic blades, the Moooni 36-inch retractable ceiling fan chandelier may be the most beautiful fan on our list of best retractable ceiling fans.
And while this Mooni retractable is a smaller 36-inch fan, its superior air-moving abilities make it suitable for rooms over 200 square feet, making it perfect for even the most elegant dining room. Its clean elegance also makes it a good complement to many other rooms and decorating styles.
The Moooni retractable ceiling fan comes with a nice remote control and has variable speed, brightness, and light temperature, as well as a timer function.
With a 4.7 star rating after hundreds of customer reviews, the Moooni 36-inch retractable ceiling fan is one of the most popular and highly rated retractables on Amazon, and a beautiful and functional fan – far more than you might expect for such a reasonable price!
Our Pick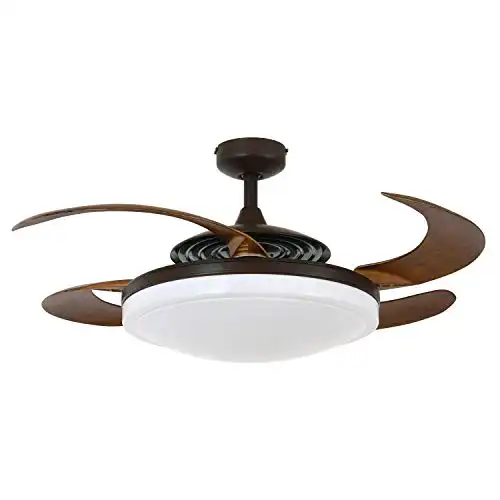 One of the more expensive models on our list of best retractable fans on the market, the Fanaway is still a reasonably priced fan and a great value for the money.
It is also a stunningly beautiful fan, with a versatile transitional aesthetic, and is made from superb high-quality materials, including steel, high-quality acrylic, and ABS plastic. The finish, with dark simulated koa wood blades and rubbed bronze metal, makes the Fanaway retractable look much more expensive than it really is.
And you get the same impression when it is running, with the whisper-quiet motor, elegantly smooth opening and retracting, and excellent performance – the 3-speed fan will move over 4,100 cubic feet of air a minute, making it perfect for rooms up to 250 feet or larger, and the LED lights are designed for larger rooms as well.
Including a handy remote control and a  full LED light kit, the Fanaway retractable ceiling fan offers exceptional value for the money and is a beautiful and highly functional addition to any room.
Our Pick

Fanaway is the only company to be represented twice on our retractable fan buyer's guide, and with good reason – they make the best quality retractable fans on the market today.
The Fanaway Classic 48-inch retractable ceiling fan is a great example and the very best retractable fan on our list.
It is also the most controllable, and so the most versatile, with the ability to change not just fan speed but air intensity, as well as change the fan's direction for the most effective all-season use and dim the lovely vintage-style LED lights – all from the excellent, wall-mountable remote control.
A beautiful, and really beautifully built, retractable, the Fanaway Classic is a marvel of silent running engineering and air circulating effectiveness (designed for medium to large rooms and spaces). Clearly a premium product in every way, and an easy choice as the best retractable ceiling fan available now.
Final Thoughts: Are Retractable Ceiling Fans a Good Idea?
If you choose the right retractable ceiling fan, like any of the six listed above in our buyer's guide to the best retractable fans, you can get a unit that is equal to, or even better than, any good conventional ceiling fan, and for not a lot more money.
This means that when they are running they will offer all the benefits of the best ceiling fan, including real support to your home's central cooling and heating and real savings on your energy bill. And they will do this with the same silent and stable operation as any premium ceiling fan.
When the fan blades are folded away and hidden, these retractables turn into often strikingly beautiful, elegant, and effective chandeliers or ceiling-hanging light fixtures that make any room look better.
What's not to love?

Hey there! I am
Benas
, the founder and content editor at Home Caprice. Thanks for reading the article. I hope you were able to find what you were looking for. I and my team are here to simplify heating and cooling for everyone. Please have a look at the
About page
for more details about our website and feel free to check out our
editorial process
.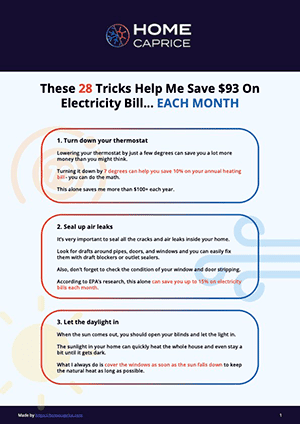 These 28 Tricks Help Me Save $93 On Electricity Bill... EACH MONTH
Download this FREE cheat sheet to find 28 tricks that can help you save on your electricity and heating bill each month.
Click here to get a FREE Cheat-Sheat