Sweating while you're chilling with your family is definitely a frustrating experience, that's why more people are buying oscillating fans for their homes.
However, getting a fan isn't such a simple process if you want to buy the right one that fits your needs.
In this article, I listed some of the best-oscillating fans on the market and what you should consider before making a purchase.
Let's start with the best one👇
Recommended Oscillating Fans
Powerful Airflow
Ultra-quiet System
Convenient
Auto Shut-off Timer
Next-level Safety Technology
Our Pick

This is an "all-in-one" portable oscillating fan that has all the features you'll ever need.
It has enormous power, so you will cool the whole room (even if it's bigger) in no time.
Although it's very powerful, you won't hear it running because it's quiet no matter if it's on high or low-speed settings.
I personally love that you get a remote control, so you don't need to get out of your bed every time you want to adjust the speed or turn it off.
The built-in ionizer makes sure that fresh air is distributed all the time. Also, it has an automatic shut-off timer which can be helpful when you want to fall asleep without worrying if the fan will wake you up in the middle of the night.
📍 Tip: if you want to know how to clean this Lasko tower fan, we have a short article about this.
The above is the best one, but if you wish to check out other options, such as best for budget or premium models, we have a few listed below👇
Strong Airflow
5 Speed Settings
Electronic Control Panel
Height Up To 54"
Silent Night Mode
Our Pick

Effective blades ensure ultra-quiet performance through all five-speed levels. This is a premium oscillating fan and it has Turbo Boost for extra power and quiet Night mode to minimize all the sound it produces.
Besides the remote control you get, you can control all the operations from a "luxury-looking" control panel. It includes an 8-hour timer, so you can automatically turn off the fan whenever you want.
The biggest advantage is that you can easily adjust the height up to 12 inches, so you can cool any part of your body when you want.
📍 Note: After some time the grill can rust, so pay attention to maintaining and cleaning it from time to time.
80 Degree Oscillation
Small and Portable
1-year Warranty
3 Speed Levels
Our Pick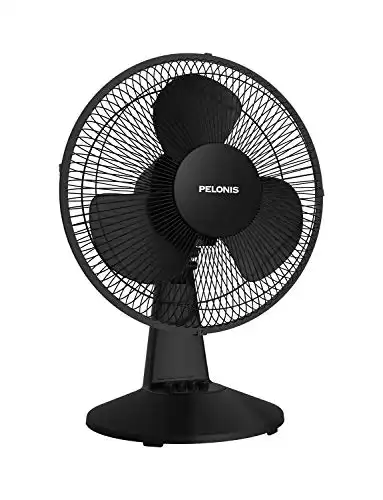 If you're on a tight budget, this fan will do the job pretty well. Of course, it can't be compared to the fans I mentioned above, but it's enough to cool some smaller areas.
Because of its size and weight, it's easily portable and you won't have to worry about any difference in your electricity bills. It's auto-rotating so it can cool different parts of your room simultaneously.
It collects dust quicker than other fans, but it's easy to remove the fan grill and use your towel to clean three blades.
2-blade Pedestal Fan
3 Breeze Modes
Simple Digital Operation
Auto Timer
Adjustable Height
Our Pick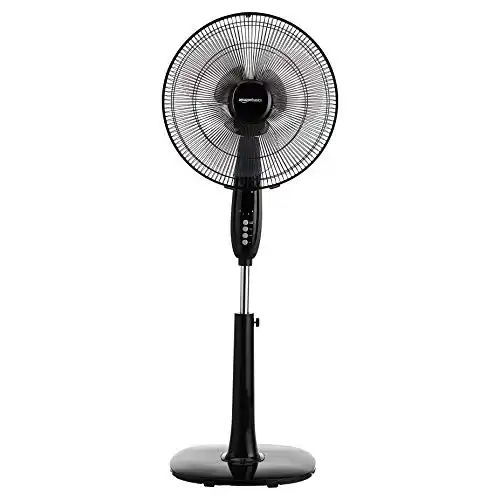 The best word that describes this fan is basic. It has all you need and the quality is decent, so I would recommend it to everyone that isn't looking to spare some extra bucks for the more advanced oscillating fan.
It has three different speeds and three breeze modes you can choose from. The "sleep" mode is perfect when you want to cool yourself while falling asleep as there will be a lot less noise.
Surprisingly, it has an automatic shut-down timer and remote control that allows you to change modes and speed levels with the tip of your finger.
You can adjust the height, so it's perfect for living rooms, bedrooms, and offices.
Economic
3 Powerful Speed Levels
Wall-Mountable
Adjustable
Our Pick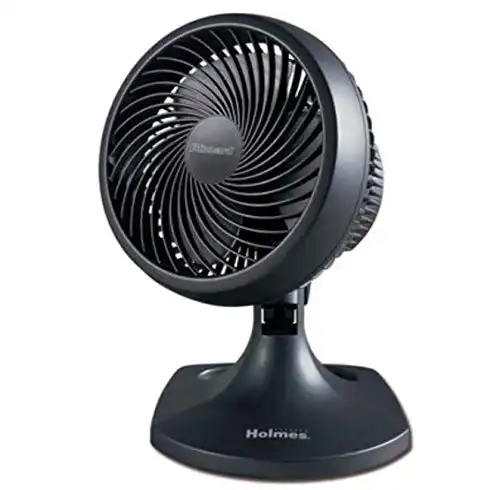 Although this oscillating fan is pretty small, I was surprised by the power it has. It even has three different speed settings and a 3-year warranty that guarantees its quality.
What I really love about it is that you can adjust the head of the fan to direct the airflow in any direction you want.
It's even wall-mountable, so you can mount it on a wall above your head when you're watching the TV and it will start cooling immediately.
The cool thing about it is that you can even ride a bike to your work and still avoid sweating or stinky smells.
Portable & Auto Oscillation
360 Degree Rotation
Rechargeable Batteries & USB
Powerful
Our Pick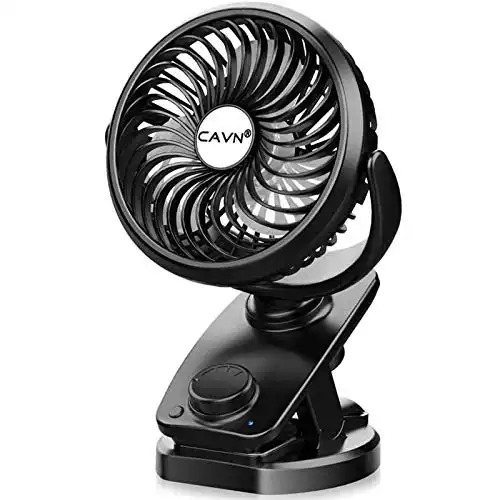 The fact that this oscillating fan operates on the battery than on electricity makes it more unique and different than all the others I mentioned already.
You can use rechargeable batteries or even charge them in your car with a USB plugin. It can run for more than 40 hours which is pretty decent considering its size.
It can be used as a desktop standing fan as well as a car and clip fan.
I've used it while working out in my backyard and it gives you an extra sense of comfort and pleasure.
📍 Tip: Find out what are the best portable air conditioners on the market.
5 KEY Things To Consider Before Buying
As I have changed a lot of oscillating fans, I figured out there are some main things everyone should consider before buying.
You might not need all of those, but I'd recommend figuring out exactly what you need.
Type of Fan
Depending on your needs, you should consider getting the type of fan that fits you the most. 
There are tower fans, standing fans, table fans, and some other types that you should consider buying.
For example, tower fans would be much safer for kids than some smaller ground fans where kids can touch the blades.
Some fans are stronger than others, and my personal opinion is that tower and standing fans are the best solution to cool your home. They're portable and have lots of power.
Also, you can adjust the height of some standing fans so it's another benefit why you might love it.
📚 Great Read: here's a cool article you should check out – cooling your room with fans.
Strength
If you live in a bigger home and want to cool a bigger room with just one oscillating fan – then strength will be an important factor to look for.
The strength of the oscillating fan is measured by CFM (Cubic Feet per Minute). The higher the CFM rating, the more air can be pushed, so it can cool bigger rooms.
You should measure your room and then you'll figure out how much of a CFM rating you actually need.
Oscillating fans are a perfect example of how it's possible to cool down a room without an air conditioner.
A lot of people made a mistake and bought a less-power oscillating fan because it seems more affordable, just to find out that it will be more expensive in the long run.
Features
This is the most important factor to consider if you want to really enjoy your fan and its functions.
The more "luxury" features your fan has, the more "pricey" it will be. However, it will increase your comfort.
Here are some of the features you should consider:
Speed settings – some fans have about ten different speed settings you can change whenever you want. Make sure that your fan has at least three different speed levels.
Remote control – if you're lazy like me, you don't want to get out of your warm couch every time you need to turn on/off your fan. Get yourself one with a remote, so you can adjust everything just by moving your finger.
Adjustable height – whether you want to cool your chest or legs, you can always adjust the height of your fan. This is also for some extra pleasure.
Timer – this is a must-have feature. You can lay comfortably knowing that your fan will stop working when you fall asleep.
Design
There's that refreshing feeling when your oscillating fan fits the design of your home – your home just feels more comfortable.
There are a few fans that really look good, but you want to stay away from those "80s-style" fans. 
They just seem rusty and ruin the overall look of your home.
Also, you can always decorate the plastic of your fan however you want it. My wife even put some stickers on it, so it looks awesome 🙂
Noise Level
If you don't want to wake up every night at 4 AM because of boring fan sound, consider getting the one with fewer noise levels.
People often mistake that the more powerful the fan is that it will produce more noise. This couldn't be further from the truth because it's all about the quality of a fan.
Sometimes you might want to clear your oscillating fan because it could collect a lot of dust and because of it, start making more noise.
Hey there! I am Benas, the founder of Home Caprice. Thanks for reading the article, I hope you were able to find what you were looking for. Me together with my team, are here to simplify heating and cooling for everyone. If you want more details about the website and our team, please check the
about
page.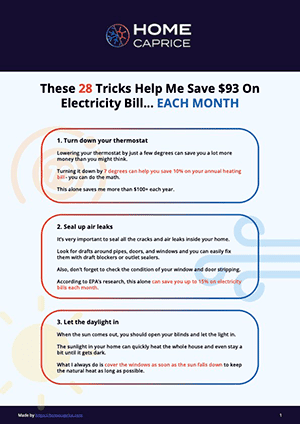 These 28 Tricks Help Me Save $93 On Electricity Bill... EACH MONTH
Download this FREE cheat sheet to find 28 tricks that can help you save on your electricity and heating bill each month.
Click here to get a FREE Cheat-Sheat