A lot of people find air conditioners expensive and hard to install, so they are looking for a less complicated solution.
If you're one of them, you'll love today's topic where I will talk about super energy-efficient and pocket-friendly coolers called tower fans.
Whether you want it to cool you when you're sitting at a desk, or just laying on a couch watching TV – tower fans are the perfect solution.
The 4 Most Important Factors To Consider Before Buying
Noise Levels – Sometimes tower fans can become noisy after working for a few hours. You want to make sure that you're having a good night's sleep while keeping the room cool.
Energy Efficiency – Most tower fans are energy-efficient, but there are certain functions like a timer that saves energy and stops working when the cooling isn't needed anymore.
Coverage – If you want to cool two bedrooms at the same time, you'll need a bigger tower fan that can cover bigger areas.
Stability – Check out the stability of the tower fan because you don't want the noise of falling down to wake you up at night.
Recommended Tower Fans
Noise Level: Medium-High
Airflow: 275 CFM
Fan Speed: High, Medium, Low, "Eco"
What's awesome about this Seville's tower fan is the ability to cool a lot of bigger rooms and areas. With the advanced functions, you can choose from four different speed levels.
This is a more powerful tower fan that needs more maintenance (cleaning) and you can expect it sometimes to be a bit noisy.
Still, if you want something that can cool you when the sun starts "burning" through your windows, you can trust this tower fan.
Noise Level: Quiet
Airflow: 1271 CFM
Fan Speed: 1-10
The unique look of this tower fan makes it both stable and very easy to maintain. They have a lot of power, but their "noise systems" make them ultra-quiet.
What I love about it is that it has a timer, so you can save a lot of energy adjusting when you want it to automatically turn off.
You get a 2-year warranty which is great considering that tower fans are a lot less durable than average air  conditioners 
This one is definitely my favorite.
📍 TIP: You can only control it from a remote – so don't lose it!
Noise Level: Quiet
Airflow: 262 CFM
Fan Speed: High, Medium, Low
Lasko has been making quality products for a century and it's the same with this tower fan. The advanced functions are amazing!
You can adjust the fan speed to change every hour which is great when you're asleep. At first, you want it to be as quiet as possible, then it can automatically adjust to medium fan speed to keep you cool and keep you asleep.
I'm a huge fan of its stability and design, I just don't like that you need to clean it often.
Noise Level: Medium
Airflow: 110 CFM
Fan Speed: 1-8
This tower fan has an LCD screen from which you control everything. I absolutely love their sound/speed display as you can control 8 different speed levels.
Also, it has a "1-8" hour shut-off timer which means you can adjust after how many hours you want it to automatically shut off and save energy.
Besides all the great functions it has, it's only "comfortably quiet" when you're using a lower speed. You will hear the noise if you adjust the fans to the highest speed.
With Carrying Handle – Lasko 4924
Noise Level: Quiet
Airflow: 334 CFM
Fan Speed: High, Medium, Low
What makes this tower fan different is that it has a built-in carry handle which makes it portable and easy to use.
It doesn't have the most luxurious look, but when it comes to cooling – it does the job well!
Don't be mistaken about their size as they are a lot powerful and they can cool even bigger areas (you could cool two bedrooms).
The only downside is if you have a pet, they can easily knock it down as it isn't stable.
Noise Level: Quiet
Airflow: 290 CFM
Fan Speed: High, Medium, Low
Honeywell's tower fan is super quiet considering that it can cool a lot bigger rooms without any problem. The fact that it comes from a valuable brand like Honeywell tells us a lot about its quality of it.
This tower fan has a lot of features and I can only say the best about those, but…
The only complaint I have is the poor fan speed levels because the lowest level is still fairly high.
I would recommend it if you're not looking for a "low-level" speed because all the speeds have even more power than you need.
Noise Level: Quiet
Airflow: ?
Fan Speed: Single speed
What differentiates this tower fan is that it heats the area instead of cooling it. Although it can heat pretty well, the downside is that it only has a single-speed level.
It's portable, so you can heat different rooms throughout the day.
What I love about Lasko's tower fans is how they don't produce any uncomfortable smells.
You get the remote from which you can control it, but there are also buttons at the top to adjust everything.
How Do Tower Fans Work?
Tower fans move the air with the help of the fan's blades which are attached to cylindrical containers run by an electric motor.
The air filters that are built-in tower fans prevent the spread of dust.
I know it sounds complicated, but it's really hard to simplify the whole process.
If you want to find out all the "dirty details", then check this in-depth article on how tower fans work, or go here for all tower fans options.
Here are some of the newest technologies:
Automatic Turn On/Off System
Ultra-Quiet Noise Reduction
Electronic LCD Display
Most Important Features in Tower Fans
Number of Speed Levels
If you're looking for that extra comfort (like myself), you should definitely look for tower fans that have about ten different speed levels.
Most tower fans have 3-speed levels "HML" (High, Medium, Low), but I would recommend at least eight to feel that extra comfort.
Portability
Most of us are looking to cool different rooms throughout the day, so "easy-to-move" tower fans are always my recommendation.
Coverage Area
As tower fans aren't strong as ductless air conditioners, you'll need to know if it can cover bigger areas or not.
Automatic Turn On-Off
This increases energy efficiency a lot. If you can set the timer to automatically turn off your tower fan at 3 AM while you're asleep – not only that you'll save energy, but you'll also have a better sleep.
Stability
You don't want your pet to knock your tower fan ten times a day (and believe me – they will!). If you're having a little kid or a pet, I would recommend you look for more stable tower fans.
All-plastic tower fans will probably have bad stability, so please consider that before buying.
📍 Note: Stability is very important for tower fans that have heating options.
Easy Maintenance
You won't believe how some tower fans are hard to maintain. The cleaning part can take hours and if your tower fan collects a lot of dust, then you'll have a pretty rough time cleaning it.
Noise Level Reduction
You can see that I'm all "about the comfort" type, so you should know that noise is the most important factor when looking for a tower fan.
The noise isn't important if you're planning to use your tower fan in a garage, but for a bedroom – it's a totally different story.
📍 Note: You can trust my "noise ratings" as I'm really paying attention to them.
How to Use a Tower Fan?
What I love the most about tower fans is how they're so simple to use and they don't require any installation.
You'll need to find the hidden switch inside of the electric motor and… just kidding 🙂
The only thing that you need to do is plug the device and turn it on. Depending on your model, you'll need to turn it on from the remote, LCD Display, or "old-school" buttons.
From there, you'll want to adjust the speed levels and timer that fits your schedule (when you want it to automatically turn off).
I wish there was more to explain, but it's as simple as that.
How Do I Clean My Tower Fan?
You want to maintain your tower fan by cleaning it at least once in every two months, ideally, it should be cleaned every month.
The cleaning part is simple, but it's the hardest thing about tower fans.
Remember to always plug out the device before cleaning it.
You'll need to take it apart as you want to remove all the dust and make sure that performance stays good.
I learned to clean it from this youtube video. It shows you every step of the process and how to skip all the obstacles while cleaning it.
📍 TIP: Always be careful when you're cleaning your tower fan.
That Would Be it!
We came to the end of this buyer's mini-guide and I hope you know more about tower fans and the functions you need to look for before buying them.
I'm a big fan of tower fans, so if you want to cool smaller areas without having to invest a lot of money – you'll love them.
Make sure to check some of the tower fans I personally recommended and don't forget to share this article with your friends and family to help them choose the best tower fan for their home.

Hey there! I am
Benas
, the founder and content editor at Home Caprice. Thanks for reading the article. I hope you were able to find what you were looking for. I and my team are here to simplify heating and cooling for everyone. Please have a look at the
About page
for more details about our website and feel free to check out our
editorial process
.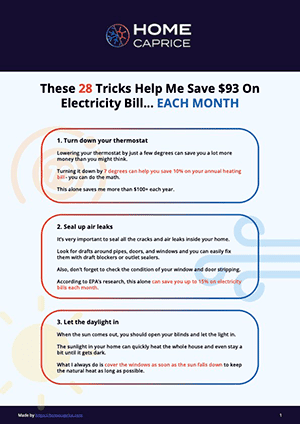 These 28 Tricks Help Me Save $93 On Electricity Bill... EACH MONTH
Download this FREE cheat sheet to find 28 tricks that can help you save on your electricity and heating bill each month.
Click here to get a FREE Cheat-Sheat