We can be pretty tough customers here at Home Caprice, and to be sure there are certain things any product must have to garner a recommendation from us.
A heater, air conditioner, fan, or accessory must offer the basics:
It Must Do Its Job Very Well!
It Must Offer Good Value for the Money
It Must Be Well Made
It Must Be Reliable
It Must Have a Reasonable Warranty
The Company Must Offer at least Satisfactory Support and Service
And so we felt a little anxiety at the prospect of reviewing the new Zero Breeze Mark 2 portable air conditioner. Why? Because, to be perfectly honest, the first generation Zero Breeze Mark 1 didn't quite cut it.
While it offered great promise and was a cool, fairly well-made, and well-designed unit, the Zero Breeze Mark 1 AC was a little disappointing in two key areas. It didn't really cool as well as we might have hoped, and it had poor battery life – we don't want a rechargeable battery for a true air conditioner to last all day, but we needed more than we got from the Mark 1.
And it was a pricey unit – around $1,300 for the aircon with a single battery. We would expect a true portable air conditioner to be at least that expensive, but we do want performance and quality for that price, and we can't really say the Mark 1 delivered.
Features & Specifications
Portable True Air Conditioner
2,300 BTU Output
Battery Life: 5 Hours
Includes AC Adapter
Noise Level: 53 Decibels
Effective Cooling Area: 40 Square Feet
Weight: 16.5 Pounds
Our Pick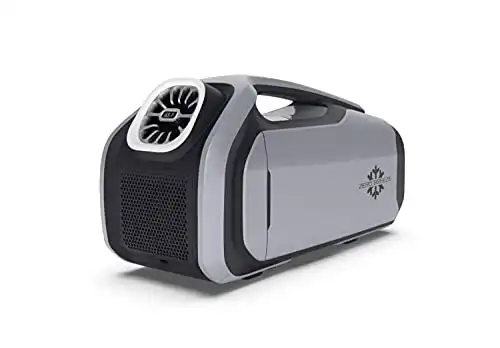 Is the Zero Breeze Mark 2 Portable Air Conditioner Worth the Money?
At the time of this writing, the links in our article will take you to a promotional price, offering a $200 savings for the Zero Breeze Mark II with AC Adapter and Battery, and a full $400 savings overall if you also order a second battery. This means the new unit is only about a hundred dollars more than the original, but we can say without hesitation that it is a much, much better value!
Still, this is not an inexpensive unit – although the price does seem about right – again, we would never expect a genuine portable, rechargeable air conditioner to be cheap. We have already said that the first generation Mark 1 didn't really fulfill the price versus performance quotient, but in what ways has the Mark 2 improved?
The Mark 2 has more than TWICE the Cooling Power – from 1,100 BTU (Mark 1) to 2,300 BTU (Mark 2)
The Mark 2 lowers the temperature Much Faster – an up to 30 degrees Fahrenheit drop in 10 Minutes
The Mark 2 is Much Quieter than the first generation, with a full 13-decibel decrease in running noise
The Mark 2 battery is rated for 5 hours use in normal mode, and longer in sleep mode – an approximately 50% increase over the Mark 1 on the page, and even more in real-life usage
The Mark 2 now has a Two Tube exhaust system, making it more effective and more efficient
But does the Zero Breeze Mark 2 Actually Work Better than the Mark 1?
Comparing the Mark 2 versus the Mark 1 by looking at the specifications makes this question seem pretty obvious, but the real test is in use.
We tried out the Zero Breeze Mark 2 portable air conditioner in various places, including our patio, our back yard, a public park, a tent, and in a few spots inside our house.
In every case, and every location, the cooling provided by the Zero Breeze Mark 2 was surprisingly strong and satisfying.
In the three-person tent, the Zero Breeze Mark 2 made the air much cooler quite quickly and almost too cold within about a half-hour, and we ended up setting it to Sleep Mode to moderate the temperature! This also meant that we got much more than the rated 5-hour battery life, and didn't even use the second battery during our overnight trip. The dual exhaust hose made venting to the outside quite simple.
On the deck we were able to plug the Mark 2 portable air conditioner into a wall outlet, so didn't worry at all about batteries, and we found that even on a hot day it could offer nice cool air for everybody at the table, making a big difference for our six-person lunch party.
Using the Zero Breeze Mark 2 air conditioner as a portable unit outside, in the yard or in the park, we were actually amazed at how much it cooled us down. Of course, in these cases, there is an enormous amount of inefficiency and loss to the great outdoors, and we needed to be very close to the unit and pretty much right in the airflow. Nonetheless, the effect was delightful.
One big surprise was how much we ended up using this unit inside! While we didn't make any accurate assessments of cost-savings in using the Zero Breeze Mark 2 versus our central air, we found again and again that we were turning the house's AC way down, or even off, and just cooling the space where we were working, reading, cooking or even sleeping by using the Zero Breeze portable air conditioner instead. 
In each case, the results were the same – even when it was hot outside, and in the house, we were comfortable and cool, provided we stayed within the relatively small area of the Mark 2 air conditioner's comfort zone.
The Mark 2 is now recommended for about twice the square footage of the original Mark 1, but this is still only about 40 square feet (a little less than 4 square meters), and it won't be effective in cooling a larger space. But on your desk in the office, the counter in the kitchen, or a bedside table it will make the air around you frosty cold!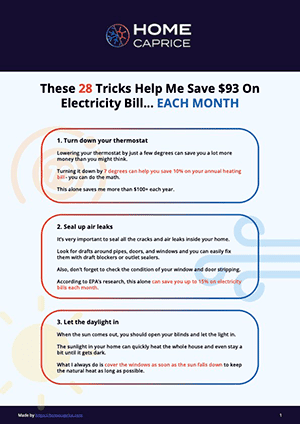 These 28 Tricks Help Me Save $93 On Electricity Bill... EACH MONTH
Download this FREE cheat sheet to find 28 tricks that can help you save on your electricity and heating bill each month.
Click here to get a FREE Cheat-Sheat
Is Zero Breeze a Good Company?
The original Mark 1 portable air conditioner was developed using crowdfunding through Indiegogo, and while the idea, and much of the execution, were really good, the final product was definitely problematic. So too was the company itself, at least in terms of customer service and support.
To be fair, it was possible, or even likely, that Zero Breeze just wasn't prepared for how much interest their product would generate, or, for that matter, for just how irate a customer gets when they make a fairly large investment and the product does not meet their expectations.
For whatever reason, the company, and the original air conditioner, got a bit of a bad reputation, and it would be completely understandable if people now wonder about both, asking:
Is the Zero Breeze Mark 2 portable rechargeable air conditioner any good?
How is Zero Breeze's customer service and support?
But, to their infinite credit, Zero Breeze did not give up. They went back to the drawing board, listened to their engineers, industry experts, and – maybe most importantly – the negative (and positive) feedback of actual customers.
As a result, not only have they vastly improved their product, making, the Zero Breeze Mark 2 Portable Air Conditioner, a really nice, high quality, and effective product, but they have improved their company as well.
Now they get excellent reviews and feedback not just for the Mark 2, but for their customer support and service as well. And, as a fairly remarkable policy, they offer not only a one-year limited warranty, but a full 30-day satisfaction guaranteed return policy!
Our Pick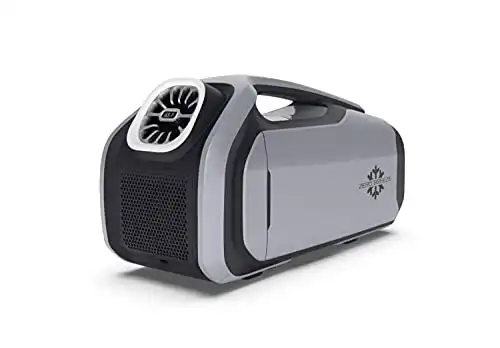 Final Thoughts: Does Zero Breeze Finally Get a Know the Flo Recommendation?
Without question, yes. The Zero Breeze Mark 2 portable air conditioner is a much better unit than the Mark 1, and while it is a pretty substantial investment it is, based on our experience, totally worth the money.
It is not, of course, completely free of any problems. Although it is a true portable air conditioner, with a remarkable amount of technology and innovation built-in, it is not the lightest of units – still, much lighter than any other AC we know, and even lighter than most evaporative coolers, which are not air conditioners and can't come anywhere close to the cooling power and effect of the Zero Breeze.
And it is a little noisy. It is, again, a lot quieter than its older sibling, the Mark 1, but all air conditioners, with their fans and compressors, make noise. This is not at all an issue outside, but for some people, it might be at night or in small spaces.
But, all that said, this is a remarkable product and a real breakthrough. Almost everything we had hoped for with the Zero Breeze Mark 1, and all of the promise that product had, has been realized in this brilliant machine, the Mark 2, which combines incredible tech and advanced design, high-quality of materials and construction, and real cooling power on the go.
Not long ago we would not have thought a small, portable, and rechargeable true air conditioner possible, and it still feels a little like we are peeking into the future. We have to say the future is pretty cool, and we recommend it highly!

Hey there! I am
Benas
, the founder and content editor at Home Caprice. Thanks for reading the article. I hope you were able to find what you were looking for. I and my team are here to simplify heating and cooling for everyone. Please have a look at the
About page
for more details about our website and feel free to check out our
editorial process
.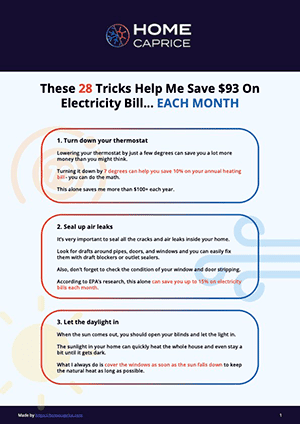 These 28 Tricks Help Me Save $93 On Electricity Bill... EACH MONTH
Download this FREE cheat sheet to find 28 tricks that can help you save on your electricity and heating bill each month.
Click here to get a FREE Cheat-Sheat