Technology is making air conditioning systems more convenient to use, from installation to maintenance. But don't focus on the hi-tech features alone. Your buying decision should depend on the following:
Where do you want the air conditioner to be placed
Weight (you are looking for portable ac after all)
The size of the room or space you wish to cool
Energy efficiency (to save some $$$)
Recommended Products
❄️ Best Overall Portable AC: LG LP0818WNR
Dimensions: 16.93″ W x 27.36″ H x 12.80″ D
Weight: 57.3 pounds
Cooling Area: 200 square feet
This free-standing air conditioner is equipped with oscillating air vents, allowing cool air to spread more efficiently. It uses a standard 115-volt/15 amp electrical outlet.
The unit has a dehumidification feature that can extract 1.27 kilograms (2.68 pints) of moisture per hour. It also has an auto-evaporation feature, so you won't have to drain out the water from the moisture that builds up inside. The unit also comes with a washable air filter.
Its 24-hour timer is programmable via remote control. Temperature and other settings are easy to read on its clear LED display.
The unit is powerful, cooling up to 300-400 square feet of space for some owners with adjoining living, dining, and kitchen areas. However, the hose is quite short, and some buyers have said that the tubing cannot stay put on the window or the machine.
Dimensions: 18.68″ W x 27.87″ H x 15.18″ D
Shipping weight: 76 pounds
Cooling Area: 450 square feet
This remote-controlled air conditioner can dehumidify 2.8 pints of moisture per hour. It has a three-speed fan and an anti-bacterial filter that helps improve the indoor environment by reducing odor and airborne particles.
It has a programmable 24-hour timer that you can set in 30-minute segments. The air conditioner also has a restart feature that remembers and restores the settings you entered in case of a power outage. Before bedtime, you can put it on sleep mode, which raises the temperature gradually until morning.
While some buyers say that this model is noisier than they expected, most are pleased with how it can cool their rooms efficiently, even up to 700 square feet of space.
Dimensions: 14.9″ W x 25.4″ H x 9.8″ D
Weight: 15 pounds
Cooling Area: 100 square feet
This Honeywell product is an air cooler with patented brushless motor technology with three settings. Its energy consumption ranges from 7.4 watts to 50 watts.
The portable cooler is equipped with oscillating louvers that help distribute the air evenly and a carbon dust filter that promotes clean air. It has a timer that can be preset up to 7.5 hours in advance.
It also has a built-in 1.8-gallon water tank that can alert you if it needs more water to operate. However, new owners might find the water tank rather difficult to use due to the location of its opening.
Are you looking for more options? Read on.
Dimensions: 12.62″ W x 36.81″ H x 12.62″ D
Weight: 85 pounds
Cooling Area: 550 square feet
This air conditioner with a unique 360-degree airflow mechanism is smart app-enabled. You can also use Amazon Alexa and Google Assistant to operate the device.
The UL-certified device has a clean air ionizer that removes impurities from the air and a mesh filter that's easy to clean. It can dehumidify up to three pints of moisture daily. Its exhaust hose also has a cover to ensure that no hot air leaks through it.
Do be warned, though, that you may have to buy an extension for your window kit in case your window is too large.
Dimensions: 16.5″ W x 26″ H x 11.5″ D
Weight: 52.9 pounds
Cooling Area: 300 square feet
This device from Black + Decker is an air conditioner, dehumidifier, and fan rolled into one product. The unit blows out cool air through grills that move vertically.
It features a large front-vented airflow outlet, an automatic water evaporation system, a slide-out washable filter, and a condensate drain plug at its rear.
The remote-controlled unit can be set to 64 to 95 degrees Fahrenheit. It has a 24-hour timer and sleep mode.
This unit can quickly cool a room. However, it can only be used with sliding or double-hung windows, not crank windows.
Dimensions: 15.7″ W x 31.30″ H x 18.90″ D
Weight: 67.3 pounds
Cooling Area: 450 square feet
This Honeywell model is also a 3-in-1 unit with an auto-evaporation system that can dehumidify as much as 86.3 pints of moisture daily. Its temperature settings range from 61 to 90 degrees Fahrenheit.
The remote-controlled unit has a sleep mode and a timer that can be set for one to 24 hours.
It has a washable filter that captures unwanted dust and other air impurities. Its versatile window kit can be used on vertical and horizontal windows.
While the air conditioner itself works fine for most buyers, several have complained about the window kit due to the oversized window bracket and flimsy connector clip that hooks to it.
📍 Note: we have a whole article dedicated to the quietest portable air conditioners if that's what you are looking for.
Dimensions: 17″ W x 29.5″ H x 16″ D
Weight: 60 pounds
Cooling Area: 400 square feet
This Whynter model features a unique dual-hose system, which results in faster cooling and higher efficiency because there's one dedicated hose that expels moisture and warm air outside, unlike single-hose models.
The intake hose can be detached if it's hotter and more humid outside than inside the room.
This air conditioner is also a 3-in-1 device with a dehumidifier that can extract as much as 76 pints of moisture in 24 hours and a self-evaporative system.
It has a 24-hour timer and a three-speed fan that can be programmed via remote control.
The unit is easy to install, but some users have reported that it condensates more than expected.
Dimensions: 17.5″ W x 29.5″ H x 15.5″ D
Weight: 67.5 pounds
Cooling Area: 350 square feet
This air conditioner features a "no-drip" technology that prevents moisture or liquid from leaking out of the unit by recycling it within itself. Its dehumidifying capacity is 36.22 kilograms (76.57 pints) a day. It has an easy-clean filter found in the intake grill.
The unit features an adjustable thermostat, a three-speed fan, and a 12-hour timer that can be adjusted using a remote control.
Customers are generally satisfied with its auto evaporation feature and easy assembly, although there are mixed comments about the noise from the fan.
Dimensions: 14″ W x 27.5″ H x 13.3″ D
Weight: 50 pounds
Cooling Area: 300 square feet
You can control this air conditioner using the JHS smart app. You may also use the remote control to adjust its timer and thermostat, which has a temperature range of 61-88 degrees Fahrenheit.
It can dehumidify as much as 50.7 pints of moisture daily. The air conditioner has a kit only for sliding and hung windows.
According to some buyers, the appliance's noise level is too high for comfort, although you can go the DIY route and use a soft tape to fix the issue.
Don't know which AC to choose? Share this article with your spouse or housemate and let them help you decide!
How Do Air Conditioners Work?
An air conditioner sucks warm air from the room through its grills or vents at its base. This air flows over some pipes where a coolant fluid called refrigerant is flowing. The air is then processed through the following components based on the order they appear:
An evaporator is a coil that collects heat from a given space with the help of a refrigerant. The refrigerant absorbs heat that evaporates to become gas.
A compressor is where the cool, refrigerant gas is pressurized rapidly and becomes heated gas.
A condenser is where the hot gas passes through to become cooler and eventually becomes liquid through the aid of a fan.
The liquid passes through the evaporator coils again, where its pressure plunges quickly. The resulting cooled gas is then blown into the room.
Remaining warm air and moisture are vented out of the room through the back of the air conditioner, or via an exhaust hose in the case of portable models.
Some units have self-evaporative technology, while other units collect moisture in a reservoir that needs to be manually emptied regularly.
Uses of a Portable Air Conditioner
Portable air conditioners are now becoming as in demand as window-type units due to their versatility.
They're the best solution for:
1. Small spaces
using a portable air conditioner is the most viable solution if you live in a small apartment where you cannot install ductwork for a central air system.
2. Absence of a window or window restrictions
Your home may not currently have a window or any other opening on the wall that can accommodate an air-conditioning unit. Or maybe you don't want to have an air conditioner jutting out of the facade of your house.
Apartment owners may have policies prohibiting window air conditioners. In some places like New York City, it's illegal to install a window unit if it will block a fire escape route.
You can install portable units no matter what type of windows your home has: sliding or crank windows, windows with grates or grills, or even sliding doors. These air conditioners come with kits containing attachments for the accompanying exhaust hose to fit in nearly any window.
3. Seasonal users
If you live in temperate or cooler zones, you can just bring out and set up your portable air conditioner during the summer or rare heatwave seasons.
4. Inadequate HVACs
Portable air conditioners can provide spot cooling to supplement the cool air coming from your heating, ventilation, and air conditioning. You can also save on your electric bill if you need to cool only a certain area, such as the living room, porch, or dining area for several hours.
5. DIYers
Buying a portable air conditioner is a practical choice if you prefer to have a unit up and running in no time without the help of an installer. Portable models usually have caster wheels, making them easy to move around.
How to Choose an Air Conditioner?
Room Size and Location
To determine the best portable air conditioner for your room, you must first measure the size of the room you have to cool and where you will place it.
Get the square footage of your room by multiplying the length and width of the room in feet. Remember to add together the square footage of adjoining rooms if they aren't separated by a door as the air conditioner will be cooling both spaces.
For residential structures, multiply the square footage by 25 BTUs.
Example: 12 feet x 15 feet = 180 square feet
180 square feet x 25 BTU per square foot = 4,500 BTU
After applying the formula above, consider the other factors below so you'd know the minimum cooling capacity of the air conditioner you will buy.
Increase capacity by 10% if the room receives plenty of sunlight.
Reduce capacity by 10% if the room doesn't get direct sunlight or is heavily shaded. If you have evergreen trees near that room, then it will be shaded all year round.
If three or more people regularly stay in the room to be cooled, add 600 BTU for each additional person.
Increase the capacity by 4,000 BTU if you'll use the air-conditioner for the kitchen.
Besides measuring the area to be cooled, you also need to measure the height and width of the opening on your wall if you're opting for a window or wall unit.
Type: Portable vs. Window Air Conditioners
How much are you willing to spend on your air-conditioning unit? Your budget will affect the type of models you can choose from.
📍 Note: Portable air conditioners usually cost more than window models. If you are looking to save some $$$ then check our reviews on window ACs.
The cheapest portable air conditioners currently range from $250 to $300. Mid-range models cost between $300 and $800 and high-end units are worth $800 or more.
Meanwhile, low-end window models range from $150 to $380, mid-range units cost $385 to $500, and high-end models range from $650 to $1,600.
There are also ACs under $100, but I don't really recommend them – you could get a lot more from the $200-$300 budget. But if you are tight on your budget and still need an AC, then we do have a whole article about ACs under $100.
If you need professional installation services, you may have to pay between $300 and $500.
Unlike portable models, window air conditioners won't take up any floor space. They just need to be near an electrical outlet and of course, a window.
Meanwhile, portable air conditioners need to be near a window or vent where the exhaust can be positioned for hot air to be routed out of your room. A ventless or evaporative system will work best for you if you don't have a vent or window to place the hose.
Features
These features make air conditioners easy to operate:
A smart thermostat gives you the power to set your desired room temperature from your phone.
A remote control allows you to adjust settings even when far away from the unit.
A timer lets you set the length of time your air conditioner will work.
A fan-only option can help lower your electricity bill because you can turn this on if the weather is not so warm.
An auto delay switch, a feature found in many newer models, pushes out the cool air that remained in your air conditioner before you switched it off.
Noise level
The noise or decibel rating of air conditioners is normally indicated in their product information. Portable air conditioners are usually noisier than window-type units.
The noise from portable models is around 70 decibels (normal talking is 40-60 decibels) compared to the 50-decibel noise level of window air conditioners.
How Much Electricity Do Air Conditioners Use?
To find out how much you need to pay monthly for operating your portable air conditioner:
First: Multiply the cost per kilowatt-hour of electricity in your area and the wattage of your air-conditioner. Taking our best portable air conditioner as an example, we get the wattage by multiplying 15 amps by 115 volts (1,725) and dividing it by 1,000.
$0.13 (average US power rate) x 1.7 kWh (wattage) = 0.221
Second: To get your average cost per day, multiply the result by the number of hours you plan to use the air conditioner daily.
Cost per day: 0.221 x 7 hours = $1.5
Third: To determine the average cost per month, multiply the result by 30 (days).
Cost per month: $1.5 x 30 = $45

Hey there! I am
Benas
, the founder and content editor at Home Caprice. Thanks for reading the article. I hope you were able to find what you were looking for. I and my team are here to simplify heating and cooling for everyone. Please have a look at the
About page
for more details about our website and feel free to check out our
editorial process
.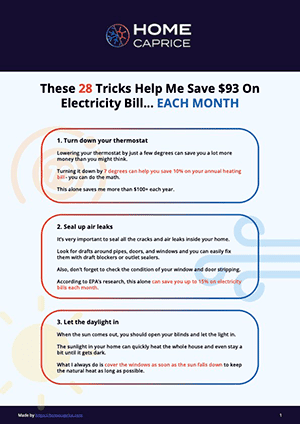 These 28 Tricks Help Me Save $93 On Electricity Bill... EACH MONTH
Download this FREE cheat sheet to find 28 tricks that can help you save on your electricity and heating bill each month.
Click here to get a FREE Cheat-Sheat