If you live in a cold climate and your car's built-in heater doesn't always keep you completely warm, a supplemental plug-in heater may seem like a great idea. Just plug it into the cigarette lighter socket and your car's interior is suddenly much warmer!
Great in theory, but unfortunately it doesn't really work like that.
Can a 12-volt heater keep my car warm?
The amount of electrical power you would need to keep the interior of your car warm – or even just warmer – is so much that you would be continuously blowing fuses in the cigarette lighter's circuitry, and possibly even damaging those circuits.
The good news is that there are still lots of ways 12-volt heaters can help. If we just shift our focus a little and think creatively, there are 12V heaters that can keep you toasty warm in cold weather, and even make winter driving safer!
What kind of 12-volt car heater should I buy?
There are three basic categories we should consider:
Hard Wired Heating – connects directly to your battery, but can really put out heat
Personal Heating – that is, a 12-volt electric seat warmer or electric blanket
Windshield Heating – doesn't really keep you, or your car's interior, warm, but may keep you alive
Hard wired heaters are much more difficult to install, requiring direct connection to your car's electrical system and in-line fuses, as well as running copper piping and mounting the heater to the interior of your car, truck or van. And many of them are quite large – intended for commercial vehicles.
But if you get one designed for a car, and have a professional install it properly, a hard-wired 12-volt car heater can make a world of difference, keeping you, your passengers and the whole interior of your car much warmer. They can make a great supplemental heater or even a replacement for a broken factory unit.
Personal heaters are a great way to keep warmer when you're driving, and without the hassle of difficult installation – or any installation at all, for that matter. They simply plug into the lighter socket and you're good to go. They are also nice if the driver and passengers have different temperature preferences.
These would include seat warmers and electric blankets, both of which are amazingly effective direct heating products. Seat warmers are good for the driver and all the passengers (you need one seat-warmer for each person), while blankets are better for passengers – after all, you don't want to get too comfortable and drift off to sleep when you're driving.
Windshield heaters are small, low output devices that do little or nothing to warm the driver, passengers or cab of the car. What they do, though, and often quite well, is defrost the windshield and keep it clear in extreme situations – or at least one of them does…
If your car's heating system is adequate but doesn't always do the best job at defrosting the windows, the limited visibility can be dangerous, and a windshield heater may be the answer.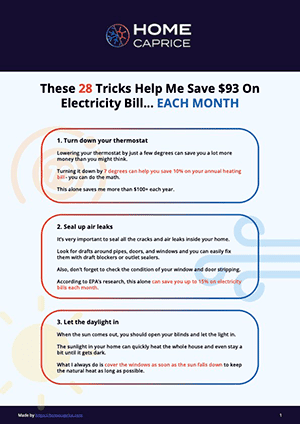 These 28 Tricks Help Me Save $93 On Electricity Bill... EACH MONTH
Download this FREE cheat sheet to find 28 tricks that can help you save on your electricity and heating bill each month.
Click here to get a FREE Cheat-Sheat
Can I use a 12-volt heater to replace my car's heater?
But what if your car's built in heater doesn't work at all?
It is not safe, and in many climates not really even possible, to drive a car without a heater. And the cost of fixing or replacing a factory-installed heater is absolutely shocking – to the point that some people buy a new car rather than spending in repair costs what can be literally a good percentage of what they paid for their old one.
There is another option, though, as mentioned above – a direct wired auxiliary heater.
Auxiliary heaters use the same system as your car's original heater (drawing hot liquid from the engine to heat the air, which it then blows throughout the car's passenger compartment), and they mount somewhere out of the way inside the car, like under a seat.
This requires professional installation, but usually, you can purchase a really excellent 12V auxiliary heater from Amazon, like the American Cooling Systems 20,000 BTU heater described below, and have your mechanic install it for way, way less than fixing or replacing a broken heater.
So if driving without a heater is not an option, and buying a new car is also not possible, this may be a great way to stay warm – and safe – for a lot less money.
What is the best 12-volt windshield heater for cars?
Our Pick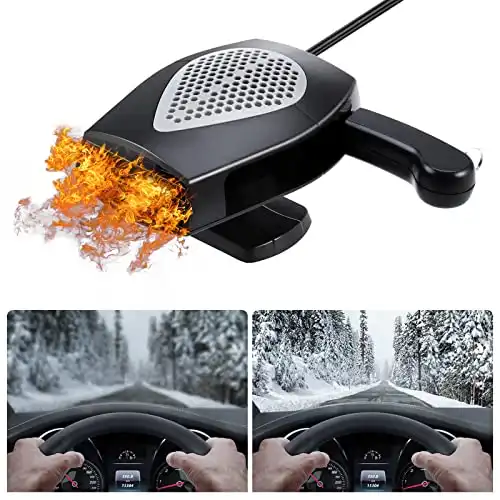 We are going to start our buyer's guide for cigarette lighter heaters with the most problematic type of heater – the dashboard heater/defroster.
And why are they so problematic? Well, we have tried many different dashboard heaters and researched lots more, and there is only one possible conclusion: none of them is any good!
These apparently clever and often cool-looking gadgets promise to sit easily on your dashboard and keep your windshield frost-free, and maybe even heat up the car's interior as well.
In truth, though, they do none of that. What they do is make pathetic little whirring noises, put out almost no heat, or even air, do absolutely nothing to clear the front window, in fact even reduce visibility by blocking your view and – to add injury to insult – often blow fuses in your car's electrical system.
We had totally given up on the idea when we came across the nifty little Vosarea, which is not only the best car heater for your cigarette lighter socket, it's the only one that actually works.
Looking like an oddly misshapen hairdryer, the Vosarea 12 volt heater actually puts out some hot air, enough to help you warm up and defrost your front windshield. You can use it on your hands and feet, too, if they're a little numb from long driving sessions.
The Vosarea comes with a mounting bracket for your dashboard, but also has a handle for spot use. We highly recommend using it in this way, as a hand-held windshield heater, because it will better heat the entire window and will not block your view.
Please keep in mind that using the Vosarea windshield heater in this way is not to be done while you are driving – it is dangerous and distracting to do so, and especially so in slick and icy winter conditions. In any conditions, you should pull over and fully stop the vehicle before attempting to use this hand-held heater on your windows, or in any other way.
The Vosarea 12V car heater comes with a cigarette lighter adapter, is made from high-quality ABS plastic and feels nice and solid in the hand.
There must be hundreds of 12-volt heaters that claim to do what this nice little unit actually does, but believe us – they don't. The Vosarea portable 12-volt car heater is the one you can count on and is our choice for best 12-volt dashboard heater for cars.
What is the best 12-volt seat warmer for cars?
Our Pick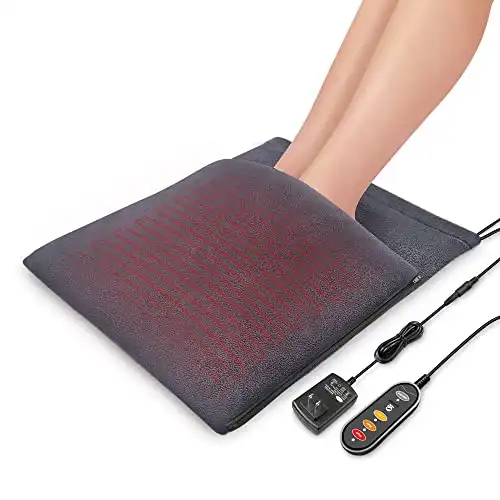 If the last category consisted of one single stand-out product in a field of heaters that didn't work at all, this second category in our list of best car heaters is almost exactly the opposite.
You see, there are lots of wonderful seat warmers available for your car, which make driving so much warmer and more cosy for you, your passengers and maybe even your cats and dogs. And testing them out has been an enjoyable and heartwarming experience – well, not exactly heart-warming…
And still, selecting the best seat warmer currently available was actually quite easy.
The Comfier heated car seat cushion really lives up to its name – somehow it is just comfier than the others, with a plush faux suede covering and high-density foam beneath. Soft, supportive and luxurious feeling.
It is also extremely effective in healing the body, with its two separate heaters, each with two temperature settings, and it warms up quickly and keeps the heat even and consistent.
The Comfier 12 volt seat warmer is safe, with a UL listed overheat thermostat and automatic shut-off, and it has a three stage shut-off timer as well. The control panel is easy to read and easy to use, and will not be too distracting – it is still recommended, though, that you do not adjust your Comfier seat heater while you are driving.
This wonderful product is designed to fit any car or truck seat, and the straps and non-slip backing make it easy to install and keep it in place without any annoying shifting or slipping.
Well-engineered and well made, the Comfier 12 Volt Heated Car Seat Cushion is an extremely high-quality product that will keep you nicely warm in any conditions, and is our choice for best 12-volt seat-warmer for cars.
Make sure to get a splitter for your cigarette lighter socket so that you can use more than one Comfier heated cushion at the same time. We recommend the Yantu 3 Socket Splitter, which also includes two USB sockets.
And if you really want to go crazy with comfort, we also love the Snailax Memory Foam Heated Seat Cushion with Massage – just don't get so relaxed that you can't drive!
What is the best 12-volt electric blanket for cars?
Our Pick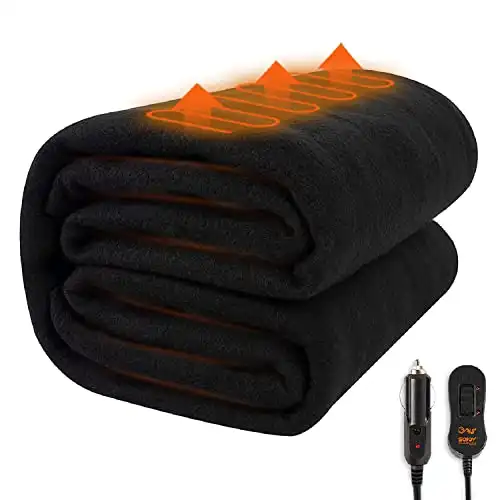 And speaking of too relaxed to drive, I keep having this terrible fear that the next product on our list of best 12-volt car heaters – a soft, plush, totally innocent electric blanket – is dangerous!
So please, let your loving partner, your children and your pets, snuggle up in the luxurious warmth of Sojoy electric car blankets, but don't use one while you are driving lest you get so warm and comfortable that you drift off to sleep!
This super fleecy blanket warms up so nicely and so quickly, especially considering how light and how soft it is, and its dimensions are ideal for a car – big enough to cover you, but not so big that it gets in the way or distracts the driver. And the power cord is over 5 feet long, plenty long enough to reach to the back seat.
The Sojoy 12 volt electric blanket has 3 temperature settings and 3 timer settings, all controlled with a handy, easy to read and easy to use hand controller. And Sojoy products are fully machine-washable – a real rarity among electric blankets.
If you like to keep the car's heater low while you drive but your passengers get cold, if you and your partner can't agree on running the air conditioner, or if your car heater just isn't warming things up enough, this is a great solution.
Indeed, there are many situations where the Sojoy 12 volt heated car blanket can be useful, and it is always a joy to have and to use.
The nicest, softest, safest and most useful electric automobile blanket on the market today, the Sojoy 12V Heated Travel Blanket is our choice for the best 12-volt electric blanket for cars.
And if you have two or more passengers, or if your dogs don't like to share, you should get a splitter for your lighter socket so that you can use more than one electric blanket. We recommend the Yantu 3 Socket Splitter, which also includes two USB sockets.
What is the best 12-volt direct wired heater for cars?
Our Pick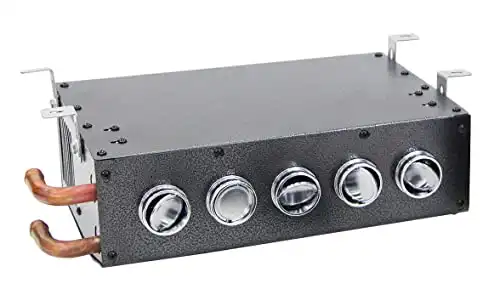 At this point in our buyer's guide of best battery operated heaters for your car, we are getting to a category which will actually warm the entire interior of your vehicle.
The ACS 20,000 BTU heater has plenty of heat output for any size cab, and its low profile and under-seat mounting allow it to do so discretely and without getting in the way.
Also, a great 12v truck heater, and equally useful in an SUV, van or any other passenger vehicle, the American Cooling Systems 12-volt auxiliary heater works like your car's factory-installed heater – taking heat from the engine's radiator via liquid coolant, then heating the air with it and distributing that hot air throughout the car's interior.
As such, it is a great option if your car's heater is broken, or is just not working as well as it used to. If you have researched just how much it can cost to have a car's heater repaired or replaced, you know that you could easily purchase this remarkably effective heater and have a professional mechanic install it for you, and it still would be considerably less expensive than the first option.
And, with a unit as great as this ACS auxiliary 12-volt heater, it might actually work better! It is also a really good choice to supplement a working car heater if the car's interior is still too cold – especially in very cold climates or extreme conditions.
Keep in mind that this 12-volt heater is not a DIY project – it needs to be connected to the battery, not the cigarette lighter socket, and to have a 20 amp fuse in line. It also needs copper tubing to run from the radiator, and it must be securely installed to your car's interior.
The American Cooling Solutions 20,000 BTU 12V Low Profile Universal Auxiliary Cab Heater is a truly superior product. Industrial quality materials and construction, simple and reliable design and an exceptionally high level of effectiveness – whether you are replacing or just supplementing your car, truck, van or SUV's factory heater, this powerful unit is a perfect choice and is our choice for a best 12-volt direct wired heater for cars.
To be sure, the ACS 20,000 BTU heater puts out a lot of heat and is good for even larger personal vehicles, but if you are looking for something a bit smaller, with an even lower profile and not quite as much heat, you may want to consider their excellent 13,000 BTU Universal Auxiliary Cab Heater – a perfect choice for compact cars.
What is the best 12-volt heated lunchbox for cars?
Our Pick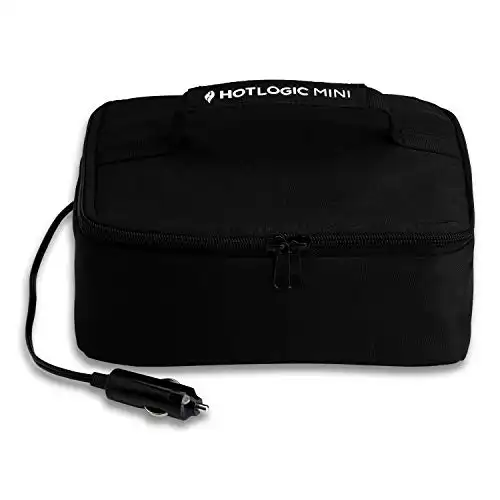 Our final item in this buyer's guide and review of best 12v heaters for the car is not actually meant to warm you up – or, at least not directly.
Every once in a while you come across a product that is so useful, works so well and is so special that it develops a fierce loyalty among its customers, and the Hot Logic 12 volt food heater is just such a product.
The Hot Logic electric car stove is so much more, though than just a food warmer. It will reheat leftovers and keep them at your desired temperature, but it will also cook foods – even frozen or raw meat – quickly and easily, with no muss and no fuss, and keep them too at the perfect temperature until you are ready to eat.
I somehow didn't believe it could be so easy, but you literally just put food in, plug it into the car's lighter socket and come back in a few hours –  anywhere from 1 to 12 hours for precooked food, and 1 to 12 hours if the food needs cooking.
The Hot Logic Food Warming Tote doesn't dry food out, it preserves all of the flavors and it makes absolutely no mess. It is also absurdly easy to clean. Really, what's not to love?
Not just for campers or Rvs, the Hot Logic 12V Food Warming Tote is so useful for long road trips or for working commuters who want to save money on lunch every day. It's our choice for the best 12 volt heated lunch box for cars, and is one of the most effective and useful gadgets we've even come across!
Should I buy a 12 Volt heater for my car?
The questions of what 12V car heater you should buy, or which 12V car heater is best, should be preceded by a more direct and important question: Is a 12-volt car heater right for me?
If your car heater is not working, then yes, a 12-volt aftermarket auxiliary heater may be a much better (and much cheaper) choice than replacing or repairing the existing unit. An auxiliary heater will work well in pretty much any vehicle, and the American Cooling Systems units we reviewed above are as good as it gets, and by far the best choice for a family or personal vehicles.
Auxiliary heaters are also a good choice for supplementing your car's existing heater if it just isn't keeping you or your passengers warm enough. At the same time, while an auxiliary heater is much cheaper than major repair of a car's existing heater, it can be a relatively expensive choice for just supplementing your car's working heater. In this case, a 12-volt electric blanket or seat warmer might provide more than enough heat and comfort at a tiny fraction of the cost.
It must be clearly stated, though, that if your car's existing heater is continuously failing to clear and defrost your windows, this is extremely dangerous, and you should never rely on a cheap plug-in windshield heater. They don't work, and it is absolutely not worth the risk.
We have even found a good hand-held windshield heater (quite possibly the only one!), the Vosarea portable 12-volt heater described above, but even that one is not a suitable replacement for a car's window defroster. It is, however, a great unit for extreme cold, when an otherwise effective factory unit isn't quite enough and is really helpful in many other situations.
Whatever your situation, keeping yourself and your passengers warm and comfortable in the car is not just nice and thoughtful, it is important to your health, safety and effectiveness as a driver. And in that light, the right 12V electric heater for your car is always a good idea.
For each one of the categories in our buyer's guide – 5 Amazing 12V Heaters For Your Car – we have chosen the very best and most appropriate heater currently available, and you can choose any one of them with complete confidence.

Hey there! I am
Benas
, the founder and content editor at Home Caprice. Thanks for reading the article. I hope you were able to find what you were looking for. I and my team are here to simplify heating and cooling for everyone. Please have a look at the
About page
for more details about our website and feel free to check out our
editorial process
.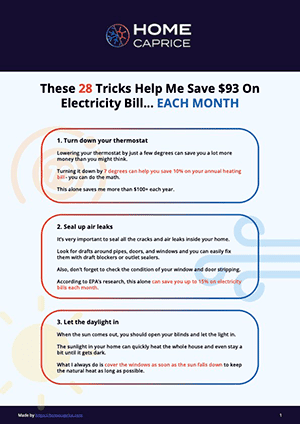 These 28 Tricks Help Me Save $93 On Electricity Bill... EACH MONTH
Download this FREE cheat sheet to find 28 tricks that can help you save on your electricity and heating bill each month.
Click here to get a FREE Cheat-Sheat