On the cold winter days when you get out of the warm shower, the whole bathroom feels like it's in freezing temperatures.
Well, with the right bathroom heater, you'll experience a spa-like feeling from the comfort of your bathroom.
You might not even want to reach for a towel and you'll most certainly won't freeze and tremble.
Before jumping into the top 7 models, let's first talk about important things to consider before making a purchase.
Things To Consider Before Buying A Bathroom Heater
Size – Depending on your bathroom size, choose a bathroom heater that won't fill up all the free space in your bathroom. Some smaller heaters might have higher heat output than space heaters.
Heat output – Heat output is very important if you have a larger bathroom – you don't want to buy a less powerful unit than you need. Always look for CFM and wattage of each heater.
Waterproof – Bathrooms are always humid places and it's natural for some water to spill out of the shower once in a while, so always look for heaters with a good safety rating (IP rating).
Features – Some heaters have a built-in thermostat that allows you to control your desired temperature in the bathroom. You can also always look for heaters with remote control, heating time, safety features, etc.
Installation – Don't forget that installation is sometimes harder than you expect, so in some cases you should consider hiring a professional to do it for you.
Best 7 Bathroom Heaters On The Market
This Stiebel's heater is the best bathroom heater you can buy nowadays.
The first thing you'll notice is a very unique design – it was made especially for the bathroom.
It has a built-in thermostat, so you can easily choose your desired temperature. Because of how quiet it is, you can put it in the bedroom and you'll be satisfied with the performance.
It has a booster feature that maximizes heat output for up to 60 minutes – pretty awesome when you're feeling too cold.
This is one of the rare heaters that have frost protection settings, meaning it will maintain above-freezing temperatures in any room.
Everything about this model is focused on quality, and it's no wonder it's made in Germany.
This is a small and portable bathroom heater.
It has a very fast heating time, so you can even turn it on before going to shower to avoid feeling freezy when getting out of it.
It does bring a spa-like treatment especially when you keep the heater turned on a bit longer.
The size might trick you – this heater is suitable for the bathroom and it will heat it without any problem.
The Integrated ALCI safety plug makes it extra safe, so you won't have to worry about using it in the bathroom.
Although you could use it in the bedroom, I doubt it will heat the whole room efficiently.
This is an improved version of the previous model that had one of the best ratings on the market.
With the improved model, you'll save up to 50% on electricity bills – it's that efficient!
What I love about it is that you can leave it on 24/7 with peace of mind – children or pets can't burn themselves even if they touch it at the highest temperature.
Also, it doesn't blow dust or allergens in the room, so you can use it in your bedroom as well.
It's very quiet, you'll barely hear it running even on the highest settings.
Although it's a wall-mounted heater, it's still easy to install and you won't need to hire a professional.
This is a ceiling-mounted heater.
It's very small and practical, and what I love about ceiling heaters is that they're the safest of all the other models.
This specific model has a built-in light, so not only it can heat, but it can also grant you better visibility at night.
What might surprise you is that it has a built-in thermostat – that's a rare feature for this type of heater.
It can run for a minimum of 70,000 hours because of brushless DC motor technology.
If you're low on budget – I highly recommend buying this heater.
Considering the price, this might be the best heater ever made for such a low price.
What's most impressive is the smart features – it even has a timer that you can choose from one hour up to 12 hours.
It even has a digital thermostat that shows you the actual degrees, you can set it up to your desired temperature.
It's extremely quiet and you won't have any issues heating rooms up to 100 sq. ft. You can use it in your bedroom as well.
Don't worry about the safety of this model, it even has tip-over protection which instantly switches off in high-temperature settings.
This model is a wall-mounted bathroom heater.
In my opinion, you should use it only in larger bathrooms due to its power.
It has a rotating button that allows you to change the desired temperature.
The design is very unique and you can install it on every wall in the house. The installation is pretty straightforward and you get everything explained in the user manual.
It provides supplemental heat from a wall location and doesn't take the place of the home's main heat source.
This model was originally built for living and bedrooms, but due to its safety features – you can use it in the bathroom without a problem.
What I love about these types of heaters is that they don't take up any space, unlike other models that require a bit of space (that can't be a lot) in the bathroom.
If normal operating heating temperatures are exceeded, this heater will automatically shut off.
Considering the power, it's very quiet – even quieter than I thought it would be.
The installation is pretty simple and it will take you around 10 minutes to set everything up.
Different Types Of Bathroom Heaters
Although they all might look similar, it's important for you to learn the different types of bathroom heaters on the market.
Let's talk a bit about each one.
Portable bathroom heaters
What's great about portable bathroom heaters is they don't take up a lot of space and you can easily store them during the spring and the summer.
Another great thing is that you can simply move them to another room when you're not in the bathroom, so you essentially save money by buying one heater instead of two.
You should take a look at portable USB heaters if you're looking to heat just yourself instead of the whole room.
Bathroom heaters with exhaust fan
The best thing about this type of bathroom heater is that you remove lots of humidity.
If you like to take long hot showers (like myself), there's usually a lot of steam which damages your furniture, walls, and ceiling.
Wall-mounted heaters
I'm a big fan of wall-mounted heaters because I have small children at home and a smaller dog. I mounted it a bit higher, so they can't reach it and they can't knock it off.
These types of heaters don't take up too much space.
Propane wall heaters are known to be one of the safest heating solutions.
My advice is to always hire a professional to install it for you because if you don't install it properly, it can affect overall performance.
Ceiling heaters
If you want a permanent heating solution in your bathroom, this might be a good option to consider.
Although a lot of people might think they're not safe, I believe they're one of the safest bathroom heaters because they don't have any contact with water.
However, they can sometimes be a bit more expensive, so it's important to have a slightly higher budget.
Benefits of Bathroom Heaters
No more steamy bathroom – bathroom heaters prevent the steam from spreading through the bathroom, so you can use a mirror straight out of the shower – believe me, your wife will love this 😁
Works as a dehumidifier
Moisture reduction – moisture can quickly build up in your bathroom and damage the ceiling and walls. By reducing moisture in the air, it prevents moisture build-up in your bathroom.
Saves more water – When your bathroom is warm, you won't have to take those long 15+ minute hot showers anymore.
Are Electric Heaters Allowed in Bathrooms?
Bathroom heaters became very popular in the last decade and there are always people asking how safe it is to have an electric heater in your bathroom.
The short answer is – yes, it's safe to install a heater in your bathroom.
However, you should learn a few things about using heaters in your bathroom.
For areas in your bathroom that usually get a bit wet (like 5 inches in front of the shower), you should look for at least an IPX4 waterproof rating.
For wall-mounted heaters, you should always look for the same rating, at least an IPX4 rating – anything less than that is unacceptable.
If you have a larger bathroom and you can put a heater on the other end which doesn't get wet at all, you can use a bathroom heater with no waterproof rating.
Still, I always recommend at least some type of waterproof rating for peace of mind.
Hey there! I am Benas, the founder of Home Caprice. Thanks for reading the article, I hope you were able to find what you were looking for. Me together with my team, are here to simplify heating and cooling for everyone. If you want more details about the website and our team, please check the
about
page.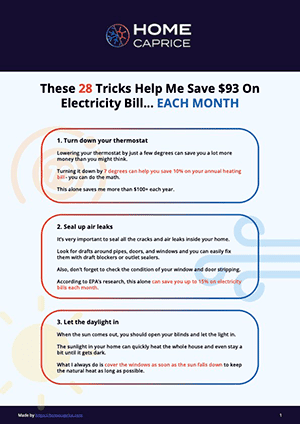 These 28 Tricks Help Me Save $93 On Electricity Bill... EACH MONTH
Download this FREE cheat sheet to find 28 tricks that can help you save on your electricity and heating bill each month.
Click here to get a FREE Cheat-Sheat