If you're looking for something that can cool you anywhere you go and that you can easily carry anywhere you go – battery-powered air conditioners are the just right thing for you.
They're specifically designed to cool you while asleep, help you avoid sweat while in the office, or be your best friend wherever you go during high-temperature days.
However, all battery-powered air conditioners aren't made the same.
Before revealing the best 7 battery-powered ACs, let's first talk about the factors you should pay attention to before buying.
What To Look For Before Buying A Battery-Powered AC
Cooling type: There are different types of battery-powered ACs such as evaporative coolers and regular air conditioners. It all depends on your needs and your location.
Battery size: It decides how long your AC will last without the need of charging it, so make sure you're getting a solid battery size.
Coverage area: Although battery-powered ACs are mostly personal and not meant to cool the whole house, it's still important to know the coverage area of your air conditioner.
Outlet: Some battery-powered ACs are charged via a USB port, 12-volt carport, or a regular outlet. Choose the one that's most convenient for your needs.
Best 7 Battery Powered Air Conditioners
This is by far the best battery-powered air conditioner on the market nowadays.
Besides being an air conditioner, it can also serve as a cool mist humidifier, desk fan, or even an air cooling fan if you just add ice and water.
It has 3 adjustable speed modes and the most powerful one is enough to cool a smaller room.
What you'll love about this AC is that it's very quiet and it produces library-like noise, so it won't disturb you if you're using it in your bedroom or in your office.
It can be used for up to 4 hours before refilling and its battery life is amazing as well.
If you're looking for a modern and advanced portable air conditioner, this one will be a great fit for you.
It has a large capacity of 12oz and it can be used for about 4 hours before refilling again. It has a USB port, so you can easily charge it almost anywhere you go.
What I personally love about it is 7 changing LED colors that are soothing and calming – kids love it too.
The great thing about it is that you can even use it in the winter when the air is dryer to moisturize the air and serve as a humidifier.
It has a built-in handle, so carrying it around will be a piece of cake.
If you want something so small that you can fit inside of your pocket, but still cool you properly – this is what you need.
Although it was originally made as a fan, Wooboo made some changes and now it's like a bladeless mini air conditioner.
What I love about it is that you can adjust the wind direction which is very helpful when you want to cool certain parts of your body, such as your head or neck.
You'll mostly use it outdoors as you can easily carry it anywhere you go.
When it comes to power and airflow, none of the others can compete with this beast.
It has a built-in twin compressor to be more powerful and efficient and reduce room temperature by 10°F in less than 5 minutes.
You can select between 3 different speed modes just by pressing buttons on a modern LCD display.
Whether you use it indoors or outdoors, you won't be disappointed by its performance and you'll quickly cool yourself down.
It has 2350 BTUs and most of the customers are using it for their RVs or for camping.
Having a face full of sweat is never a comfortable thing, but this portable neck fan can solve the issue instantly.
Unlike other battery-powered air conditioners which you need to position in front of you, this one you just hang around your neck and it will do its job.
It has 3 different speed modes which you can easily switch based on your needs.
What's impressive about it is that it can run for 9 hours without the need for charging – it's perfect for the office or when you're working out.
You'll enjoy a 360° airflow output that cools all parts of your head evenly.
If you want something solid that you can use for instant cooling, then Comlife's misting fan might be the perfect choice for you.
It can work for up to 10 hours and you can select between 3-speed modes.
You can collapse it and still adjust the wind output which makes it even easier for carrying around. 
If you want an even more powerful fan, you should take a look at outdoor misting fans as they're very efficient.
What's great about this fan is that it doesn't require any maintenance and it has fast charging.
This is a great cooling solution if you're traveling a lot with your car or RV.
Most customers use it to cool their kids or pets and increase the comfort of their camping experience.
It's very powerful and it has amazing cold airflow, the only bad thing about it is its size.
You only need to put in the water (or ice) and connect it via a 12-volt charger to your car – it will instantly start blowing cold air.
The great thing about it is that you can rotate the button and select the power of the airflow.
Check out other best RV air conditioners that won't disappoint you.
Types of Battery Powered Air Conditioners
You might be surprised to hear that there are different types of battery-powered air conditioners.
Although they all might look the same to you, in general, there are two different types:
True Air Conditioners
Just like any typical AC, battery-powered air conditioners use the refrigeration technology that's being used in freezers, refrigerators, or any other type of air conditioner.
It has a compressor and condenser through which it transforms warm and humid air into cold and fresh air.
Basically, true ACs push the warm air outside of the home and distribute the cold air inside of the home.
Evaporative Air Coolers
They're different from true air conditioners because they blow air over a water surface to lower the air temperature in front of them.
However, they come in many different sizes, so there are evaporative air coolers that can cool a much larger area than in front of them.
The thing worth mentioning about evaporative coolers is that they work best in dry climates. In humid areas, there's a high probability that moisture will show up on the surface immediately.
Additional Things To Look For Before Buying
Size
Size has a lot to do with the power of the air conditioner.
Take as an example that your regular air conditioning system can cool a much larger area more effectively than a small handheld fan.
It all depends on the area you're looking to cool.
If you want to cool a whole room, you'll need a larger battery-operated air conditioner. On the other side, if you're looking to use it as a desktop AC in your office, then you won't need such a powerful unit.
Noise
A lot of people don't pay attention to it, but how are you planning to fall asleep with a noisy unit next to your head?
It's extremely important for these types of air conditioners to be as quiet as possible because you're most likely going to use them in your room or in the office.
There are a ton of very quiet portable air conditioners, so it doesn't make sense to buy the loudest one.
The general rule to follow is for battery-operated ACs to have noise levels of less than 60 dB. Ideally, it would be less than 40 dB.
Maintenance
These are smaller units than traditional air conditioners, but still, they need some kind of maintenance.
The cleaning of these ACs is very important as they collect dust very quickly, so you want to make sure that it isn't distributing dust right in your face.
Another important thing to look out for is capacity tanks as it will determine how often you will have to refill the water.
If you're someone who hates refilling and charging and just wants the AC to run, I can completely relate to you 😊
Advanced features
As with everything, it's always worth checking out some advanced features your unit might have.
What's cool about battery-powered ACs is that some of them can work as a power bank, you can charge your phone from them while still being cooled the whole time.
Some units I came across even had a Bluetooth speaker which is great if you're bringing your AC for outdoor parties or camping.
The most common are LED lights that kids absolutely love and enjoy.
If you enjoyed this article, we highly recommend you read 15 simple ways to save money on your air conditioning.
Hey there! I am Benas, the founder of Home Caprice. Thanks for reading the article, I hope you were able to find what you were looking for. Me together with my team, are here to simplify heating and cooling for everyone. If you want more details about the website and our team, please check the
about
page.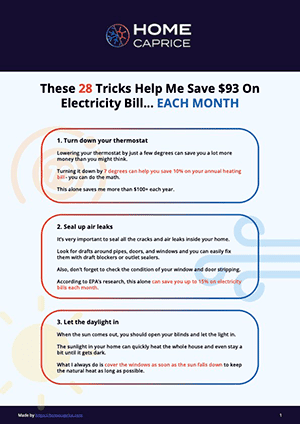 These 28 Tricks Help Me Save $93 On Electricity Bill... EACH MONTH
Download this FREE cheat sheet to find 28 tricks that can help you save on your electricity and heating bill each month.
Click here to get a FREE Cheat-Sheat