Having family gatherings outside of your home near the grill sounds like a great time until you realize you will sweat excessively because of the heat.  
The best solution to consider is definitely getting an outdoor misting fan. Or you can make one yourself if you have the time.
People tend to look for the wrong specification when purchasing a misting fan, so here are the most important factors you need to consider before buying:
Airflow Power
Water Storage
Fan's Nozzle
Tubing Material
Insect Blocker
I'll talk more in detail about each one later in the article, but let's now list the best outdoor misting fans on the market👇
Recommended Outdoor Misting Fans
Our Pick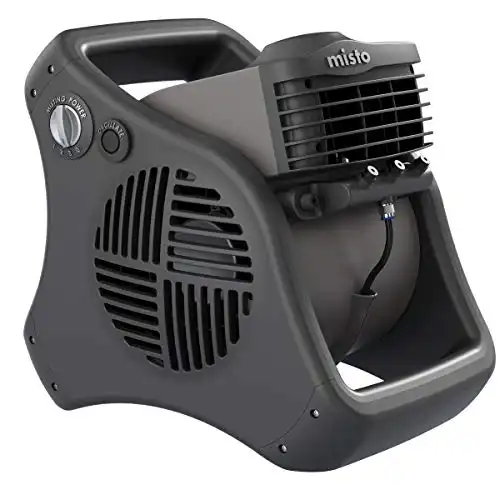 Whether you're thinking about camping near a nice view, going with your friends on a picnic, or having a family gathering at your patios – Lasko 7050 will keep you all cool and relaxed.
It's impressive how this model can reduce air temperature up to 25 degrees and you can still adjust three different refreshing speeds.
Lasko made this model very durable and rust-resistant, so you can easily leave it outside of your home no matter the weather.
What I love about it is its Pivot Function and how it doesn't produce any noise even at the highest speed. You won't have to hire any professional or spend any additional bucks for installation.
The Blue Plug feature maximizes the safety of this misting fan, which both makes you and your family safer.
Our Pick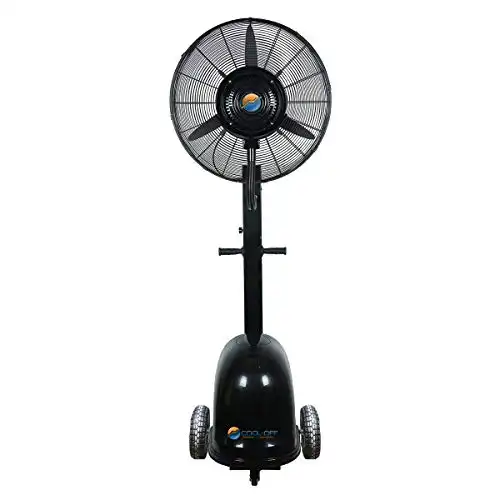 It's amazing how easy it is to move this misting fan due to its set of wheels that allow you to move it from place to place whenever you want.
You can simply adjust the height that fits you the most, and the maximum height is 78 inches (pretty awesome if you ask me).
The quality is solid and you can adjust between three different speed settings to improve your comfort.
It's working on the same principle as tower fans.
The biggest disadvantage in my opinion is that it takes some time to install the whole misting fan to work properly. So, if you have some extra time it shouldn't be a big deal.
Our Pick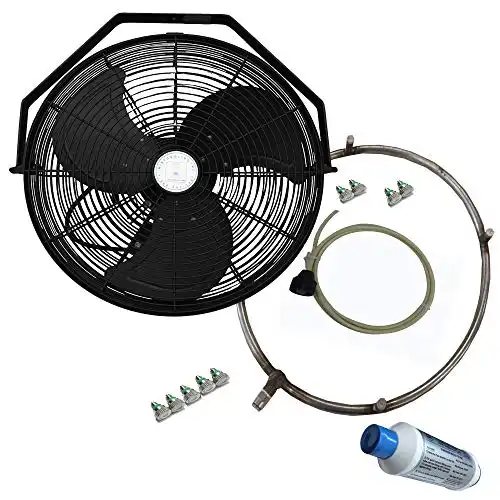 This is the perfect patio mist fan and it's meant for residential, commercial, and restaurant applications.
It's a wall-mounted fan, so you might want to hire a professional to make sure the installation process goes smoothly.
What I love about this fan is that it has a decent look, so it comes both as a cooling source and a decoration object.
Because it's made of stainless steel, you won't have to worry about rust or UV lights hurting its quality and performance.
If you're a person that often goes camping – this misting fan is made for you.
What personally amazes me is how powerful this misting fan is although it runs on batteries.
Also, it's amazing how you can use 2-3 batteries at the same time and enjoy up to 30 hours of operation.
A lot of people are skeptical about the safety of misting fans when it comes to camping, but this fan is made of strong ABS which is waterproof and rustproof.
The biggest benefit is how powerful it is and how long it can last which is very important when you're somewhere in the woods.
Geek Aire always made quality products and it's the same with this fan.
Our Pick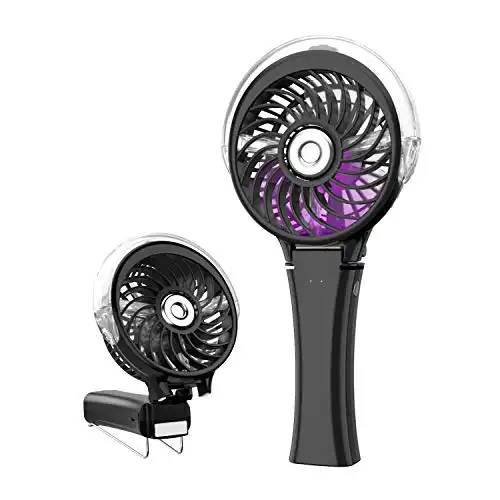 Whether you're in a car or laying on a sunny beach, this handheld misting fan will cool you and give you that extra comfort.
Although it doesn't have power like other types of misting fans, it still has three different speeds you can choose from.
It can last more than 20 minutes and I honestly think it's enough to give you that little boost of freshness.
The thing I must mention is that it has 7 different LED colors, so even little ones can enjoy playing with it.
Of course, it's small and portable and you can fit it in your backpack or purse.
📍 Tip: You can take a look at our in-depth guide on how to choose the right fan.
5 Important Things To Consider Before Buying A Outdoor Misting Fan
1. Airflow Power
Depending on the area you want to cover, you will have to consider getting a misting fan with more airflow power.
This is measured in CFM, which tells you how much air can be transported in a minute when a fan operates at its highest level.
If you don't get a powerful enough fan, you will have a hard time cooling yourself in outdoors when the Sun starts blasting. 
2. Water Storage
There are misting fans with a water reservoir that you need to manually refill, but in most cases they are portable.
Also, there are tankless fans that receive water directly from a tap and I would recommend it when you want to use a misting fan for a longer period.
Both of those have their own advantages, so choose carefully based on your own needs and requirements.
3. Fan's Nozzle
Fan's nozzle is a great indicator of whether your misting fan will actually cool you or get you wet.
The two most popular nozzles are impingement and impeller nozzles. 
Let's say a word about each one…
The impingement nozzle pushes water through a very tiny hole and it produces very quality mist. What I don't like about it is that it's expensive and it often requires maintenance.
Impeller nozzle doesn't produce as much quality mist as impingement, but they are more affordable and they last a lot longer.
📍 Tip: Always go with a nozzle that is simple to clean and doesn't require "everyday" maintenance.
4. Tubing Material
Your misting fan will have to deal with dust, sun, and rain, so it's important to choose the right tubing material.
When it comes to quality and resistance, the best tubing material would be stainless steel. It can fight rust and it won't break under high temperatures.
However, this material is the most expensive one, so make sure everything is within your budget.
The material of your misting fan can be either quality plastic or metal. They both have their own advantages, but metal ones are known to be more durable.
5. Insect Blocker
Some advanced misting fans have an option that automatically sprays small particles into the air that blocks insects from coming anywhere near you. 
You won't notice it, but insects sure will!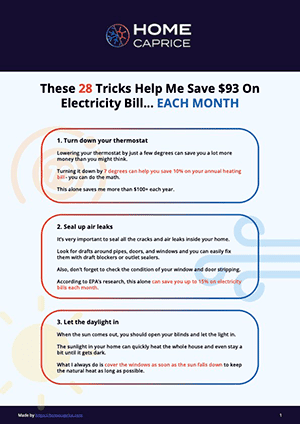 These 28 Tricks Help Me Save $93 On Electricity Bill... EACH MONTH
Download this FREE cheat sheet to find 28 tricks that can help you save on your electricity and heating bill each month.
Click here to get a FREE Cheat-Sheat
How Effective Are They At Cooling?
You probably want to be sure that misting fans will cool everyone outside of your home (at gatherings) and avoid them to sweat, right?
Interesting information is that misting fans are quite effective as they can drop the temperature by more than 25 degrees.
What I love about outdoor misting fans is that not only are they effective at cooling everyone, but they also require little energy. This will save you a couple of bucks each month on bills 🙂
So, if you're looking for an economic solution to cool more people outside of your house – you won't regret buying a misting fan.
📍 Fun fact: Misting fans are used by the military and on big sports events.
Biggest Benefits Of Misting Fans
Fresher Air – mist helps to clear out the dust and air pollution which causes the air to be both cool and fresh.
No Insects – the mist is known to keep those boring flying insects away from you and your family while you're chilling outside.
Wallet-Friendly – misting fans are extremely efficient and you won't need to break the bank to get them running or maintain them.
Relaxation – when you're hanging with your friends near the grill, you will be more relaxed as you won't sweat or feel the heat.
What Type of Misting Fan Solutions Exist?
Although there are quite a few variations of misting fans, there are four main solutions you should consider for yourself.
Portable Misting Fans
These types of misting fans are usually a lot smaller and they take less space. Most of them use electricity as a power supply, but I've seen some less powerful fans using batteries as well.
If you want to know how much electricity fans use, check this article.
If you're looking to cool only a bigger area and you want your misting fan to be portable and easy to use – go with the electricity model.
Ceiling Mounted Fans
It's fixed to a ceiling or a wall where it's connected to a power supply (usually electricity). Some of them come with an extra option to spread more mist from different angles.
They are similar to outdoor ceiling fans but add more freshness to the air.
📍 Tip: Hire a professional to mount your fan as installation has a lot to do with functionality.
Floor-based fans
These are my favorite ones as you can easily move them wherever you want and they usually have more power. 
They're made of a base, a pole you can adjust, and a fan at the top. You just need to plug them into an electrical outlet and let it do the "magic".
No doubt that they're perfect for cooling a group of people at your family gatherings.
Misting Kit
Think of it as a power-up that gives your regular fan a misting function. 
You only need to attach a couple of things and your regular fan will have the cooling power to cool multiple people outside of your home.
Do misting fans work in high humidity?
If you're living in an area with high humidity, you might be wondering if misting fans will have any effect at all.
Let's break it like this…
If you live in an area with very high humidity (more than 75%), you will still see a slight difference in temperature. It can cool up to 10 degrees which is still decent if you ask me.
Now, if you live in areas with a decent amount of humidity (around 50%), you don't have to worry at all. Misting fans will be able to cool more than 20 degrees and you won't feel saturated air.
When the humidity level drops, water takes more space in the air which then evaporates – meaning the air becomes cooler.
Hey there! I am Benas, the founder of Home Caprice. Thanks for reading the article, I hope you were able to find what you were looking for. Me together with my team, are here to simplify heating and cooling for everyone. If you want more details about the website and our team, please check the
about
page.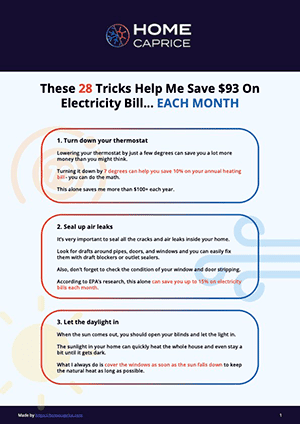 These 28 Tricks Help Me Save $93 On Electricity Bill... EACH MONTH
Download this FREE cheat sheet to find 28 tricks that can help you save on your electricity and heating bill each month.
Click here to get a FREE Cheat-Sheat