For all of us that appreciate a good night's sleep, a noisy air conditioner can be a real nightmare.
I made the mistake of buying a portable air conditioner that sounded like a washing machine, so you can learn a lot from my mistakes.
After using a lot of portable air conditioners, I listed the top 7 quietest that you'll barely hear running.
However, let's first cover what features you should consider before purchasing.
Or you can also watch the video below instead of reading the article👇
Features To Look For In The Quiet Portable AC
Power (BTU) – The power of AC is measured in BTU and depending on that, it will depend on how big of a room it can cover. As these air conditioners are portable, they don't need to have a lot of BTUs as window air conditioners as you can easily move them from one place to another.
Size – If you have a smaller room, you should look for a smaller unit as you don't want it to take up too much space. I made the mistake of buying a bigger AC than I needed and it could barely fit in my room.
Quiet – As this is an article about the quietest portable ACs, it's logical that you'd want your unit to be as quiet as possible. Anything above 60dB shouldn't be considered quiet, but I'll talk about that later in the article.
Settings – The good ones have three different operating settings: cooling, dehumidifier, and fan. It should also have different modes for better air distribution.
Remote – When you're all snuggled in bed, it's very frustrating to get out of bed to change the speed or mode settings. You should always consider having a remote control for more convenient use.
Smart Technology – I'm a bit of a geek guy, so I love when I can connect my AC to my smartphone and manage everything from there. Also, the "sleep mode" is a life-saving technology for me as I have a hard time falling asleep.
7 Best Quiet Portable Air Conditioners
This portable air conditioner has everything you need.
It has 4 operating modes – cooling, heating, dehumidifier, and a fan. In addition to that, it also has an automatic swing mode with a moving wind vent.
If you're someone who has allergies or breathing problems, you will benefit from the dehumidifier operating mode.
What I love is that you get a remote controller included and it helps you switch speed settings from the comfort of your bed.
It's very quiet, so you can easily run it in your bedroom while you're sleeping.
It has small wheels at the bottom and it's easy to move it from one room to another. It surprised me how heavy this air conditioner is, but that's because of all the high-quality material.
It also has a sleek modern design, so it will fit any interior.
The Midea duo air conditioner is as powerful as it can be.
You can easily cool rooms up to 450 sq. ft. which is pretty impressive for a portable air conditioner.
It was one of the first air conditioners to introduce an innovative duo hose design that allows it to intake and exhaust air outdoors.
Talking about technology, it has inverter technology which requires less electricity and saves more than 40% over average portable ACs.
Not only is it powerful, but it's very smart.
You can connect it to your smartphone or Alexa and control everything with your voice.
Don't get confused by its power, this air conditioner is pretty quiet and it produces less than 45dB (a library noise level).
When I first tried this unit, I thought something was wrong with how quiet it is.
This air conditioner is so quiet that you will start doubting it's working. Still, it has powerful cooling and it can cool rooms up to 300 sq. ft.
It has an advanced dehumidifying option and it can remove 2.3pints (1.1L) of water per hour.
What's interesting about this air conditioner is the X-Fan technology.
It keeps the fan spinning at the slowest speed settings to dry water in the machine and exhaust hose.
The design of this air conditioner looks like an advanced robot – it screams modern.
It has some similarities with the robot and it's definitely one of the smartest air conditioners on the market.
I love dual hose operation which allows cooling a lot bigger rooms than expected.
The air quality is top-notch and it has eco-friendly technology built in.
If you're someone who likes to use timers, it has a 24-hour programmable timer to turn on and off whenever you want.
The only downside is that it is a bit noisier than other air conditioners due to its power.
If you're on a tight budget, this air conditioner can do a decent job.
It's lightweight and has swivel wheels that allow you to easily move it wherever you want.
Don't expect this air conditioner to be powerful or to have the best air quality.
It's not as quiet as other portable air conditioners, so I wouldn't recommend putting it in your bedroom.
The great thing is that you receive a remote control, so using this AC is pretty comfortable.
📍 Note: if you are looking for cheap ACs for under $100, we have a whole article on those.
LG built this air conditioner with a modern design and technology to make it easier to use.
I was a bit skeptical when I first bought it, but it's surprisingly good and it has an auto-swing air vent which distributes a lot more cold air.
You receive a remote control, but the control panel is even more interesting – it definitely has the best-designed control panel.
The noise levels are about 51dB which is still pretty quiet.
What I love about this air conditioner is how unique it is.
While every other ACs tries to be more powerful and cover bigger areas, this air conditioner is meant for smaller rooms.
From the remote control, you can precisely control the air temperature and set the 24-hour timer to shut it down whenever you desire.
Maintaining won't be a problem as you just need to slide out the filters and rinse them through the water.
It has a sleep mode which is my favorite option in any air conditioner.
Again, I'd recommend this air conditioner for smaller rooms up to 120 sq. ft.
How Many Decibels (dB) Is Considered Quiet?
When we're talking about quiet air conditioners, anything above 60 dB can't be put in the category of quiet AC.
All of the air conditioners I've mentioned above are below 60 dB.
The perfect line is between 40db-50db.
The noise in the library is about 45 dB, so if your unit has a noise level in that range – you can call it pretty quiet.
If you're not going to put it in your bedroom or somewhere else where you need total silence, you don't have to bother about having a bit more decibels.
What Makes A Window Air Conditioner Quiet?
There are three main factors that impact noise levels.
Let's talk about each one:
Power
Power is measured in BTUs, the more BTUs it has, the stronger it is.
There are cases when the air conditioner can be more powerful and yet quieter.
Think of it like this – a powerful air conditioner can distribute more air to your room. When it's distributing more air, it's more likely to produce a bit more noise.
There's nothing wrong with it.
I'd recommend you use a BTU calculator and measure how many BTUs you need.
Fan Speed
Fan speed is a huge factor that impacts the noise level of your air conditioner.
When you're using the slowest speed settings, it consumes less energy and the fan isn't pushing a lot of cold air as it is on medium and high settings.
The same is with high-speed settings.
When you set your AC on high (or max) speed settings, it will consume more energy and the fan will start running a lot faster. 
I'd recommend always choosing an air conditioner with at least 3 different speed settings.
There are also different eco-friendly modes.
A great example of quiet mode is called "sleep mode". It will run on a low-medium speed and it will shut down automatically after some time – usually when you fall asleep.
Inverter Technology
Inverter technology allows the air conditioner to regulate the speed when adjusting the room's temperature.
Once it reaches that perfect temperature, it will slow down and distribute less air to the room.
This technology allows the air conditioners to be quieter and to spend a lot less (unnecessary) energy.
Old air conditioners don't have this technology built in, so they are far less efficient than modern ones.
It's important to use an extension cord for AC wisely and avoid failing to plug it into the outlet.
You can see how power, fan speed, and inverter technology are all connected and working together.
In my opinion, these are three main factors that decide the noise of an air conditioner.
How To Make Your Portable Air Conditioner Quieter?
Change Speed Levels
There's no point in running your portable air conditioner on the highest speed settings all the time.
Once the room reaches a certain temperature, even if your AC is running on lower settings – it will still maintain the same temperature.
In the previous section, I described how speed levels affect the noise of your unit.
What I like to do before going to bed is to run the air conditioner on the highest level for 20 minutes. I'm not in the room while it's running.
Then when I'm in bed, I'll lower the settings to the lowest (you can do medium) and I won't hear a thing. 
You should also learn how to save money on your air conditioning and start applying right now.
If your AC has a sleep mode option or automatic timer, I'd highly recommend using them to your advantage.
Clean It Often
Due to my laziness, I was making this same mistake over and over again.
Although the listed air conditioners have great air filters, they still collect a lot of dust and dirt over a long period of time.
The dirt will decrease the performance of your AC, so it will be less efficient and noisier.
You should clean your air conditioner at least once a month to keep it healthy and quiet.
Sound Blanket
I've been using this method for window air conditioners mostly, but you can use it for your portable AC as well.
You simply put it over your air conditioner, but you have to leave enough space for cold air to spread throughout the room.
I also like to call it a magic blanket 🙂
If you're someone who likes to run your air conditioner always on the highest settings, I'd recommend buying a sound blanket
Are Portable Air Conditioners Quieter Than Window Air Conditioners?
Portable air conditioners are usually quieter than window air conditioners because they're less powerful and cover smaller areas.
There are some pretty quiet window air conditioners that operate at 42 dB – the same noise as in the library.
If we had to look at percentages, there are more portable air conditioners with ultra-quiet technology than window ACs.
Nobody likes a noisy air conditioner, so choose wisely the right one that fits your needs.
Hey there! I am Benas, the founder of Home Caprice. Thanks for reading the article, I hope you were able to find what you were looking for. Me together with my team, are here to simplify heating and cooling for everyone. If you want more details about the website and our team, please check the
about
page.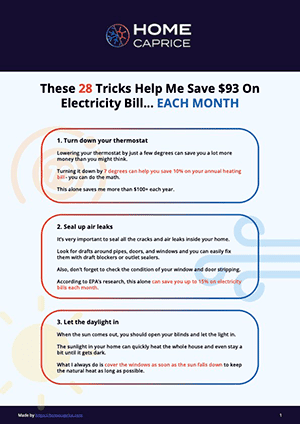 These 28 Tricks Help Me Save $93 On Electricity Bill... EACH MONTH
Download this FREE cheat sheet to find 28 tricks that can help you save on your electricity and heating bill each month.
Click here to get a FREE Cheat-Sheat