Boho style became very popular and a lot of people are using bohemian designs inside their homes.
You can basically apply boho style to almost anything and when applied to ceiling fans – it looks a lot better.
As the boho style doesn't have any "strict" rules, it isn't easy to find the right one that will fit your needs.
Before jumping into the 7 best boho ceiling fans on the market, consider these things first before making a purchase.
What To Look for Before Buying Boho Ceiling Fan
Speed levels: You probably won't use the same speed levels during the day and throughout the night when you're trying to sleep, so always check for at least three-speed levels.
Power: Depending on the size of the room you want to cool, you should look for either more powerful or less powerful ceiling fans.
Design: Boho ceiling fans are all about the design that fits your overall home's design, so they should be functional while still being a decorative detail.
Noise: Nobody likes noisy fans which create a lot of buzzing noise. Make sure to check the Db(decibels) of your ceiling fan.
Remote: It makes everything a lot easier and more convenient when you have full control over a remote or smartphone.
7 Best Boho-Style Ceiling Fans
This is by far the best ceiling fan with boho style money can buy.
It features a very powerful motor of 7 wood grain blades that don't produce any noise or vibration. The reverse function allows you to use it in winter to return the warm air back to the room.
With 6 speed settings and 4 different light settings, it's suitable for any room size.
Unlike some other ceiling fans that are cheaply made, Kuwork uses a high-quality pure copper motor and ABS fan blades – this makes it a lot more durable.
If you want to give your home a farmhouse retro aesthetic look, you won't regret choosing this fan.
You can use this ceiling fan in low-ceiling rooms or kids' rooms with bunk beds because of its small bladeless design.
Talking about the design, it has a beautiful bohemia style with pearls that make it very unique.
What I love about it are the adjustable timer settings which you can set up before going to sleep at night.
Another interesting thing is how easy it is to install it. You won't have any trouble even if you're not very handy.
This ceiling fan is made out of real wood blades and it doesn't use any plastics.
If you found this one interesting, you should check out other awesome bladeless ceiling fans with light.
If you're looking for a boho style mixed with modern lighting – this ceiling fan is ideal for you.
With modern design, modern features also come – you can set the auto-shutoff timer for up to 8 hours.
They made a perfect combination of modern and boho with 6000K white light. You can also switch between three main speed settings.
It isn't too large, so you can fit it into a smaller room.
What's great about Eamonex's ceiling fan is that you have 5 different styles to choose from.
The only drawback is that you can touch the blades, so it's not the safest for a kids' room.
Installing a noisy ceiling fan in your bedroom can be a real nightmare, so always go with quiet solutions.
Yaretro's ceiling fan with a boho design is one of the quietest ceiling fans on the market.
It isn't very powerful, so you shouldn't place it in a large room. However, their highest speed settings can still distribute a lot of air quickly.
The great thing about it is the reversible motor which allows you to use it both in winter and summer.
Ideally, you can install wall switches for easier control or use their remote.
Tip: Check out how to cool any room using fans.
Many ceiling fans have some elements of boho style, but this model hit the nail on boho design.
Metal mesh cages are mostly wrapped with twine which makes them a beautiful decoration and a bit vintage.
It features 7 wooden blades that quickly draw attention – you'll probably get a lot of compliments from guests or friends.
As with other ceiling fans, you can control everything via a remote and adjust light settings until you find your sweet spot.
While being larger in size, it's still very easy to install and you even receive a step-by-step video explaining everything in detail.
Letmarey designed a perfect boho-style ceiling fan for any living room.
Unlike other ceiling fans made for bedrooms, this one fits into the category of high CFM ceiling fans and it requires a larger space to be installed.
Talking about the power, you can switch between six different speed settings. Because of its power, it's a bit noisy and it produces more noise than other ceiling fans.
You can eventually install wall switches so that you can control them from your wall or from a remote.
Adjust the timer up to 4 hours to automatically shut off and never worry if you forgot to turn it off before going to bed.
If you currently don't have a big budget, I highly recommend going with this ceiling fan.
It's cheaper than the others and it still has 6-speed settings which are very impressive considering the price.
The power is solid and it's very quiet, so it makes it suitable for any room inside your home.
The reversible motor makes it useful for all months of the year, so it's definitely a good investment.
The only drawback is its design because it's a bit far from the original boho style and it pushes more toward a classic modern design.
You should check out the best outdoor ceiling fans as well.

Hey there! I am
Benas
, the founder and content editor at Home Caprice. Thanks for reading the article. I hope you were able to find what you were looking for. I and my team are here to simplify heating and cooling for everyone. Please have a look at the
About page
for more details about our website and feel free to check out our
editorial process
.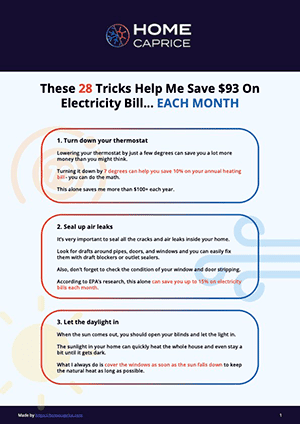 These 28 Tricks Help Me Save $93 On Electricity Bill... EACH MONTH
Download this FREE cheat sheet to find 28 tricks that can help you save on your electricity and heating bill each month.
Click here to get a FREE Cheat-Sheat