Tower fans are a great way to help cool yourself or your home but with so many options available, how does the Sunter Tower Fan stack up compared to others?
We would say – okay.
There is nothing overly unique or spectacular about this fan and perhaps lacks a little quality, however, its airflow is quite good.
Read on to find out the pros and cons in our in-depth, unbiased Sunter Tower Fan review, and check out the fan in the YouTube video at the end of the article.
Our Pick

Sunter Tower Fan Design
The Sunter Tower fan has a style not that too dissimilar to the popular Seville classics and is actually the same size at 40 inches tall.
It has an all-black style and is made from plastic, much like most other tower fans.
The controls are at the top of the fan and all these controls can also be controlled by the remote control for extra convenience.
The buttons make a noise when you press them which can be an issue for some people.
For example, those who are sleeping at night and want to make a change to the settings quietly will get a loud beep which could perhaps wake others up.
Its casing on the front has grooves running vertically and in this case, these are not able to be moved for extra control of the fan.
Safety is always a concern for consumers and they can feel safe in the fact this fan comes with a safety fuse technology.
To reaffirm that safety factor the Sunter fan is also ETL listed which means it has passed independent North American safety standards.
The fan is reported by a number of consumers to be very stable at the base.
This can be an issue with some tower fans. Sometimes when they oscillate it can cause the unit to wobble, or move around.
At 40 inches, it should be high enough to reach over most beds to give you a cool breeze when you are going to sleep.
Luckily it doesn't seem to be the case here.
Airflow
As far as airflow goes it is positive in that there have not been many consumers complaining about the lack of airflow.
It seems this unit has pretty good airflow but perhaps at the cost of noise.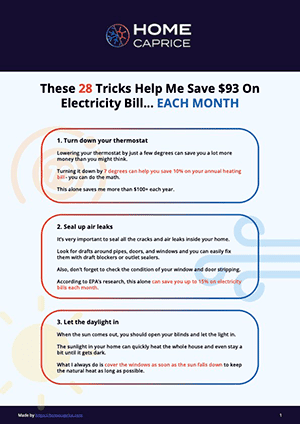 These 28 Tricks Help Me Save $93 On Electricity Bill... EACH MONTH
Download this FREE cheat sheet to find 28 tricks that can help you save on your electricity and heating bill each month.
Click here to get a FREE Cheat-Sheat
Speeds/Modes
Most standard tower fans these days come with a minimum of three speeds but the Sunter Tower Fan goes one extra with 4 speeds.
Econ, low, medium, and high are the speeds the fan contains.
Other fans such as the Dyson Am07 have a few more wind speed options  (10) while on occasion one might have a variable speed setting.
This fan also has 3 wind modes.
Standard: This setting is your standard wind mode. Wind will flow at the same level until you turn the fan off or change the setting.
Breeze Wind: This mode attempts to recreate a natural 'breeze' you might find outdoors. It does this by choosing speeds at random for 80 seconds. If you have High speed selected, then this will be the most common mode chosen.
Evening Wind: This mode will cycle down through the wind speeds to the lowest setting (ECON).
For example, if you start on 'high-speed evening wind', each half-hour the speed setting will drop down one setting, so to medium, then low, then to ECON.
This setting is ideal for those about to go to sleep, with the strongest setting while you are in the process of going to sleep.
Oscillation
Like any decent modern-day fan, the Sunter Tower Fan has an oscillation feature that enables you to spread the airflow around the room rather than just in one direction.
Consumers have noted that the fan has about a 1/4 turn oscillation which is average-below average for most tower fans.
Timer
The timer on the Suntor Tower Fan has the ability to be input for up to 15 hours.
It has settings of 1, 2, 4, and 8 hours and can be programmed for any number of hours up to 15 at 1-hour increments.
The timer setting is great for people who are going to sleep and want the fan to turn off automatically.
It's also a great tool for being energy efficient given you don't need to keep the fan running constantly.
The timers can be set by both the remote control and the unit itself.
Remote Control
The remote control on the Sunter fan has the ability to control all the functions on the tower fan, which is great for your convenience.
The remote control itself is quite small, and the buttons are somewhat flat.
The remote control is controlled by a DL2032 coin cell battery.
Noise
While the marketing claims the fan to be 'ultra-quiet' many consumers found that this was not exactly the case.
This is not uncommon for tower fans, however.
Often the more powerful the fan, the more noise it makes.
In this case, the fan seems to have good power but is also a little noisy, so you probably should not expect 'ultra-quiet'.
Cleaning
Cleaning instructions from Sunter state not to open the fan in order to clean it.
The recommendation is to clean the fan only with a soft cloth and to NOT ever use water or other cleaning liquids.
Other soften used compressed air in order to comprehensively clean out the fan, however, it is not the recommended method by the manufacturer.
You won't need to buy filters for the fan.
Power/Safety/Energy
This fan runs on 54W and for safety has an overload protection feature for added safety.
| | |
| --- | --- |
| Depth (in.) | 12.75 in |
| Height (in.) | 40.3 in |
| Width (in.) | 7.5 in |
| Watts | 54W |
| Frequency | 60Hz |
Unique features of this fan
There is nothing particularly unique about this particular fan.
While it might have more features than some other tower fans, such as the breeze modes, there are other fans that carry the same features as the Sunter, such as the Seville Classics which also comes in a solo package and at a cheaper price.
Sunter Tower Fan Assembly
The assembly of this fan still seems to be relatively simple though it is of note that a few consumers mentioned they needed a couple of people to put the fan together.
Compared to other fans, it was also mentioned that it is a little more difficult to put together than other tower fans.
You can see the assembly process in the Sunter tower fan Manual here.
Accessories
Depending on where you buy this fan you may find that the large tower fan comes in a combo package with a smaller, desktop fan.
This may not be ideal for some as it seems to make the price just a little bit more than your average tower fan.
Customer Ratings
The Sunter Tower is a bit of a mixed bag when it comes to customer feedback.
Some had mechanical difficulties with various things, but when the large tower fan was working people seemed to be reasonably happy with the fan's features and output.
Check the consumer reviews here.
Warranty
The Sunter Tower Fan like most other tower fans comes with a one-year warranty.
Price
The Sunter Tower Fan in most places comes as a combo with a smaller, desktop, tower fan so, depending on where you purchase this fan, this puts the price up a little bit more and makes it just that little bit more pricey than your average tower fan.
Some local stores may have a cheaper deal.
Our Pick

Sunter Unboxing Video
Alternatives
If you want some alternatives to the Sunter Tower Fan, we would recommend looking at the Seville Classics fan which is almost exactly the same model with a more proven track record, or the Soleus Tower Fan which has the highest ratings for any tower fan on Amazon. Or check out our guide to the best tower fan.

Hey there! I am
Benas
, the founder and content editor at Home Caprice. Thanks for reading the article. I hope you were able to find what you were looking for. I and my team are here to simplify heating and cooling for everyone. Please have a look at the
About page
for more details about our website and feel free to check out our
editorial process
.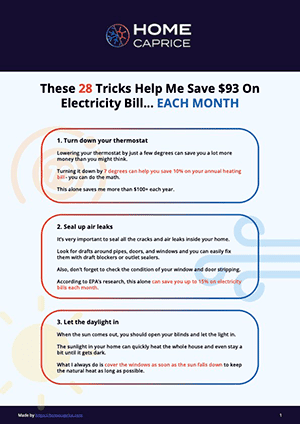 These 28 Tricks Help Me Save $93 On Electricity Bill... EACH MONTH
Download this FREE cheat sheet to find 28 tricks that can help you save on your electricity and heating bill each month.
Click here to get a FREE Cheat-Sheat