When cold winter days hit, you can as a homeowner almost expect frozen pipes, high electricity bills, and more home maintenance expenses.
To prevent pipes from freezing or having your main heating source always on the highest power settings – crawl space heaters are a great option.
They will reduce your electricity bills, so you won't need to use the main heating source so much anymore. Also, you won't have to deal with frozen pipes.
Let's reveal the top 5 picks on the market, and then we'll cover more details later in the article (or you can watch the video below with all 5 reviews).
What To Consider Before Buying a Crawl Space Heater
Budget – Installing crawl space heating isn't cheap and you have to calculate the cost of running it during the winter.
Safety – Non-electric crawl space heaters are more dangerous than electric ones, so make sure you always have a thermostat to check the heater's temperature.
Size – Measure the volume of your crawl space in cubic feet before purchasing. You want to make sure that it will cover enough area and that it will actually warm your home.
Maintenance – You'll need to often maintain your crawl space heater to prevent any risk of fire and to take care of it on time.
5 Best Crawl Space Heaters
This Dr.Heater model will operate at 6000W at the highest power settings and at 3000W at the lower power settings.
Although it may not look like it, this model is a wall-mounted heater.
What I love about it is that it has an adjustable thermostat, so you can always set up your desired temperature.
The airflow is excellent and it's surprising how quiet it is. Considering it has 25,000 BTU, it can cover a larger crawl space.
Another great thing about it is that it doesn't overheat and it doesn't get hot behind the unit.
You should also check out other energy-efficient space heaters.
This Fahrenheat model has a different design than most heaters – it's long and thin, making it suitable for any space.
Because of this design, it's very portable and you can move it around every room or space in your house.
It's even safer than most models because it's fanless – this makes it a lot quieter as well.
Talking about safety, it even has overheating protection, so when the heater reaches a certain temperature – it will automatically shut off.
This is a baseboard heater, so if you're not a fan of it – you should check out baseboard heater alternatives.
It uses convection heat that prevents allergens and bacteria from blowing around the room.
If you're on a tight budget – this is the perfect crawl space heater for you.
What's impressive (considering the price) is that it is a UL-listed heater. The design is very practical and you won't have to worry about parts falling out or needing maintenance.
The installation is super easy as you just need to plug it in the outlet and it will start working.
Although you can use it in a crawl space, this heater has the best performance when placed below the window.
It has a high-temperature shutoff, so it's very safe.
If you really want to heat your crawl space, this is the heater that will do the job without questions asked.
It's very powerful, so please use it only for a larger area.
When you turn it on, expect instant heating because it has 13,000 BTUs which is pretty powerful.
Although it's a bit heavier than other models, it has a built-in handle, so you can move it whenever you want.
As with other models on this list, this model also has overheating protection.
This model is built from the highest quality material, so there's no doubt it will last at least 5-10 years.
Don't let the size fool you, it has a 4,000W operation which is considered solid.
The reason behind its durability is that it's made from heavy gauge steel treated with an epoxy powder-coated finish.
You can mount it on the ceiling or on the wall, or even keep it on the floor if you want.
This is considered a garage heater, but you can use it in your crawl space.
It has a built-in thermostat and automatic overheat protection, so it's suitable for almost any area.
How To Stop Your Pipes from Freezing in the Crawl Space?
Heat pipes more often
You should heat pipes more often to prevent pipes from freezing in the winter.
My advice is to wrap them using UL-certified heat tape that has a thermostat – this will prevent any danger of overheating.
Filter faucet
You should filter both cold and warm water in the faucets in your bathroom and kitchen.
This prevents water from building up pressure in the pipes which is one of the most common reasons why they freeze.
Washing machine
You should put your washing machine in the warmest settings and turn on the filling cycle repeatedly to allow water to go through the pipes.
You can turn on the filling cycle for a few minutes which is enough for water to come through.
Close space foundation
If you have a crawl space (which I assume you do), make your foundation entirely closed.
It's important that you don't have any gaps or leaks, even if you have – use expanding foam to close them.
Eventually, you should watch this video that will make sure your pipes won't freeze during cold days.
Hey there! I am Benas, the founder of Home Caprice. Thanks for reading the article, I hope you were able to find what you were looking for. Me together with my team, are here to simplify heating and cooling for everyone. If you want more details about the website and our team, please check the
about
page.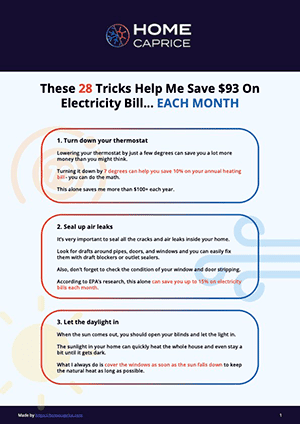 These 28 Tricks Help Me Save $93 On Electricity Bill... EACH MONTH
Download this FREE cheat sheet to find 28 tricks that can help you save on your electricity and heating bill each month.
Click here to get a FREE Cheat-Sheat