If you have a garage, it most likely doubles as your workshop, exercise room, or storage area for most parts of the year—that is, until the weather gets chilly and the place is left to hibernate.
Let's start with a quick rundown. If you're interested in buying the best garage heater for your home, consider the following steps:
Get the size of your garage in square feet.
Determine your preferred power source.
Know its available safety features. Look for products recognized or listed with the Underwriters Laboratory (UL) or Electrical Testing Laboratories (ETL).
Decide whether you want a fixed unit or a portable heater.
Know the kind and extent of maintenance involved for your desired heater.
Pretty simple, isn't it? To help you get an idea of the kind of garage heaters you can choose from, check our recommendations below.
Recommended Garage Heaters
Are you ready to jump into the reviews? First, let's briefly review all the top choices, in case you are in a hurry. After that, you can check out the full reviews.
Power source: Electricity
Wattage: 5,600 watts
Heating area: 600 square feet
Our Pick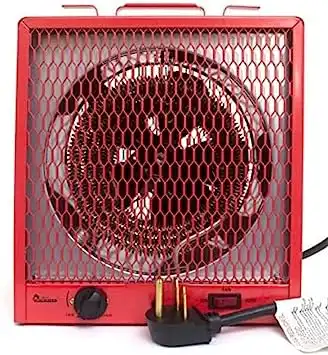 Designed for floor use, this industrial-strength electric heater features a dual heating system: infrared heating, which directly warms objects instead of the air, and a blower, which ensures the equal distribution of warmth.
The Dr. Infrared Heater is also equipped with an electronic thermostat that can be adjusted between 45 and 95 degrees Fahrenheit.
Moreover, the ETL-listed heater has an automatic energy-saving mode and auto overheat cut-off protection. Finger-proof intake and discharge grills cover the front portion of the heater.
Its six-foot power cord requires a 220-volt plugin.
Buyers are impressed by how the small heater can warm two- to three-car garages. Several customers have said that setting up the appropriate outlet for its three-prong plug required some work, including a new circuit or wiring. Help from an electrician may be required. Some have also said that the fan of their units was loose or caused noise.
Are you looking for other heaters that will meet the unique needs of your garage? Check out these other options below.
Power source: Electricity
Wattage: 5,000 watts
Heating area: 500 square feet
Our Pick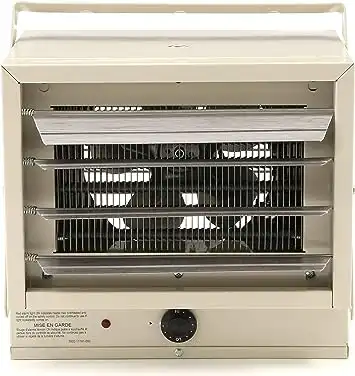 Another heavy-duty heater, the Fahrenheat FUH54 is designed for hanging on a wall or ceiling.
This heater has louvers or horizontal slats, which can be adjusted so heat can better focus on a certain area of your garage.
Its thermostat can be adjusted from 45 to 135 degrees Fahrenheit. The heater automatically shuts off when it reaches your desired room temperature. At the same time, you can set the heater so that it automatically turns on when the room temperature hits the minimum level. The product is UL-, ETL-, and Canadian Standards Association–listed.
Like the Dr. Infrared heater, this Fahrenheat model is best installed with a professional's help. Customers appreciate the product's powerful heating capacity, especially for garages with little or no insulation. However, some buyers have complained about the rattling sounds from the blower. Some clients have also said they couldn't turn off the unit using the heater's switch.
Best Propane Gas Heater: ProTemp 15-3
Power source: Propane
Wattage: 5,279 watts
Heating area: 450 square feet
Our Pick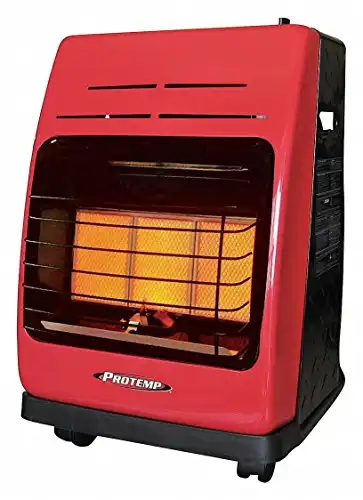 If you want to check out more propane gas heaters, we have a full article dedicated to them.
This heater, which turns on via Piezo-type ignition, is a workhorse: it can operate for up to 65 hours straight.
The unit is portable because the main body is mounted on a base with caster wheels. Its LPG hose and regulator can be found on its back compartment. Its fuel burn rate is 0.83 pounds per hour. It requires at least half a square foot of ventilation.
Its safety features include a high-temperature limit shut-off, a built-in oxygen depletion sensor, a thermocouple or temperature sensor, and a tip-over shut-off switch.
Several clients have found the heater easy to assemble and operate. However, others have reported problems with getting the igniter to spark.
Power source: Electricity
Wattage: 4,000 watts
Heating area: 400 square feet
Our Pick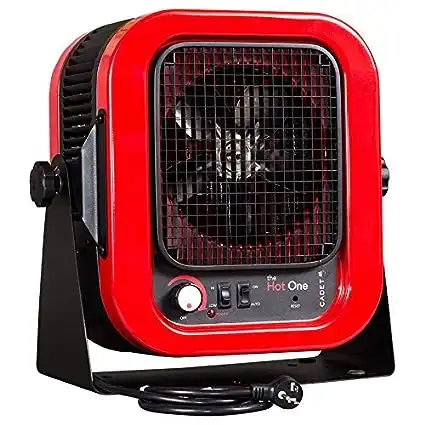 A part of Cadet Heat's "The Hot One" line of heaters, the red-and-black Cadet RCP402S is made of durable 20-gauge steel with a powder-coat paint finish, which can survive tough workshop conditions.
Its floor stand can also serve as a mounting bracket if you want to install it on a ceiling or wall. The heater's six-foot power cord requires a 240-volt socket.
This UL-certified product has automatic overheat protection and an adjustable thermostat. However, the thermostat can't be pre-set to shut off or adjusted to your preferred room temperature.
For safety purposes, the heater needs at least a six-inch clearance or space between its back end and a wall and a three-foot clearance in front. Meanwhile, a one-foot clearance is recommended for each side of the unit.
Customers have mixed comments about heat output. There have also been different reactions about the product's noise level: while some consider it as a welcome relief after using heaters with "airport runway"-level noise, others complain about clanking sounds from the internal fan.
Best Vent-Free Natural Gas Heater: Mr. Heater
Power source: Natural gas or propane
Wattage: 8,798 watts
Heating area: 1,000 square feet
Our Pick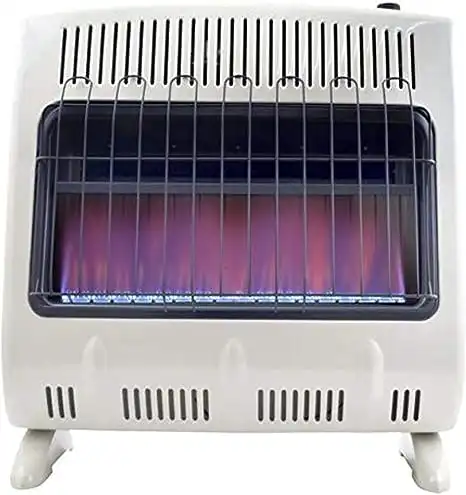 Mr. Heater
Buy Now on Amazon
We earn a commission if you click this link and make a purchase at no additional cost to you.
09/29/2023 10:12 pm GMT
This heater warms the air through natural convection using a clean-burning blue flame tube burner. Its Piezo ignition system is operated by an AA battery.
It has a thermostat that can be pre-set to your desired room temperature and an oxygen depletion sensor.
This heater has legs so you can use it on a non-combustible floor. At the same time, it comes with mounting brackets so you can also install it on a wall. When mounted on a wall, it requires a three-inch clearance from the floor, 10 inches on each side, and at least three feet from the ceiling. Flammable objects must be kept three feet away from the heater.
Some new owners have said that installation is easy if you have an existing gas line that can reach the location of the heater. Otherwise, get help from professional installers. Some buyers have also said that the heater generates a lot of heat despite their garages' lack of insulation.
Meanwhile, there are clients who have reported that their units gave off a strong gas smell. Some customers also had difficulty installing the aluminum elbow gas connector.
Power source: Natural gas
Wattage: 7,331 watts
Heating area: 600 square feet
Our Pick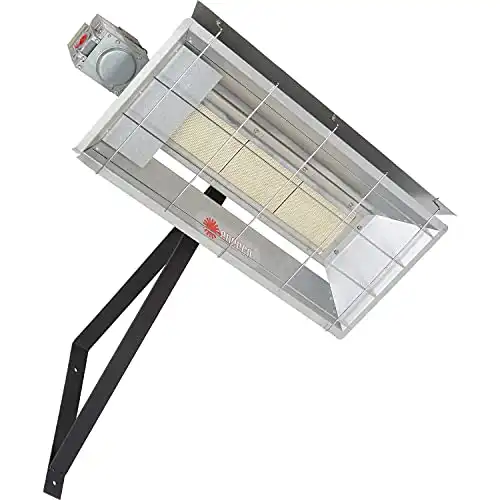 This wall-mounted heater directly heats people and objects along the path of its infrared light.
It's equipped with a 40-pound cylinder tank. Its millivolt or thermal energy-operated thermostat can be pre-set to the desired room temperature to run on automatic mode.
The unit comes with brackets and other hardware for easy assembly. The heater must be installed seven to nine feet from the ground. The unit needs a clearance of at least 14 inches above it, 12 inches behind, 48 inches below, and 16 inches on both of its sides.
Some customers say that the heater needs enough fresh air intake to avoid moisture buildup.
Power source: Propane
Wattage: 2,639 watts
Heating area: 225 square feet
Our Pick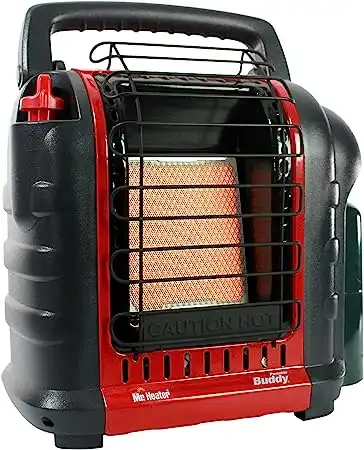 This patented heater, which comes with a one-pound cylinder tank, is so portable and safe that it can even be used inside large tents. It has a fold-down handle that makes it convenient for you to move it from one corner of your garage to another.
Its fuel consumption is 0.099 gallons/per hour at maximum heat (2,639 watts/9,000BTUs). It can also be purchased with a hose and filter if you want to connect it to an external gas cylinder.
The heater is also equipped with a blower and insulated dual ceramic burner tiles, which are covered by a high-temperature coated safety wire guard in front.
This unit has a four-heat level control knob with built-in Piezo igniter, an oxygen depletion sensor, and a tip-over shut-off switch.
Several customers are satisfied with its continuous operation on a full one-pound cylinder of propane: four to six hours on low setting (1,173 watts/4,000 BTU) and three hours on high setting (2,639 watts/9,000 BTU). Meanwhile, other buyers have reported carbon monoxide leaks and the control knob being stuck in the "on" position.
Best 120V Garage Heater: King Heater
Power source: Electricity
Wattage: 2,850 watts
Heating area: 600 square feet
Our Pick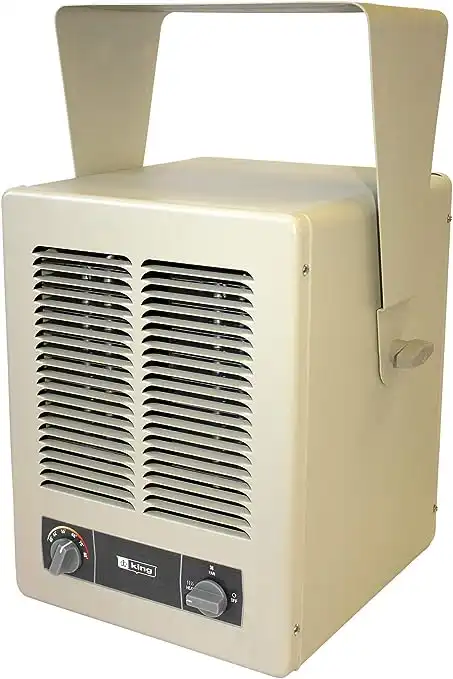 KING KBP1230
Buy Now on Amazon
We earn a commission if you click this link and make a purchase at no additional cost to you.
09/29/2023 03:51 pm GMT
This 120-volt heater from King Electric might be what you need if your garage is less than 30 x 30 square feet.
It has a fan delay switch that optimizes the heat exchange in the room by keeping the air warm even after the thermostat shuts off.
The UL-listed unit has a patented Smart Limit Protection that automatically turns off the unit in case of overheating or in case it tips over. It has a cast iron motor that is enclosed and permanently lubricated.
It has a thermostat, which has a range of 40 degrees to 90 degrees Fahrenheit, and a three-position switch for fan, heat, and off.
The heater comes with universal brackets for ceiling or wall installation.
Buyers say that the brackets that came with the unit are sturdy enough to hold a swivel mount for those who prefer to use one for this heater. Meanwhile, there have been customers who have said that the thermostat's pre-setting function didn't work. Some say that the heater didn't come with its own power cord.
Power source: Kerosene
Wattage: 20,528 watts
Heating area: 1,750 square feet
Our Pick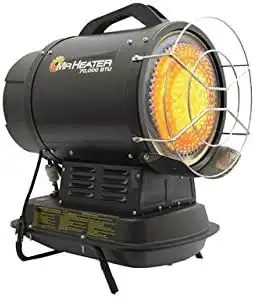 This kerosene-based heater uses a combination of convection (heat through air circulation) and radiant (directly heating people and objects) "Quiet Burner Technology."
The unit can run continuously for five hours on a full load of 2.8 gallons.
Its thermostat control, LED display, and fuel level indicator makes for convenient operation.
This heating device also features an external, replaceable fuel filter, which eases ignition and keeps the heater operating odor-free. However, it lacks an oxygen depletion sensor and tip-over safety switch, which are found in most heating products.
Buyers say that they have had to keep a far enough distance from the heater because it can get very hot. Some left their garage doors slightly open, especially after noting some smoke and odor during startup. Meanwhile, several new owners are happy that they can also use diesel to run this unit, besides kerosene.
Power source: Electricity
Wattage: 1,500 watts
Heating area: 1,000 square feet
Our Pick
This modern-looking heater with a dark walnut and oak finish features a patented infrared heating technology that keeps indoor humidity at healthy levels for your sinuses and skin. It also has a lifetime washable filter system that can be easily cleaned using warm water.
The ETL-listed product has an overheat sensor and programmable thermostat.
Although it comes with remote control, you can also adjust the heater's temperature by using the up and down arrows on the unit's control board, which also contains the large LED display.
The unit, which comes with a six-foot cord, should be kept at least three feet away from combustibles.
Clients like the heater for its remote control, portability, and quiet operation. However, some buyers find the unit too bulky.
How Does a Garage Heater Work?
Garage heaters operate differently depending on their power source. Half of the products on our list run on electricity, while the rest work using propane, natural gas, or kerosene.
Electric heaters convert the current from a wall socket directly into heat, just like other heat-producing home appliances, such as a clothes iron or toaster. Some of them have built-in fans that draw cold air into the heater, which is later pushed out as hot air after passing over heating elements. In fan-less units, the heater draws air from beneath it. The air becomes hot as it passes over the heating element and goes up and out the top of the heater.
Meanwhile, an igniter is used for fuel to create flames and heat in propane and kerosene heaters.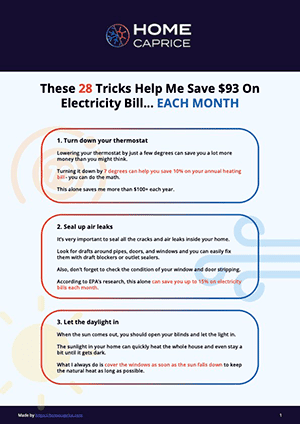 These 28 Tricks Help Me Save $93 On Electricity Bill... EACH MONTH
Download this FREE cheat sheet to find 28 tricks that can help you save on your electricity and heating bill each month.
Click here to get a FREE Cheat-Sheat
How to Choose a Garage Heater?
Going through the current top-performing garage heaters should by now give you hints about the factors to consider in buying one.
These factors include the following:
Garage Size and Insulation
Choose a heater that will match the size of your garage. Multiply the length of your garage by its width to determine its square footage.
Well-insulated spaces generally need 10 watts per square foot.
The heating area mentioned with each recommendation above supposes that spaces to be warmed have ceilings that are just eight feet high. Garages with higher ceilings need more powerful heaters.
Materials or Stored Goods
Select a heater that won't disrupt the activities or damage the materials you have inside your garage.
For instance, it isn't advisable to install commonly used forced-air heaters in garages used as workshops for painting, staining, and woodworking projects because they'd be blowing debris, dirt, and dust around.
You may want to consider these other types of garage heaters:
Infrared/quartz heaters: They heat objects and people in front of them (radiant heating) instead of blowing or warming the air
Natural gas, diesel, or kerosene heaters: They are usually more powerful than electric heaters but are better used for garages with a wide floor area and high ceilings
Ceramic heaters: They can provide wider heat coverage than radiant heaters through air circulation (convection)
📚 Recommended reading: Ceramic vs Radiant Heater [Which One's Better & WHY]
Power Source
Consider whether you'll go for an electric or fuel-powered heater.
The average price of propane in the US is $2/gallon while kerosene is $3/gallon.
Electricity rates vary from state to state. But to get a rough estimate of your monthly expenses, you can use this formula:
kWh x electric rate = cost per hour
Cost per hour x number of hours heater is used in a day = cost per day
Cost per day x 30 days in a month
For example:
5,000 (wattage of the heater) divided by 1,000 (to get kilowatt-hours) = 5kWh
5 kWh x $0.148 (rate in New York) = $0.74 per hour
$0.74 x 7 hours per day = $5.18 per day
$5.18 x 30 days = $155.40 per month
Installation: Fixed or Portable?
Pick a fixed type of heater that you can either plug into your power circuit or hardwire into your wall or ceiling if you think you won't need to move the heater around while using the garage.
Fixed heaters will require time—and often, professional help—to set up properly. But at least they have a lower risk of being tipped over compared to portable units unless they're mounted on the floor.
Safety Features and Maintenance
Look for heaters with:
Tip-over and overheat switches that automatically shut off the heater if it gets hit
A thermostat that you can pre-set to the desired room temperature
Adjustable louvers so you can focus or direct heat to a specific spot such as your workbench
A cool-touch body for maximum safety
A long power cord for greater maneuverability
For portable units: carrying handle and wheels
In terms of maintenance, infrared and ceramic heaters require minimal maintenance compared to fuel-based heaters. However, heaters that come with filters should be cleaned according to the manufacturer's advice or at least annually.
How to Heat Your Garage Efficiently
Adequate and proper insulation will prevent warm air from escaping the room once you have your heater.
Use fiberglass batt insulation (fiberglass in a blanket form) for walls.
Insulate the bottom and sides of the garage door with fiberglass, reflective foil, polyurethane foam, and other weather-stripping materials.
Close windows and use shrink wrap or other forms of weather-stripping to seal openings.
Drywall your ceiling instead of leaving it with open rafters and trusses.
Hey there! I am Benas, the founder of Home Caprice. Thanks for reading the article, I hope you were able to find what you were looking for. Me together with my team, are here to simplify heating and cooling for everyone. If you want more details about the website and our team, please check the
about
page.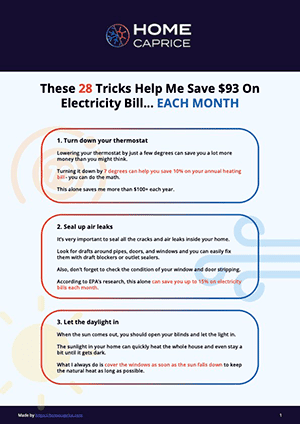 These 28 Tricks Help Me Save $93 On Electricity Bill... EACH MONTH
Download this FREE cheat sheet to find 28 tricks that can help you save on your electricity and heating bill each month.
Click here to get a FREE Cheat-Sheat