Perhaps no other product in the entire heating and cooling industry is subject to such a divided opinion among actual users than the humble evaporative cooler.
People either give us comments along the line of "It's the best little investment I've ever made," "I don't know how I got by without it" and "It makes me so much cooler, even at the hottest time of the day" or, on the other end of the spectrum, "it doesn't seem to do enough" or "meh…"
Are Evaporative Coolers Any Good?
The thing about evaporative coolers is that they actually work quite well, and the best of them work really, really well, and they can offer substantial cooling – often more than enough, even – but not for everybody and not in every situation. 
For one thing, some people want a cooling experience similar to what they get from an air conditioner, and an evaporative cooler will never offer that. To be fair, they are much, much less expensive, use much less energy and, in many ways, are actually better than an AC, but they won't get you or your room nearly as frigid – which to many of us is a real blessing.
And it depends a great deal on your environment. If you are in an extremely hot climate, an extremely hot or really sunny room or a larger space, many evaporative coolers may not satisfy you or provide quite enough cooling. Evaporative coolers also may not be the best option if you are in a very humid climate, as they themselves do offer nice, mild humidification as well.
But in the right situation an evaporative cooler is a wonderful thing to have and can make your space, and you, much cooler and more comfortable.
What is an Evaporative Cooler?
An evaporative cooler employs one of the most simple and ingenious ideas imaginable – it is, in the simplest terms, a fan with water. 
Where normal fans don't really cool the air, rather just move it around, an evaporative cooler, or swamp cooler will pass the air over water (and/or ice) reserve before distributing it. This not only dramatically cools the air temperature, but it also provides a bit of humidification as well.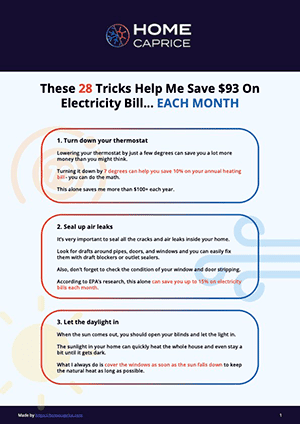 These 28 Tricks Help Me Save $93 On Electricity Bill... EACH MONTH
Download this FREE cheat sheet to find 28 tricks that can help you save on your electricity and heating bill each month.
Click here to get a FREE Cheat-Sheat
Where and When Should I Use an Evaporative Cooler?
There are many places and situations when an evaporative cooler can be a perfect choice, and offer wonderfully satisfying cooling, including:
In a moderate climate, where the weather is warm or hot, but not extremely hot.
In a smaller space.
In a dry climate, even if the weather is hot.
For anybody who finds air conditioners or normal fans to drying for their rooms, or their sinuses.
For anybody who finds air-conditioned air too cold.
For anybody who simply can't afford to run an air conditioner, or doesn't want to use that much electricity.
And even if you are trying to cool a larger room, or if the weather is quite hot, there are larger evaporative coolers which can do the job, and still offer nicer, more moist and pleasant air than any air conditioner.
What are the Advantages of an Evaporative Cooler?
Indeed, a good quality evaporative cooler will offer many advantages over an air conditioning unit, such as:
They are much less expensive to purchase.
They are much, much less expensive to run.
They can be much quieter.
They are much easier to install – actually requiring no installation at all!
They don't make the room unbearably cold.
They don't dry the air or the sinuses, and in fact offer a nice, balanced amount of moisture.
They use a lot less energy and are better for the environment.
They are more portable, and easier to place and direct.
So if you need relief from the heat, but find air conditioners too cold, too expensive, too noisy and too drying, an evaporative cooler might be just the ticket! In many situations, and for many people, they offer just the right amount of cooling and can be healthier and make people feel better as well.
So How do I Select the Best Evaporative Cooler?
Evaporative coolers come in all shapes and sizes, prices and levels of performance, and selecting and purchasing the right one can be a little confusing. But that's where we comes in!
We are basing our choices on our own experience, the experiences, and feedback of our friends and colleagues, as well as reviews from actual verified customers.
All of this is to make your research and shopping easier and to ensure that you will end up with the very best evaporative cooler for your own needs.
Our Pick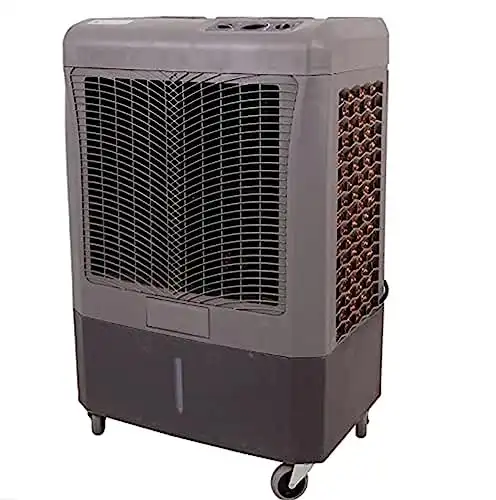 Ok, so our choice for the best swamp cooler overall is not based on looks, but rather on performance.
And when the heat is on, you may not care so much about what your evaporative cooler looks like – especially when it works as well as the Hessaire MC37M.
This big unit will effectively cool rooms up to 950 square feet, and its locking caster wheels allow you to easily move it into any room in the house, or the garage, patio or workshop. It is rated for either indoor or outdoor use, and can really make a huge difference in temperature even outdoors.
With heavy-duty fans, 3 fan speeds and an astounding output volume of up to 3,100 cubic feet per minute, the MC37M really cools the air – no matter how large space.
The Hessaire MC37M evaporative cooler has a 10.3-gallon water tank, and also allows for the attachment of a garden hose so that it can run uninterrupted without needing to be refilled. Its 3 sided cooling pads allow for super cool air, delivered strongly with Hessaire's powerful fan motors, and the oscillating louvres can be turned on or off for either evenly distributed or concentrated cooling.
This evaporative cooler has a simple mechanical control panel, aimed at ease of use and long term reliability. The heavy-duty construction and extremely high material quality also ensure years of reliable use – a real hallmark of Hessaire products.
And, most importantly, it has a built-in cup holder!
The most powerful and effective swamp cooler we have tried, and much less expensive than comparably performing units from other manufacturers, the Hessaire MC37M Portable Evaporative Cooler is our choice for Best Evaporative Cooler Overall.
Features & Specifications
Output: 3100 CFM
Room Size: Up To 950 square feet
Tank Size: 10.3 Gallon
Includes: Continuous Fill Hose Attachment
Remote Control: No
Weight: 40 Pounds
Our Pick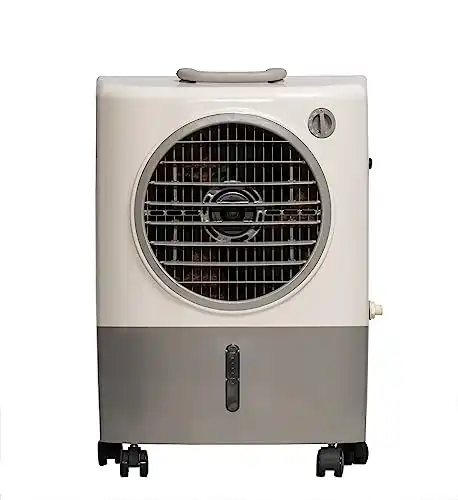 Another swamp cooler that is not going to be winning beauty pageants any time soon, the Hessaire MC18M, like its big brother above, nonetheless offers astounding performance for the price.
The MC18M puts out 1,300 cubic feet of cold air a minute, and the flow can be easily adjusted with its manual louvres for maximum cooling effectiveness. This allows it to cool rooms up to 500 square feet in size (approximately 46 square meters).
The Hessaire MC18M can be easily moved, with its locking caster wheels, and is just as effective outdoors, on your patio or in your garage or workshop as it is in your home.
With a large water tank, the Hessaire can run for up to 4 hours without refilling, but you can also attach a hose for longer periods of uninterrupted cooling.
And, like any Hessaire product, the MC18M is designed and built for years of simple, effective and reliable service.
Rugged and extremely well built, the Hessaire MC18M Portable Evaporative Cooler clearly outperforms units which are many times more expensive and offers dramatic cooling even in larger rooms and high temperatures. This helps explain why it is the best selling evaporative cooler on the market and our choice for Best Evaporative Cooler for Large Spaces.
Features & Specifications
Output: 1300 CFM
Room Size: Up To 500 square feet
Tank Size: 4.8 Gallon
Includes: Continuous Fill Hose Attachment
Remote Control: No
Weight: 16 Pounds
Our Pick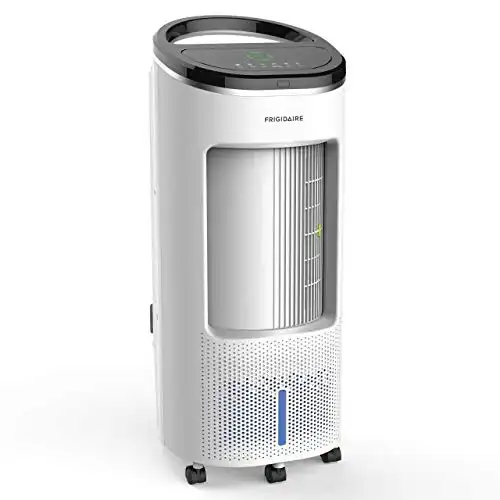 With larger spaces it really is best to turn to evaporative coolers with a more industrial design – and performance to match – but now that we are moving into smaller space territory we can finally consider units which look like they were actually designed and built in the 21st century.
But only if those units actually cool the air. And, for medium-sized rooms, none do a better job of this than the Frigidaire EC200WF.
We can quip that with a name like Frigidaire you can expect frigid air, and while that is certainly the case with the EC200WF, what you can really expect from Frigidaire – one of the most popular and well-respected brands for over a century – is top-level performance, design, features and reliability.
With its wide-angle oscillation, this Frigidaire swamp cooler can handle spaces of up to 250 square feet and effectively distributes the cold air all throughout the space. And, putting out 600 cubic feet of cold air a minute, the EC200WF really makes the air cold!
The large, easy to read and easy to use control panel lets you select between 4 fan speeds, 4 timer settings and 3 comfort settings, and there is also a full-function remote control. Also included are a removable water tray for easy, mess-free filling, and casters and a carry handle for easy mobility and flexible placement – including outdoors.
One of the true industry leaders in home heating and cooling since 1918, Frigidaire has another real winner with their EC200WF Portable Indoor Outdoor Evaporative Air Cooler, which is our choice for Best Evaporative Cooler for Medium Spaces.
Features & Specifications
Output: 600 CFM
Room Size: Up To 250 square feet
Tank Size: 1.8 Gallon
Remote Control: Yes
Weight: 20 Pounds
Our Pick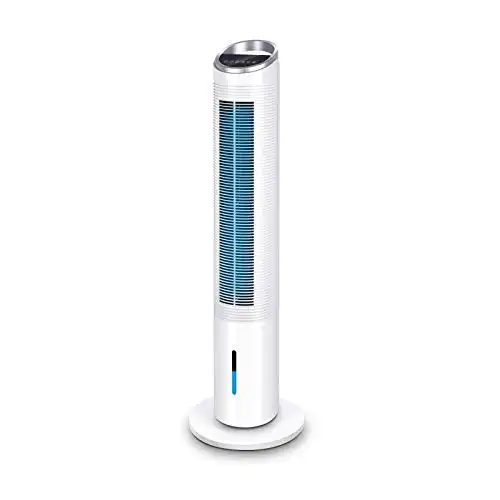 Like the Frigidaire EC200WF reviewed just above, the Air Choice ATF-009L evaporative cooler also offers a happy marriage of sleek, high-tech design and exceptional performance.
The Air Choice ATF-009L is a tower, which takes up very little floor space but stands almost 3 1/2 feet tall. It is a striking unit, tall, slender and very modern looking, and the tower configuration and its oscillating fan allow the cool air to fill a room.
While swamp coolers won't put out the really cold air you would get from a true air conditioner, the ATF-009L does an absolutely brilliant job in cooling small rooms or spaces, even just using water – and the two ice boxes will make it even much more effective.
In fact, for some people, it is almost too cold, and they only use water – but it's nice to have the option!
The Air Choice evaporative cooler has three modes (normal wind/natural wind/sleep wind) and three speeds (high/medium/low), in addition to three possible cooling processes (air/water/ice) for maximum cooling flexibility.
It has a nice soft-touch control panel and comes with remote control, and operation is as easy as it gets. It is easy to move around and designed to be safe for babies and children, with no hot surfaces, sharp edges, moving parts or blades.
The eight-hour timer and sleep mode, along with the ATF-009L's whisper-quiet operation, make it a great choice for day or night-time use, even in a bedroom or nursery.
A super value, well made and well-engineered and really effective at cooling smaller areas, the Air Choice ATF-009L 40″ Tower Fan and Evaporative Cooler is our choice for Best Evaporative Cooler for Small Spaces.
Features & Specifications
Output: Approximately 300 CFM
Room Size: Up To 120 square feet
Tank Size: 2 Liter (~1/2 Gallon)
Remote Control: Yes
Weight: 8.9 Pounds
Includes 2 Ice Tanks
Our Pick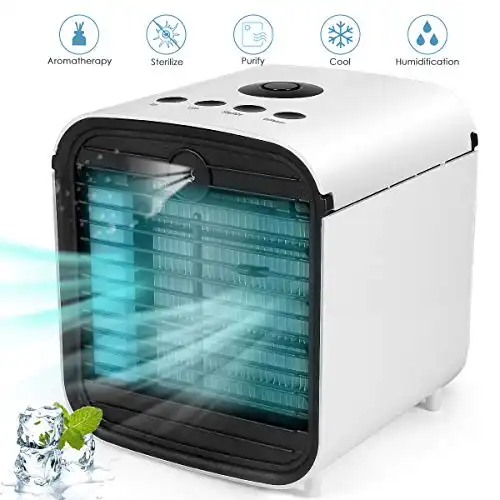 It must be said that most tiny evaporative coolers, designed for desks, table tops or personal space use, just don't work. 
That's why we were so thrilled to find the Auka personal evaporative cooler, a tiny unit with truly unbelievable cooling power.
At 7.5 x 6.5 x 6.5 inches, you can carry it with you anywhere and can run it off of its rechargeable battery, your computer's USB port, a phone or power bank or a USB charger plugged into the wall.
You can use the Auka with or without water, and it has three different speed settings, which in a small space really do offer a nice variety of cooling levels and experiences.
And, speaking of experience, this silly little unit, in addition to offering the best cooling we've ever experienced in a personal evaporative cooler, has a 7 colour LED light show built-in and also doubles as an aromatherapy diffuser. Actually, the essential oil feature is quite nice, but we admit to feeling great relief in learning how to turn the LED lights off!
Silly though it may be in some ways, the Auka personal cooler is serious about performance, and it is equally serious about air quality, its removable, washable filters actually improving the air you breathe.
Even without all of the extra features, the cooling ability of the Auka puts it miles ahead of any possible competition in its category or price range, and when you put them all together it makes an irresistible package, a wonderful gift idea and an easy choice for Best Desktop Evaporative Cooler.
Features & Specifications
Output: Not Specified 
Room Size: Suitable for Personal Space – 1 Person
Tank Size: .350 ML (~12 Fluid Ounces)
Weight: 1.5 Pounds
Includes USB Charging Cable
Our Pick
One of the most powerful evaporative coolers made for consumer use, the Honeywell CO60PM will provide a dramatic drop in temperature in any space, outdoors or indoors. It will totally transform the environment of even the biggest, hottest and stuffiest garages, workshops and basement spaces, and is great for patios, decks, yards and any large indoor space.
Built to be fully weatherproof, the CO60PM has really robust construction, won't degrade with UV exposure and has an extra-long power cord with an outdoor rated GFCI plug.
With an extra-large 15.9-gallon water tank, this Honeywell evaporative cooler will keep going for hours, and you can attach a garden hose for uninterrupted cooling. It also has an ice compartment for ultra effective cooling. 
Honeywell's promotional material says "the sensation is like a lakeside breeze," but if you plan to use the ice compartment, think more of wind off of a frozen lake – it really gets large indoor or outdoor areas much, much cooler, even in the summer. There are few people (and few situations) for whom the water cooling by itself wouldn't be way more than enough.
In fact, if you still have any doubts whatsoever whether evaporative coolers really make things cooler, just stand anywhere around the Honeywell CO60PM for a few seconds and you will never wonder again.
Among the most effective, toughest and most versatile swamp coolers on the market, the Honeywell CO60PM Evaporative Air Cooler is our clear choice for Best Evaporative Cooler for Outdoor Use.
Features & Specifications
Output: Approximately 1,540 CFM
Room Size: Approximately 600 Square Feet
Tank Size: 15.9 Gallons (~60 Liters)
Remote Control: Yes
Low Water Alert & Timer
Weight: 41.5 Pounds
Our Pick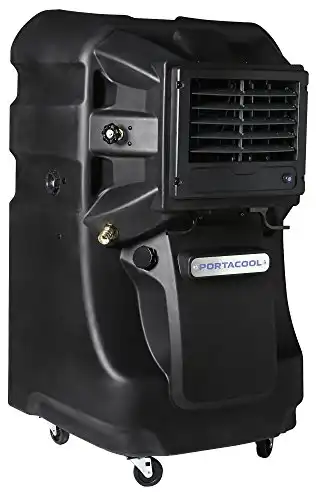 There is no other way to say it: The Portacool Jetstream 230 is a beast!
This big industrial quality swamp cooler supplies huge amounts of air at up to 27 miles per hour – if the evaporative cooling doesn't do the trick, the sheer amount and force of air is sure to cool anybody down – if it doesn't knock them down first.
A somewhat loud and unstylish unit, the Portacool swamp cooler is not for normal family-home type indoor environments, but for industrial or commercial applications – or even large, hot homework areas – it is exceptionally effective.
With a 30 gallon water tank the Jetstream 230 will run for a long time on a single fill, and its superior materials, superb engineering and made-in-America quality ensure that overall it will run for a lifetime.
And Portacool offers all of this performance and quality at an unheard-of price, substantially cheaper than comparable industrial units from other manufacturers.
Portacool has been offering commercial and industrial cooling solutions for over 25 years now, and their Jetstream 230 Portable Evaporative Cooler is a great choice for professional or serious home use and is our choice for Best Evaporative Cooler for Commercial and Industrial Use.
Features & Specifications
Output: Approximately 3,600 CFM
Room Size: 1,200+ square feet
Tank Size: 30 Gallons (~114 Liters)
Weight: 108 Pounds
Should I Buy an Evaporative Cooler or an Air Conditioner?
We absolutely love a good swamp cooler! They really do have so many advantages over air conditioners, but for us, the main ones are: 
They are much (much, much) cheaper to run and make a huge difference with summer utility bills
They make the air much nicer, not too cold, not too dry, and make us feel better
If you are really a cold freak, buy an air conditioner and your room will always be frosty cold. But please understand that a really good evaporative cooler will make your room almost as cold, and for the vast majority of people they offer more than enough cooling, and so much more!

Hey there! I am
Benas
, the founder and content editor at Home Caprice. Thanks for reading the article. I hope you were able to find what you were looking for. I and my team are here to simplify heating and cooling for everyone. Please have a look at the
About page
for more details about our website and feel free to check out our
editorial process
.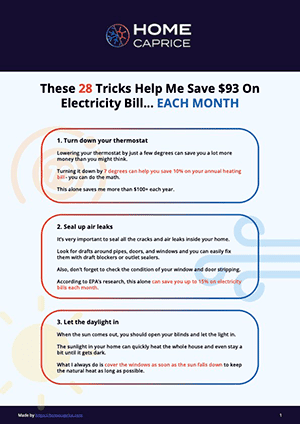 These 28 Tricks Help Me Save $93 On Electricity Bill... EACH MONTH
Download this FREE cheat sheet to find 28 tricks that can help you save on your electricity and heating bill each month.
Click here to get a FREE Cheat-Sheat