Heat pumps are the remarkable home heating and cooling units that, in the right climate, can offer year-round climate control and real energy savings.
If you are considering switching to a heat pump or replacing an old one, you will need to choose not just the best heat pump for your home but the best thermostat to go with it. Or you may just need to replace an outdated or failed thermostat and want to make sure to get the best heat pump thermostat available.
Whatever the case, this is a great opportunity to learn a little about different thermostats and the advantages they can offer, whether it is the simplicity of use, saving money on energy costs, or making your home and your life more comfortable – or all three!
Our buyer's guide for heat pump thermostats will talk about the three basic varieties and their advantages, provide a basic explanation of new "smart" technologies as they pertain to thermostats, and then list what we believe are the very best thermostats currently available for heat pumps.
Heat Pump Thermostats Comparison
Programmable Heat Pump Thermostats
| | |
| --- | --- |
| ✅ Pros | ❌ Cons |
| Provide Customized Comfort and more Precise Temperature Control | More Expensive |
| Can Offer Significant Savings & Can Offer Smart Functions (WiFi Compatibility) | More Difficult to Learn/Use |
| Can Provide Other Information (temperature, humidity, system monitoring) | |
| Great dynamic range and musical energy | |
Learning Thermostats
| | |
| --- | --- |
| ✅ Pros | ❌ Cons |
| Provide Sophisticated Customized Comfort & Motion Sensors, Phone Proximity for Auto Turn-On or Shut-Off | More Expensive |
| Learn Your Habits and Program/Adjust Themselves | More Difficult to Learn/Use (at least initially) |
| Provide Significant Savings in Energy Costs and more Precise Temperature Control | Not (yet) Fully Compatible with Siri |
| Fully Smart Enabled, Home Automation Compatible | |
After we look at the very best thermostats in these three categories, we will go over some considerations which might help you decide which type, and which model, of the thermostat, is best for you.
Best Non-Programmable Thermostats
Our Pick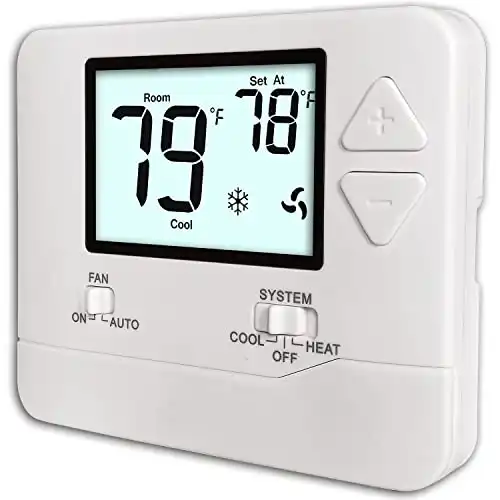 The basic electronic thermostat is still a classic, and despite the recent advancements in technology and the many benefits programmable and smart thermostats provide, for some people the simple non-programmable thermostat may be the best choice for heat pumps.
The main reason for this must be ease of use. Programmable thermostats are, or at least can be, a little intimidating and difficult to learn, and can confuse and frustrate new users. But a more basic electronic thermostat is simplicity itself.
There are other reasons why non-programmable thermostats remain so popular, but these reasons may be based on misconceptions. For example, people have the idea that these more basic units are more reliable, or less likely to fail or have compatibility issues with home heating and cooling systems, but statistical data does not seem to support this.
Also, people are often under the impression that non-programmable home thermostats are easier to install, but looking at the heat pump thermostat wiring diagram and the wiring of your system, there is actually no difference in this regard.
Still, they remain popular and there are several very well-built and reliable models available. And, they are certainly the easiest to use – the only tricky thing might be getting one that is definitely compatible with a heat pump, but we've done that homework for you.
Our Pick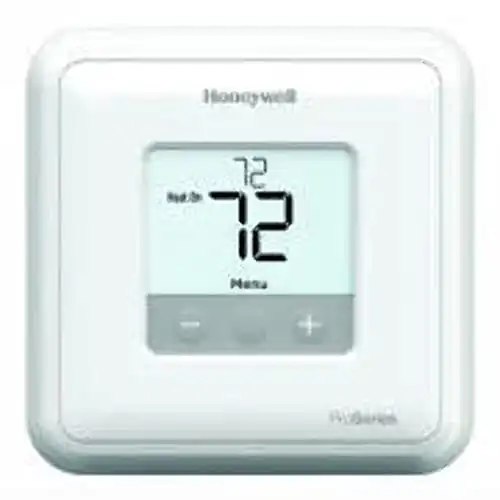 A really basic, clean, and nice-looking digital electronic thermostat from Honeywell, the most trusted name in home thermostats.
While this Honeywell heat pump thermostat has absolutely no bells or whistles, it does offer a large, easy-to-read display, simple two-mode operation, and legendary Honeywell reliability.
If you prefer simplicity over gadgetry, or if you just want something very inexpensive, durable, and well-engineered that is an absolute no-brainer to operate, the Honeywell TH1110D2009 is a great option and our first choice for the best non-programmable thermostat for heat pumps.
Our Pick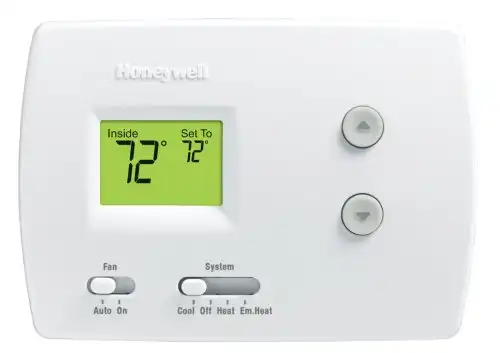 Another great unit from Honeywell, the RTH3100C is also ultra-simple to use. Although it does add a few more switches and additional functionality, it retains a clean design and looks and a familiar layout, with only fan, mode, and temperature settings.
This Honeywell heat pump thermostat adds a very important feature, though – especially important for colder climates – and that is compatibility with auxiliary heating.
If your heat pump has an auxiliary heat backup (a heating system that switches on when the temperature outside is too cold and the heat pump alone cannot adequately or safely heat your home), you must get a compatible thermostat, and this Honeywell RTH3100C1002 is the best we've used.
Attractive, easy to read, and easy to understand and use, the Honeywell RTH3100C1002 is our first choice for the best non-programmable thermostat for heat pumps with auxiliary heating.
And, to be clear, "auxiliary heat," "emergency heat," "strip heat" and "radiant heat" all refer to the same basic feature – emergency heat is the setting on thermostats that manually turns on auxiliary heat in case temperatures in the house drop too low.
So, if you want to find the best non-programmable thermostat for heat pumps with emergency heating, the same answer – the Honeywell RTH3100C1002.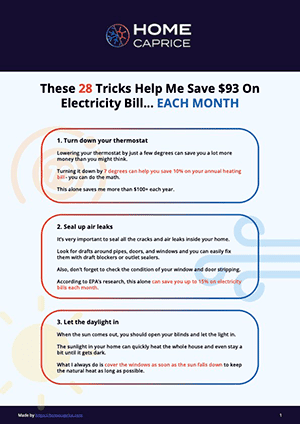 These 28 Tricks Help Me Save $93 On Electricity Bill... EACH MONTH
Download this FREE cheat sheet to find 28 tricks that can help you save on your electricity and heating bill each month.
Click here to get a FREE Cheat-Sheat
Best Programmable Thermostats
In this section, we will look at three varieties of programmable thermostats for heat pumps, in increasing order of sophistication:
Basic Programmable Thermostats
Smart Programmable Thermostats
Learning Programmable Thermostats
But despite the degree of technology, these are all pretty cool thermostats. Indeed, when you consider buying any programmable thermostat for your heat pump, a whole new world opens up before you.
Basic functionality includes easy control of temperature in micro-increments via buttons or a touch screen, on-screen monitoring of indoor, and sometimes even outdoor, temperature, and the ability to program temperature levels for different times of the day – often in seven-day increments.
And rest assured that all of the following heat pump thermostats work with auxiliary heating systems as well.
Some of these functions already make programmable thermostats much more energy-efficient – or, more accurately, make the heat pump they're attached to much more energy-efficient – and installing one usually will pay for itself within just a couple of years, not to mention being better for the environment.
But the latest models of programmable thermostats for heat pumps, especially the best heat pump thermostats available now, offer even much more.
Many are now "smart" thermostats, meaning that they can access Wi-Fi and the internet, and you can control and program them using an app – on your phone, laptop, tablet, or even watch – from anywhere in the world.
Some will also sense if you are in a room, or in the house at all, and adjust the heat pump settings accordingly. What's more, the Google Nest "learning" thermostat will even learn and become smarter, watching your activities and the settings you make and prefer and, after a short time, programming itself automatically based on your preferences and habits. But more about that below…
Voice control, interaction with other appliances, emergency features, higher and higher levels of energy efficiency and savings, incredibly cool look and space-age vibe, and programmability and artificial intelligence so advanced that they're actually (finally) becoming easier and easier to use – it is truly a whole new world when it comes to high-tech thermostats for heat pumps.
Our Pick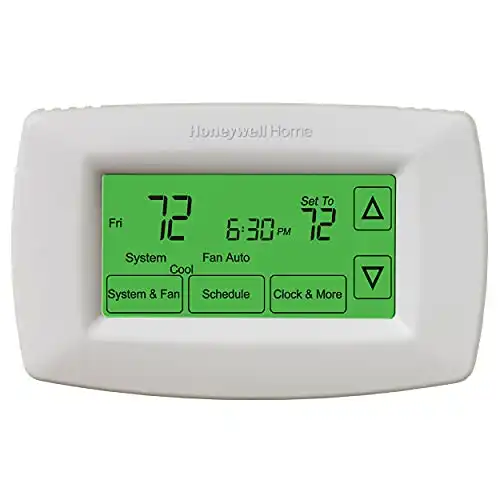 We have chosen the Honeywell RTH7600D programmable thermostat not just because it offers Honeywell quality, engineering, and reliability for a very low price, but because it has a range of features that make it a great choice for any home with a heat pump – including systems with auxiliary/emergency heat.
The touchscreen, while admittedly not as cool looking as some of the smart thermostats below, is incredibly clear and easy to use, making not only daily adjustments but programming and other advanced features easier. And it displays both the set temperature and the current temperature at the same time.
The flexible programming allows for four individual phases each day (wake, leave, return, sleep) for up to seven days. Your programming choices are kept in memory in case of a power outage, so you don't have to remember them yourself or reprogram them.
The Honeywell RTH 7600D thermostat, while not a truly smart device (that is, no WiFi or Home Networking functions) is pretty intelligent anyway, with its Smart Response Technology. This nifty feature will learn your preferences, notice how long your home takes to reach desired temperatures and adjust itself to provide the best and most energy-efficient performance.
For a much lower price than the typical smart thermostat, and even than many less advanced normal programmables, the Honeywell RTH7600D is a remarkable and sophisticated unit, and is our first choice for the best programmable thermostat for heat pumps.
Our Pick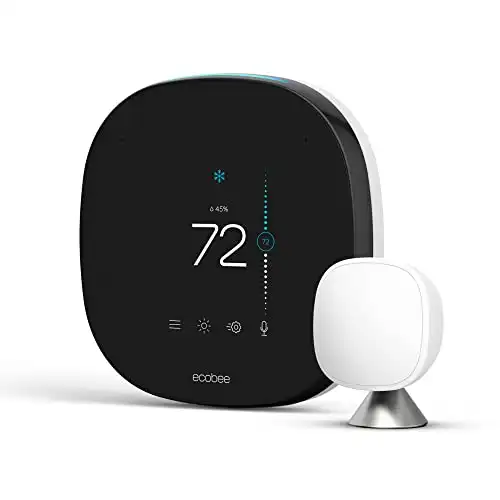 The Ecobee programmable smart thermostat is a remarkable next-generation product.
In addition to the normal programming functions, which are already pretty far advanced, the Ecobee hear pump thermostat will monitor separate rooms (includes one sensor – more can be found here) to even out temperatures throughout the home and offer the most efficient heating or cooling.
It will also notice if you're in a room or not, and adjust the temperature accordingly.
The Ecobee smart thermostat is compatible with Android and Apple smartphones and smartwatches, allowing you to program and change settings through Wi-Fi from anywhere in the world.
It has Alexa built-in and is fully compatible and integrated with the Alexa Smart Home system. It even has an Amazon Alexa speaker built-in, so you can use voice commands not just to change climate settings, but to access the internet and receive voice responses.
While there is a bigger learning curve, especially to take advantage of the extraordinary range of features and capabilities to be found with the Ecobee Programmable Smart Thermostat, it is surprisingly easy to use and has a display that is big, clear, and easy to read.
Beautiful to look at, too, the Ecobee has a nice glass finish and a modern, minimalist appearance. It is a quality product, with not only great engineering and real sophistication of design but also very high levels of material quality, functional dependability, and durability.
Not an inexpensive product, the Ecobee Programmable SmartThermostat nonetheless offers a remarkable value for the money, bringing the next era of technology and smart home integration into your home, and doing so in a beautiful and easy-to-use package – an easy first choice for the best programmable smart thermostat for heat pumps.
Our Pick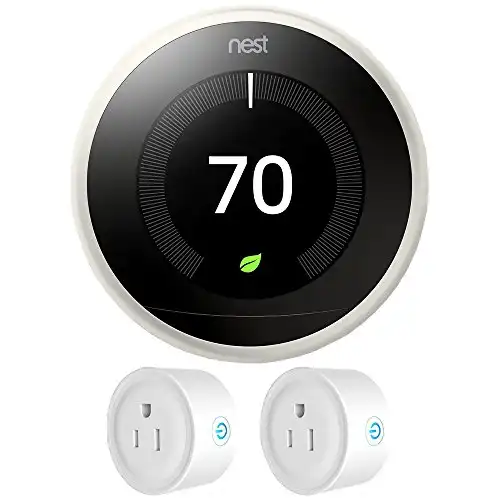 Arguably the most advanced thermostat currently available for heat pumps, the Google Nest watches and learns from you.
And not just from you – the Nest T3017 monitors your home's temperatures not just to make changes, but to better understand how the house heats and cools. It notices when you're away and automatically turns off unnecessary functions. And, it learns from your settings, usage, and preferences, and begins in a short time to program itself.
But let's not just focus on how the Google Nest makes itself smarter, lest we forget just how smart it is in the first place.
A true smart product for the modern smart home, the Nest is compatible with Apple, Windows, and Android tablets, so that you can adjust the thermostat's settings and program remotely from any device, as well as check on your home and its current conditions.
The Google Nest thermostat works with Alexa Assistant, and is, of course, fully integrated with the Google Nest Smart Home platform, offering new levels of voice command and interaction. Google Nest smart devices currently include this thermostat as well as a carbon monoxide/smoke detector (which will control HVAC in an emergency), smart speakers, hub control displays, WiFi and digital streaming units, cameras, a video doorbell, a smart door lock, and a security system.
And, knowing Google, there will be much more to come. In fact, it is a safe bet that the Nest Thermostat will be your entry into what will become the most complete and advanced Smart Home system available.
While the Google Nest learns from you, it also teaches you. The Green Leaf icon on the Nest's ultra-sleek display screen indicates that your setting is energy efficient and saves you money. That way, you'll also be teaching the Nest better habits when it starts programming itself.
That same display uses Farsight technology to notice when you are near and lights up with a pleasing glow to show you current settings, temperature, or weather.
It should be said that, while there is a lot going on here, and it does take some time to learn, understand, and master all of the functionality, the Nest interface is remarkably simple and intuitive, and people are amazed at how easy it is to use. And, as its artificial intelligence grows, it gets easier and easier.
The Google Nest Google Nest T3017US may well be the most advanced thermostat available, and our first choice for the best learning thermostat for heat pumps, as well as the best heat pump thermostat overall.
Final Thoughts: How Do I Choose the Best Thermostat for my Heat Pump?
There are, in the final determination, two basic factors that will probably play the biggest parts in determining what heat pump thermostat is best for you:
Budget: As far as budget goes, you can be assured that all of the thermostats on our buyer's guide and review of best heat pump thermostats currently available, ranging from around $35 up to $250, offer not just the best performance, features, and quality for the money, but the very best value as well.
If your choice is purely based on money and affordability, you simply can't go wrong with any of our choices.
Comfort Level: By comfort level, we mean your level of comfort in learning and using advanced features such as programming and smart technology.
Don't worry, you're not alone if you find all of this a little intimidating. Even millennials and others who grew up with smartphones, the internet, and all kinds of high-tech gadgets sometimes don't like learning a new system.
But when you do, given today's level of sophistication and artificial intelligence, the operation of your thermostat and heat pump system will actually become much easier – we promise!
You see, programmed heating and cooling, smart and learning technologies and thermostats' abilities to read and adjust to the home they are installed in all mean that, in the long run, you will need to adjust or think about your thermostat much less – eventually, maybe not at all.
And the most expensive thermostats can – usually all on their own – achieve such optimized settings that they will pay for themselves in a very short time, due to reduced energy bills.
So, if you are brave, or already comfortable with programming, smart, and learning devices, you will be handsomely rewarded.
And, if you're not, even the most basic thermostat on our list will still offer lower heating and cooling costs, great quality and reliability, and will be a joy to use.

Hey there! I am
Benas
, the founder and content editor at Home Caprice. Thanks for reading the article. I hope you were able to find what you were looking for. I and my team are here to simplify heating and cooling for everyone. Please have a look at the
About page
for more details about our website and feel free to check out our
editorial process
.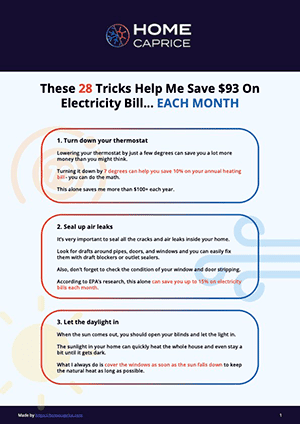 These 28 Tricks Help Me Save $93 On Electricity Bill... EACH MONTH
Download this FREE cheat sheet to find 28 tricks that can help you save on your electricity and heating bill each month.
Click here to get a FREE Cheat-Sheat