If you are in the market for the best infrared for your home, then you came to the right place.
We are going to tackle everything you need to think about before you purchase an infrared heater of your own.
Prices for heaters can range from $50 to over $1,000, which is why comparing models becomes a must-do.
There is so much to consider before you just buy any heater for the upcoming winter months, so it's important to continue reading below to read over our complete guide to buying infrared heaters.
What Are Infrared Heaters?
To begin our complete list of how to buy an infrared heater, it's important to explain what an infrared heater does. Infrared heaters are similar to the sun in that invisible light is absorbed into objects, clothing, and skin.
These infrared heaters work to warm up specific areas of your home because they do not include shade that which the sun is blocked.
The heaters also do not dry out the air in your home, making them the perfect option for heating your house without experiencing any negative consequences.
The light that is emitted by infrared heaters is not visible to the naked eye, so you can never see it, you can only feel it!
It emits in a safe range of 9-14 micron meters that will keep humans in a healthy state of warming.
To reiterate, infrared is basically an invisible light that has become a new way for people to keep warm through the use of infrared heating devices.
The heaters can be charged to run in a few ways.
They can be plugged into an outlet that charges them using electricity, or they can use propane to work.
You should choose a method that will work best with your lifestyle. Most infrared heaters are cleaner and more energy-efficient than ever before.
Find The Right Sized Heater For Your Room
A tip that we can suggest for you to think about when hunting for the perfect infrared heater is to know what size you should buy.
If you plan on buying a heater for your bedroom, for example, it should be able to comfortably fit in your room.
Heaters that sit in your bedroom are usually smaller than those that go in a living room.
You have to think about where you will place your bedroom heater because you don't want it to be too close to your bed.
These heaters are nothing like tower fans, which you can keep close to you during the summer.
If the heater is too close to your bedding, then it could potentially cause a fire hazard!
Heaters are meant to just keep your body warm, so placing them near your feet or head is a better plan.
You may also want to change out the sheets that you use during the winter months to be fireproof, just in case of an emergency.
You may also want to change out the sheets that you use during the winter months to be fireproof, just in case of an emergency. One example of a bedroom heater is called a baseboard heater.
These types of infrared heaters are safer to put in your bedroom because they are easy to install and sit above your bed, so you can eliminate the possibility of fire hazards.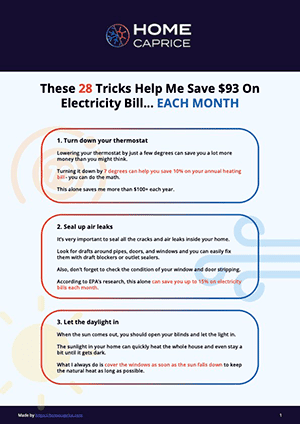 These 28 Tricks Help Me Save $93 On Electricity Bill... EACH MONTH
Download this FREE cheat sheet to find 28 tricks that can help you save on your electricity and heating bill each month.
Click here to get a FREE Cheat-Sheat
Safety First
As we mentioned before in our previous tip on finding the right-sized heater for your room, you need to realize how safety plays an important role in picking a heater.
Your ceiling fan is also part of the healing process, so make sure your heater is not sitting directly under your fan.
Your heater should become hot, but not to the point where it starts an unfortunate fire.
You need to be considerate about where you place your heater in your home, of course, but there are a few important things that you need to think about when choosing a heater.
To stay safe, choose a heater that:
Is tall enough to warm your entire room from far away.
Has a function to turn off when it detects that it is starting to overheat.
Passes the U.S. safety standards performed by testing labs for infrared heaters. The lab that most often performs tests on these heaters is called UL, which stands for Underwriters Laboratory.
Has an automatic shut-off feature.
Also has a power cord that is not damaged.
Has a warranty program just in case you need to replace parts of it.
Research The Capacity Rating
The capacity of your heater is another aspect that you need to look out for.
When it comes to picking the right heater, you need to know what room you are putting it in and how large the capacity rating says on your heating device.
The capacity rating is easily found on a heater and it measures the amount of space it can heat up.
A lot of brands will proudly display how much their heaters can provide you with warmth to fill an entire room!
Once you find the capacity rating, you can determine if the infrared heater that you are looking at will heat up your room or if you need a heater that is equipped to provide a larger capacity for a bigger room.
Let's say your room measures 800 square feet. Using a 1,000-square-foot capacity is ideal.
Extra Features To Look For
There are more awesome features that infrared heaters may have. Some models come with more features than others, usually depending on price. Of course, you want to find the latest models that are updated to make your life a lot easier.
Some features that you should look for when considering a purchase of infrared heaters are:
Swivel wheels for easy mobility.
A thermostat that is built-in.
A respectable return policy just in case something goes wrong with your infrared heater.
Quartz bulbs to extend the life of your heating device.
Controls that are easy to follow.
A stylish design.
A humidifier.
A heating capacity that fits the size of your room.
Freestanding capabilities.
A compact design that isn't bulky.
Is The Infrared Heater Energy-Efficient?
One of the major perks of installing infrared heaters is their energy-saving capabilities. Not only can having infrared heaters keep you super warm, but they can save you tons of extra cash.
It's important to look at the heater to find out how it was manufactured.
Energy Guide labels can be found on most heaters to indicate how it was made.
Some companies try to convince you that their heater will cut your bill in half, but this is just a far-fetched idea.
Yes, having infrared heaters can save you money, but making claims like that is not realistic.
In addition to infrared heaters, you need to make adjustments to your main heating system.
If you have your heat setting on your main thermostat set at 80 degrees AND you have infrared heaters in use, your energy bill will be working overtime.
Choose one or the other to keep you warm so you are actively decreasing the consumption of one system.
Heating up your entire home can be expensive, which is where infrared heaters can help save you money because they heat up specific areas of your home. Sticking to short-term uses of your infrared heaters can save you more money during the coldest months.
Things To Avoid
Although there are perks to purchasing an infrared heater, there are several important heaters to avoid:
You should buy a heater that is controlled by a thermostat.
If you see a heater that does not have one built-in, skip it.
Look for heaters that have long-life bulbs. When you have to repeatedly replace the bulbs in your heater, the cost adds up. Long-life infrared bulbs are ideal.
Find models that do not have extension cords. To eliminate the possibility of adding more wattage to your heater, do not use extension cords.
Find A Stylish Model
If you are interested in purchasing the best-infrared heater, we already know that you want extra heat.
You will also want a stylish heater that won't interrupt the beautifully designed home that you have worked so hard to create.
Do some research on the models that currently sell in several different stores.
Some heater models have an industrial feel that will compliment your home if your design is rustic.
A cool heater idea for a rustic home is to have one in a stove heater that also has a flame effect.
If you have a modern home, you may want to look into pure white designs that have less color added to them.
A glass tabletop feature can also mix well with your modern home.
Do you want your heater to be hidden away or added to your room?
Some other questions to ask yourself are "Do I want my heater to be attached to the ceiling?" or "Do I want my heater to be standing tall on my floor?".
If you need to move your model around, make sure it comes with swivel wheels for easy mobility.
Why Do You Need An Infrared Heater?
Most of the time your house will have an air conditioning unit that provides heat, too.
This is usually your main source of cool air and heat, but sometimes you don't want to keep it running all day and night.
The main reasons why you should consider purchasing an infrared heater include:
Using a heater during the in-between months when the temperature varies. When the temps outside indicate that it's not yet winter, the fall months can spike dramatically lower in a short amount of time. During these situations, you may not want to turn on your heat just yet, but you still want warmth. An infrared heater can provide you with some warmth on these chillier-than-expected nights.
A heater can also give you your own individual comfort. When the heating in your home does not reach your freezing feet or hands, you can place an infrared heater to face your cold body. If you are a person who gets cold easily, having your own portable infrared heaters around your home can help make you feel the instant warmth. If you have loved ones who like less warmth, then having a personal heater can work in your favor and keep your loved ones content in their own way.
Taking a heater to work can also be beneficial. Sometimes we need extra warmth in our houses, and that does not change when it comes to where we work from. If your office likes to open the windows up during the chilly winter days, then installing a heater will help you stay warm! I'm sure the office usually likes to lower their energy bill, which makes sense from a financial standpoint, but it also means that you will feel cold all the time. A heater will not only make you feel better at home, but it will ensure that your work life is not hindered by the cold weather.

Hey there! I am
Benas
, the founder and content editor at Home Caprice. Thanks for reading the article. I hope you were able to find what you were looking for. I and my team are here to simplify heating and cooling for everyone. Please have a look at the
About page
for more details about our website and feel free to check out our
editorial process
.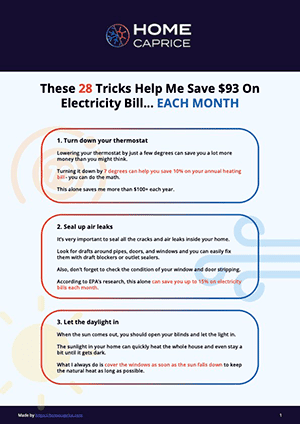 These 28 Tricks Help Me Save $93 On Electricity Bill... EACH MONTH
Download this FREE cheat sheet to find 28 tricks that can help you save on your electricity and heating bill each month.
Click here to get a FREE Cheat-Sheat