Over the past couple of years, smart heaters with Wi-Fi functionality have arrived on the market and got a ton of positive comments.
They really save time and effort while still remaining at a fair cost.
In this article, you will learn more about connecting these space heaters to your smartphone, the best apps to use, and which heaters are currently the most desirable ones.
I was a bit skeptical before I bought one myself, so you'll read about all the pros and cons of each heater that I honestly recommend.
Recommended Smart Space Heaters With Wi-Fi
This one definitely deserves first place because of its efficiency, strength, and advanced functions.
What I love the most about this heater is that it uses a Smart Life App which is compatible with Alexa (Amazon Echo). It's cool when you can control your heater temperature with your voice while watching TV or lying in bed.
It has a patented HMS technology that makes it more efficient than other heaters on the market – I talk more about it in this Heat Storm review article.
It's a wall-mounted heater, so you won't lose any floor space – this is great if you have small kids or pets.
I also recommend watching this in-depth video of Heat Storm's advanced features.
It's interesting how this heater can both heat and cool you depending on which model you choose.
Dyson did a great job with this purifier heater and they even made it compatible with the Alexa device, so you'll have a fun time controlling it with your voice.
You control everything through the Dyson Link app, but you also get an additional remote controller (just in case).
What impresses me also is their HEPA filter that captures almost all allergens which makes it ideal for allergies and pets.
Talking about the strength – it can heat up a bedroom of 1200 sq. ft. without any problem.
First of all, I must say that I'm a big fan of this small and modern designed heater.
It's portable and you can easily grab the handle and move it from one room to another.
From the Atomi app that you connect through Wi-Fi, you can easily then connect it with Alexa or Google Assistant to control it with your voice.
If you ask me, this heater has one of the best LED screen panels.
You can control it without an app just by touching the display and switching the temperature from there. It's similar to electric fireplaces.
It had a boring beeping sound, but Atomi decided to remove it which made it much quieter – can't say anything bad about their customer service.
This heater is definitely good if you're on a budget, but don't expect it to be nearly as strong as the ones I mentioned before.
It's good that this smart heater can be controlled with voice commands through Alexa or Google Assistant by connecting to the Atomi app first.
This heater is really simple, but don't expect to heat bigger rooms with it.
I would recommend this heater for your bedroom or small office because it was made for smaller areas like that.
The ECO feature allows you to manually set the temperature from the LED display.
The Atomi team removed the annoying "beep sound" from this heater as well, so you won't have to be frustrated every time you switch something on.
It's impressive how powerful this air purifier is – it can heat a 3,500 sq. ft. room in just one hour.
This unit performs more as an air purifier than as a heater, so it's perfect if you're fighting dust or you have pets.
It's amazing how you can control something powerful like this just by connecting to the SmartLife App. From the app, you can even check the air quality and switch different modes.
Although it's pretty strong, you won't hear it running and it has a child lock, so you don't have to worry if your kid will change something.
I love how it shows you the "life of filter", so you know when exactly to change filters.
This is another heater from Heat Storm company. They actually offer quite a few heaters, which you can check out here.
This heater has that classy design, so I would recommend putting it in your bedroom or living room.
You control everything through the SmartLife app, and connecting to WiFi is very simple and straightforward.
I wouldn't put this heater in your bathroom because humidity can hurt the durability of the wood – it's what makes this heater so classy. It's the same as with wood-burning fireplace inserts.
But if you are looking for bathroom heaters, we have a whole article dedicated to that.
It can heat up to 700 sq. ft. space. I'm not a big fan of the LED display as it doesn't match the overall design.
Again, you can connect it with Alexa and control everything by voice commands.
Turn Any Space Heater Into A WiFi-Enabled Device With A Smart Plug
Well, kind of.
Although it is quite a nifty device it is limited in what you can do.
What you will be able to do is hook up any space heater or appliance and be able to schedule and control when the unit turns on and off.
This is great for turning your wifi space heater on before you come home or off if you have forgotten to turn your heater off.
Just plug and play and you are away laughing.
With the Amazon Alexa smart plug, you can add voice control to your device along with adding schedules and routines with the app.
This helps you control your device from near or far.
You will not be able to control the functions of the device, just on, off, and when and how often.
What To Consider Before Buying Smart Space Heater
You should focus on a couple of things before deciding which smart heater to buy. Here are some of the main factors:
Voice Commands
I know it's cool to control your heater through your smartphone, but how cool is it to control it over your voice, right?
Well, you should check if the heater's app is compatible with Alexa or Google Assistant. If it is – then you don't have to worry about anything.
If you're a "tech guy" like me, you will always want advanced functions. This is a great feature and you have fun switching temperatures.
Portability
You might want to switch rooms now and then with your heater, so a wall-mounted heater doesn't sound like a good idea.
I personally have multiple Heat Storm heaters mounted in different rooms, but if I were planning to have only one heater it would be Dyson Pure Hot.
As I said earlier, it all depends on your needs and goals.
Strength
There's a difference between garage heaters and room heaters because it's not the same to heat a bigger and smaller area.
You don't want to make a mistake I made and buy a less powerful heater than you need.
Most companies tell upfront how big of an area it can cover, so pay close attention to it.
Safe For Pets & Kids
Some heaters come with a safe-to-touch grill and child lock which makes it perfectly safe for both pets and kids.
Also, wall-mounted heaters have the advantage because pets can't touch them.
That's why propane heaters aren't the best choice if you're looking for safety for pets.
Efficiency
Let's be honest – who doesn't want to save a couple of bucks each month on bills?
If you're on a budget, you should carefully consider how much energy it drains to heat a whole room.
I recommend you take a look at the most energy-efficient space heaters right now.
How To Connect Your Phone To Smart WiFi Heater
Some heaters have a slightly different process because of the LED display, but they all follow the same principles.
Here's a step-by-step guide to connecting your phone to your heater:
1. Install a brand's app
This is usually the app of the company you bought a heater from. They are usually on the app store, but sometimes there might be a specific link or something.
After installing the app, fill up everything with the correct information and they will send the email verification link or send you a text message.
Note: Make sure that your heater is plugged in.
2. Press and hold the temperature button
I've seen the same process in a couple of different heaters, so it's most likely that you will need to press and hold the temperature button.
You should see an icon blinking on the LED display letting you know it's time to connect through your device.
3. Check the heater option
Go inside your app and check the heater option. From there, you'll have an option to verify the WiFi for your heater.
Now, you need to enter your password and wait a bit for the heater to successfully connect.
After that's done, you will see the heater on your connected devices.
You can see the exact step-by-step process in this video.
If you found this article helpful, share it with your closest friends and let them choose the right smart space heater!
Hey there! I am Benas, the founder of Home Caprice. Thanks for reading the article, I hope you were able to find what you were looking for. Me together with my team, are here to simplify heating and cooling for everyone. If you want more details about the website and our team, please check the
about
page.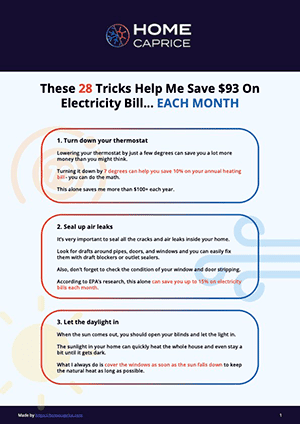 These 28 Tricks Help Me Save $93 On Electricity Bill... EACH MONTH
Download this FREE cheat sheet to find 28 tricks that can help you save on your electricity and heating bill each month.
Click here to get a FREE Cheat-Sheat