Propane wall heaters are a great solution for winter, but it's not an easy job to find the right one for your needs.
The truth is that all propane wall heaters aren't made the same – some are made from lower-quality materials, have less power, and are far less efficient than you thought they were.
However, there are still some awesome propane wall heaters that you won't regret buying.
Before you make the right choice, you have to learn what to look for in a propane wall heater.
Important Factors To Consider When Buying Propane Wall Heaters
BTU – The power of propane wall heaters is measured in BTUs. The more BTU your heater has, it's more powerful and it can cover a larger area.
Thermostat – This allows you to control the temperature in the room and set it to the exact desired degree. This is a great feature to have, and it's mostly available on modern units.
Easy to operate – The last thing you want is a propane heater that's hard to operate. Always look for a one-button operation, so you just need to press the button for it to start working.
Tip-over safety – Propane heaters are usually very easy to knock down, especially if you have smaller kids or pets. The tip-over sensor immediately cuts off all fuel if knocked down.
Oxygen sensor – Having an oxygen sensor can detect dangerous carbon monoxide exposure and most powerful units have this feature.
Best 7 Propane Wall Heaters 
This is the best propane wall heater you can find on the market.
What's amazing about Rinnai's heater is that it includes multiple smart features such as a programmable thermostat display that lets you set the desired temperature of the room.
It's important to mention that it has self-diagnostics, so you'll be notified when maintenance is needed.
It's extremely safe and it even has a flame failure and overheat switch which eliminates any risk of fire. Also, it has oxygen sensors, so the alarm will turn on if the sensors are triggered.
They even have the same model that runs on natural gas instead of propane.
If I had to use one word to describe this heater it would be efficiency.
It's very efficient and it can heat up to 750 square feet – don't let the size fool you.
It has a built-in thermostat, so you can always control the desired temperature.
What's awesome about this device is that you can easily move it from one room to another, and you can also attach it to the wall.
Blue flames create an even cozier feeling and it looks like you have an electric fireplace in your home.
One thing to note, it's forbidden in Canada.
Of all the propane wall heaters I've tested – this one has the most advanced smart features.
If you're a tech-type guy, you'll love this propane wall heater.
It has all the safety features such as oxygen sensors and it has a programmable thermostat – you can set it to always heat your desired room's temperature.
It has only 10,000 BTUs, so I wouldn't recommend it for a larger home.
You can install it in offices, homes, apartments – and any other interior.
Although this heater is smaller than average units, it's one of the most powerful propane wall heaters.
It has 30,000 BTU and it's suitable for larger rooms.
What you'll love about it is that it can operate without electricity during power outages.
Running on the highest heat settings, a full tank (20lb) will last 2-3 days without any issue.
Mr.Heater produces safe and clean burning heat.
This model is available with 2 options: one that runs on propane and another that runs on natural gas.
It can produce up to 18,000 BTUs while heating rooms up to 700 sq. ft.
Infrared technology is radiating heat to warm objects first instead of releasing it into the air – this helps it be much more efficient and faster.
What I advise you to buy separately is a fan that will improve the amount of square footage that heat reaches (without producing any extra noise).
You can add base legs to keep it on the floor or install it on the wall.
This Mr.Heater model is made with a bit cheaper material, so if you're low on budget – you should get this model.
It has some of the smart features of more expensive models – such as a low oxygen shut-off system.
What's impressive (considering the price) is that the run time is 43 hours. Some expensive models don't have such great operation time.
It's important to mention this is a radiant propane heat burner.
This Martin model is the most advanced propane wall heater on the market.
You can choose from tons of different options – from material type to the power of the heater.
My advice is to buy the 20,000 BTU model as it has the most efficient operation.
What you'll fall in love with is an exclusive glass ceramic window that lets you watch the flame and gives you a more cozy feeling when you're snuggled on your couch.
It's made from die-cast aluminum, so you won't have to worry about performance or durability.
Advantages of Propane Wall Heaters
They don't need gas lines built inside of your home
Propane is a lot cheaper than electricity
They use clean burning and it's safe for all households
They last up to 10 years more than electric heat pumps
More efficient than electric heaters
Easy to install
No regular maintenance needed
Have a built-in thermostat
What Is The Difference Between Direct Vent and Ventless Propane Heaters?
There are two types of propane wall heaters – ventless and vented.
The main difference is that ventless heaters don't need outside air for operation. They use oxygen from the same room they're positioned in.
Ventless propane wall heaters usually have oxygen sensors, so they automatically shut off if the limit is reached.
On the other side, we have vented (direct-vent) safer propane heaters that work at higher elevations.
Still, I recommend you learn if you can use your propane heater indoors.
You won't have to worry about carbon monoxide (which you don't have to worry about with ventless heaters too), but they're usually a bit harder to install.
It's hard to tell which one is the best, although I'm an "all about the safety" type of guy – so I'll usually choose vented before ventless propane wall heaters.
Which Is Better – A Vented Propane Heater Or A Ventless Propane Heater?
There are two basic types of propane wall heaters – ventless (or vent-free) and vented (or direct-vent).
Ventless heaters do not need or use outside air at all. They consume oxygen from the room they're in and exhaust any fumes into the same room.
This is a concern to some people, who worry that ventless wall heaters may make the room's air usage, but, propane is such an efficient fuel that there are very few if any noxious emissions from a well-made ventless propane wall heater, and they will also have sensors to monitor air quality and oxygen levels, automatically shutting down if they detect anything unsafe.
Although not everybody agrees, ventless propane heaters are widely considered to be completely safe to use inside your home and are legal and allowed in most places – with notable exceptions, in North America, Canada, and the state of California.
They offer some distinct advantages over vented propane heaters:
Ventless propane heaters are easier to install
Ventless propane heaters don't require ducts, chimneys, or any other outside venting, making them even more energy-efficient
Ventless propane heaters are substantially less expensive than their vented counterparts
Vented, or direct-vent, heaters, on the other hand, are often quite a bit more expensive, and people who are not concerned about the safety of a ventless propane heater will claim that direct-vent heaters do not offer any real advantages. They are also a little more difficult to install.
It cannot be denied, though, that vented heaters do not put any pollutants or noxious fumes, like carbon monoxide, into your home. And since they draw air from outside, they also will not use any oxygen from your rooms.
Direct vent heaters offer the following advantages over ventless heaters:
They are safer – even if we understand that ventless heaters are considered safe, vented propane heaters are still better and cleaner in this regard.
Vented heaters work at higher elevations – up to, and even over, 10,000 feet (~3050 meters)
Vented heaters are legal and allowed for interior use in more places, including Canada and California
What Size Of Propane Wall Heater Do I Need?
The question of how many BTUs you need can be a little confusing to answer.
Ideally, you would need to factor in not just the size of your space, but the number of people on average who occupy that space, their levels of activity, the amount of insulation as well as the room or home's building materials, outside temperature and sun exposure and more. Confused yet?
To make it simple we will break down the choices into three sizes:
Small Spaces – up to 350 square feet
Medium Spaces – around 500 square feet
Large Spaces – up to 1000 square feet
If you live in an especially cold area, if your house is poorly ventilated or has little sun, or if you just like things warmer, you can move up to the next level on our guide and still enjoy efficient and cost-effective heating.
Just How Efficient And Cost-Effective Are Propane Wall Heaters?
If you are wondering how much propane a wall heater uses, this too depends a great deal on the environment and usage, but in any case, the answer is pretty easy – very, very little.
A 10,000 BTU heater should run around 350 hours on a large tank (100 gallons), and customers report that even in fairly big spaces such a tank will last them for months – often through the whole winter.
Which Is Better – Radiant Or Convection Heat?
In that category, we offer two choices for ventless heaters – an infrared radiant heater, and a blue flame convection heater. The differences can be summarized thus:
Blue Flame – circulates warm air throughout the area (convection heating), thus heating the entire room. Better for larger spaces and rooms with more activity like family rooms.
Infrared – radiates heat from an infrared element (radiant heating), thus directly heating people and objects closer to the heater, but usually not the whole room. Better for smaller spaces and rooms with less activity like offices.
Blue flame can still be a great option for small spaces, though, especially if you want all of the space toasty warm. Infrared is great for an office or bedroom, especially where you may be close to, or in front of, the heater, and in that case, will make you even warmer than a blue flame propane heater.

Hey there! I am
Benas
, the founder and content editor at Home Caprice. Thanks for reading the article. I hope you were able to find what you were looking for. I and my team are here to simplify heating and cooling for everyone. Please have a look at the
About page
for more details about our website and feel free to check out our
editorial process
.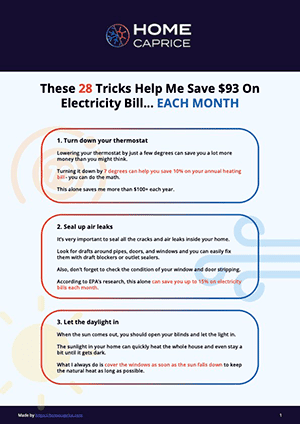 These 28 Tricks Help Me Save $93 On Electricity Bill... EACH MONTH
Download this FREE cheat sheet to find 28 tricks that can help you save on your electricity and heating bill each month.
Click here to get a FREE Cheat-Sheat