Kerosene heaters are a great option for heating interiors, but you might be wondering if they're actually safe.
The short answer is – yes.
Still, you have to take certain precautions to make sure you're using a kerosene heater safely inside of your home.
You'll discover all the tips you need to guarantee safety for everyone in your home, but let's first reveal what you might not know about kerosene heaters.
What Is A Kerosene Heater?
Kerosene heater isn't quite your typical heater.
It produces heat by burning kerosene which is drawn from a tank using capillary action.
Although older kerosene heaters weren't efficient or strong, technological advances have improved kerosene heaters and they can quickly heat bigger rooms now.
What's interesting about kerosene heaters is that they don't need electricity to work, so you can start them manually even if the ignitor fails.
Kerosene is the most economical fossil fuel and it's a lot more affordable than wood-burning inserts.
In case you're looking for a better kerosene heater that's efficient and has the ability to heat both smaller and bigger rooms – the one below is for you.
Our Pick
Mr.Heater is currently the best kerosene heater on the market as it has everything you need.
It can operate for more than 11 hours on a full tank and it's very efficient with a 75,000 BTU output.
Believe me, it won't take long for this beast to heat the whole room (or even the house).
How To Safely Use Kerosene Heater Indoors
Always frequently service your heater
This might sound like an obvious thing, but you would be surprised at how many people forget to maintain their kerosene heaters.
If there's any kind of leaking or error, you'll quickly notice it and fix it before it can cause any serious damage.
The reason why you should maintain it regularly is that kerosene heaters emit more carbon monoxide than any other type of heater.
My advice is to service it every 4-6 months.
Air out the room
Whether you're heating a smaller or bigger room, you should always allow fresh air to come in.
You can open windows every now and then, but we suggest always leaving the door open so the air can come through.
It's not recommended to heat the rooms that don't have windows. Another thing worth mentioning is using a filter to lower carbon monoxide emissions.
Never place it close to furniture
As with any other heaters or electric fireplaces, you should never place it close to furniture that can catch fire – such as sofas, beds, curtains, etc.
Also, never put anything over a heater. This is common sense, yet still a lot of times the most basic things are what causes a fire.
Never blend with other fuel types
Kerosene fuel isn't dangerous when used on its own. However, you should never blend it with different fuel types as it can cause hazards.
Even when you store the fuel (which we'll cover later), make sure that the container or tank has not been used for any other type of fuel.
The issue when different fuel types are blended is that it can damage the heater, making it less efficient, and increasing the safety risk.
Install a smoke detector
If there's one thing I'd like you to remember from this article, it would be this one.
When you have a smoke detector or carbon monoxide detector, you'll be alerted before any more serious damage happens.
I'm a bit of a paranoid dude, so I immediately bought this smoke detector when I first got in touch with kerosene heaters. Believe me, it does give you an extra feeling of security at night.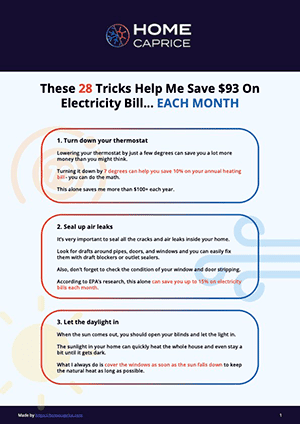 These 28 Tricks Help Me Save $93 On Electricity Bill... EACH MONTH
Download this FREE cheat sheet to find 28 tricks that can help you save on your electricity and heating bill each month.
Click here to get a FREE Cheat-Sheat
How To Store Your Kerosene Heater Safely in The Spring/Summer?
When you're storing a kerosene heater in the fall or summer, you first need to remove all the fuel from the tank and discard it. Kerosene changes chemically and spoils over the summer, so you shouldn't be using the same kerosene back in fall/winter.
Most likely, the wick is going to be dirty, so clean it appropriately. Once you're done with it, clean the heater and discard batteries if you've been using it for a while.
Place your unit in a dust-free container and keep it there during the summer. Another thing you can use is the box your heater came in – if you haven't thrown it.
Remember to fill the tank with fresh kerosene when you take it out of storage in the fall.
I recommend reading the user manual for more safety features the manufacturer mentioned.
If you have any friends or family members that are using kerosene heaters, you should share this article with them to keep them safe and educated as well.
Hey there! I am Benas, the founder of Home Caprice. Thanks for reading the article, I hope you were able to find what you were looking for. Me together with my team, are here to simplify heating and cooling for everyone. If you want more details about the website and our team, please check the
about
page.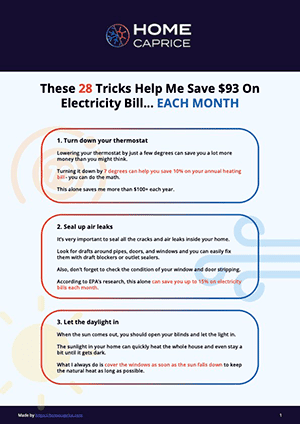 These 28 Tricks Help Me Save $93 On Electricity Bill... EACH MONTH
Download this FREE cheat sheet to find 28 tricks that can help you save on your electricity and heating bill each month.
Click here to get a FREE Cheat-Sheat