Using a propane heater is a practical solution for those living in areas where power outages happen often. You can use it too when the space you wish to warm is far from a power outlet or doesn't have one at all.
But with so many products available today, how would you know which one is the best for you?
Before anything else, you must be aware that not all propane heaters are built for both indoor and outdoor use. Moreover, while propane is used as a primary space heating fuel in many US homes in the Northeast and Midwest, propane-run portable devices are usually designed to work only as supplemental heating sources for your home.
So if you're planning to buy a propane-run heater soon, here are some things to consider:
How and where will you use it
Size of the area you need to heat
Safety features
Cost
📍 Note: We cover all the things above at the end of the article.
Recommended Propane Heaters
Are you ready to jump into the reviews? First, let's briefly review all the top choices, in case you are in a hurry. After that, you can check out the full reviews.
Run-time: 0.044 gallons per hour at low heat 0.099 gallons per hour at maximum heat
BTU: 4,000 to 9,000 BTUs
Heating space (max): 225 square feet
Our Pick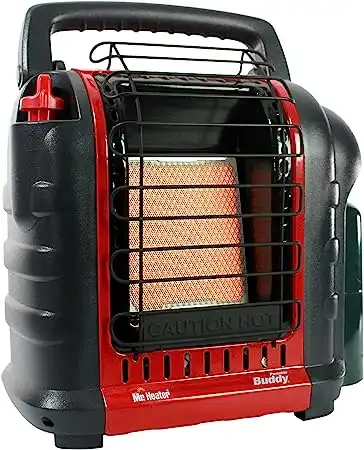 This portable heater with a fold-down handle runs on a one-pound cylinder. It's equipped with a Piezo igniter and a single control start knob for automatic ignition. It has a durable porcelain body and a high-quality ceramic burner tile with shock-absorbing insulation.
This Mr. Heater model has an automatic off switch in case it tips over. It also features an oxygen depletion sensor, which causes the heater to turn off when the level of gases other than oxygen rises in the air.
Owners advise new buyers to open the propane tank valve slowly instead of cranking it open.
Run-time: 1.5 to 2 hours using a 14- or 16-ounce disposable propane cylinder
BTU: 2,890 BTUs
Heating space (max): 100 square feet
Our Pick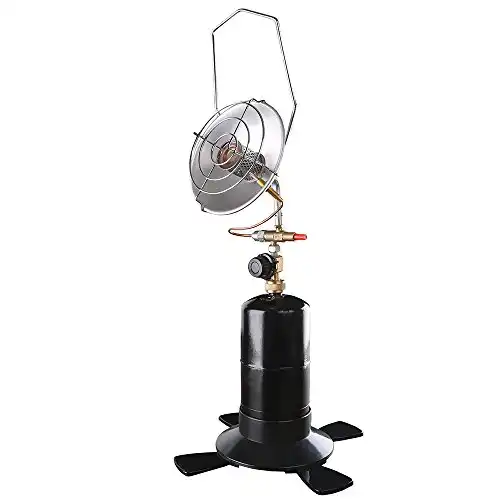 The Texsport portable heater has a round head—a stainless steel reflector with a nickel-plated safety grid—and a large paddle-foot plastic base that can securely hold a 14.1-ounce or 16.4-ounce disposable propane fuel cylinder.
The outdoor-only, manual ignition unit has an adjustable heat control knob and an auto safety shut-off, which stops the heater's operation if the flame goes out.
Users should keep off the surfaces of the heater while it's working because it becomes very hot. It should be allowed to cool for about 15 minutes after shut-off so it can be safely handled.
Here are other options you can explore if you're interested in learning more about propane heaters with other features, including models you can consider for specific settings:
Run-time: approximately 3 hours on disposable LPG cylinders
BTU: 46,000 BTUs
Heating space (max): 1,600 square feet
Our Pick

The 89-inch high Fire Sense heater has a very stylish hammered bronze finish. It is equipped with a one-step Piezo igniter and safety grill guard. The propane tank is placed inside a ventilated regulator above the base.
It has an auto shut-off valve in case it tilts or the oxygen level drops to dangerous levels.
The burner assembly should be allowed to cool for 45 minutes before it's moved away to a storage area because the heater's surface can reach 1,600 degrees Fahrenheit while it's on. The 43-pound unit comes with heavy-duty wheels at the base.
Customers are generally pleased with the attractive heater, although some have discovered that the cap nuts on the reflector head rust easily.
Run-time: three to 12 hours, depending on your heat settings; up to 108 hours on a single 20-pound tank and 220 hours on two 20-pound cylinders.
BTU: 4,000 to 18,000 BTUs
Heating space (max): 450 square feet
Our Pick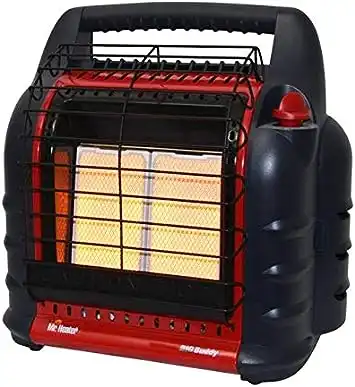 The MH18B model of Mr. Heater looks similar to the F232000 model except that it connects to two one-pound cylinders and has three heat settings (4,000, 9,000, and 18,000 BTU) compared to the low and high settings of the F232000. Either an AC adapter or 4D batteries, which are sold separately, can be used to operate the fan.
The heater, which has an accidental tip-over safety and automatic low oxygen shut-off system, can be used both indoors and outdoors.
Unlike the F232000 model, the Mr. Heater MH18B doesn't have a fold-down handle.
While some buyers don't find the fan that powerful and some claim that the heater burns too much gas too quickly, this Mr. Heater model has many long-time users who swear by the product.
Run-time: 5.5 hours
BTU: 4,000 BTUs
Heating space (max): 150 square feet
Our Pick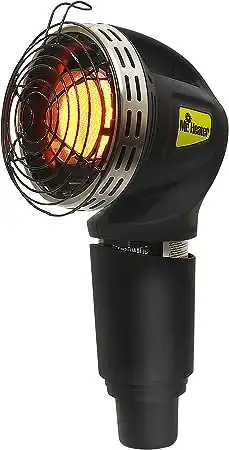 Another patented product from Mr. Heater, this golf cart heater is the only one in its market segment that has a wind-resistant burner and pilot wind guard.
These two features keep the shaver-shaped unit functioning despite windy conditions and no matter what kind of terrain your cart goes through along the golf course. It features a unique 90-degree safety tip-over switch, reducing "nuisance shut-offs" when you hit bumpy paths.
This Mr. Heater model comes with a cup holder adapter that's compatible with most golf cart cup holders. It fits well enough not to tip over, but it may wobble because it's top-heavy.
Run-time: 4 hours on high using a 16.4-ounce propane cylinder
BTU: 3,000 BTUs
Heating space (max): 95 square feet
Our Pick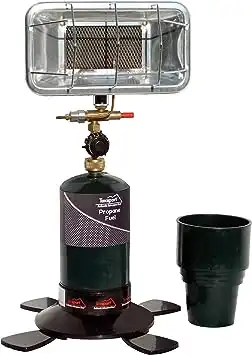 This stainless steel burner is similar to the Texsport Portable Outdoor Propane Heater, but this portable unit is smaller (10.7 inches high) and features a rectangular steel reflector head instead of a round one.
It comes with a molded plastic cup holder and paddle-foot stand so it can be used inside a golf cart or placed on the ground.
The heater, which is equipped with a self-igniter, has a shut-off feature that automatically stops the unit when the flame goes out and a regulator valve that allows you to control the heat output.
Some buyers have reported problems keeping the heater on and lighting it up in windy conditions, but customers generally love the heater for its simplicity and for not blowing out easily.
Run-time: 72 hours on low heat and 24 hours on maximum heat
BTU: 18,000 BTUs
Heating space (max): 450 square feet
Our Pick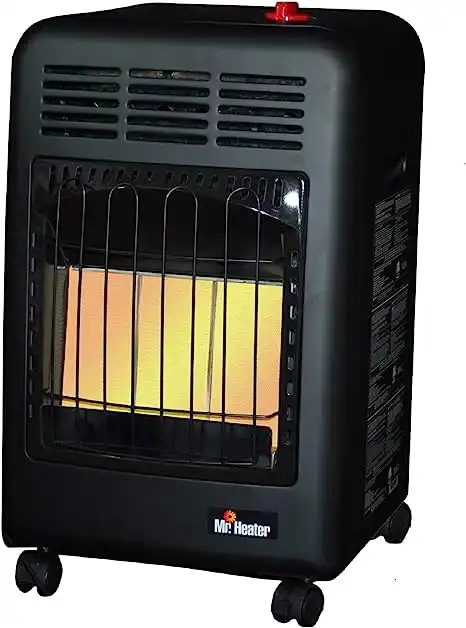 This heater has a cabinet that can house a 20-pound propane tank from its rear. The cabinet is made of 0.08-millimeter quality steel with a black finish and lockable caster wheels.
It works on Piezo ignition and has an automatic low oxygen shut-off system. The ETL-certified heater has a tip-over switch, but owners are advised to ensure that the heater and cylinder are on a flat, level surface so risks can be minimized.
According to some buyers, the heater can provide enough warmth as long as the area isn't so elevated. Some clients have experienced difficulties keeping the heater on at over 3,000 feet.
Run-time: 0.926 pounds per hour; 21.59 hours at maximum heat
BTU: 20,000 BTUs
Heating space (max): 700 square feet
Our Pick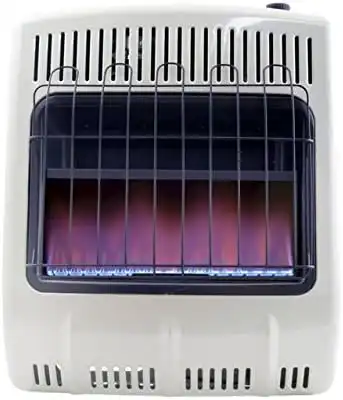 This blue flame version of the vent-free heater produces heat through convection or by warming the air, unlike its infrared or radiant counterpart, which warms objects and people in front of it. This heater's electronic ignition is battery-operated.
The heater is equipped with an adjustable thermostat and oxygen depletion sensor, which turns off the device automatically when the level of oxygen in a room drops dangerously low.
This vent-free unit from Mr. Heater can operate either as a free-standing unit or a wall-mounted heater.
The propane heater can easily warm spaces, although some customers have experienced heavy moisture issues.
Run-time: 12 hours on a 20-pound tank
BTU: 38,000 BTU
Heating space (max): 950 square feet
Best Propane Heater for a Garage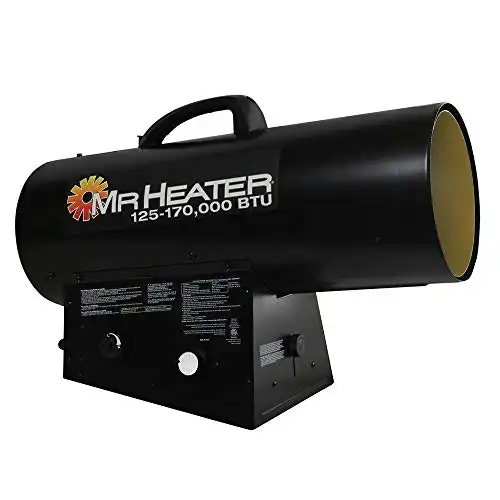 📍 Note: check our reviews on other garage heaters.
Forced-air heaters, also referred to as cannon heaters, are aided by an internal fan to blast out hot air into an area quickly. This 10.16-pound Mr. Heater model is designed for industrial-grade use, particularly for construction and similar job sites.
It features a Piezo ignition, regulator, and a 10-foot hose. The heater must be connected to a 20-pound cylinder to operate.
With its patented quiet burner technology, the noise produced by this unit is 50% less (seven to nine decibels lower) than regular propane heaters.
The heater makes some noise, although many consider it tolerable. Buyers also say that it needs ventilation to prevent headaches or dizziness from carbon monoxide inhalation.
Run-time: up to 14 hours on a 20-pound tank
BTU: 60,000 BTU
Heating space (max): 1,500 square feet
Our Pick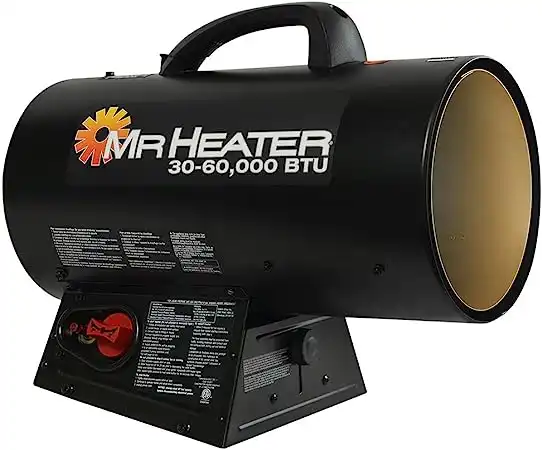 Weighing slightly heavier than the other forced-air heater by Mr. Heater (13 pounds), this model offers the widest heat coverage next to the best patio heater listed in this article. Hence, it's ideal for warming large outdoor areas.
Unlike Mr. Heater's F271350 unit, which can only emit heat at a singular level of 38,000 BTUs, the MH60QFAV model has three heat settings, ranging from 30,000 to 60,000 BTUs.
Also unlike the rest of the products in this review, Mr. Heater's MH60QFAV needs to be plugged into a power outlet, particularly a 110-volt socket, besides requiring propane to operate.
Many buyers agree that it's quieter than the large salamander heaters commonly used at construction sites. However, some think the heater should be set to lower temperatures because it can consume propane quite fast.
What Is Propane?
Propane is a combustible gas that is extracted from crude oil, natural gas, or oil wellhead gas. It's in liquid form while stored in a tank.
It returns to its odorless and colorless form when a valve on the tank is opened to release propane from its pressurized state.
Propane is a "clean fuel," compared to diesel and gasoline, which produce soot and scaling or the formation of solid deposits. Hence, propane preserves the longevity of your appliances besides being friendlier to the environment.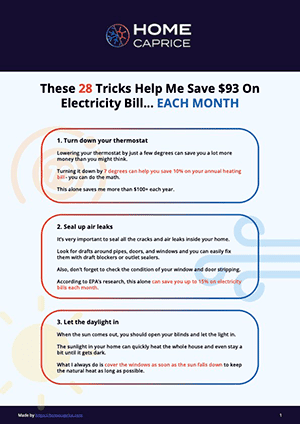 These 28 Tricks Help Me Save $93 On Electricity Bill... EACH MONTH
Download this FREE cheat sheet to find 28 tricks that can help you save on your electricity and heating bill each month.
Click here to get a FREE Cheat-Sheat
What Are Propane Heaters and How Do They Work?
Propane heaters are catalytic heaters, which means they rely on chemical reactions instead of flame to produce heat.
A catalyst—which is usually a platinum-coated, electrically charged plate—fuel or propane, and oxygen from ambient air are the three elements that make up this heat-producing chemical reaction.
Turning on the heater causes the plate to be electrically charged for the chemical reaction to begin. This reaction and heating go on until the fuel source or oxygen is eliminated.
Tips for Choosing the Best Propane Heater
Location: Outdoor vs. Indoor Propane Heaters
The area you wish to heat and the size of that area are, will determine whether you need to buy an outdoor or indoor type of propane heater.
As we've mentioned earlier, some propane-based heaters are suitable for outdoor use only, such as your patio, or well-ventilated areas, such as an open garage.
Outdoor patio heaters usually burn fuel faster than indoor heaters. This enables them to produce heat at higher temperatures and in warm wide-open spaces.
Meanwhile, you have to look for "indoor-safe" propane heaters if you want to use these types of warmers in closed-off spaces, such as patios with a roof or awning. To avoid accidents, you also need to check whether your indoor propane heater needs ventilation. Most indoor units need to be placed near a window or vent to prevent any gas buildup.
Propane heaters can emit dangerous carbon monoxide gas if they malfunction. So read the descriptions in the product information or manual carefully before buying!
Ignition
Some heaters come with manual ignition and you have to ignite the fuel yourself, which can pose risks to your safety.
Other heaters come with automatic ignition, which is integrated into the heater body so you just turn on the device for ignition or combustion to happen automatically.
Choose high-quality products if you want to go for integrated ignition as auto igniters of cheaper propane heaters can wear out over time and you might end up igniting fuel manually.
Heating Size
Even if you're warming an outdoor environment, try to measure the area that you wish to provide heating to ensure that the heater you will buy will be powerful enough to cover the entire space.
To determine the heat output you need to:
Measure the area you need to warm in square feet (multiply the length by the width in feet)
Find the difference between the current temperature and your desired temperature (in degrees Fahrenheit)
Multiple your answers for #1 and #2 to get the minimum BTU (British thermal unit). Divide the BTU by 3.41 to convert this value into watts.
Portability
Most people buy propane-run heaters because they are portable. Check for handles and caster wheels.
Best Portable Propane Heater: Texsport Sportsmate
This will minimize lifting on your part and increase safety because there's a chance of dropping the heater if its fuel tank is full and heavy. Check the product description to determine how heavy your heater can be once you fill the tank.
For safety purposes, you may have to empty the heater's tank before moving it to another location.
Safety Features
Look for a heater with a thermostat and automatic kill switch for overheating or when it tips over to avoid causing fires.
Read your product's manual when it comes to the required clearance or distance between the heater and combustible materials.
Choose indoor propane heaters with oxygen level detectors. Never use outdoor heaters indoors.
Propane vs. Electric Heaters: Operating Costs and Efficiency
To determine which is cheaper in your area, check the price of propane against your power consumption per kilowatt-hour.
📍 Note: one gallon of propane is equal to 27 kilowatt-hours of electricity.
Multiply your power rate per kWh. For instance, if you live in the state of New York, the average retail price per kilowatt-hour is $0.148 cents.
Example: $0.148 x 27 = $3.996
Check the price of propane on the U.S. Energy Information Administration website. The price of propane is $2.90 per gallon based on the latest figure (February 3, 2020).
In this case, propane ($2.90) is less expensive than electricity ($3.996) by volume.
If you are looking to save money and find the most efficient heater, then check our dedicated article on the most energy-efficient space heaters
You can also compare the energy efficiency of a propane-run device with an electric one by using this example. For instance, you want to see how these two power sources fare in terms of running a 2,500-watt heater for eight hours. That heater would consume 20kWh for a day or about 0.068 gallons of propane.
Using the New York state electricity rate and current propane prices, we can see that propane is more energy-efficient than electricity when using this appliance.
Electricity: $0.148 x 20 kWh per day = $2.96
Propane: $2.90 x 0.068 gallons per day = $0.1972
Hey there! I am Benas, the founder of Home Caprice. Thanks for reading the article, I hope you were able to find what you were looking for. Me together with my team, are here to simplify heating and cooling for everyone. If you want more details about the website and our team, please check the
about
page.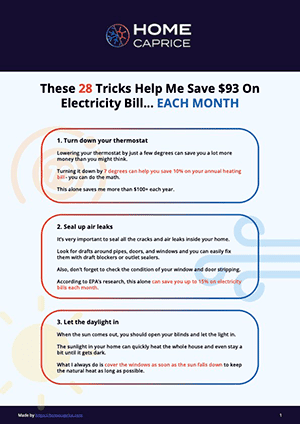 These 28 Tricks Help Me Save $93 On Electricity Bill... EACH MONTH
Download this FREE cheat sheet to find 28 tricks that can help you save on your electricity and heating bill each month.
Click here to get a FREE Cheat-Sheat