DeLonghi (or De'Longhi) is best known for its beautiful espresso machines, coffee makers and coffee grinders, and, well, all things coffee, and is considered one of the finest companies, and an obvious choice for top quality, for both homes and cafes around the world.
But DeLonghi also makes some of the finest products beyond coffee – if there is indeed a world beyond coffee – including kitchen appliances of all types, air conditioners, heaters, air purifiers, and more.
If you've ever priced a DeLonghi espresso machine, you know that they are pretty darned expensive – and we would fully expect this for such superb and absolutely stunning products.
That's why we are so pleasantly surprised that the DeLonghi Pinguino portable air conditioners are quite reasonably priced – in fact, they're actually inexpensive compared to similar products, and outright bargains considering how well they are built and how well they work.
What is a Portable Air Conditioner?
This review and buyer's guide will feature the DeLonghi Pinguino 3-1 Portable Air Conditioner, Dehumidifier, and Fan with Cool Surround Remote (PACEX390LVYN).
But before we get into the DeLonghi Pinguino itself, we should explain exactly what a portable air conditioner is – especially since it might not be exactly what you expect, or what the name seems to imply.
That is, a portable air conditioner, like this excellent Pinguino unit, is not something you just pick up and walk around with, easily throwing it into your backpack or slipping it behind the phone on your desk at work. They are not, generally speaking, small and lightweight units, and not what we might normally think of as "portable."
In this case, portable means a unit that is not permanently, or semi-permanently, installed, but that can be used in different locations.
A split air conditioner, for example, is permanently mounted on a stable base outside of your home, with ductwork and air handlers that bring the cool air inside and circulate it throughout the house. A window-mounted air conditioner is more or less permanently mounted into a window frame and blows cool air into the room even as it blows hot air outside.
But a portable air conditioner is one that has a carrying handle and wheels and can be moved easily from room to room, to be used where you are at the time or where it is needed most. They are generally large and substantial units, and you might not want to carry them around everywhere you go, but you can pretty easily move them around the home. 
Some people even take them camping, use them in an RV or even set them up in hotel or motel rooms while they travel.
Is the DeLonghi Pinguino a Real Air Conditioner?
That said, you need to keep in mind that portable air conditioners like the DeLonghi Pinguino are still real air conditioners, with refrigerant and compressors and the whole works, and as such, they do need a little bit of set-up – but more about that later. 
For now, it is important to just recognize that there are a lot of units out there that claim to be portable air conditioners but are in fact swamp coolers, or evaporative coolers. Some of these work pretty well, especially in moderate climates where it never gets that hot, but they are in a completely different league, and they will never get the air anywhere near as cool as an actual air conditioner like the Pinguino.
What are the Advantages of a Portable Air Conditioner?
Why would you want to get a portable air conditioner instead of a more conventional split (outdoor unit for central air) or window mount AC? There are several reasons, including:
Portable Air Conditioners Can Be Much Less Expensive
Portable Air Conditioners Can Be Cheaper to Run
Portable Air Conditioners Go Where You Need Them Throughout the House
Portable Air Conditioners Are Directable, Letting Them Cool a Room or Your Space, More Effectively
Portable Air Conditioners Allow You to Use Central Air Less, Offering Big Savings in Energy and Money
Portable Air Conditioners are Much Easier to Install, and an Easily Manageable DIY Project
Some of these advantages centre around the energy efficiency of a portable AC – they can be less costly to run than window mounts, and much less costly than central air, and instead of cooling the whole house, or even the whole room, you can use them just in the space where you spend your time.
Even people who know this before they purchase their new portable air conditioner are almost always amazed at how much money they end up saving on their utility bills!
Are There Any Disadvantages to Portable Air Conditioners?
Some people claim that portable air conditioners can be pretty noisy, and if you are noise-sensitive this should probably be a consideration. But you might want to keep in mind that window-mounted ACs also generate a fair amount of noise, and are often noisier than portables – especially this one.
The DeLonghi Pinguino is an ultra-quiet unit, though, and few customer reviews seem to mention the noise as even a slight problem.
With a portable air conditioner, you must also occasionally empty the water reservoir tank – all real air conditioners develop a certain amount of condensation, and unlike window-mount or outside units a portable AC has no easy way to dispose of this water, so keeps it in a large tank.
The DeLonghi Pinguino, on the other hand, has an auto-evaporate feature which effectively removes all excess water – no special hoses or extra installation steps, and no tank to empty.
Finally, you should keep in mind that any air conditioner must move the hot air it produces to the outside, and a portable air conditioner uses a flexible hose and a window kit to do this – this is sometimes considered a disadvantage for a portable unit since the AC must be set up somewhat close to a window.
Is the DeLonghi Pinguino a Good Portable Air Conditioner?
But the auto-evaporate function is only one of many innovations and quality features which really set the DeLonghi Pinguino apart. Some of the most important features of the Pinguino are:
ECO Real Feel Cooling – balancing humidity and temperature for best comfort and efficiency
Cool-Surround Remote – keeps the air cool and comfortable where you are
Super Quiet Operation
High Energy Efficiency
Auto Evaporate Condensation Elimination
High Power Output – 8,600 BTU for rooms up to 700 Square Feet
DeLonghi Quality and Reliability
Does the DeLonghi Pinguino Work Well?
Yes, the Pinguino portable air conditioners offer some of the best, most advanced and most useful innovations and features, but let's ask a much more important question – how well do they work?
In our testing of the Pinguino, we found it to be a remarkably powerful and effective air conditioner. We have tried and tested lots of different air conditioners – central, window and portable – and this is one of the very best. Possibly the very best portable and, maybe thanks to the Cool-Surround remote, the one that made us most comfortable.
In a large room, the DeLonghi Pinguino will quickly drop the temperature and make the whole room totally comfortable.
In an office or other smaller space, the Cool-Surround remote and the Eco Real Feel will make sure that the smaller room isn't overwhelmed by the unit's power. 
The same is true in a bedroom at night, and the quiet operation makes the Pinguino much easier to sleep with than many other portable or window-mounted air conditioners we have tried.
Even in a family-sized tent (the DeLonghi Pinguino is too large for small to medium-sized tents) the Pinguino will keep the climate comfortable without getting too cold, nicely moderated humidity and kept quiet, allowing for a full night's sleep. 
Our own positive experience is supported and echoed again and again in so many customer reviews, which point out the performance, the quiet operation, the ease of maintenance, ease of set-up, value for the money, and savings on electric bills – using the Pinguino for as-needed cooling and giving the central air a break.
Many reviews also echo our experience with the Cool-Surround remote. We can't really say that this remarkably advanced and ultra-nifty remote control, which is also just very nice to use, was the reason, but we have to assume that its on-board sensors monitoring temperature and humidity at the remote's location (which was pretty much always our location as well) helped explain why we were always so comfortable. 
Both portable and window mount air conditioners do a pretty good job cooling the whole room, but there can be uncomfortable hot spots (which we somehow often end up in). With the DeLonghi, anywhere we went in the room was, or quickly became, really comfortable, and we had the sense that the unit was only working just as much as it needed to for our maximum comfort, and maintaining the most efficiency possible – again, thanks to the Cool-Surround remote and its onboard sensors.
Is the DeLonghi Pinguino Reliable?
Even given DeLonghi's well-deserved reputation for products of the very highest quality, it would be completely understandable to still ask, given its relatively low price, is the DeLonghi Pinguino really a well-built air conditioner? Will the Pinguino last?
While we had only a short time with our Pinguino, we could easily see that the material quality, workmanship, and mechanical workings and operation all indicated the same level of quality that this brilliant Italian company has become known for. The fit and finish, the quiet operation, and even the details of the unit's engineering – not to mention, again, the DeLonghi name – all suggest a portable air conditioner that will last for many, many years, offering excellent and trouble-free performance.
And customer reviews indicate exactly the same – both for this Pinguino AC and for any DeLonghi air conditioner (or we could just say any DeLonghi product) – it not only works great, but it just keeps on working. Customers were really quite thrilled that, in this age where the quality of many consumer products seems to be on the decline, their DeLonghi Pinguino is one thing they never had to worry about.
Features & Specifications
Maximum cooling capacity: 8600 BTU
Effective Room Size: Up To 700 Square Feet (~65 Square Meters)
3 Functions: Cooling; Dehumidifying; Fan
Easy to Use Full Function Electronic Control Panel
Includes Cool-Surround Remote Control
Includes Exhaust Hose and Window Kit
Super Quiet Running Noise Level
Auto-Evaporate Condensation Elimination
ECO Real Feel Cooling – balances temperature and humidity
Weight: 83.3 Lbs (approximately 38 KG)
Refrigerant gas: R410a
Final Thoughts: Should You Buy a DeLonghi Pinguino Portable Air Conditioner?
There are maybe three distinct scenarios where people would consider purchasing a portable air conditioner:
Instead of Installing Central Air
Instead of a Window-Mounted Unit
Simply Because They Already Know They Want the Flexibility of a Portable
If you are in any of these situations or have your own reasons for feeling that a portable air conditioner is the best option for you, we can think of no unit which is clearly a better choice than the DeLonghi Pinguino. 
It is, first and foremost, an extremely good air conditioner, and we always felt cool and comfortable when using it. It features advanced features which are actually important and useful. And it is another brilliant example of DeLonghi's exceptional quality and design.
We just can't figure out how they did all of this for such a low price – not that we're complaining!

Hey there! I am
Benas
, the founder and content editor at Home Caprice. Thanks for reading the article. I hope you were able to find what you were looking for. I and my team are here to simplify heating and cooling for everyone. Please have a look at the
About page
for more details about our website and feel free to check out our
editorial process
.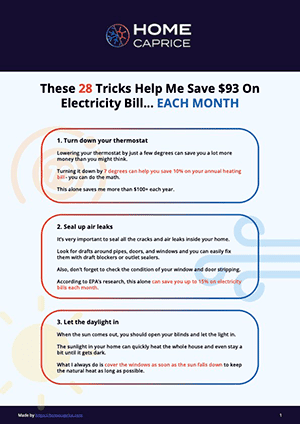 These 28 Tricks Help Me Save $93 On Electricity Bill... EACH MONTH
Download this FREE cheat sheet to find 28 tricks that can help you save on your electricity and heating bill each month.
Click here to get a FREE Cheat-Sheat