Delonghi presents Pinguino, a portable air conditioner for smaller spaces. This unit can easily cover an area of 500 square feet. It has a 4-in-1 design, featuring an inbuilt heater, AC, remote control fan, and dehumidifier modes.
It comes with wheels, so you can effortlessly move it from one place to another. It also comes with Wi-Fi capability and is compatible with smart speakers for entertainment. 
You can do so much with this comforting unit to make the environment refreshing, entertaining, and healthier for you. 
In this in-depth Delonghi portable air conditioner review, we will have a look at its benefits and shortcomings to help you decide whether it's a good choice for you or not. 
Our Pick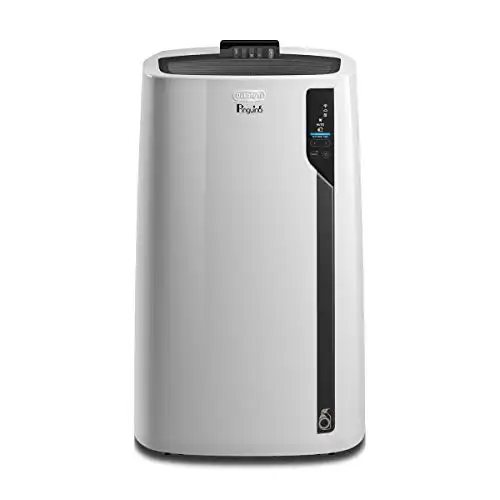 | ✅ Pros | ❌ Cons |
| --- | --- |
| Wi-Fi connectivity. | The hose connector doesn't last. |
| Smart speaker compatible.  | Fills tank quickly in heating mode. |
| Inbuilt thermostat for energy saving. | |
| Includes a dehumidifier, heater, and a remote-control fan.  | |
| Real Feel ECO technology. | |
| Don't make much noise. | |
| Touch sensor panel.  | |
| Portable design. | |
Things to Consider Before Buying a Portable Air Conditioner 
Portability. Portable air conditioners are great for people who don't want to own a full-fledged unit. They allow you to cater to smaller spaces and reduce your electricity bills. They don't need any fixed installation so you can move them easily from one room to another.
3-in-1. This Delonghi portable air conditioner also comes with an inbuilt heater and a dehumidifier so you can use it throughout the year. And the best part is, you can conveniently move it from one room to another as well as it comes with wheels. 
Price. However, this unit comes with a hefty price tag on it, so you need to consider your options here carefully.
Remote Control. You might have a remote-control fan in your space and don't need another one around. It won't be feasible to pay this much for the features you won't use. 
Filtration. The filtration system in this Delonghi air conditioner is not HEPA certified. So, it will not be useful to filter allergens and microparticles to some extent. If you are buying this unit specifically for its dehumidifying feature, then you need to look elsewhere. 
You need to ask a few questions before spending your money on the Delonghi Pinguino portable air conditioner. 
Do you need a 4-in-1 unit?
Are you looking for a unit that can handle condensation well? 
Do you have a central air conditioning system in place? 
Are you looking for an affordable portable unit?
Do you need a quality dehumidifier unit? 
Are you looking for innovative features and Wi-Fi capability in your portable AC unit? 
Why You Should Consider Delonghi Pinguino Portable AC
Smart Features
One of the primary reasons why this unit is so useful is its smart features. It comes with Wi-Fi connectivity and smart speaker compatibility.
You can create your comfort temperature no matter where you are and at any time by using Delonghi PAC mobile app. You can link your portable AC with this app through your tablet or smartphone or even your smart speakers. 
Your space will be perfect for you even before you enter it. Breathe in and relax right away by controlling all the features of your portable unit with your phone.
Energy Saving
Most Delonghi portable air conditioner reviews mentioned that the unit can save energy quite well. This is because you can control it remotely and cool or warm your room to move in. 
It will allow you to raise the thermostat in your household and reduce your utility bills significantly. And when you know you won't be in your room for some time, turn it off. You can even do that when you are not home and forgot to turn the unit off. 
4-in-1 Multifunctional
The Delonghi Pinguino portable air conditioner comes with an inbuilt heater. Plus, there is a dehumidifier and a remote-control fan in it. 
It means you can conveniently use your portable unit throughout the year. It can manage the quality of air that surrounds you in our room during humid days. It can reduce the chills on cold nights too. 
Moreover, you can conveniently use its remote-control fan to lighten things up. No need to leave your bed or seat to change the fan settings.
Real Feel Technology
This unit also comes with the Real Feel technology that will ensure an unmatched comfort level for you. It can manage just the right balance between humidity and temperature to make things more relaxing. 
Quiet Comfort
This unit continues to perform its functions quietly in the background. You won't be dealing with any noise and can enjoy a peaceful environment.
BioSilver filter
It comes equipped with the BioSilver filter to prevent any mildew or mold growth in your space. This filter is also best for reducing any odors. 
Touch-sensitive front-facing display
This unit boasts a touch-sensitive front-facing display to read the settings comfortably from anywhere inside your room. It also dims automatically in a few seconds to keep things comfortable for your eyes in the dark. 
Movability 
This unit also comes with caster wheels, and there are integrated handles as well. Therefore, you can easily move it from one place to another without much effort. 
No-drip
Another excellent feature of this unit is, it comes with no-drop technology. It means that the unit can automatically recycle condensation within the unit. Therefore, you won't have to deal with any leaks at all. 
Compact design
It has a very compact design that is suitable even for smaller rooms. Its dimensions are 15.1 inches x 17.6 inches x 29.2 inches, and it weighs around 84 pounds. You can conveniently place it in a corner to continue work as a trusty sidekick.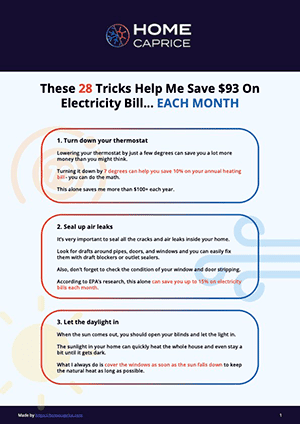 These 28 Tricks Help Me Save $93 On Electricity Bill... EACH MONTH
Download this FREE cheat sheet to find 28 tricks that can help you save on your electricity and heating bill each month.
Click here to get a FREE Cheat-Sheat
Things to Know About Delonghi Pinguino
Does its window bracket go horizontally or vertically? 
You can use the window bracket if your Delonghi Pinguono portable air conditioner is either vertical or horizontal. The part with the hole in it is long and comes with extender panels that you can use if you have wider or taller windows.
How frequently do I need to clean the filter in this unit? 
For maintaining the efficiency of your Delonghi Pinguino portable air conditioner, it is recommended to clean the dust filter on this unit every week if you use your unit daily. You can use a vacuum cleaner to remove any dust from it.
If it is too dirty, you can submerge the filter in lukewarm water and rinse it several times. After that, allow your filter to dry naturally and fit it right back in.
How often do I have to drain the unit? 
Delonghi Pinguino portable air conditioner is designed to be drained right at the end of each season like all other units by the brand. 
It will use the collected water due to humidity within your room for cooling its condenser down, which is its hottest part. This function ensures maximum efficacy. 
Conclusion
If you are looking for a quality unit that you can control remotely from anywhere, then the Delonghi Pinguino portable air conditioner is the right option for you. 
The unit is user-friendly, especially with the mobile application. The unit has a compact design and can be moved from one room to another effortlessly. 
It will also keep your utility costs under check and will continue to operate quietly in the background. 
Feeling that this Delonghi portable air conditioner is the right option for you? Click here to buy. 

Hey there! I am
Benas
, the founder and content editor at Home Caprice. Thanks for reading the article. I hope you were able to find what you were looking for. I and my team are here to simplify heating and cooling for everyone. Please have a look at the
About page
for more details about our website and feel free to check out our
editorial process
.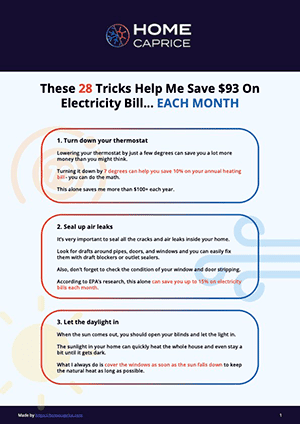 These 28 Tricks Help Me Save $93 On Electricity Bill... EACH MONTH
Download this FREE cheat sheet to find 28 tricks that can help you save on your electricity and heating bill each month.
Click here to get a FREE Cheat-Sheat