You're not the only one because I see so many people asking where they should buy the air conditioner. When you see all those brands that claim their ACs are the best, I don't blame you for being confused.
Today I want to reveal more about central air conditioners and why they perform so well on those hot summer days.
I'll tell you more in a minute about the real costs and the main factors you need to know before buying this type of AC.

But for now…
I handpicked some brands that have good reviews, so you can decide which one you should buy for your central air conditioner.
So, let's get to the list.
Recommended Brands For Your Central Air Conditioner
The Goodman products are very affordable and they are quiet which makes them a perfect fit for a living room.
As most of their air conditioners have a lot of power, they are great if you want to cool a bigger room in your home.
I would say that installation is pretty hard and it's not so easy to find a professional who can install it properly. So, take that into consideration before buying Goodman's air conditioners.
When it comes to energy efficiency (SEER) Lennox central air conditioners are one of the best to choose from. 
Their system spends way less energy than an average AC and it's one of the most power-saving ACs out there.
The only problem this brand has is its noise levels. Some of their central air conditioners have noise levels up to 76 dB. It can cause discomfort in your living room.
📍 TIP: Don't rush with buying a noisy AC as you don't want to lose a good night's sleep.
I'm not a huge fan of Carrier's central air conditioners as I think for the same price you can find a lot better and more credible brand. Why?
It's because their central ACs aren't much energy-efficient nor do they have some advanced functions you can benefit from.
A lot of people reported dissatisfaction and poor quality with the air conditioner they bought from Carrier, so if I were in your place – I wouldn't go with them.
📍 TIP: If you decide to go with Carrier, make sure to get AC with a long warranty.
American Standard is a very reputable brand with over a century of manufacturing air conditioners.
If you ask me, they are very affordable and energy-efficient, so you can expect lower electricity bills with their central AC.
I've read that many people question their durability as they aren't the type of air conditioners you can use for ten or twenty years.
Although they offer a warranty and great customer support, you may not be satisfied with the durability of their air conditioners.
What makes Amana stand out is that they have a lifetime warranty. Yes, you read that right.
They really offer a lifetime warranty and a 10-year warranty for the parts.
If you're going to buy from Amana, my advice is to get a more powerful central air conditioner. So, look at BPU but make sure that the SEER rating follows it.
📍 NOTE: Some of Amana's ACs that have less power often have problems with the fan.
Trane is one of the most quality air conditioner brands out there. I'm a big fan of them as they play a quality game instead of a "drop-price" game.
Now… if you're on a budget and looking for a short-term solution, Trane wouldn't be the best option for you.
However, if you're looking for a central air conditioner that has durability of 15-25 years – you should definitely go with Trane.
They focus on the quality and they're very picky on who they let install their ACs. That's the reason I love them as they put quality and customer satisfaction in the first place.
Daikin is a well-known quality brand with decent central air conditioners. They're affordable and for their price – I think that you get a fair deal.
Although they're amazing for cooling, I wish I could say the same for their heating…
If you're looking for heating as well, I wouldn't recommend Daikin's ACs as their heat pumps aren't near as good as their other parts.
📍 NOTE: These ACs can sometimes be louder than expected if they're under stress.
Coleman has an amazing history of manufacturing air conditioners that are cooling well. They are far less noisy than the other brands and their Echelon series has top-notch quality.
Not only that Coleman's ACs have low installation costs, but you will also love how they are energy efficient.
What I like about Coleman's is how their customer support is responsive and their staff is filled with highly-trained experts.
I think Rheem is the brand that you should go with only if you have a very tight budget and don't plan to spend a penny more.
Although they're pretty cheap and their running costs are low, their durability and quality care are at a poor level as well.
From what I saw, their air conditioners get overwhelmed easily so they produce even bigger noise under the stress. I would avoid putting them in the living room or bedroom.
In my opinion, there are some brands that have a little higher pricing, but their quality is on a higher level compared to Rheem's.
York ACs aren't as loud as the others nor do they drain too much energy, but…
The installation process is very complicated and very few people can do it properly. The problem with York ACs is that if not installed perfectly, they won't be durable as usual.
These central air conditioners aren't cheap and if you're on a budget, you should avoid them.
I agree that Ruud is a quality brand because I haven't heard about anyone having issues with its quality or durability.
What I like the most at Ruud is how their central air conditioners have good heating, probably one of the best of all the other brands.
Also, their customer support is amazing and they'll do their best to help you with your issues.
You can trust Ruud and go with them even if you don't have a large budget for the installation process.
The fact that Bryant is used by 4.5% of all construction firms in the US proves that Bryant has put durability and quality in the first place.
Their central air conditioners could be noisy – it all depends on the model you choose.
As these air conditioners are affordable, they aren't the most efficient, so in the long-term, you could be spending more because of all the energy it will drain.
However, I would recommend them as they are one of the most well-known brands in the US.
How Do Central Air Conditioners Work?
So, the air conditioning process consists of two separate actions – the one that's inside of the home and the other that's outside of the home.
The warm indoor air is cooled as it's being blown through a cooling coil. Then what happens is that the heat from the indoor air is absorbed.
…and that's how cooled air is being sent back to the house.
Now, what's happening on the outside of the home is that heat is being released as a large fan collects outdoor air rejecting the warm air to return back into the house.
This is a result of heat being "pushed" outside of the home, while the cool air returns to the inside of your home.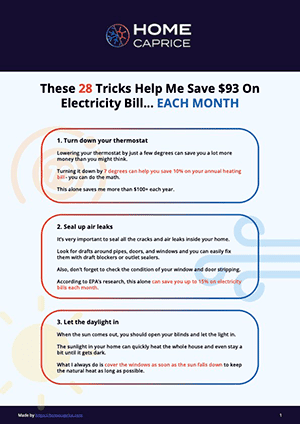 These 28 Tricks Help Me Save $93 On Electricity Bill... EACH MONTH
Download this FREE cheat sheet to find 28 tricks that can help you save on your electricity and heating bill each month.
Click here to get a FREE Cheat-Sheat
How much does it cost to buy central AC?
Every Air Conditioner has a different price, quality, and function.
As it would be hard to say the correct cost, let's break it down into four pieces:
Purchase Price
Depending on what brand you choose, the purchase price of central air conditioners varies a lot.
From my research, the average cost of central AC is from $1,000 to $1,800.
Of course, there are some cheaper and more expensive central air conditioners, but in this range fall average ones you'll most likely go with.
I'd say that $1500 is a sweet spot.
Installation
Installation is the part where things go dirty.
The fact that installation is more expensive than the air conditioner itself, shows you how important this part is for the functionality and quality of AC.
You'll probably spend anywhere between $3,300 up to $6,000.

I see that most of the people spend around $4,500 – so I would say that's an average price of installation.
If you want to get an exact price for your home, fill in the form below and you'll get offers from your local contractors 👇
Or feel free to call this number if you prefer to chat over the phone 👉 (855) 659-3394
Maintenance
You can maintain it yourself, but if you don't have time or don't know how to do it – just hire a professional.
This is not as expensive because per visit you'll pay about $70 – $100. So, if you're going for annual contracts – you shouldn't pay above $160 for professional maintenance.
Estimated Running Costs
This can't be answered correctly as it all depends on how energy efficient your central air conditioner is and how many hours are day it is working.
From HVAC's report, the running costs of air conditioners are about $4 a day. Still, this can't be the exact metric and you could be spending a lot less and a lot more.
Consider These Before Buying
Brand
The last thing you want is to buy an air conditioner from some "amateur" brand that you can't trust.
It's important that the brand has credibility and a lot of satisfied customers.
Here are some of the top brands in the market right now:
Goodman
Trace
Coleman
York
There are some other big brands as well, but these four are my favorites.
Size (Tonnage)
The size of your home has plenty to do with the tonnage of your air conditioner.
As I want to describe this concept as best as I can, I made a simple table to make it easier for you:
| | |
| --- | --- |
| Room Size | AC Capacity |
| Up to 100 sq.ft | 0.8 ton |
| Up to 150 sq.ft | 1.0 ton |
| Up to 250 sq.ft | 1.5 ton |
| Up to 400 sq.ft | 2.0 ton |
Coverage Area
This is similar to the tonnage of an air conditioner.
If you want to cool a bigger room, you'll need the bigger capacity in your air conditioner.
Just take a look at the table above and see how big is the area you want to cool/heat and choose the appropriate capacity.
Seasonal Energy Efficiency Rating (SEER)
This is very important as it depends on how much energy your air conditioner will drain every day.
The higher SEER is, it means that your air conditioner is more energy-efficient and that you can expect a lower electricity bill coming to you each month.
Also, SEER is very important when looking for ductless air conditioners and not just central ACs.
Duct Seals & Air Flow
Duct seals are very important as they have to do a lot with the performance of your central air conditioner. Why?

Well, because they make sure that there aren't any holes that cause air leaking which makes your air conditioner way more energy efficient and improves the air quality flow.
Noise Levels (dB)
If you love a good night's sleep (I know I do) – please be careful with the noise levels of your air conditioner.
There are some air conditioners with a noise level of 80dB which means that they can reach 100dB while stressed.
… and if you have it in your room, you'll need to buy an additional pair of earplugs so you can sleep in peace.
Thermostat Options
You want to know how your air conditioner will perform at different temperatures. If you would ask me, I would go with an "above-average" thermostat that has a lot more functions and options than the average one.
How To Maintain Your AC Unit?
Maintenance of your air conditioner is super important as it has a lot to do with the performance of AC.
It's hard to describe the process with just words…
I would recommend watching this youtube video as you'll see the exact steps you should take to keep your air conditioner running smoothly.
However, if you're lazy like me – you can always hire a professional service to do it for you.
📍 Note: It's important to know all the steps before trying to maintain your air conditioner so that the video I mentioned could be very helpful to you. 
As I Come To The End
I hope you learned something you didn't know about central air conditioners and more about the brands that manufacture them.
If your friends or family are looking to buy a central air conditioner from a brand they can trust, you can share this article with them, so they can know the pros and cons of each brand.
Hey there! I am Benas, the founder of Home Caprice. Thanks for reading the article, I hope you were able to find what you were looking for. Me together with my team, are here to simplify heating and cooling for everyone. If you want more details about the website and our team, please check the
about
page.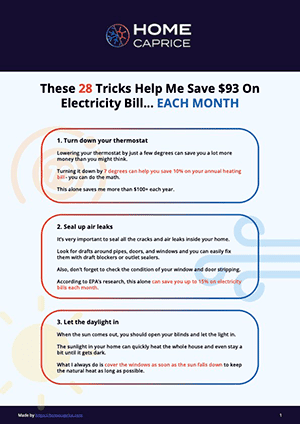 These 28 Tricks Help Me Save $93 On Electricity Bill... EACH MONTH
Download this FREE cheat sheet to find 28 tricks that can help you save on your electricity and heating bill each month.
Click here to get a FREE Cheat-Sheat