If you want to remove bad odors or dust particles that are causing allergies, you can't go wrong with buying an air scrubber.
Air scrubbers usually have multiple stages of filtration and HEPA filters can get rid of 99.97% air pollutants.
They can be used indoors or outdoors and it's not the easiest job to find the one that will suit your needs.
Before revealing the best 6 air scrubbers, let's first take a look at some of the things to consider before making a purchase.
What To Consider Before Buying
Filter type – Filters have a huge impact on the efficiency of the air scrubber, so you should always seek HEPA filters that can rid 99.97% of dust particles and mold. If you're on a budget, fine filters can still do the job but are not as effective.
Power – The power of an air scrubber is measured in CFM, so the higher the CFM, the more powerful the airflow is. In my opinion, around 400 CFM is enough for households, but you can always go for more powerful models that have around 1,000 CFM.
Noise – You probably don't want to hear buzzing noise (especially at night), so look for the dB levels of each unit. You should set your expectations real because usually, more powerful units will produce a bit more noise.
Portability – Always look for the weight of the unit and if it has a built-in carrying handle. If you're planning to move it a lot, you want to avoid very heavy units.
Best 6 HVAC Air Scrubbers That Will Do The Job
If you're looking for an air scrubber to use for the whole house – this one is ideal.
What makes it very efficient is its 3-stage filtration system, including the HEPA filter acting as a large particle cleaner. Because of this efficient filtration, it can even be used on construction sites.
HEPA filters allow it to remove 99.97% of particles equal to the size of 0.3 micrometers.
If you have someone in your family that has issues with allergies, BlueDri will work wonders.
Another great thing worth mentioning is the speed of this model. While some other scrubbers would take hours to remove odors or allergens from a medium-sized room, this beast can do it within just a few minutes.
Without any doubt, you'll be amazed at BlueDri.
Xpower has every possible feature that other models don't have.
The first impressive thing is the 4-stage HEPA & Carbon filtration system that removes allergens but also removes bad odors instantly.
You can switch between 5 different settings, so it's suitable for indoor and outdoor use.
What makes the performance outstanding is its advanced 1/2 HP external rotor induction motor which makes it very powerful.
While it looks a bit large, it's pretty lightweight and it has a built-in handle for easier transport.
If you have a bit larger budget to invest, I'd highly recommend going with this model.
While most air scrubbers are made for household use, this one is strictly made for industrial use.
With an airflow of 700 CFM, it's one of the most powerful air scrubbers on the market. 
Because it's made for industrial use, it has a true HEPA filter with activated carbon filters for super-efficient operation.
It's also one of the smartest scrubbers out there.
You control everything from the touchscreen and it even has some extra features – the same as smart ACs.
What surprised me is how quiet it is considering the power – it's less noisy than most household air scrubbers.
You'll rarely find air scrubbers with UV-C light, but Abestorm absolutely nailed it with this model.
Unlike other air scrubbers which only have a filtration system, this model uses UV-C light technology to ensure elimination of airborne pollutants and fast odor removal.
With a negative air machine and 750 CFM (which can cover up to 7,500 sq. ft.), you can use it for household and industrial use.
What I personally love the most about it besides UV-C technology is its durability. It's literally built like a tank and it uses only the highest quality material for a longer lifespan.
You can even connect up to 3 air scrubber units together and have a combined airflow of 2250 CFM.
The truth is that air scrubbers aren't cheap, but there are still some budget-friendly options.
This model might be cheaper than others, but it still has all the important features including speed control, HEPA filters, an hour-meter display, and even a GFCI port.
Unlike other brands who are upselling the active carbon filter, you receive it for free here. It's very great for eliminating odors from paint, smoke, or pets.
The only downside is its noise levels because I've noticed it to be more noisy than other models I've used.

Check out the quietest portable air conditioners.
The name OdorStop says it all – this model is mostly made to remove bad odors and mold.
With a powerful 1/3 HP motor and 500 CFM, you can remove any type of odor within a few minutes.
Because it's mostly made for household use, I wouldn't recommend it for construction sites or open places.
It still uses HEPA filters to collect allergens and pollutants, so the focus is on efficiency as well.
Benefits of Air Scrubber
Removes bad odors & smell
Whether you're dealing with bad odors and smells in one particular room or the whole house, an air scrubber can quickly remove the odor.
A lot of times it's being used to remove paint smell or tobacco smoke odor that can feel like it's "stuck" in the walls.
Great for people with allergies
If you or someone in your family has issues with allergies, we both know how frustrating coughing and sneezing can be.
Air scrubbers that use HEPA filters can efficiently remove 99,97% of air pollutants which makes those prone to allergies very safe.
Removes airborne contaminants
Close spaces can contain five times more pollutants than outdoor air. With all the electronics in our homes, it might contain even more pollutants and dust.
There's no doubt that air scrubbers protect the health of households and workers.
If you want to avoid putting your health at risk, investing in an air scrubber is definitely a smart choice.
You should take a look at our other cooling-related articles that can help you beat the heat this summer.

Hey there! I am
Benas
, the founder and content editor at Home Caprice. Thanks for reading the article. I hope you were able to find what you were looking for. I and my team are here to simplify heating and cooling for everyone. Please have a look at the
About page
for more details about our website and feel free to check out our
editorial process
.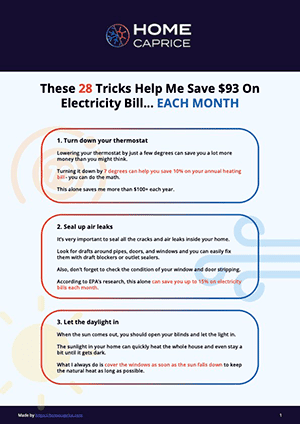 These 28 Tricks Help Me Save $93 On Electricity Bill... EACH MONTH
Download this FREE cheat sheet to find 28 tricks that can help you save on your electricity and heating bill each month.
Click here to get a FREE Cheat-Sheat