You may be thinking about whether to buy a ceramic heater or radiant heater and you don't want to rush with either.
Honestly, choosing between those two was the most frustrating thing I've done in a while.
As I know how hard it is to choose between them, I prepared a guide for you to choose which one fits your needs.
Let's first talk about the differences between them and then I'll cover the benefits and drawbacks of ceramic heaters and radiant heaters.
Difference Between Ceramic and Radiant Heaters?
The main difference between these two is the principle of how they work and distribute heat.
Ceramic heaters work on the convection principle which means that they heat up the air with ceramic and then distribute the warm air throughout the whole home.
There are two different models: regular models and fan-aided models.
I would always recommend fan-aided models for bigger rooms.
Radiant heaters don't heat up the space like ceramic heaters, they heat up "things".
If you're someone who's looking for "laser-focused" heating, then you should consider buying one.
Also, they come in two variations: wall-mounted and stand-and-swivel.
Benefits of Ceramic Heaters
Portable
It's amazing how you can easily move ceramic heaters from one place to another without burning yourself or damaging your home.
You can always heat multiple rooms and it doesn't take long for ceramic heaters to heat the whole room.
Safe
Most ceramic heaters nowadays have overheating protection which makes your whole home safe.
Also, certain models have protection grills that protect your kids and pets from burning themselves.
Economic
They are very economical and they don't require a lot of energy to run.
Ceramic heaters are the perfect solution if you're on a tight budget and don't want a huge electricity bill attached each month.
You should take a look at the most energy-efficient space heaters on the market.
Powerful
Although they're not as strong as smart space heaters, they can still heat the rooms of your house easily.
From my experience, they are stronger than radiant heaters and they can heat the house quicker.
If you can't choose the right ceramic heater for your home, I have an honest recommendation that I use for more than 3 years.
Recommended Ceramic Heater: Lasko 751320
Our Pick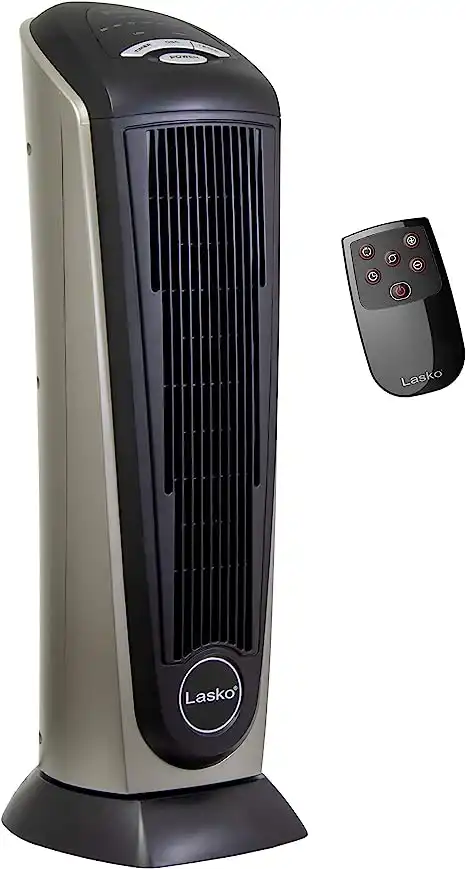 This is the best ceramic heater and definitely the most quality one – no wonder why it's so popular on the market.
First of all, I have to mention the auto-off timer function that allows you to heat the home even while you're not there.
I love how it has a thermostat which is a rare thing to see in ceramic tower heaters.
It has overheating protection and it's easy to move around all the rooms because of its carry handle.
However, you should use it for rooms up to 350 sq. ft. for the best performance.
If you're on a budget, I highly recommend this portable space heater.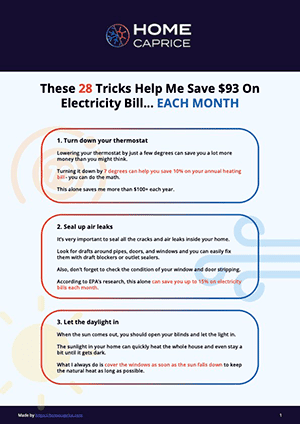 These 28 Tricks Help Me Save $93 On Electricity Bill... EACH MONTH
Download this FREE cheat sheet to find 28 tricks that can help you save on your electricity and heating bill each month.
Click here to get a FREE Cheat-Sheat
What You Might Not Like About Ceramic Heaters 
Ceramic heaters have a lot of advantages, but they are not perfect and they lack a couple of things.
The first thing you might not like is that you shouldn't use them as your main heating source.
Yes, they are powerful, but they're meant to be your second heating source.
The second thing you probably won't like is the temperature settings.
The problem is that you have 5-8 different temperatures that you can choose from and you can't choose the temperature you might want.
Benefits of Radiant Heaters
Space Friendly
Radiant heaters usually take very little space or they can be wall-mounted, so they won't even take any of your floor space.
They can fit into your household design because of their size.
Clean Heating
They don't produce any smoke or any kind of smell because they run only off electricity.
They don't produce ash or dust, so you don't have to clean them every now and then to maintain them.
If you have a dust allergy, this might be the biggest benefit of radiant heaters for you.
Smart
Some radiant heaters even have a WiFi option, so you can control them over your smartphone.
You can control everything including temperature, automatic shutdown, speed level, and more just by using your phone.
I believe radiant heaters became popular because of their advanced technology.
Let me tell you a bit more about the best radiant heater on the market right now.
Our Pick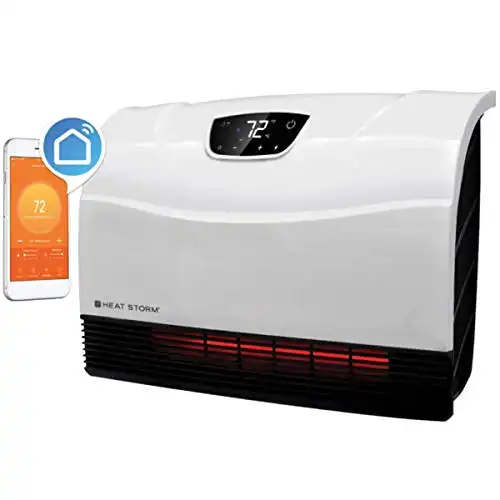 This is one of the smartest heaters with built-in Wi-Fi technology that allows you to control everything through your smartphone.
It's a wall-mounted model, so it won't take any of your floor space. It makes it even safer for kids and pets.
You can even control it with your voice, so you just have to integrate it with Alexa or Google Assistant – this tells you a lot about the advanced technology it has.
If you're interested a bit more in this amazing radiant heater, you should check out 5 reasons why you should buy a Heat Storm heater.
The Downside of Radiant Heaters
Radiant heaters are a great solution, but they have some disadvantages that I personally dislike and they bother me.
What frustrates me is how they're not as durable as ceramic heaters – I'm not talking about all models, but most of them.
Also, I noticed that ceramic heaters heat the room much faster than radiant heaters.
They're very good, but these two things are what I would call the "downside" of radiant heaters.
So, Which One Is Better?
As you've learned in this article, they both have their own advantages and downsides.
If you're looking to heat a bigger room, my opinion is that you should go with ceramic heaters.
However, if you're a tech guy and like smart features – you should go with radiant heaters.
Choose carefully based on your needs and your own requirements. Only in that way, you'll know which one is better and fits you better.
Hey there! I am Benas, the founder of Home Caprice. Thanks for reading the article, I hope you were able to find what you were looking for. Me together with my team, are here to simplify heating and cooling for everyone. If you want more details about the website and our team, please check the
about
page.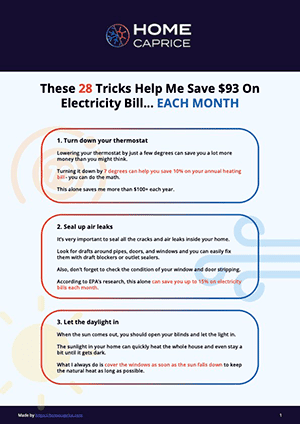 These 28 Tricks Help Me Save $93 On Electricity Bill... EACH MONTH
Download this FREE cheat sheet to find 28 tricks that can help you save on your electricity and heating bill each month.
Click here to get a FREE Cheat-Sheat