Widely considered to be one of the finest ceiling fans you can get for your home, the Big Ass Fans Haiku L is known as a marvel of design, engineering, quality, effectiveness, and innovation. But is it as good as its rep?
In this article we will find out, by looking at the company behind Haiku L, describing Haiku L and how it works, talking a little about our experience with Haiku L, and hearing what verified customers have to say about the Big Ass Fans Haiku L 52 inch smart ceiling fan.
Our Pick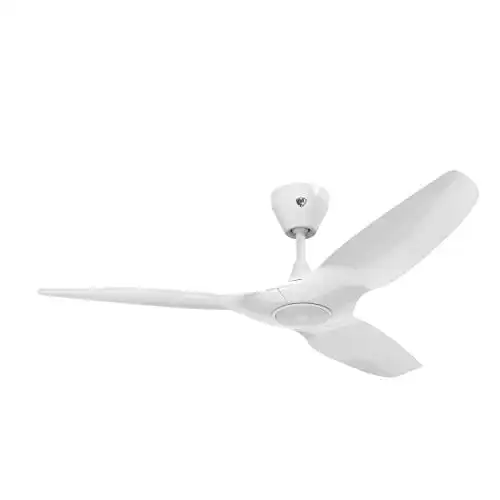 Is Big Ass Fans a Good Company?
Before we get around to the big questions…
Is the Big Ass Fans Haiku L a Good Ceiling Fan?
Is the Big Ass Fans Haiku L Worth the Money?
What is the Best Ceiling Fan on the Market?
…let's first find out a little about the company Big Ass Fans.
Founded more than 20 years ago, Big Ass Fans started out life as HVLS Fan Company, HVLS standing for their primary innovation and contribution to industrial environments – High Volume Low-Speed fans.
This basic idea was so effective in cooling large industrial workplaces that the company quickly expanded, as well as adding more and more features and innovations, including the most durable materials, silent fan motors, perfect balancing, and smart technology.
Big Ass Fans are now considered not just the leader in commercial and industrial cooling, but also the manufacturer of the highest quality, most effective, and advanced ceiling fans for residential use. Almost everything Big Ass Fans makes is manufactured in the United States, and their superb residential fans offer an amazing 5-year warranty.
Is the Haiku L Smart Ceiling Fan a Good Fan?
Considering the fairly high price – not nearly as expensive as a certain specialty or designer fans on the market, but considerably more than your average home ceiling fan – you must be wondering what makes the Haiku L smart ceiling fan so special. Or, at the very least, is the Big ass Fans Haiku L worth the money?
And it certainly appears to be a good fan on paper, with such remarkable features and technologies including:
HVLS (High Volume Low Speed) Technology
Superior Air Flow
Perfect Balance
Whisper Quiet Operation
High-Quality Resin Fan Blades
Adjustable Multi-Level Warm White LED Lights
Full Function Remote Control
Smart Technology
Extremely Low Energy Consumption
Beautiful Styling
Exceptionally High Material and Build Quality
Industry Leading Five-Year Manufacturer's Warranty
Almost everything on this list is related to the first item – HVLS – the innovation which made the company so successful and such an industry leader, and allows the Haiku L, and other Big Ass Fans, to move so much air so effectively, with incredible quietness, low noise, low energy consumption, and exceptional balance.
But HVLS is definitely not the whole story. Any Big Ass Fan, whether for industrial, commercial, or home use, is a superbly made product, with the most advanced materials and the best build quality, and every fan they make is designed not just to look great, but to work with maximum effectiveness in the space for which it is intended. And while their home fans are strikingly beautiful, they are built to industrial standards and should work perfectly for many, many years.
What is Our Experience with the Big Ass Fans Haiku L Ceiling Fan?
I recently had the opportunity to spend time with a friend who had installed a Big Ass Fan Haiku L in his family room, which is a large space and quite open to other parts of the house, like the kitchen and living room. His family room is the center of activity, and keeping it comfortable is a big priority, one of his previous ceiling fans – an older but premium quality (and premium priced!) unit hadn't done so well.
While I missed the chance to help my friend with installation, I did ask him if the Big Ass Fan Haiku L is easy to install, and he assured me that it was actually a straightforward and easily manageable installation process, which he completed within an hour. He didn't need any additional tools or parts, and the instructions were clear and complete.
He also told me that he immediately noticed an enormous difference with his new Haiku L ceiling fan – well, actually several major differences:
The movement of air is much, much stronger
He told me that, while his old (and expensive) ceiling fan did an ok job in the family room, the Haiku L was simply a much more effective fan, and kept the air circulating in even the adjoining spaces.
The fan is much quieter and seems more stable
While the old fan was a premium product, there was always a noticeable noise, and with his new Haiku L he never notices any running noise at all.
The fan moves much more slowly
Even with very quiet and stable fans, there is something stressful about their high speed, and the Haiku L's HVLS (High Volume, Low Speed) approach is almost calming in comparison
The controls and settings are more versatile and useful, and despite all the choices the controls are easy to use
The Big Ass Fan's wide range of settings works well in lots of different situations, and my friend especially loves the Woosh setting!
The LED lights are also really versatile and useful
My friend didn't really consider the built-in lighting system in his purchase decision, but now uses it all the time
The design is more attractive and fits better in his room
My friend absolutely loves the clean, high-quality appearance of his new Haiku L ceiling fan, and thinks it would be much more appropriate for a wide range of decors than his last fan or others he considered buying.
I can tell you that the time I spent with my friend was a kind of revelation. Yes, I have used and reviewed lots of fans – ceiling and otherwise – but this was my first experience with a Big Ass Fan, and with all the press and glowing reviews I was quite intrigued and wondered if Big Ass Fans really are better than other fans.
And now I can answer yes, to me the Big Ass Fans Haiku L ceiling fan is simply a better ceiling fan than any other I've come across, and in many different ways.
When I walked into my friend's house I noticed that the air seemed clean and fresh, almost like being outside, and that there was a nice, light but noticeable, movement of air. It was a cold day, and yet the air I felt was not cool or at all jarring, but comfortable and natural – I mean, we hear all the time that ceiling fans are just as good – and just as effective as money savers – in winter as in summer, and with my friend's new Big Ass Fans Haiku L you could immediately feel that this is true, with the warm air being circulated throughout the large space.
When we went into the family room I noticed the new ceiling fan right away – it is, after all, a big ass fan – and was struck by its clean lines, its stable and silent movement and its clearly premium quality. It really looked nice in the room, and its warm lights also lent a very nice touch to the overall presentation.
And even in the family room, sitting right under the fan, the movement of the air was never overwhelming, or even distracting, but just noticeable in how it kept the space around me fresh without losing the air's warmth. Also extremely impressive was the noise – or the lack of noise – especially considering the Haiku L's big size and effectiveness.
This was all at low settings, which are ideal for supporting the central heating in winter and the AC in summer, but when we turned it up – wow! Still essentially silent, and completely stable and solid, and still moving relatively slowly, the Haiku L moves an unbelievable amount of air. In fact, I could see it, by itself, providing effective cooling in a very large space, raising the possibility of turning the air conditioner completely off at times and saving even more money.
We talked a little about the smart functions, and while my friend does have a very basic Alexa set-up he hasn't gotten into the Haiku L's smart features at all, preferring to use the ultra-simple remote control instead. He shares my opinion that smart home technology is still in its infancy, and it's not as important right now what a smart product can do, but more than the product at least is compatible with smart home systems and can grow as the systems become more useful and sophisticated.
Anyway, according to my friend, that's not at all what he paid for. Even if it had nothing but a big, silly-looking pull string (which it doesn't), he reckons that the Big Ass Fans Haiku L ceiling fan would be an absolute bargain given its incredible effectiveness, superb material, and build quality, silent and stable operation and how it makes his home feel.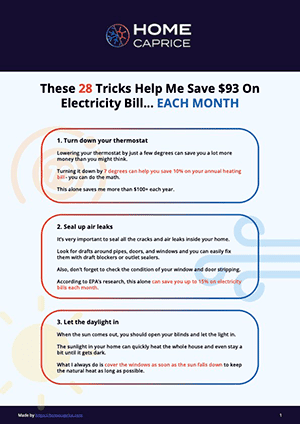 These 28 Tricks Help Me Save $93 On Electricity Bill... EACH MONTH
Download this FREE cheat sheet to find 28 tricks that can help you save on your electricity and heating bill each month.
Click here to get a FREE Cheat-Sheat
What Do Customers Say About the Big Ass Fans Haiku L Ceiling Fan?
And customers seem to agree, as evidenced by so many verified customer reviews saying the Big Ass Fan Haiku L  is "the best fan on the market," "the best fan ever," the "quietest and most powerful," "beautiful and so strong" and lots of similar raves.
You also see so many customers, on Amazon and other sites, saying this is the third or fourth Big Ass Fan they have purchased, that they have them installed all throughout the house, and that they would never purchase another brand.
The following are the most common things mentioned in the many positive customer reviews:
Huge air circulation
Great control over the level of air movement
Whoosh mode
Extremely quiet
Stable – never wobbles at all, even at the highest settings
Beautiful appearance and suitable for different decors
High-quality construction
Easy installation
Very effective cooling by itself, even on hot days
Great support for furnace and air conditioner – people use their Haiku L ceiling fan all year long
A great value and well worth the money
A remarkable number of customers find that the Haiku L is not just well worth the money, but not at all expensive, considering it is a top-quality product that will last for many years, it is so incredibly effective and so attractive, and is already saving them big money on their utility bills.
Features & Specifications
52 Inch Smart Ceiling Fan
HVLS (High Volume Low Speed) Technology
Air Flow: up to 5,604 CFM (cubic feet per minute)
Noise Level: less than 35 decibels at maximum speed
Patented EC (Electronically Commutated) Motor
Extremely Energy Efficient
Resin Composite Fan Blades
Smart Compatibility including Alexa and Google Home
Full Function Remote Control
Integrated Warm White LED Lighting with 16 Levels up to 988 Lumens
5 Year Manufacturer's Warranty
Our Pick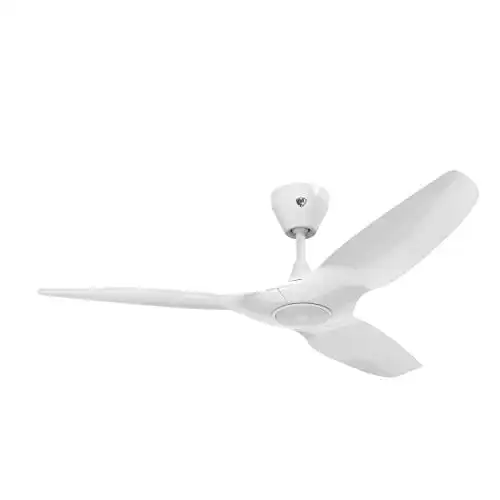 Final Thoughts: Should I Buy a Big Ass Fans Haiku L Smart Ceiling Fan?
Everybody knows that a good ceiling fan can be a wonderful thing to have during the summer,  and more and more people also understand that they can be equally valuable during the winter months and that in fact all year long they can help support your HVAC system – saving you lots of money while they make your home more comfortable.
But can't you get just any old ceiling fan and achieve the same thing? Well, no.
A cheap, or even middle-range, ceiling fan from other manufacturers will never offer the kind of air movement a well-engineered premium fan will provide. The best of them – and the Big Ass Fans Haiku L may well be the best of the best – will gently move air when you are right below them and still circulate lots of warm or cool air throughout a large area of your house.
The Haiku L is the best I've ever experienced in this regard and is one of the best-made, most attractive, most silent, and most stable fans on the market today.
Is the Big Ass Fans Haiku L Smart Ceiling Fan Worth the Money?
Is the Haiku L expensive? Not considering that it costs less than some people might pay for only two or three months of utility bills, and how much you can save on those bills by using such a truly effective fan.
But maybe even more than that is how the Haiku L makes you, your home, and your family feel. All things considered, it is actually quite a bargain and an investment that will pay dividends for many years.

Hey there! I am
Benas
, the founder and content editor at Home Caprice. Thanks for reading the article. I hope you were able to find what you were looking for. I and my team are here to simplify heating and cooling for everyone. Please have a look at the
About page
for more details about our website and feel free to check out our
editorial process
.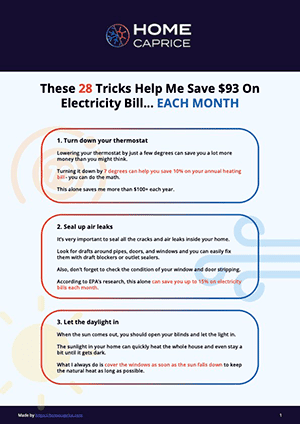 These 28 Tricks Help Me Save $93 On Electricity Bill... EACH MONTH
Download this FREE cheat sheet to find 28 tricks that can help you save on your electricity and heating bill each month.
Click here to get a FREE Cheat-Sheat