Harbor Breeze Mazon Ceiling fan is one of the best options to consider when looking for a ceiling fan with a remote. It is available in three different sizes. Its durable metal will last for a long time to come. 
Harbor is among the top-quality brands on the market, known for its highly reliable and best-performing fans of all shapes and sizes. The brand has various fun designs available in different finishes. They are equipped with powerful motors to generate tremendous airflow.
Our Pick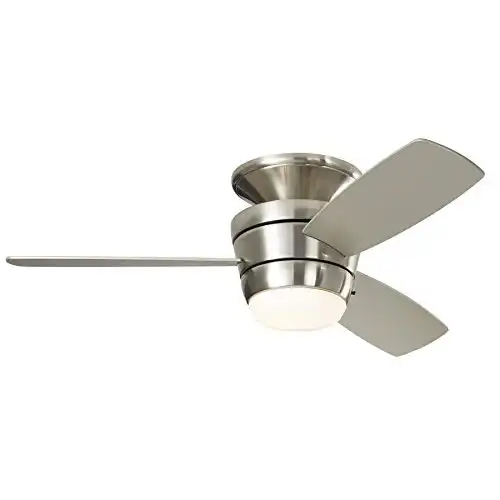 In this review, we are going to talk about the Harbor Breeze Mazon 44-inch ceiling fan. And we will see what features it comes with and what's missing. So, you can decide if it's the right choice for you or not.
Here are the pros and cons of this ceiling fan in a nutshell:
| ✅ Pros | ❌ Cons |
| --- | --- |
| Metal construction. | Not suitable for larger spaces.  |
| Brushed finish. | Flimsy remote. |
| Contemporary 3-blade design. | |
| Remote control with 3-fan speeds.  | |
| 18W LED bulb. | |
| 100 square feet area coverage. | |
Things to Consider Before Buying a Ceiling Fan 
Space. There are various features to contemplate when buying a ceiling fan. First of all, you need to consider the space of the location where you will install it. Different ceiling fans are rated for different environments. 
Dry rating. If you are looking for an indoor fan, it needs to come with a UL dry rating. For outdoor fans, you should consider UL damp-rated models. And if the fan is in contact with water, it needs to come with a UL wet rating. 
Square footage. Then, of course, you must ponder over the square footage that is going to be covered by the fan and its airflow. For best performance, you should keep these numbers in mind. 
Energy Star. Models with Energy Star ratings will be better as they will be energy efficient while producing maximum airflow and CFM. 
Fan blade size. The fan blades' size will directly influence these numbers, and they can vary from up to 20 inches and over 70 inches. You need to pick the right size based on the space. 
Design. You have to look for the design of a ceiling fan. For spaces that are under 8 feet tall, you should go with a flush mount model. Anything over 8 feet will need a fan featuring a download. 
So, you need to answer a few questions when buying a ceiling fan:
Are you going to use your fan indoors or outdoors? 
Is it going to be in contact with water (snow, ocean spray, etc.)?
How much space are you looking to cover? 
Do you need a remote control? 
How low is the ceiling where you are going to install the fan? 
What size room do I need for a 44-inch ceiling fan?
| Room Size (sq. ft.) | Room Type | Recommended Blade Size |
| --- | --- | --- |
| Under 144 | Breakfast Nooks, Bathroom, Utility Rooms, Porches, Small Bedrooms | Under 42-inch fan |
| 144-225 | Kitchens, Medium Bedrooms, Dining Rooms, Patios, Dens | Under 42-inch fan |
| 225-400 | Family Rooms, Master Bedrooms, TV Rooms, Gazebos, Small Garages | Over 50-inch fan |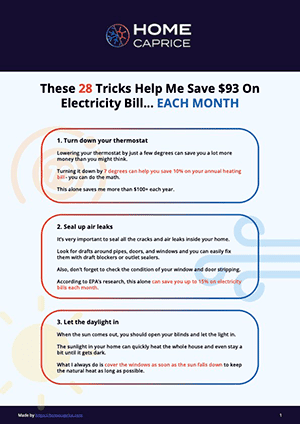 These 28 Tricks Help Me Save $93 On Electricity Bill... EACH MONTH
Download this FREE cheat sheet to find 28 tricks that can help you save on your electricity and heating bill each month.
Click here to get a FREE Cheat-Sheat
Why Should You Consider the Harbor Breeze Mazon? 
Indoor usage
If you are looking for a quality ceiling fan for indoors, you should consider buying the Harbor Breeze. This fan comes with UL dry-rating and suits any small indoor space up to 100 soiree feet. 
Flush-mount design
This ceiling fan comes with a flush-mount design. This fan is ideal for smaller spaces that don't have ceilings taller than 8 feet. There is no downrod on this fan, and it will keep the height of the fan close to the ceiling for better headspace. 
Brush nickel finish 
A brushed nickel finish gives it a contemporary look. It means the fan goes well with most of the types of furniture and fixtures, especially modern ones.
LED Light
If you are tight on space and looking for a fan that features a light, this ceiling fan is the right choice. It comes with an 18W LED light, and you can conveniently increase or decrease its brightness with its remote control. 
Remote control
You don't need a wall switch. You can use the remote directly to control the speed and brightness effortlessly. 
Fan speeds and light brightness
The ceiling fan also comes with three different fan speeds and light intensities. So, you can conveniently increase or decrease the fan speeds and the light brightness according to the time of the day, your requirements, and your preferences. 
Three 44-inch blades
This ceiling fan features 44-inch blades that allow the fan to cover an area of 100 square feet easily. This means this fan is suitable for smaller spaces. But you get to change the fan speeds according to your requirements. 
Easy installation
Most of the Harbor Breeze Mazon reviews talk about how easy to install this fan is. You only need to hang its AC motor with the ceiling, and that's it. You won't need to have a wall switch because it will be controlled via its remote control.
Multiple certifications
It also comes with multiple certifications as it is UL and ETL listed and CSA and Energy-Star certified. So, you won't have to worry about your energy costs at all. This fan will consume electricity quite efficiently. 
Affordable price
This ceiling fan also comes at an affordable price. And it's a great deal that you can obtain all the modern features for such a price. This fan's running cost is not that much either because you won't have to do much to maintain it and keep your energy costs low. 
Alternatives to Consider
Our Pick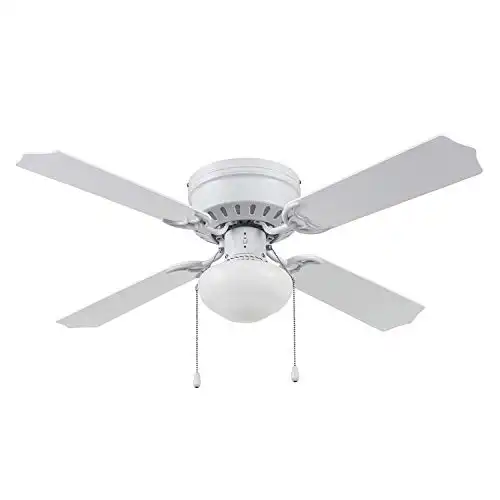 For half the price, you can go for the Portage Bay Cherry Hill ceiling fan. It features a reversible motor. There are four 42-inch blades present on it. The flush-mount fan can run at three different speeds and comes with LED bulbs as well. 
This 42-inch fan comes with three blades and features an LED light right in the center. It can cover up to 100 square feet of the area but requires a ceiling taller than 10 feet due to its downrod design. The Westinghouse fan can deliver a powerful airflow and is ideal for indoor use.
FAQ
How far down are the blades from the ceiling? 
The blades of this ceiling fan are about 9 inches below the ceiling at the lowest point. Once you install it, the fan blades' total height will be 12 inches right from the ceiling to the lowest point on the lamp. 
Can I use this fan with a dimmer switch? 
No, you cannot use this fan with a dimmer because it already features three fan speeds and a dimmable light that you can control with its remote. It doesn't need a wall switch to operate or function. 
Can I replace the LED bulb that is there in this fan?
SilverLite 4-inch bulb. You will only have to unscrew the previous bulb and clip the wires. Use the wire nuts to connect your new bulb. It is not that difficult at all. 
Conclusion
There you have it. The Harbor Mazon fan is a choice for anyone looking for a fan to cover around 100 square feet of area. It comes with a remote control, and there are three different fan speeds that you can go with. It also features a dimmable 17W LED light. 
The three-blade design of this fan ensures a powerful airflow. Its flush-mount construction makes it an ideal option for ceilings that are lower than 8 feet. The contemporary design and brushed-nickel finish of this fan goes well with most decor types, and it looks sleek in modern-day homes.

Hey there! I am
Benas
, the founder and content editor at Home Caprice. Thanks for reading the article. I hope you were able to find what you were looking for. I and my team are here to simplify heating and cooling for everyone. Please have a look at the
About page
for more details about our website and feel free to check out our
editorial process
.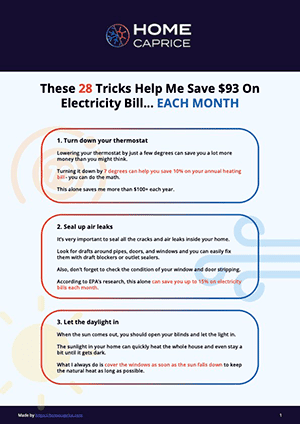 These 28 Tricks Help Me Save $93 On Electricity Bill... EACH MONTH
Download this FREE cheat sheet to find 28 tricks that can help you save on your electricity and heating bill each month.
Click here to get a FREE Cheat-Sheat