The Lasko 4930 was the highest consumer-rated fan that we have reviewed, to see what all the fuss was about we had to take a look.
First of all, for all the research we did of all the reviews we went through almost over 85% of them had a positive outcome after purchasing this product.
Visually it's noticeably different from your average tower fan in that it's a whole lot bulkier.
As we find out in our review there is a good reason for this.
Bar a few common niggles this is a good fan for people with certain requirements.
Although it doesn't have any advanced features and comes with much the same controls, features, and materials as other towers it has a whopping advantage in regards to its unique selling point.
We think this is one of the best tower fans out there.
Our Pick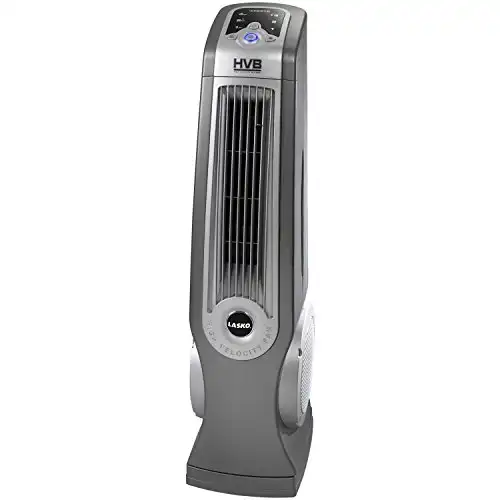 Lasko 4930 Review
Design
When you compare the design of this Lasko tower fan to many of the other Lasko Tower fans you will immediately notice that is has a bit more bulk and there is a very clear reason for it.
The fan is still nice looking despite the extra bulk, but you won't be as stealthy hidden away as some other tower fans maybe.
However, the extra bulk makes the fan much more sturdy than its counterparts so there are no worries with the fan tipping or wobbling around on looser surfaces like carpet.
Like some other Lasko fans, this blower fan also suffers from the bright blue light problem.
The on/off feature on the control panels has a blue light which at night is actually quite bright and can light the room up more than is comfortable for sleeping.
However, as a few purchasers have mentioned you might not be using this fan at night to sleep.
The other method that we can use on this fan to direct the flow is the Louvres with a manual lever that protrudes from the grill of the fan.
You can use this to direct the flow up or down.
However, the downward angle is not very 'down' and criticism by some consumers was that it needs to be able to angle down further than it currently allows.
Given all the settings the airflow is still fairly targeted.
So If you are looking for some mild air at night and only a little bit of noise to get to sleep, this won't be the fan for you.
However, if you need a very powerful blower fan, for a larger room this is more likely to be on your radar.
Another thing to remember of course is that while this fan produces a huge amount of airflow it is still not an air conditioner so if you are expecting this fan to cool your room considerably you will end up disappointed.
Built into the fan is also a handle for easy portability.
This fan is not a smart app capable, so no wifi or Bluetooth either.
Airflow
Now to the primary feature of the fan.
The Lasko 4930 fan blows.
A LOT!
If you want to move cold air.
This is your fan.
Seriously, you will need to pin things down on your desk especially in the high setting.
In my opinion, it is almost a deciding feature for buying this fan.
While moving a lot of air is great it also makes this fan very loud.
Airflow for the fan comes from the base of the unit where it sucks in the air and pushes it up through the fan.
Because it is grabbing the air from the lowest place in the room, it will be blowing out cold air.
Speeds
The Lasko 4930 comes with 3 powerhouse speeds. You are able to control the airflow on this fan with high, medium and low settings.
Other fans such as the Dyson AM07 come with 10 fan speed settings.
Oscillation
There are various adjustments that can be made to the fan to direct the airflow.
The first is the oscillation feature which moves the fan from side to side directing the flow around the room. Although the oscillation range on this fan is not large compared to other similar fans.
Probably the biggest criticism we found with the fan was the issues that developed regarding the oscillation feature.
For some consumers, while oscillating the fan would make sounds as it turned.
Always keep the box and receipt in case of the rare occasion this may happen.
Timers
The timer can be set on 1, 2, 4-hour sleep modes which is less the lower end of the available settings for fans. Much the same as the Holmes but less functionality than its Lasko counterpart.
Remote Control
You can control all the settings of the blower fan from the unit itself and also from the remote.
Unfortunately, with this limited option, you cannot control when within those hours the fan is turning off. So there is no timer to know how long the fan has before it turns off.
The sensor for the remote control is located on the top of the fan.
You will always need to be in light of sight with the blower fan so the remote will always need to be above the fan looking down which has caused some problems for people in the bed looking to change the settings.
Some other issues some consumers had was with the quality of the infrared signal being that you need to be close or directly in line for the signal to work.
The remote is powered by 2 AAA batteries which do not come included in the purchase of the blower fan.
There is a hook on the back of the fan where the remote can be stored which is great for keeping tabs on it.
Noise
Yes, this thing is not quiet.
One consumer tested the noise with a sound level meter measured 12 feet from the fan and recorded the below results. #1 setting = 50 dB, #2 setting = 55 dB, and #3 setting = 60 dB.
That is around the sound of a normal conversation at 3-5 feet.
Cleaning
Like most other tower fans this does not have a filter that needs replacing which is always great (no having to buy filters).
Cleaning of the exterior of the fan can be done with a damp cloth (don't use detergents or other liquids as it could damage the plastic).
The interior can be cleaned with the brush feature on your vacuum however it can be hard to get at the insides with this so the alternative and perhaps better method is with some compressed air.
Power/Safety/Energy
The fan comes with a polarized safety plug (one blade is wider than the other) to reduce the risk of electric shock.
This plug is a safety feature so it is recommended to not attempt to defeat this safety feature as it contains a safety device (fuse) that should not be removed.
Safety is always a concern for consumers and they can feel safe knowing this fan comes with patented safety fuse technology.
This probably came about after Lasko had to recall a number of units around 2002-2004. With failure comes to progress and we now have much safer products because of the incident
The wattage is .105KW for high fan setting, 93 for medium, and 81 for low.
For comparison, the Dyson Am07 on its highest setting runs at around .05 KW so this is considerably more power.
It is really to be expected considering the far greater output of airflow this tower fan offers.
Assembly
The Lasko oscillating fan comes fully assembled so no assembly required. Just plug and play right out of the box. That's what we like!
Physical Specs
This fan is primarily made of plastic.
| | |
| --- | --- |
| Depth (in.) | 12 in |
| Height (in.) | 35 in |
| Width (in.) | 8.75 in |
| Cord Length (ft.) | 6 |
| Pros ✅ | Cons ❌ |
| --- | --- |
| Extremely powerful fan | Noisy |
| Remote control | Oscillation feature has had problems |
| Fully Assembled | Not as aesthetically pleasing as other models. |
Consumer Ratings & Reviews
The Lasko oscillating high-velocity fan is one of the most positively rated fans (by consumers) we could find hence our desire to review the product.
Nearly 85% of people who have provided feedback have come away with a positive outlook on this fan.
The pros and cons of the fan are pretty consistent and it's likely if you know what you are wanting in a fan that looking at this fan would be an easy yay or nay decision.
Warranty
The Lasko 4930 comes with a 1-year limited warranty.
Price
This Lasko 4930 tower fan comes with mostly the same features as its other fans, same design features such as the remote hook, handle for easy portability and remote control and settings but there is the one thing that stands it apart and there is zero doubt about the fact it moves more air.
With that comes the slightly higher price tag.
Our Pick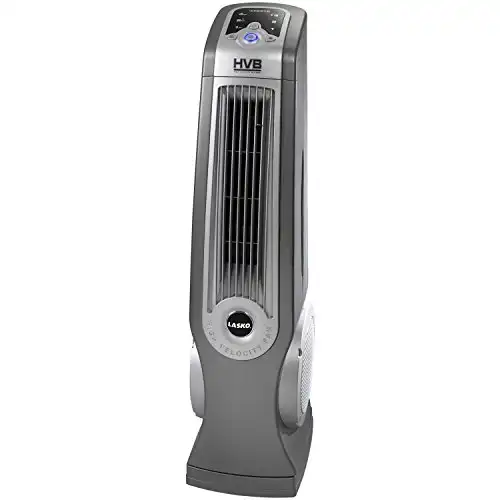 Summary
In our opinion, it's fairly clear who this fan is most suited to.
Those who need powerful airflow.
If you are worried about noise probably not so much.
Effectively that's what it comes down is that there are a lot of happy purchasers of this tower fan, if it doesn't develop its troublesome noise with the oscillation feature then you should have a pretty handy product.
Like most fans, there are little nitpicks of things that could be improved but it's likely not enough to turn the positives into an overall negative experience.

Hey there! I am
Benas
, the founder and content editor at Home Caprice. Thanks for reading the article. I hope you were able to find what you were looking for. I and my team are here to simplify heating and cooling for everyone. Please have a look at the
About page
for more details about our website and feel free to check out our
editorial process
.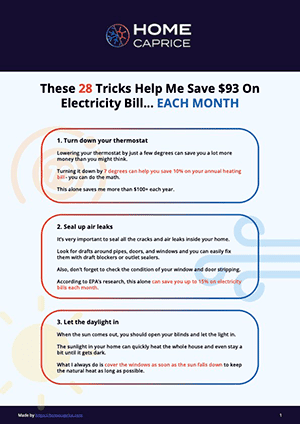 These 28 Tricks Help Me Save $93 On Electricity Bill... EACH MONTH
Download this FREE cheat sheet to find 28 tricks that can help you save on your electricity and heating bill each month.
Click here to get a FREE Cheat-Sheat