The Holmes 36-inch tower fan is one of Amazon's best-selling fans so that means it's got to be good right?
If it sells so many it must be! We dig a little deeper in this review and find we might want to relook at that theory. As far as settings and functions go it is fairly run-of-the-mill. It has your sleep timer, oscillation, wind speeds, and unique breeze settings along with the remote control.
Probably its most attractive feature is its price and for a low budget, you could end up with a reasonable fan. So why are we a little skeptical? When we dig a little deeper we find a few issues.
While searching for fans for certain rooms it's not often we get specifications from manufacturers where the fans have been designed to function in. In a way, it goes against their interest to limit their potential sales base.
So it's great in this case that Holmes has stated that these fans were produced to work in the bedroom/ living/medium-sized rooms. Depending on your preference while looking it might save you a bit of time knowing this. As we go through the review a bit further we can see that if you are looking for something for a bigger room it's probably not going to be an option for you.
Our Pick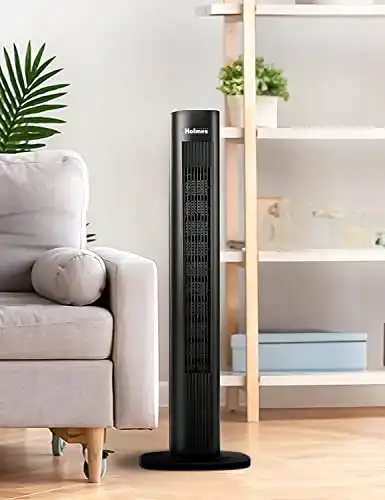 Design
The design of the Holmes 36-inch fan is nice and has the slim, sleek fan design that most tower fans implement. It comes in 2 color variants, white and black. EXCEPT, the white is not white.
It's a pale gray or off-white, not the white as specified on many websites selling the product. Many consumers were surprised by this, some pleasant, some not so much so that's something to be aware of if purchasing the white variant.
Built into the fan is a kind of handle/slot in order to give the option of easy portability. Also built into the design is a slot to keep the remote when it's not in use. A great feature for keeping track of the remote.
The base. Sadly many consumers found the base flimsy and not that well built causing the fan to move around and wobble on the higher settings. This was probably one of the most common complaints with the fan and when nearly 1 in 5 people have not had a positive experience with the fan after purchasing (not all of these negatives relating to the base and movement, but a fair few) it would have to be a bit skeptical of the craftsmanship.
The power cord for this fan is black. I mention this as with some other fans the color of the cord had no synergy with the rest of the design.
This fan does not have any smart features such as Wi-Fi, Bluetooth, or smart apps.
Airflow
Unlike the Lasko 2551 this fan does not come with any mode or method of directing airflow up or down.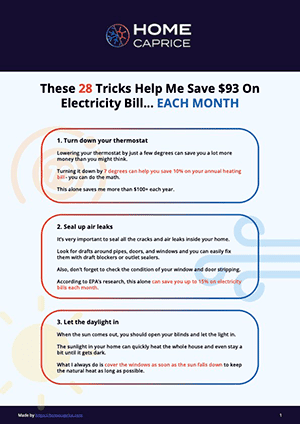 These 28 Tricks Help Me Save $93 On Electricity Bill... EACH MONTH
Download this FREE cheat sheet to find 28 tricks that can help you save on your electricity and heating bill each month.
Click here to get a FREE Cheat-Sheat
Speeds
The Holmes 36 Inch comes with 3 wind speed settings, effectively low medium, and high, much like many other tower fans. What's unique about this fan in relation to other tower fans is its breeze setting.
There are 2 breeze settings, natural and sleep. Natural is an attempt and creating a natural breeze you might feel outside. It cycles through the fan speed settings randomly creating an ebb and flow of wind. The sleep breeze setting with cycle through the wind speed settings in order, so from high to medium to low.
Whether this is of any benefit is debatable and many consumers have viewed this feature as merely an unuseful gimmick.
Oscillation
Like most tower fans it does have the oscillation feature with a reasonable spread of around 65 degrees left and right which is much more than its Lasko counterpart.
Timers
The timer has 4 timer settings. 1, 2, 4, and 8 hours. This does not have as many settings as compared to many other fans including the Lasko 2551 which has the ability to add half-hour increments.
Remote Control
With the remote control of the Holmes 36 Inch Tower Fan, you are able to control all the fan's functions. The timer, wind speed settings, breeze settings, and oscillation. Unfortunately for those who use their fans at night and may have sleeping partners the buttons beep when pressed, so probably no stealthy fan setting changes at night.
Another somewhat frustrating feature of the remote and fan settings is that the on/off button and fan speed settings are all part of the same button, so you need to cycle through the other settings in order to choose a new setting (for example if you are on high wind speed setting and want to get through to the medium setting you will have to go through the on/off and low speed first). Not ideal.
The remote is powered by 2 AAA batteries which are not included in the original purchase.
Without the remote, you are able to control all the features and settings from the fan unit itself.
The fan actually has a good oscillation range than its Lasko counterpart, however, on numerous occasions, the fan has fallen flat on its performance for its consumers when it has developed a noise at the peak of its oscillation. It was one of the most common gripes from consumers in our research.
Cleaning
There is nothing too different from most other fans in regards to cleaning this unit. The fan does not have a filter that needs replacing as specified by the manufacturer below. Also, cleaning can be done with a damp cloth for the exterior and compressed air for the insides.
Safety
Being a bladeless fan is a big plus for safety points. One of the other safety features the fan employs is overload protection (fuse). A blown fuse indicates an overload or short circuit. The manufacturer recommends contacting them at their website if you blow a fuse. It may seem a little over the top but Lask had to do a fan recall because of safety issues.
This fan has a polarized plug to reduce the risk of electric shock. Regarding voltage, the model reviewed here is 110v. Always check with the retailer before you buy as voltage may differ.
As far as energy goes the manufacturer claims to use around 69 watts. A bit ambiguous without knowing which settings this was tested on but take it as you will.
Assembly
Assembling the fan takes around 10-15 minutes and requires a Phillips screwdriver. As mentioned above regarding the base a few consumers have had some issues connecting the base unit. Full instructions come in the user manual.
Physical specs.
The product is 32 x 16 x 10 inches in size. This is 6 inches shorter than its Lasko counterpart and a number of consumers commented on how short it is so bear in mind the shorter size of this model. The base of the unit is approximately  11†in diameter so also be aware that's how much ground space you will need for the fan.
Special Features
The thing that sets this fan apart from its closest rivals is its breeze settings and 3-year limited warranty.
| ✅ Pros | ❌ Cons |
| --- | --- |
| Wide oscillation | The base is often wobbly |
| Not too noisy | Remote has to cycle through wind settings rather than being able to choose directly |
| Remote Control | Can develop an annoying noise after a while when oscillating. |
| 3 Year Warranty | |
Consumer Ratings & Reviews
Although this is one of the best-selling fans on Amazon one can't help but be a little dissuaded when nearly 1 in 5 people have not had a positive purchasing experience and it's not a small number of people. Luckily this fan is on the lower end of the purchasing scale and there are still a number of people who have been content with the fan.
Warranty
According to the user manual, this fan comes with a 3-year limited warranty.
Our Pick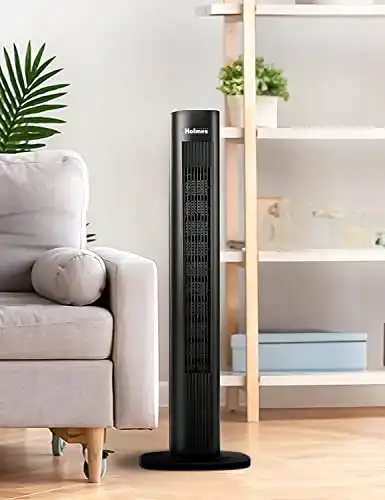 Summary
After researching this fan and reading hundreds of reviews I can't help but this fan is a bit too hit-and-miss. It's one of the top sellers on Amazon, it's cheap, it has a remote, fairly standard fan settings, output that is adequate but not amazing. But I keep coming back to the 1 in 5 customers with a negative experience.
That's a lot higher than some other fans which you can pay a little extra for. It's the point of difference, the breeze settings are not really a pulling point so, for the most part, there are other fans that are bigger and come with fewer potential issues out there for a little more such as the Lasko 2551, Amazon another top seller.
If you are on a shoestring budget and might be ok with something that isn't a world-beater but still looks good it might work ok for you. I would certainly look at your options carefully.

Hey there! I am
Benas
, the founder and content editor at Home Caprice. Thanks for reading the article. I hope you were able to find what you were looking for. I and my team are here to simplify heating and cooling for everyone. Please have a look at the
About page
for more details about our website and feel free to check out our
editorial process
.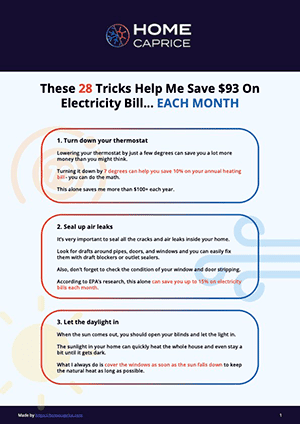 These 28 Tricks Help Me Save $93 On Electricity Bill... EACH MONTH
Download this FREE cheat sheet to find 28 tricks that can help you save on your electricity and heating bill each month.
Click here to get a FREE Cheat-Sheat