If you want your camping season to be more comfortable, you will need an RV thermostat. The best RV thermostat will allow your air conditioner to work flawlessly, and it will continue to do so for many years to come. And the best part is it will help you in saving your energy bills. 
But which RV thermostat to go for? In this guide, we will answer this question by providing you with our top 5 recommendations. 
Buying Guide
User-friendliness 
This is probably the most important feature that you need to look for in an RV thermostat. If it is not easy or simple to use, you might have to deal with many headaches to operate it. You can either go for a fully automated model or the manual option. A fully automated model is a better option because you don't need to worry about the on/off functions. The thermostat will take care of the temperature automatically.
Looks
As strange as it may sound, but looks as if your RV thermostat will matter a lot. If your RV has a modern and contemporary touch, you need a similar thermostat look. On the other hand, you need to go for a non-digital unit that looks classic for older RVs. 
Quality & performance
No matter what price you pay, you can expect that plastics are used to construct camper thermostats. There will be tiny wires inside the unit, and when we talk about quality, such a device won't be easy to crack or break. 
Good quality thermostats do continue to run year after year without any service or maintenance. You will only have to go for the battery change if you have a unit that runs on the battery. Also, look for a good warranty, and don't go for a thermostat from a brand that doesn't stand behind its products. 
How does an RV thermostat work?
This device can detect the internal temperature of your recreational vehicle. It will turn on the furnace if it's too cold inside. Most thermostats can also turn on the air conditioner if it's too hot inside. 
This device is hardwired into your air conditioner or furnace and goes right through the 12V system of your RV. There are sensors inside this device, and they detect the change in temperature and turn the appliances on and off. 
What are the different types of RV thermostats? 
There are three different types of RV thermostats. There is an analog device, a digital or an electronic device, and a programmable device. Analog units are older devices with a sliding switch that moves according to temperature changes. Unfortunately, this device is not accurate.
A digital camper thermostat is way more accurate, but it does work like its analog counterparts. Programmable units are the best, and they are the easiest to use. You will have to put the settings into the memory of this unit, and it will continue to work according to those settings. 
Best RV Thermostats Reviewed
Our Pick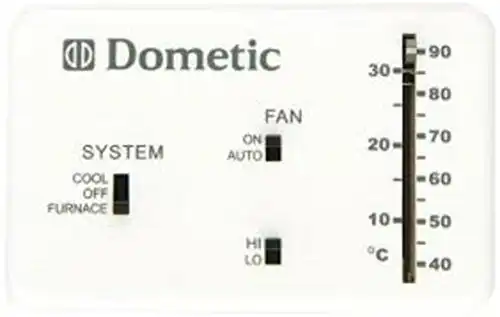 What makes Dometic the best RV thermostat is the compatibility to work with both furnaces and air conditioners. You can conveniently hardwire it into your electrical system and connect it to your furnace and air conditioner. 
You can use this device throughout the year in your RV, whether it's old or new. 
It's better suited for older recreational vehicles and works only with an analog control board. Don't forget to check its compatibility with your RV. Otherwise, you will have to change the entire electrical panel of your RV. 
| ✅ Pros | ❌ Cons |
| --- | --- |
| Effortless to install.  | Only suitable for older RVs with analog panels.  |
| Has robust construction | |
| Works with the furnace as well as an air conditioner.  | |
| | |
Our Pick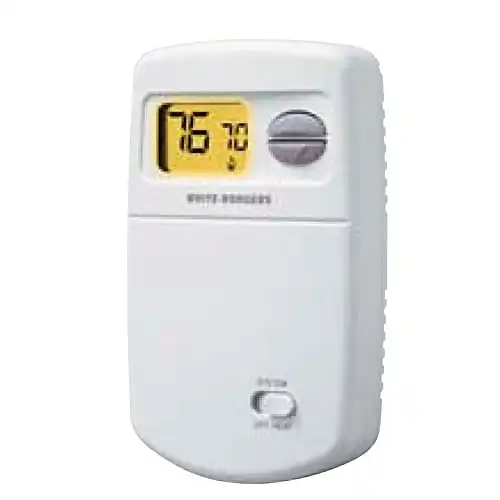 Here is a non-programmable digital unit suitable for your furnace. It cannot be hardwired to your air conditioner, but it comes with a backlight so you can see it in the dark.
This thermostat for the RV furnace is only compatible with single-stage heating systems. So, if you are looking for an easy-to-use device that is just good enough for simple use, this is it. 
You can connect it to your furnace or even water heater, and it will perfectly control the heat in your space.
| ✅ Pros | ❌ Cons |
| --- | --- |
| The digital display is easy to read.  | It doesn't work with air conditioners.  |
| Features a backlight.  | |
| Can be directly hardwired into the electrical system of your furnace.  | |
| Simple to operate and highly accurate.  | |
Our Pick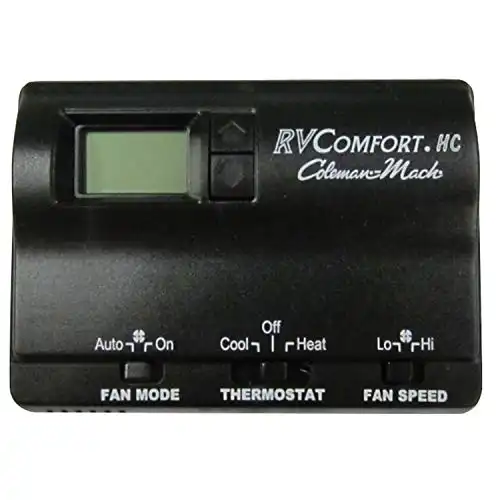 Here's a digital option for you to consider. This thermostat allows you to put the hardware into the electrical system of your recreational vehicle. And the best part is that you can conveniently connect this thermostat with either your furnace or your air conditioner. 
This RV air conditioner thermostat allows you to alter the fan speed and automate the fan mode entirely. Conveniently run your heater and an air conditioner with this signal device that looks pretty nice and can work in newer RV models as well. 
The installation of this digital RV thermostat is effortless. You won't need to have an analog control panel if this one is in your RV. Just install it and start using it right away. 
The controls are pretty simple as one is for fan mode, the other one for fan speed, and the heat/cool thermostat function. The screen of this RV AC thermostat will display the current status and room temperature. 
| ✅ Pros | ❌ Cons |
| --- | --- |
| Straightforward installation and use.  | It's not going to work with colder analog control panels.  |
| Three different controls.  | |
| Can be hardwired into your local system.  | |
| Works for both heat and cold.  | |
Our Pick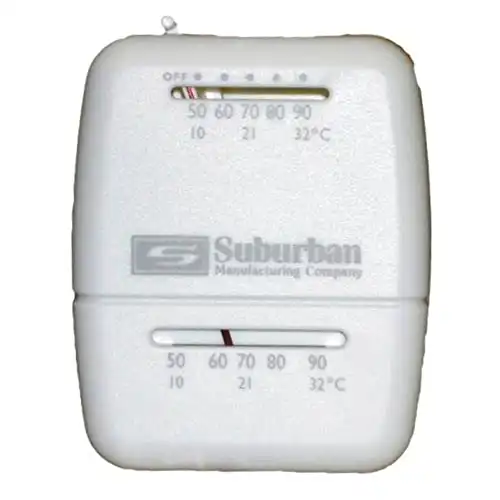 If you are looking for a budget-friendly option, then this is it. This wall-mount thermostat has that classic look and will work only in older recreational vehicles. This is because it can only be hardwired into the older control panels. 
This RV thermostat cycles on/off as it should. It bolts up to the original holes nicely and operates perfectly. Although it doesn't have a temperature reading. But with the temp shown at the bottom, it is not really needed.
| ✅ Pros | ❌ Cons |
| --- | --- |
| It's pretty easy to use | Doesn't come with temperature markings.  |
| Setting it up is not a problem  | |
| Works with both heating and cooling.  | |
| Suitable for older RVs. | |
Our Pick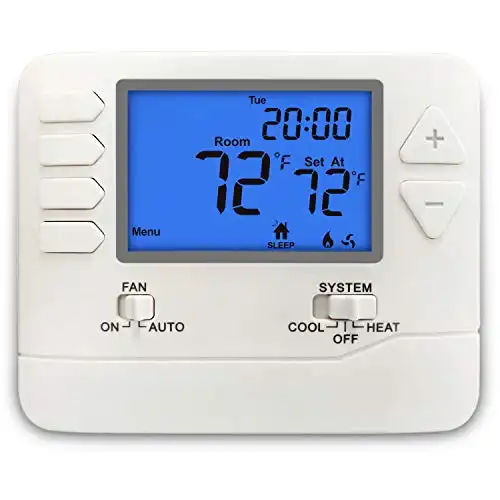 Here's a fully programmable thermostat that comes with a large LCD. It is fully compatible with gas and electrical systems that are single-stage. It can conveniently work with both the heating and cooling systems of your recreational vehicle.
This programmable RV thermostat is a great choice for newer recreational vehicles. And the best part is that it runs on battery. 
This digital thermostat for RV is a very durable unit and will perform for a long time to come. It can be powered with a couple of AAA batteries, and you can hardware it with your heating and cooling systems with ease. 
| ✅ Pros | ❌ Cons |
| --- | --- |
| Simple operation.  | At times goes above the programmed temperatures.  |
| Runs on battery.  | |
| Very accurate and simple to program.  | |
| A top choice for modern recreational vehicles.  | |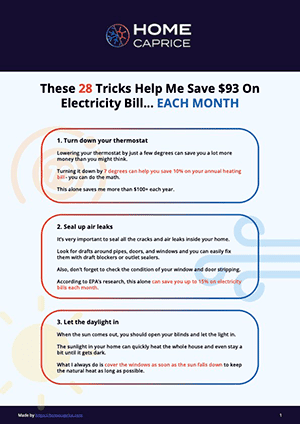 These 28 Tricks Help Me Save $93 On Electricity Bill... EACH MONTH
Download this FREE cheat sheet to find 28 tricks that can help you save on your electricity and heating bill each month.
Click here to get a FREE Cheat-Sheat
Conclusion
In our opinion, the best RV thermostat is the Dometic RV Thermostat. The device is easy to install and use. You can conveniently set the temperatures of your furnace or your heater with it.

Hey there! I am
Benas
, the founder and content editor at Home Caprice. Thanks for reading the article. I hope you were able to find what you were looking for. I and my team are here to simplify heating and cooling for everyone. Please have a look at the
About page
for more details about our website and feel free to check out our
editorial process
.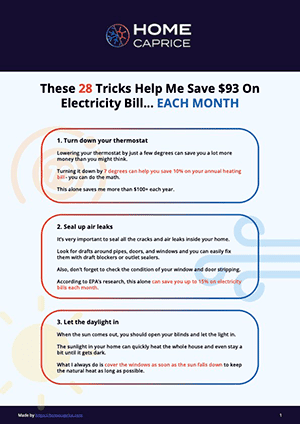 These 28 Tricks Help Me Save $93 On Electricity Bill... EACH MONTH
Download this FREE cheat sheet to find 28 tricks that can help you save on your electricity and heating bill each month.
Click here to get a FREE Cheat-Sheat